Powerful Features
Dubb offers a suite of video creation, distribution, and tracking tools to engage your prospects and increase your revenue.
Try it free
Succeed with Dubb
An All-in-One Video Solution
Dubb provides a suite of powerful features to assist in your entire sales and marketing process.
REGISTER FOR A FREE TRIAL
Creation
Create videos through the Dubb Chrome Extension, website, mobile apps, and dozens of integrations including Gmail, LinkedIn, Hubspot, Salesforce & more...
Hosting
Host videos created on Dubb or upload from your directly computer or mobile device. Take advantage of Dubb's content delivery network for seamless video streaming.
Distribution
Share your videos via dozens of channels including email, LinkedIn, Facebook, Twitter, Instagram, YouTube, and dozens of integrations.
Tracking
Get detailed data tracking on email opens/clicks, page views, video watches, engagement, and call-to-action clicks. Receive tracking through your Dubb dashboard or via your own CRM/marketing automation system.
A solution for every need
Building Trust

Easily leverage the power of video to increase trust for your business.

Driving Engagement

Empower your visitors to learn and convert in your sales and marketing funnel.

Increasing Conversions

Leverage the power of video from all devices to all channels to grow your business.
Dubb was developed to lift your brand and drive more sales. Signup for a free 14-day trial to experience Dubb for yourself.
REGISTER FOR A FREE TRIAL
Our Features Stack
At Dubb, we believe in features that drive benefits. Our platform continues to improve based on client feedback, best practices, and latest technical innovations.
Just a Few of Our Integrations
We meet you where you are to help boost your business.
Dubb Chrome Extension
The Dubb Chrome Extension is a powerful yet easy-to-use video solution that allows you to create and share videos recorded from your screen or webcam. Share your videos directly from dozens of channels including Gmail, LinkedIn, and your favorite CRMs.
Learn More
Dubb Desktop App
The Dubb Desktop app is a fully-integrated screen and webcam recording desktop app for your Mac or PC. Record anything you can see on your screen, including PowerPoint presentations, PDF documents, and your entire browser. Have peace-of-mind know you can also play, pause and maximize your webcam to add a more polished look to your video. Maybe even a masterclass.
Learn More
Dubb Mobile App
The Dubb mobile app and mobile-optimized website gives users the ability to create or upload engaging videos directly from their mobile device.
Learn More
Dubb LinkedIn Integration
Dubb now integrates with 5 key aspects of LinkedIn (messaging, comments, connection request, Sales Nagivator and Recruiter. Get it done with Dubb.
Learn More
Dubb Asana Integration
Now with Dubb you can create, share and track videos from your favorite project manager tool, Asana. Remember... Shooting a video now is much easier than typing.
Learn More
Dubb Transcribe
Get ready for auto-transcription! Now we can transcribe your Dubb videos to any language of your choosing (for very modest price per minute). Simply select a video from your Dubb Dashboard to access the video details page and scroll down to find the auto-transcription option.
Learn More
Dubb Messaging
We are proud to announce Dubb Messaging! Enabled with one click, Dubb Messaging allows real-time text communication right below your video. It works on desktop and mobile. Follow-ups have never been easier!
Learn More
Dubb + YouTube
Introducing YouTube integration! Now you can make any YouTube video actionable with the ability to add YouTube videos to Dubb Action Pages. Control of the design of your page while leveraging Dubb's interactive calls-to-action. Drive sales, schedule meetings and more!
Learn More
Dubb CRM
While Dubb has integrations and is compatible with most major CRM platforms like Hubspot and Salesforce, it also provides its own built-in CRM if users need an all-in-one solution. With the Dubb CRM users can import and manage contacts, track deal flow, and send personalized video emails/SMS in bulk. Your customers are waiting.
Learn More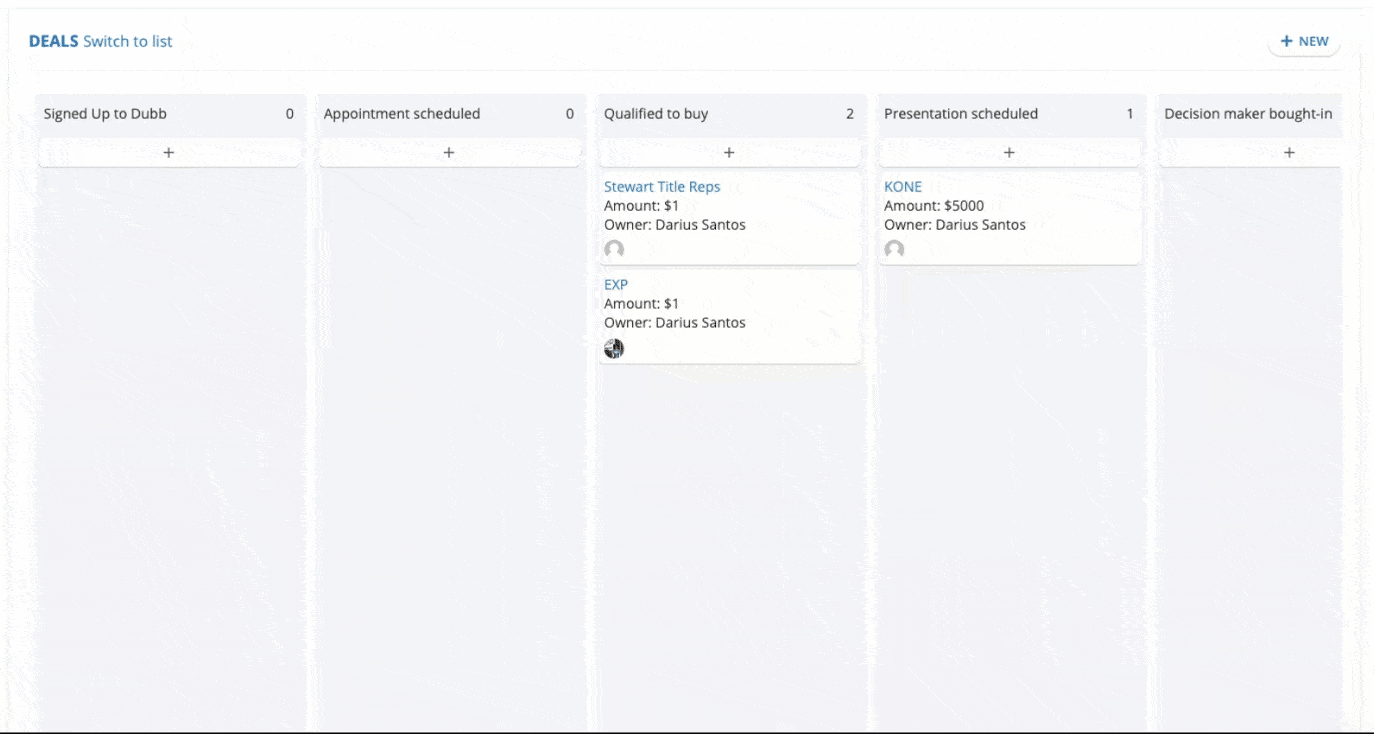 Video Page Presets
With Presets you can pre-select a saved combination of settings for your Dubb Action Pages. Streamline your creation and sharing process by having Presets for all your various efforts. Presets include settings such as Calls-to-Action, privacy options, playlists videos, branding, captions, messaging, and more.
Learn More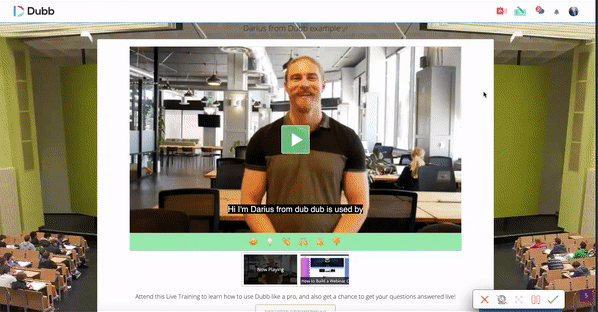 Virtual Background
Virtual backgrounds is a powerful real-time editing feature that allows you to feel comfortable in your setting without having to worry about your background as a distraction. You can use custom images in place of your actual background and you can also blur your background . This is a fast and easy way to add personality and personalization to your videos with zero additional time or equipment.
Learn More