If you're an existing user of Agile CRM and searching for ways to add Dubb video to your emails, campaigns, and workflows, you've come to the right place. Read on for an in-depth tutorial on how you can distribute actionable, trackable video messages to your contacts right inside Agile CRM.
However, if you're still in the market for a CRM, you might first want to know all about Agile CRM's features and how it compares with others. So let's get into it.
Is Agile CRM the right software for your business?
Agile CRM is a cloud-based customer relationship management (CRM) platform that's mainly fit for small to medium-sized companies. It's a fully integrated CRM, offering sales, marketing, and service automation features in a single platform.
Agile CRM definitely lives up to its name. With the ability to automate and manage sales, marketing, and service all in one platform, any small or medium business can realize sustainable and scalable growth.
The Agile CRM platform is equipped with a range of functionalities for streamlining your business efforts and scaling your business.
Here are the ways you can supercharge your sales, marketing, and service using Agile CRM:
What Agile CRM can do for sales
Contact Management
Agile CRM offers an elaborate, highly personal contact management system that lets you view a complete record of your customers' details and communication history right from a single page. This 360-degree view of your contact data encompasses conversations, call notes, social presence, and web activity.
Their contact management software essentially functions as a centralized address book. Every interaction with your contacts is logged and updated in real time, which can then be instantly accessed by anyone from your team. Using this data, you can come up with better, more effective ways to engage with your prospects and clients.
Third-Party Email Sync
If you wish to sync Agile CRM with third-party email providers, you can link up to three email accounts—including Gmail, Office 365, or any other IMAP provider you might already be using.
Web Analytics
One of the most powerful features that Agile CRM has to offer is web analytics.
Web analytics provide you with actionable insights into your lead's interests and web engagement patterns by tracking their activity on your site. You can monitor their activity down to the most minute detail—which pages on your website they are visiting, how much time they spent viewing each page, their buying preferences, and even where they came from.
Deals
Agile CRM has a great Deals functionality that enables you to create deal tracks with custom milestones. Deal management is as easy as dragging and dropping deals between milestones.
Gamification
Gamification has proven to be effective in motivating sales teams to be more productive.
Agile CRM's best-in-class gamification software is a feature you would not want to miss out on. When done well, it can help drive increased conversions and revenue by incentivizing various levels of performance. It also boosts collaboration and healthy competition among your sales reps, motivating them to stay focused on improving their numbers and hitting quotas.
With custom leaderboards, you can efficiently observe the performance of each sales rep in real-time. Users can customize leaderboards to display actionable insights on how their sales reps are performing in terms of tasks, deals, calls, and revenue.
What Agile CRM can do for marketing
Marketing Automation
Agile CRM's marketing automation software lets you leverage autoresponders, newsletters, social marketing campaigns, automated lead scoring, behavior-based segmentation, and A/B testing for emails to shorten sales cycles and book more deals.
Autoresponders
Autoresponders will send perfectly timed automatic email responses and follow-up messages depending on how you set them up. Although the timed responses could also be based on your contact's action or inaction. This is the key to better nurturing, lead scoring, onboarding, and sales.
Newsletters and Templates
Keeping your prospects or leads up to speed is essential to successful marketing campaigns. The best way to do this is by sending out periodic newsletters. Agile CRM offers free email newsletter templates that are simple and easy to use.
Social Media Marketing
Agile CRM is also an all-in-one social CRM. It gives you the ability to automate social posts right inside your Agile CRM dashboard.
Automated Lead Scoring
An automated lead scoring system is available in Agile CRM. It helps you determine whether a lead is viable and likely to become a paying customer by ranking them based on their actions—email clicks and opens, web page visits, and form fills, among others. 
Behavior-Based Segmentation
Using relevant tags, you can segment your contacts automatically. The segmentation process will also be dependent on the actions of each contact.
Email A/B Testing
Using Agile CRM's A/B testing functionality, you can split-test your email workflows to contain different subject lines, bodies, or images. This experiment will help you determine which works best, based on which version generates the most open and clickthrough rates.
What Agile CRM can do for service
Help Desk
Agile CRM empowers you to provide the best customer support experience with several help desk automation tools. Some of these include:
Ticketing

Groups

Smart Views

Service Level Agreements

Smart Workflows

Ticket Labeling
Pricing
Moving on to the subject of pricing, Agile CRM offers four tiers, namely free, starter, regular, and enterprise.
Free
Its free software allows up to 10 users and is ideal for small businesses and startups. It allows a contact list of up to 1,000 contacts and can be linked with one third-party integration.
However, this plan does not include the ability to create custom deal tracks, automate your marketing, and monitor your social marketing. You will need to upgrade to their higher tier plans to avail of these features.
Starter
Their Starter plan starts at $8.99 and lets you add 10,000 contacts at most. For integrations, you can link up to three if you choose to upgrade to the Starter plan.
Compared to the Free plan, Starter lets you access Agile CRM's marketing automation and social monitoring features. Another additional feature that is available in this plan is the ability to build up a knowledge base to help your customers access whatever information they might need.
Regular
Agile CRM's Regular plan is their most popular and for good reason. It starts at $29.99 per month and includes everything in the Free and Starter plans, with the addition of custom deal tracks, telephony, and mobile marketing.
This plan allows you to import up to 50,000 contacts and connect more than 50 third-party integrations.
Enterprise
Lastly, there's the Enterprise plan which can be availed for as low as $47.99 per month.
This highest tier allows an unlimited number of contacts and companies. Some of its exclusive features include post-call automation, call recording, and automated voicemails. Similar to the Regular plan, Enterprise allows integration with over 50 third-party apps.
Now that we've (hopefully) determined whether Agile CRM suits your business needs, let's talk about video and its tremendous ability to drive more engagement, conversions, and revenue.
Why use video?
Video is the most engaging form of content
In comparison with images and text, being able to get the attention of your prospects is much more likely when you use video.
This isn't to say that images and text have now become irrelevant or ineffective. If they were, there would be no use writing this article, for example. But video can communicate your personality better, elicit emotions from your viewers, and entertain more than any other medium.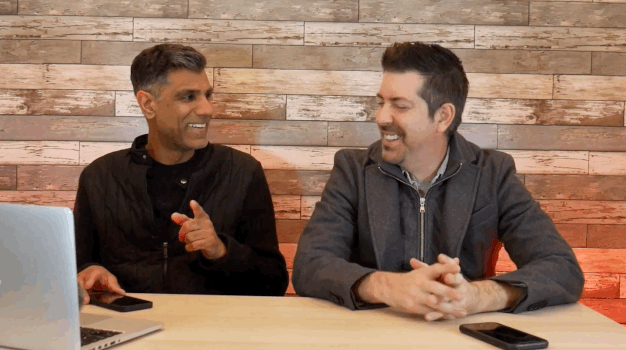 However, the unfortunate reality is that only a fraction of people in sales uses video as part of their sales process. If you want to get your brand's message across, stand out in crowded inboxes, and stay ahead of the competition, you have to take full advantage of video.
Video communicates trust
When you communicate through video, you're allowing your customer base to develop a parasocial relationship with you.
Parasocial relationships are psychological relationships formed by members of an audience through their mediated encounters with people on media. These are most commonly evident in the relationships we believe we have with our favorite characters from our favorite television shows. Although we have never actually met them, we feel as if we know them on a personal level because we have spent so much time going through life with them.
In essence, having formed parasocial relationships with your customer base means that they feel as if they know you quite well because they have seen you on video.
As a result, they become more inclined to trust you and ultimately buy from you. The key here is gaining their trust. In any relationship, trust is the most important foundation. The same goes for business relationships.
Video conveys value visually
There's no more powerful way to communicate and build relationships with clients than with video.
Why? Simply because videos are visual in nature.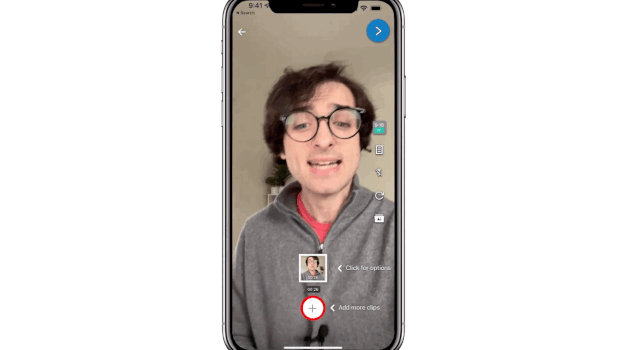 People comprehend your message drastically better when you deliver it using video. Most people are unaware of this, but 65% of the population are visual learners. Not to mention, video is easier to consume because the brain processes visuals 60,000 times faster than text.
The best sales leaders can vouch for video
Jeffrey Gitomer
Jeffery Gitomer is known in the industry for being the King of Sales. Over the past two decades, he has done countless keynote speeches and coaching sessions. He has also written multiple books on the subject of selling, including the New York Times bestselling titles The Sales Bible and The Little Red Book of Selling.
While he has already made a name for himself in the sales industry, he recognizes that it isn't getting any less competitive. People are becoming increasingly inattentive to text-based content, and are now spending more time watching instead of reading.
He eventually discovered Dubb, and here's what he had to say:
Chris Kirkpatrick
As you'll hear in his testimonial video below, Chris Kirkpatrick attempted to reach out to an A-list prospect by sending them emails and giving them phone calls. However, his efforts soon proved futile when not one person from the company responded to any of his messages.
He then decided to incorporate his creativity with the power of video, using Dubb, to record and send them video messages. In less than 30 days after sending out his Dubb videos, Chris was able to close a massive deal with the company. Watch his testimonial to find out how and how much.
Paige Battcher
Paige Battcher is the founder and CEO of Kismet Ideas, a website design and digital marketing agency that empowers entrepreneurs to make a bigger impact using the combined power of creativity, storytelling, and technology.
There's no better storytelling teacher than Paige. It's her forte, and fusing it with her love for video has brought her amazing results. Prior to settling on Dubb, Paige had to go through several different tools to create videos and tell stories.
Although she was able to attain success in using other software, when Paige saw Dubb hit the scenes, she didn't hold back from giving it a try. She quickly realized that Dubb wasn't just any video tool that could be used to send videos to her contacts; she began to see Dubb through the lens of her landing pages and sales funnels.
Hear all about her incredible success story and how she did it.
Rachael Tresch
For Rachael Tresch, a business development coach and voice-over artist, the biggest challenge was cutting through the noise of today's crowded inboxes.
When she came across Dubb, she was shocked by what it had to offer and what she could do with its functionality. Rachael understands that getting inundated with links in emails and other forms of messages can be very suspicious for the recipient. With Dubb, however, she's able to send videos to her contacts and have them show up as an animated GIF, instead of a plain (and very "sus") link.
Rachael describes Dubb as a "game-changer." We are beyond proud to be part of her journey to make connections, form lasting relationships, and communicate with all-out authenticity.
These are only some of the reasons why video is such a powerful strategy. The list goes on, but we need to go back to the main objective of this article: a Dubb video sales system and Agile CRM how-to.
Level up your marketing game with Dubb video
The Dubb Sales Operating System has everything you need to create video content. Capitalizing on the power of visual storytelling, Dubb empowers you to generate more responses, obtain more bookings, and ultimately close more sales.
Now let's talk about how Dubb and Agile CRM work together.
A Step-by-Step Guide to Sending Dubb Videos through Agile CRM
First and foremost, register for an account on Agile CRM. Although if you're already here, it's safe to assume that you already have one. In any case, to make sure we're checking all the boxes, click here to create a new account. Agile CRM's free tier that allows up to 10 users does not require linking your credit card to sign up.
Sign up for a free account on Dubb
After you've created an account on Agile CRM, go ahead and sign up for a free or paid account on Dubb. You may click here to be redirected to the Dubb signup page. Registering for a free account on Dubb is completely free and does not require you to link your credit card.
When you sign up for a free account, you will get a 7-day free trial of the Pro plan. This includes advanced features such as custom domain and branding, contact management for large contact lists, playlists, presets, calls to action, and plenty of other tools that help you streamline your communication and scale your business.
There are two ways you can send Dubb video messages through Agile CRM: one-to-one and automation. I'm going to show you how can share and track video emails through either of these.
But before we explore these methods, ensure that you have the Dubb Chrome extension installed. Apart from initiating the Dubb-Agile CRM integration setup, the Dubb Chrome extension also lets you access your Dubb library and the app's recording tool right from any webpage that you're on. You may visit this link to download the extension.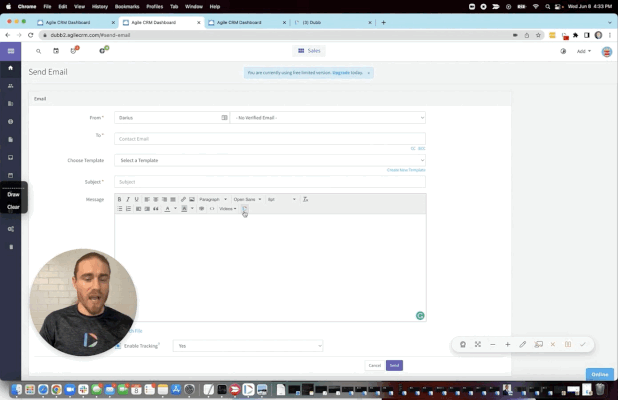 If you prefer to record videos using your mobile phone, you might want to check out the Dubb mobile app available for both iOS and Android. While it's not a prerequisite for using the Dubb-Agile CRM integration, it's worth considering installing the mobile app. All you have to do is click record, upload your video to your Dubb library, and access it across devices and platforms — including the Chrome extension.
Now that we've got that out of the way, let's proceed with how to conduct one-to-one sending.
Sending video messages 1:1
First up, we have the option to send using Agile CRM's 1:1 email sender.
Since you've already installed the Dubb Chrome extension, when you open the composition interface for one-to-one emails, you'll notice that the Dubb icon appears right inside the toolbar.
Clicking on the icon will give you access to your library of existing videos, should you choose to send one of those. Of course, you also have the option to record a brand-new video directly inside of the integration window. Once you've decided on the video you're going to share, you're ready to insert it into the email message. Before clicking on Insert Video, consider adding personalization text. This way, you're letting your contact know that you're not just another business spamming them with emails.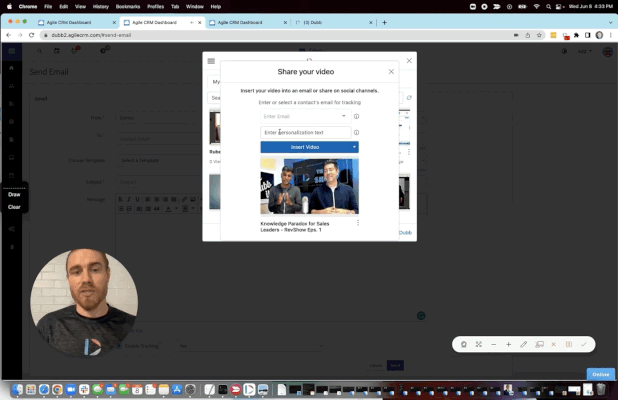 One of Dubb's features is real-time activity reporting, which lets you observe email click rates, video views, watch rates, and several other key metrics. Taking advantage of this feature will prove beneficial to your content iteration process.
And that's it for sending and tracking Dubb video messages using Agile CRM's one-to-one messaging tool.
Let's proceed to how you can maximize their powerful automation features.
Sending video messages through automation
Sharing your video emails via automation means you're sending them to multiple contacts automatically.
For you to obtain the same tracking data that's provided when sending one-to-one video emails — most importantly, who's viewing each of them — you will need to make sure that your Dubb and Agile CRM databases are synchronized.
The first step would be to export your contacts from Agile CRM. Next, on your Dubb dashboard, click on Connections and then navigate to Contacts. On the Contacts page, click on the drop-down beside "Add new contact," then choose Import Contacts.
Once that's done, you're ready to attach a Dubb video to an Agile CRM email. Navigate to the "Send Email" window inside Agile CRM, click on HTML, then write in your message and the necessary merge field(s) for your use case.
Then you will need to locate your Dubb video from the Dubb website. Click on the Share & Send button, then Advanced Options, tick the box for third-party optimization, and select Agile CRM. Next, you will need to click on the "Copy for Email" drop-down and select Copy HTML Code. Finally, come back to Agile CRM, and paste what's on your clipboard into the HTML section.
If you preview your email, you'll see that your Dubb video has been transformed into an animated GIF preview.
To add personalization text, take the merge field from Agile CRM and insert it into the personalization text field found in Dubb's Share & Send window.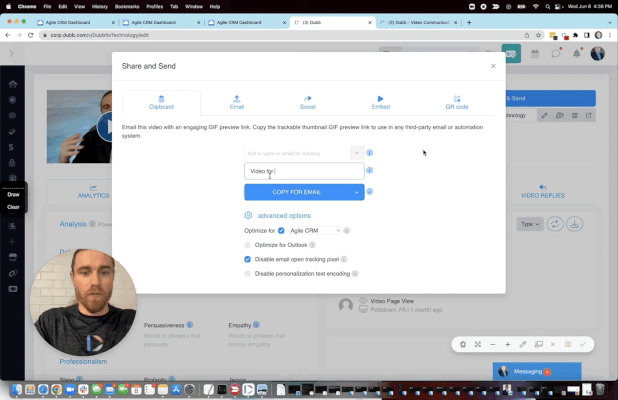 Some Important Measures and Tips to Bear in Mind
To maintain automatic synchronization for your contacts, you may use other third-party apps such as Zapier. For instance, if a contact is created or updated from within Dubb, Zapier will create or update the same contact in Agile CRM and vice versa.
And not only that but Zapier can also be used to trigger separate automation processes between the two platforms. In case you didn't already know, Dubb also offers automation features. To illustrate, say you sent someone a video using Dubb. Based on their watching your video or clicking any of your call to action (CTA) buttons, you can configure Zapier to trigger another workflow or activity inside of Agile CRM or vice versa.
With these three systems at your disposal, truly almost any automation is possible.
If you have questions about how to integrate your Agile CRM and Dubb accounts, feel free to reach out. Our team would be more than happy to assist you.