This blog post introduces a VideoAsk alternative, Dubb. See how Dubb provides all of the same features, and more so. This video is brought to you by Dubb.
VideoAsk is a useful tool for initiating and maintaining conversations with your clients and prospects. However, it still has its limitations and drawbacks. So, if you are looking for a VideoAsk alternative, then you have come to the right place. In this blog post, we will discuss the different uses and features of VideoAsk and our very own Dubb.
VideoAsk enables its users to create video messages for their audience that may, in turn, send a message back—essentially imitating the process of real-time in-person conversation. Once you have sent your video message to your contacts, they are given the choice to reply in video, audio, or text form. But with Dubb, you get the same functionality and so much more. Allow us to show you why Dubb is an ideal alternative for VideoAsk with this head-to-head comparison between the two platforms.
Recording Your Video Message
Both Dubb and VideoAsk offer various ways in which you can create your video messages. 
Browser Extension
First off, let's talk about browser extensions. Of course, one of the most important factors you must consider when choosing a video creation platform is the ease of use. Browser extensions can offer exactly that. 
Dubb's Chrome extension saves you the trouble of having to cycle between apps, letting you access all of the recording tools you need from within your browser in just a few clicks. With VideoAsk, on the other hand, you are only provided the option to record on your computer using their web application (which works virtually the same as their mobile app).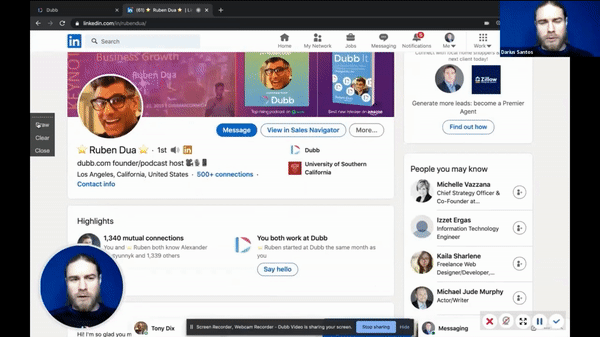 With the Dubb Chrome extension, you have the option to either record a video of yourself using your computer's webcam, capture your screen or a portion of it, or even upload an already existing video from your local file library. Note that you can accomplish any of these regardless of the website you currently have opened on your browser. 
One of the most valuable features of our Chrome extension is the ability to annotate your screen as you record. This is particularly helpful when creating an explainer video that features yourself, and you need to show your contacts something on your screen.
Mobile App
Both Dubb and VideoAsk are available as mobile apps. So, if you are always on the go, either one could be right for you. Nevertheless, let's go ahead and determine which has the better features and guarantees increased functionality.
The VideoAsk mobile app is available for both iOS and Android. A downside to the VideoAsk mobile app is that it doesn't offer any editing features. While it does let you re-record videos that you aren't content with, it doesn't go beyond that. If you need to create a video composed of numerous clips spliced together, you are going to have to use a third-party video editing app.
As for overlays, you can only add text overlays or choose to show the title of your video throughout the entire video.
But with the Dubb mobile app, which is also available on iOS and Android, you have the power to edit, trim, splice, and even rearrange your video clips in real-time.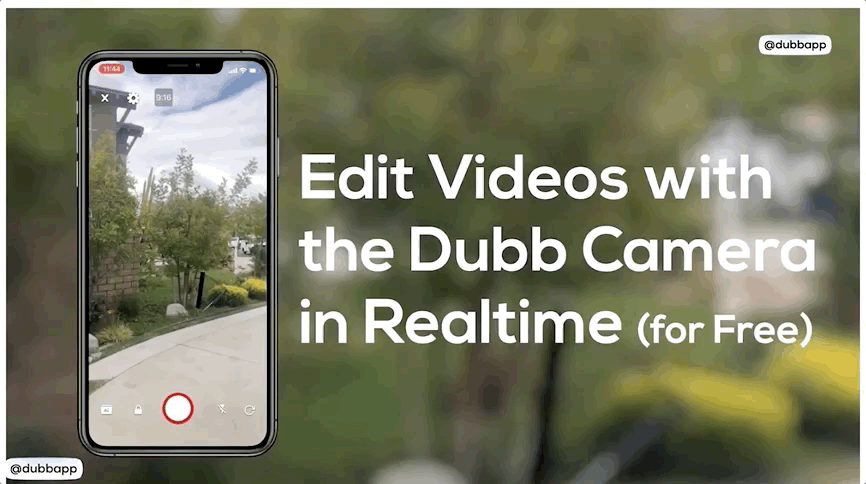 If you've noticed, for most mobile video apps, tapping the red record button for the second time would stop the recording. That's now how Dubb works. When using the Dubb mobile app, tapping on record for the second time saves that recording as the first clip. Tap on it again, and you'll begin recording your next clip. And you don't even have to worry about shooting your clips out of order. Because again, Dubb lets you rearrange your video clips as you are recording them.
On top of that, our mobile app also grants you the ability to add text, music, emojis, voiceovers, and more. Moreover, the proprietary Dubb camera lets you change the video resolution or aspect ratio so you can suit your video for various use cases.
And it doesn't end there. Our mobile app also has a built-in teleprompter that helps you easily reference a script or an outline that you might have prepared beforehand, eliminating the need for memorization and making the video recording process a whole lot easier.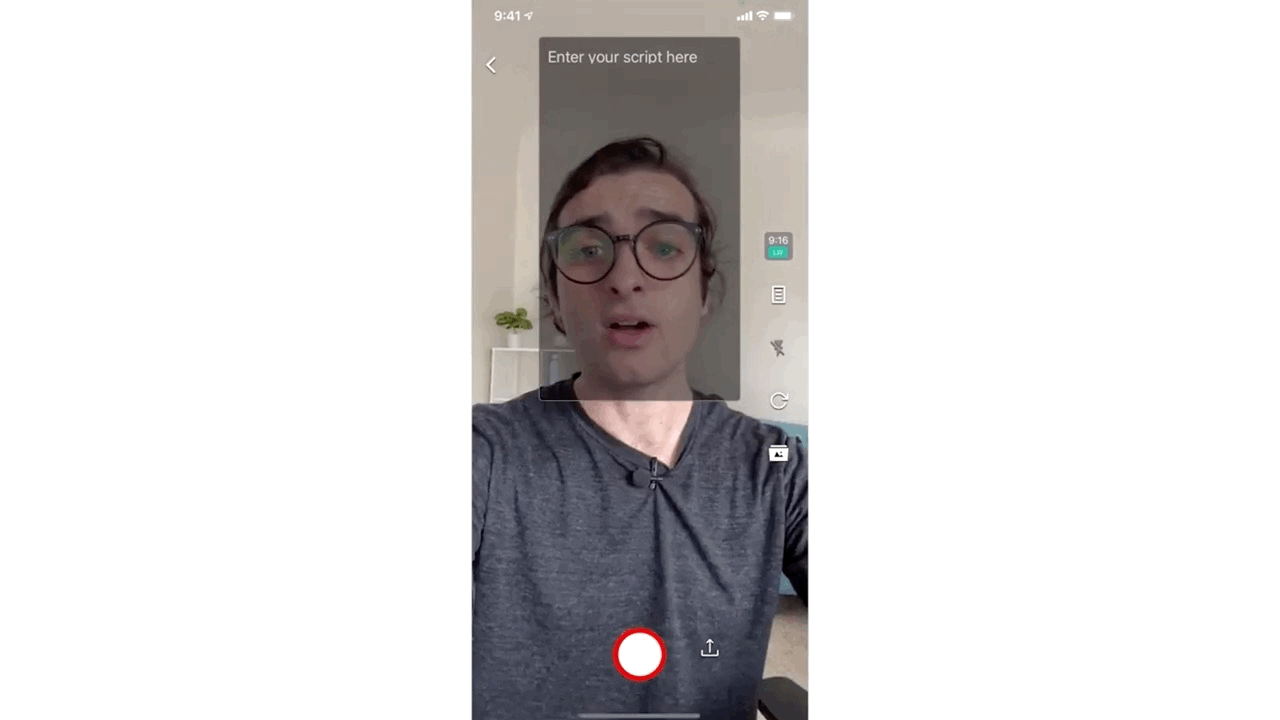 Real-time feedback from AI (CAIRA)
Caira™ is a real-time feedback assistant to help improve your delivery, clarity, empathy, professionalism, positivity, and persuasiveness.
Caira™ goes to work immediately after you record and upload videos to Dubb. Once its analysis is complete, Dubb users can easily see granular communication data on aspects like cadence, repetition, filler words, positivity, persuasiveness, empathy, and more. You can even get feedback on any potential slang, profanity, or jargon.
Using that data, you can both become more aware of how you speak and figure out ways to make necessary improvements. From eliminating filler words to incorporating more positive language, Caira™ can help you communicate more clearly.
Distributing Your Video Message
Sharing your videos to your contacts using Dubb is going to look different from VideoAsk. From the video page appearance to the manner of sending them, Dubb and VideoAsk have significant differences.
Landing Pages
Case in point, when a recipient clicks on your VideoAsk link, they are redirected to a landing page that is occupied entirely by your video. They will also be greeted with the interactive buttons that they may use to send replies, whose colors you can modify according to your branding. If you are subscribed to their paid plan, you will be able to customize your landing pages with your brand's own logo.
Dubb's video landing page, on the other hand, does not only consist of interactive buttons. It also includes a video playlist, a real-time chat window, and call-to-action (CTA) buttons for your recipients to interact with.
The video playlist is for when you want to include multiple different types of videos—introduction videos, explainer videos, testimonial videos—all in one webpage.
Along with the video playlist, your Dubb video landing page also comes with CTA buttons. We understand that being able to elicit different kinds of responses from your contacts is crucial, which is precisely why we made our CTAs fully customizable. You can set them up to function in a way that best serves your purpose: for filling out forms, making a phone call, sending a text message, downloading attachments, scheduling a meeting, and even replying with a video of their own. They can be just about anything in the digital space that you would want someone to do.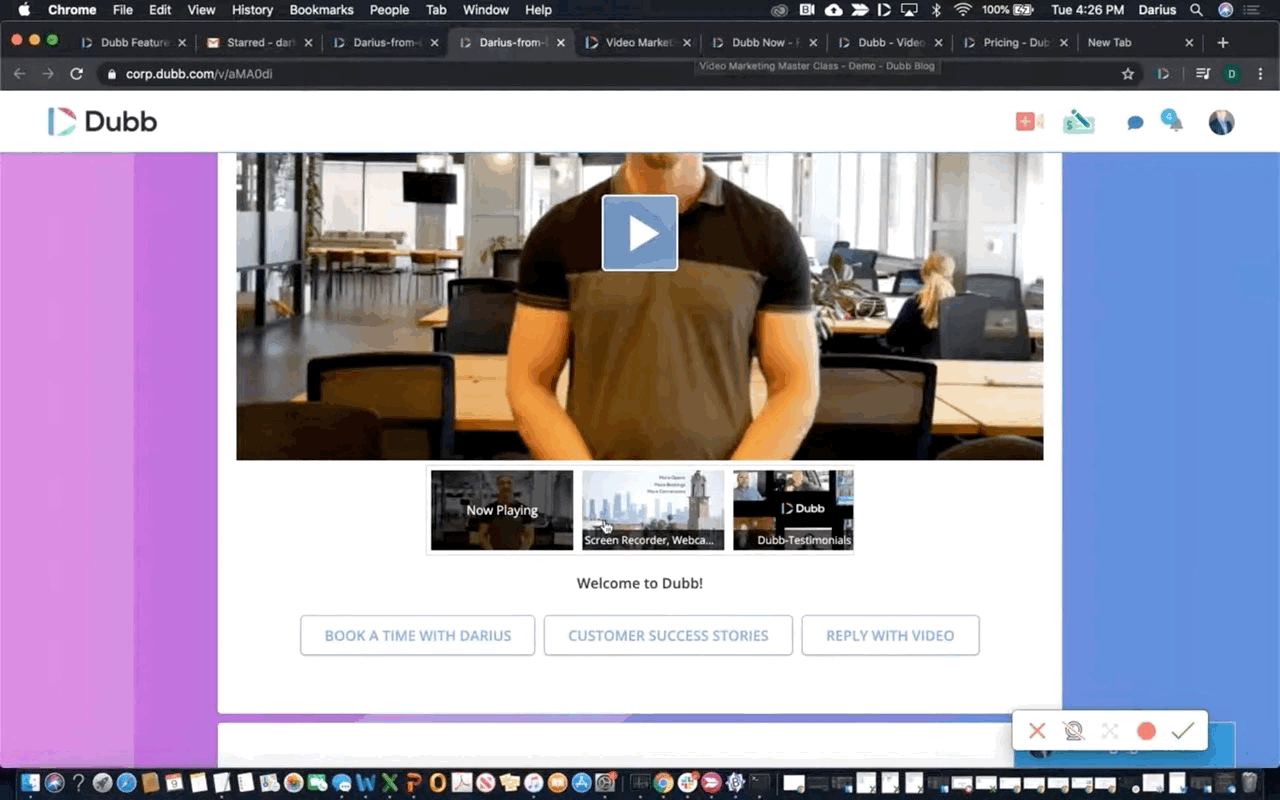 Similar to VideoAsk, Dubb's paid plan also lets you modify your landing page with your logo, a custom subdomain, and your branding.
What's more, Dubb gives you the ability to create presets for your landing page for different use cases. This allows for total convenience when you have to send out different sets of videos to different groups of people.
Video Page Templates
You most likely record and share videos regularly for different purposes. Whether it's for outreach, booking meetings, or onboarding clients…
You need to include the right look and feel in your video pages to fit your goal — but it typically takes a great deal of time to customize a web page.
Dubb Video Templates allow you to save time and apply saved settings to videos in one click. You can now launch a video landing page with the right elements in seconds — without doing it every time!
Video Email Signature
Your signature is a quick way to make a great impression, look professional, and give your readers the information they need to contact you. Unlike other video communication tools, with Dubb, you can include your signature in your video emails.
All you have to do is add your signature in your Dubb account and you're good to go. It will automatically appear in future emails. It's easy and takes only a few seconds to set up!
Showcases
Dubb showcase feature allows you to embed a playlist of videos on your website. When viewers click on the thumbnail, they're taken to a video page where they can see a series of videos — instead of just a single video.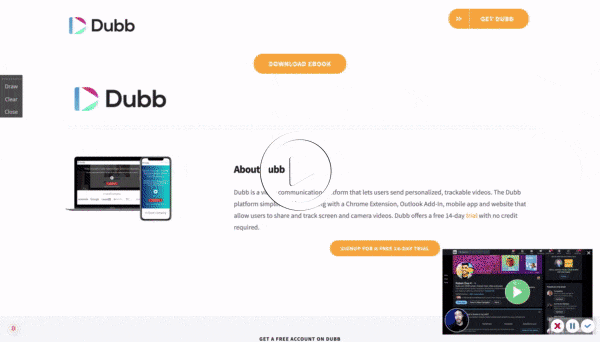 Automatic Closed Captions
Another powerful feature that puts Dubb ahead of other video communication platforms is Closed Captions.
You can now automatically generate closed captions on your Dubb videos to help your message stick better. This feature comes in handy especially when the viewer's environment isn't audio-friendly. 
Besides the automatically generated captions, you can also upload existing SRT files from other sources, edit the captions, or download the SRT file.

The downloaded text can then be repurposed to other assets like blog posts, white papers, and emails.
At the moment, this feature is only available to users on a paid subscription (either the PRO or PRO PLUS plans). And a ton of languages are supported — including US English, British English, Australian English, French, Canadian French, US Spanish, ES Spanish, Italian, Brazilian Portuguese, German, Korean, Hindi, Indian-accented English, and Modern Standard Arabic.
Email, Text Message, and Automation
There are three primary ways you can share your videos with VideoAsk: through an automatically generated link, a widget on your website, or an iFrame that you can embed on any webpage.
Dubb, however, offers even more ways that you can send out your videos to your clients or prospects. 
You can send them via text message, email, and even automation. Dubb's built-in automation feature allows you to create trigger-based email workflows without having to use any other platform.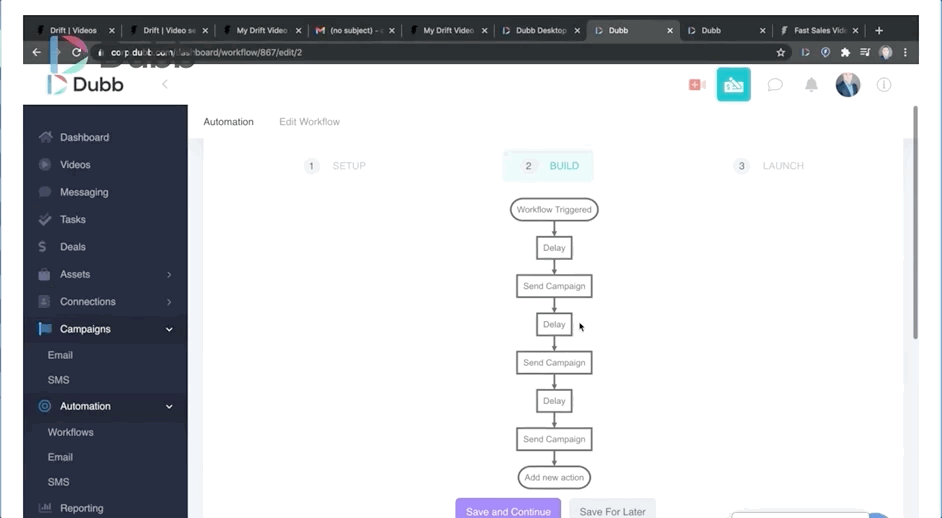 In addition, Dubb has direct integrations and is compatible with most major CRM platforms, such as Salesforce, HubSpot, and Mailchimp. Other than integration with CRM platforms, it's worth noting that Dubb also has direct integration with LinkedIn and Gmail. All you need to do is look for the Dubb icon, and you'll be able to access your entire Dubb video library and all of Dubb's video recording features right then and there.
The existing list of VideoAsk native integrations includes Salesforce and HubSpot, but not LinkedIn, Gmail, and Mailchimp.
Granular Data & Analytics
Did you know that Dubb can help you track the video marketing metrics that matter the most?
We're talking about the number of views, click-through rates, watch rates, email click rates, and nearly any other key metric you can think of.
You can even see who among your contacts watched your videos, how much of the video they watched, and whether they clicked on any of your CTAs, so you'll have an idea how well your video messages are being received.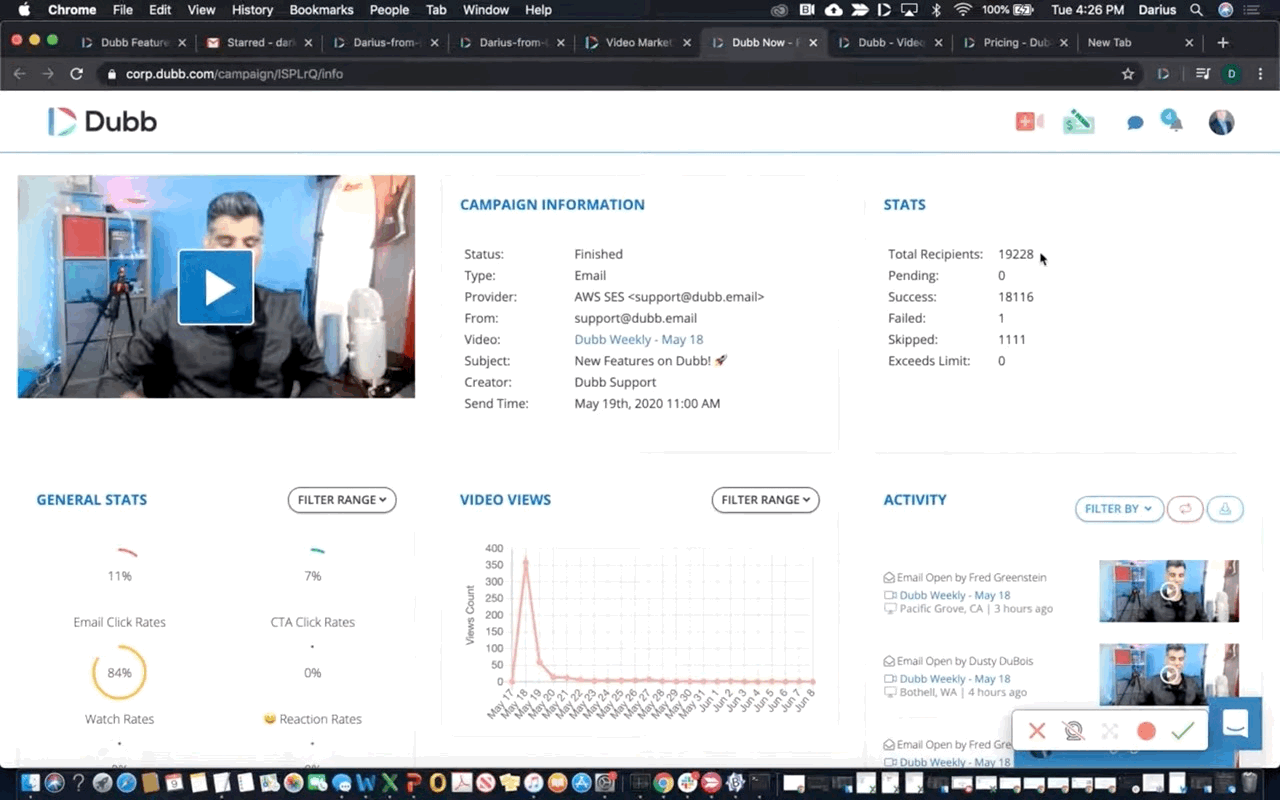 Pricing
Now that we've got all the talk about features and capabilities out of the way, let's explore the various pricing plans for both Dubb and VideoAsk.
Both video platforms offer monthly and annual plans, with the latter, of course, turning out to be considerably more cost-effective in the long run. You can save up to 20% on both Dubb and VideoAsk if you opt to be billed yearly.
But if you are not yet willing to commit to a paid subscription, you might want to check out the free plans available on either platform.
VideoAsk's free Start plan provides you with 20 minutes of video or audio processing per month. According to the VideoAsk website, these minutes are counted each time you or your respondents generate video or audio content on their platform. If by any chance you go over this limit, VideoAsk will continue to process your videos for you. But you will be required to upgrade to their higher-tier plans. Playback, however, is unlimited. Video messages created using their free plan will also be VideoAsk branded, meaning their logo will be displayed on the footer of your video, and a VideoAsk ad will be shown on the Thank You screen when your respondents complete.
Now on to Dubb, our free Starter plan offers everything that you can get from VideoAsk's, but with the addition of many other invaluable features like LinkedIn integration and Dubb's iMessage extension. With this plan, there are no limits on the total number of minutes for your videos. Instead, you are equipped with a maximum of 10GB for storage.
VideoAsk's Grow plan will cost you $30 if billed monthly, $24 per month if billed annually. This plan includes all features from Start, with the addition of various other features. If you subscribe to this plan, your videos will be partially VideoAsk branded—the VideoAsk logo footer will remain, but the branded Thank You screen will be automatically hidden. Similar to the Start plan, the Grow plan also has limits on video processing. But instead of only 20 minutes, Grow allows you to process a maximum of 100 minutes of video or audio per month. 
Dubb, on the other hand, has different pricing plans for different departments. Dubb for Sales, Marketing & Comms starts at $40 if billed monthly or $32 per month if billed annually. This is the Pro plan which includes everything that our Starter plan has to offer, but with bonus features such as calls-to-action, email and SMS campaigns, unlimited storage, and the ability to upload HD videos. Additionally, Dubb also has an entry point Support Pro plan that amounts to $10 per month or $96 for the whole year. Note that with these Pro plans, you can customize your video landing page with your logo, a custom subdomain, and your branding.
VideoAsk's high-tier plan, called their Brand plan, starts at $50 per month or $40 per month if billed yearly. This plan includes everything you can get from their Grow plan, with additional features, the most advantageous of which is the ability to add your own brand. Also, note that the Brand plan is not without its limits. Subscribing to this plan only allows you a maximum of 200 minutes of video or audio processing per month.
Dubb's Pro Plus plan for Sales, Marketing & Comms begins at $99 every month or $80 per month billed yearly. It includes every feature found on the Pro plan, with a bunch of other features such as automation, a larger contact list of up to 50k contacts, API access, custom email templates, custom integrations, and more. For Support, the Pro Plus plan is $20 per month or $16 per month billed yearly.
Choose What Goes Beyond Your Needs
Committing to any service isn't always an easy decision. We understand that it requires careful deliberation, which is the exact reason why we conducted this detailed comparison between VideoAsk and Dubb.
If you value functionality foremost, we invite you to try Dubb out for yourself. Dubb is the all-in-one solution to all your needs and more, for less cost. Start with our seven-day free trial by clicking here, no credit card required. For further inquiries about Dubb and its features, feel free to reach out to us.