Welcome to the definitive guide to sales prospecting with video! We are living in a world where marketing tactics are constantly shifting. From the proliferation of television ads to the rise of programmatic advertising, small and large businesses alike must pay attention to where their marketing efforts will obtain the best return on investment. Even if you aren't a marketer by trade, it is important to monitor these trends—regardless of your industry.
Since the rise of the internet, many companies have relied on email marketing to reach their customers. And granted, email marketing does have its advantages. But having said this, the world is once again changing.
If you are still prospecting with plain emails you are selling yourself and your organization short. Simply put, people have a hard time reading text. In today's day and age, we are flooded with information—most of which are text-based.
If you are solely relying on text-based marketing, you are missing out on some technological advantages that others (including your competitors) are using. In fact, there is one wonderful alternative that can help you better connect with leads and generate future business.
Quite obviously, I am talking about sales prospecting with video.
It is 2019 and there are very affordable technology platforms like Dubb that allow individuals and companies alike to leverage the power of video to maximize their sales prospecting efforts.
This is a guide to help you get the most out of your time (and money) spent sales prospecting using video. By following the guide below, you and your team will be able to create awesome, compelling video content that resonates with your audience and leads to an influx of sales prospects.
Why prospecting with video?
So let's start with the basics. Why should you focus on video compared to other marketing strategies?
To start, video is simply more effective than text-based advertising. At Dubb, we see tons of data showing users' strong preference for video over text, along with how video can increase open, click, and close rates. In fact, marketers who use video to showcase their products or services grow revenue a whopping 49 percent faster than non-video users. Video is more engaging and for your prospects and it will also help you increase your conversion rate.
Here are some more mind-blowing stats on how much video helps sales for any company or organization.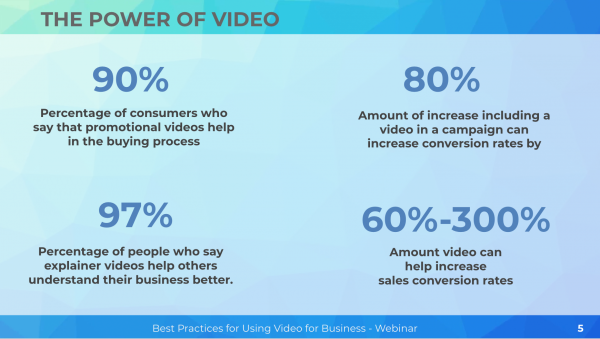 If you are doing all of your prospectings over text, either your messages are not personalized or you are copying and pasting emails.
It can be draining.
Instead, you want your prospects to hear—and understand—what you have to say, right?
Then use video. Video not only is more fun, entertaining, and informative for your audience, but it increases the chances that your viewers ultimately make a purchase. And once you are more comfortable on camera, it is so much easier to simply hit record, communicate your message, and then send it out to the crowd.
What's not to like?
Some Tips for Sales Prospecting with Video
Now that you understand the importance and effectiveness of video, you may be wondering how you can effectively leverage video marketing to find an influx of sales prospects. The tips below should provide some more clarity. While each and every organization is slightly different, the advice below is universal and is undoubtedly applicable—regardless of the size, age, or sector of your organization.
Commit to Sales Prospecting Through Video
This is one of the most important steps in this entire process, yet it is easy to forget.
To see the benefits of sales prospecting through video, you must invest in the prospecting process on a consistent, long-term basis. According to Bill McCrary from Sandler Training, "You don't have to like the process, but you have to do it."
This statement could not be more accurate when it comes to video prospecting as well. Yet when you do commit to a consistent production schedule, adding video to your prospecting process will add a tremendous boost to in engagement. Along with this, it will allow you to spend more time doing what you actually want to do—closing more deals.
It's important to get into the habit of picking up your devices, clicking record, and sharing your stories. Make video prospecting a regular part of your outreach and know that you'll reap the benefits as you get better at it. If it is a regular part of your workflow, you will avoid burnout and will naturally favor creating compelling video content for your viewers.
The sooner you start using video to help you prospect, the sooner you will see results—and the better you will get at this process.
Be Your "True Self"
But having said this, there is often some hesitation when aiming to create consistent video content. This has to do with one word: anxiety.
You may not initially feel comfortable recording yourself or your screen to convey your ideas. This is because we often feel like we need to be our "best selves" on video. We are nervous that friends, clients, or family are going to view our video and judge us in a certain way. This makes us feel apprehensive, and it is easier to find excuses not to embrace video marketing.
The stakes aren't as high as you may think. The truth is that you don't need to be your best self. You just need to be your true self. You absolutely have great stories to share.
In your videos, don't be afraid to open up to your audience. Be honest and authentic. Provide viewers with compelling, interesting content and explain how your organization can help them solve problems. That will build the most trust with your viewers, and trust is what will lead to high-quality sales prospects.
As Ago Cluytens, Director – EMEA, RAIN Group nicely put it in this blog post, "become a video rockstar". What this means is to get yourself set up with the right tech and process so that you can quickly, easily, and professionally include video into your prospecting process.
So ultimately, you need to fight your fears to exploit the power of video in your sales prospecting process. Adding consistent video to your prospecting process will provide a tremendous boost in engagement and allow you to do what you want most, which is close more deals.
Remember that video marketing is based on content, so invest in the content that you share using screen or camera videos. Also, try to avoid being too salesy in the process. To get a sense of what I'm talking about, here's an example of a video that I created to help my prospecting process for the Dubb video sharing platform.
Give Yourself a Chance
Next, you need to give yourself a chance when sales prospecting with video.
What do I mean by this?
Here are some pointers that focus on using video to maximize your effort.
First, make sure your subject and preview lines are valuable and quickly get to the point. Including the word "video" in the subject line has been shown to increase open rates by at least 20 percent. Adding personalization (for instance, including a person's first name or even their company name) to the subject line is also a surefire way to increase open rates.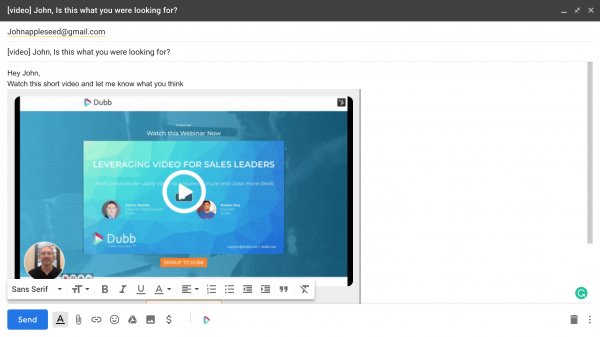 An example of a personalized email using video
There are entire articles written about subject and preview lines so we won't go into too much detail here. Just be aware of the importance of both the subject line and preview text. I encourage you to A/B test different things to see what works best for you in your business.
There's no need to worry about adding this personalization at scale. You can use software like Dubb to send include personalized subject lines to a large group of people. And as we will discuss below, personalizing your videos for each prospect is an effective tool that can help boost your engagement.
However, there is a caveat here.
It is important to note that there is a fine line between efficiency and personalization when writing emails and creating videos. Personalization will increase open rates and engagement only to a certain extent. After a certain amount of personalization, you begin to cut into your efficiency.
It's all about balance. Stay focused and keep your eye on the prize. The last thing you want to do is to get sucked into the never-ending vortex of video production. Your goal is to create videos that are personalized and then leverage those videos by sending them to a wide range of prospects.
Use Appropriate Video Types
You have a system in place and you know what you are going to say, but how are you going to say it? We spoke about getting over your anxiety of being on camera (and being "perfect on camera).
However, there is one piece of information that we left out. There are really two types of videos that you can share as part of the prospecting process. Videos of yourself (or your team members) are not the only option. You can choose from screen videos or camera videos.
Screen videos include anything that you see on your screens such as tutorials, presentations, proposals, or tours. The key here is to think about anything that you can show visually to a sales prospect. Once you have that in mind, you can create a video of it (along with voiceover narration).
In fact, one of the best ways to do this is to leverage the Dubb Chrome extension.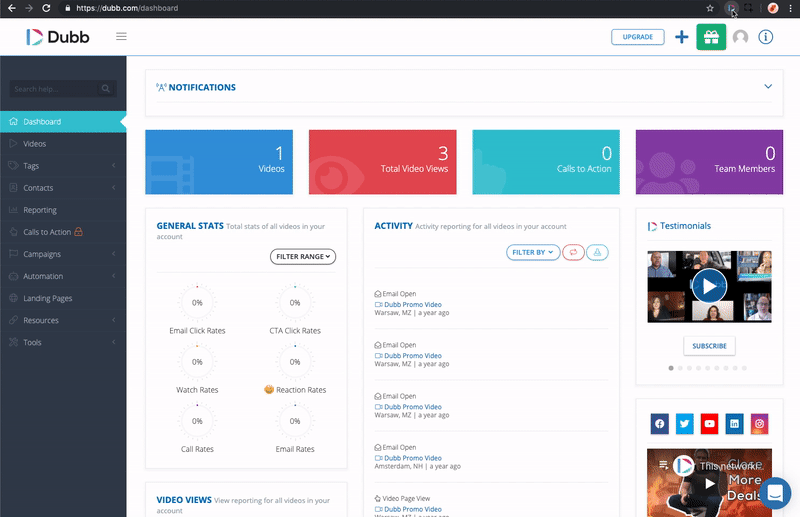 The Chrome extension allows you to capture whatever you see on your screen. It even allows you to add things like annotations to make your points extremely clear.  
By contrast, camera videos are where you record yourself speaking to add a personal touch to your communication. Camera videos can be intros, greetings, training videos, testimonial requests, and so much more. They can even be "happy birthday" videos. In a "happy birthday" video, you will invite viewers to comment "It's my birthday today" (or something similar) below an initial video. From there, you and your team can create and send a personalized "happy birthday" video to the user. While this may seem like a lot of work for one video, it generates attention and builds goodwill with your prospects.
To shoot these camera videos, you can use everything from a simple webcam or phone to more technologically advanced hardware. You don't have to overthink the production quality of your video. However, if you're planning to shoot videos of yourself, here are a few pointers.
Dress appropriately

. You want to look (and sound) professional in all of your videos.

Smile

. Be positive and energetic. No one wants to watch a monotone, lethargic person on camera.

Use good lighting

. Make sure that there is enough light in your videos. If it is completely dark, it's probably not the best time to record your videos. Natural light can be sufficient to light up your shot.

Keep your videos short

. Typically, your videos should be under two minutes. We live in a busy world, so your viewers will appreciate if you respect their time.

Avoid making your videos too sales-focused

. Don't focus on asking from your viewers. Instead, try to give something back. Focus on providing value, whether that is through education or even entertainment.
So what types of prospecting videos should you make? The type of videos you make depends on several factors including the volume of leads, where your prospect is in your funnel, deal size, and the amount of information available on the prospect. Ultimately, you can send one-to-one emails or one-to-many emails. The choice is up to you.
Personalize Your Videos
Like we discussed above, in an ideal world, every lead would get a personalized video, specific to the stage they are at in the buyer's journey. However, the fact is that if you are dealing with a higher number of leads, it wouldn't make sense to have a personalized video for each of them.
If you are reaching out cold to dozens or hundreds of people per day, then it would make sense to have a more generalized video introducing yourself and your offering. If you are dealing with a lower volume of leads with a higher deal size, it would make sense to personalize the video as much as possible.
Whatever the case may be, you can always embrace personalization. Including the recipient's first name and company name in the subject line is a great place to start. In case you are interested, Dubb has integrations with MailChimp and Constant Contact for mass email sending.
Also, one of the best practices is to use animated gifs in your videos. Using Dubb, you can add personalized text on top of the animated gif and also on to the video. This is just a cool, neat way to surprise and delight your prospects.
Research Your Prospects
Do the research to understand your high-value prospects and be sure to include any applicable specifics you uncover in your video. You want to create content that is relevant to wherever a prospect is located in your marketing funnel. If you are providing significant value, they will be interested to hear from you. But if you are too salesy, you may turn them off.
For instance, if a prospect is at the top of your marketing funnel, try to make your content as educational as possible. Bring them into the process and educate them about your product or service. If they are in the middle of your funnel, provide them with options about how your product or service can help them. Finally, if they are at the bottom of the funnel, show them how they can take the next step and make a purchase.
A prospect will love you if you provide relevant content to where they are in your funnel. Also, remember that prospecting goes beyond email. You can research your prospects and reach out via LinkedIn, company websites, CrunchBase, Google, and AngelList. Those are great resources to research prospects and to deliver high-quality video content.
Add a Call to Action
Whenever you are sales prospecting, it is critical to add a call-to-action ("CTA"). Essentially, it is a way for viewers to take the next step after watching your video. Some common types of CTAs include opportunities to fill out a form, sign a contract, check out, or receive texts, emails, or calls from your organization.
Critically, however, you want to avoid having unclear CTAs in your videos or emails. Unclear CTAs often result in analysis paralysis. Viewers freeze up and decide not to take any action as a result. Yikes!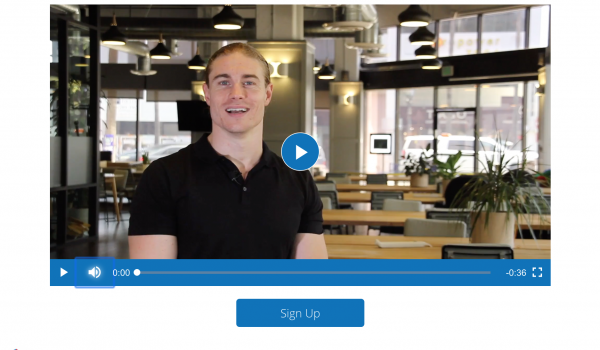 An example of a video sent through the Dubb platform with a clear call-to-action.
In short, if given unclear choices, a prospect will typically make none. This is the worst-case scenario. If a user is interested in your product or service yet is confused about what to do next, you could lose a loyal, repeat customer. To avoid this error, make sure that your CTAs are simple and easy-to-understand.
One Quick Tactic
Finally, if you want to get started with video prospecting but don't know where to begin, here is a quick tactic that you can leverage today.
Start by creating a few slides on Google Slides or PowerPoint and create a screen recording that is personalized for one of your prospects. Then share that video on LinkedIn and through email. Be as educational as possible in your video. If you don't hear back from your prospect, send a few more iterations of the same video, making sure that you continue to provide value.
Chances are that you will receive the best response rate that you have seen to date. You are leveraging the power of video and personalization, and in all likelihood, your target will react positively.  
Highly Effective Prospecting
Prospecting with videos is more than just a shiny new object to be learned and forgotten—it is the future of sales. According to a recent report from Cisco, 80% of the world's internet traffic will be video by 2019 and a good portion of that content will be sales-focused.
Don't get left in the stone age. The sooner you start using video to prospect, the sooner you will reap the rewards.
Here at Dubb, we can help you with your video prospecting efforts. We have a video communication platform allowing you to easily send videos from Gmail, LinkedIn, and other sites. It also allows you to pair that outreach with customizable video landing pages that support multiple CTAs.
If you'd like to try the Dubb Video Communication Platform two weeks for free, sign up here. If you're ready to subscribe to the premium service (which includes features such as CTAs, calendar booking, CRM integration and much more, feel free to take advantage of a 10 percent discount code: DUBBVID). Also, don't forget to check out the free Dubb Chrome Extension.
We look forward to hearing from you!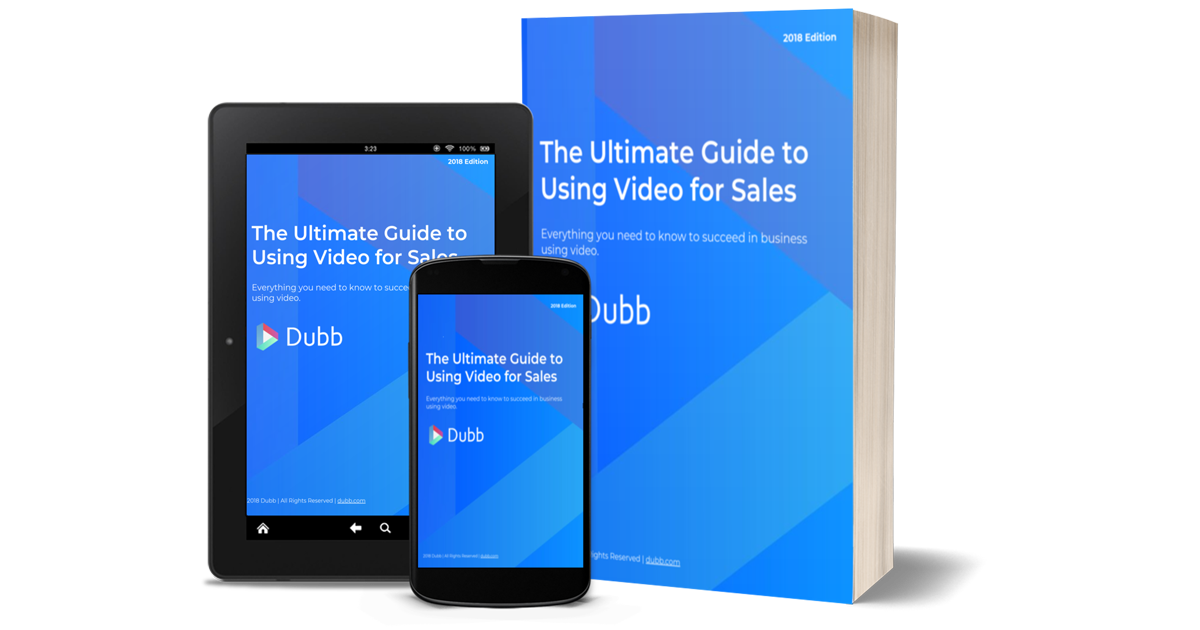 [eBook] Ultimate Guide to Using Video for Sales
Dubb is a video communication platform that lets users send personalized, trackable videos. The Dubb platform simplifies video sharing with a Chrome Extension, Outlook Add-In, mobile app and website that allow users to share and track screen and camera videos. Dubb offers a free 14-day trial with no credit required.
Dubb Blog
Average rating:
1 reviews
Jul 24, 2019
Very helpful article
Sold! I'm going to start doing all my sales prospecting with video from now on. Thanks for this informative piece.