Are you looking to find new prospects and generate more revenue through LinkedIn?
Check out this webinar to learn how to leverage video, personalization, and outsourcing to attract more clients. 
Trust is the foundation of any relationship. Ultimately, trust is the foundation of any business relationship, especially between business owners and their clients.
The problem is, we entrepreneurs are trying to build trust with strangers. The only possible way our clients could learn anything about us is through the information we make available on our LinkedIn profiles or the information we choose to share with them personally.
So then, how do you establish trust with people whom you've never met, let alone market to them?
It might sound challenging, but it can be accomplished. The key is always being one step ahead of the trust issue. You can build trust by preemptively providing the information that people might be curious about, even before they find the need to ask them. You have to show people who you are and what you stand for. State clearly what your value proposition is. Tell them what problems and markets you're trying to solve and attend to. Inform them of why they should choose to work with you. For them to fully develop confidence in working with you, you must provide them upfront with all the tangible information they need to learn, see, and hear about you.
Yet, this poses another question of how. How do you communicate all of these at once?
The internet can be a very untrustworthy and noisy environment, and it's making people increasingly cautious. People are not going to give their hard-earned money to someone they don't believe in. Therefore, it's our job to ensure that when we introduce our brand and ourselves to people, they wouldn't think twice about our credibility because they immediately recognize that we can be trusted.
We communicate trust through video.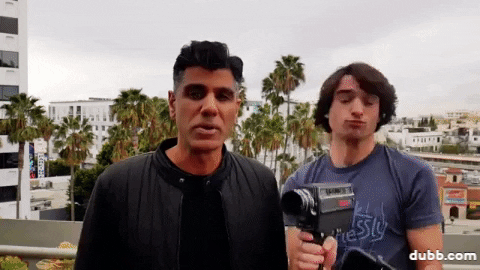 One of the most common principles in the business world is for people to do business with you, they have to know, like, and trust you. But it might be better the other way around. It all starts with trust—people cannot possibly come to like you nor attempt to know you without first establishing great confidence in you and your brand. By using video, you're putting a face to your brand. And by putting a face to your brand, you're showing people that you're not just another company trying to sell them things, but a human being capable of making genuine connections and relationships.
Have you ever heard of parasocial relationships? It's that bond and familiarity you feel toward your favorite characters from your favorite shows or movies. You haven't met them in person, but you feel as if you have known them forever, and they have your trust because you're frequently spending time "with" them. Video has the power to build effective parasocial relationships, whether they be fancy or simple.
But before you even attempt to make connections, how do you reach your target market? Before the rise of various media channels, we usually relied on referrals—we relied on them quite geographically, even. However, that's no longer the case today. You can now expand your brand's reach across the globe with video messaging platforms like Dubb.
We invited Paul Higgins to speak at one of our online training webinars here at Dubb. Co-hosted by Dubb chief revenue officer Darius Santos and myself, Dubb founder and CEO Ruben Dua, we discussed the best practices and strategies in attracting more replies, relationships, and revenue, primarily on LinkedIn and using the power of video.
Paul is a high-performance business mentor, podcaster, author, and founder of Build Live Give, a collective of consultants and coaches passionate about helping service-based business owners find their balance between life and work by adopting a hands-off management approach and improving profits to fund their lifestyles.
Before we get into the meat of the matter, let's first discuss how you can capitalize on Dubb's powerful features for your outreach efforts.
What's Up with Dubb?
Dubb is all of the tools and software you need to create, customize, and distribute your video messages, condensed into one simple and easy-to-use platform. These three components only used to work independently from each other, but with Dubb, they can now work synergistically. Dubb is the best platform for leveraging the power of video to expand your messaging, grow your business reach, build trust, shorten sales cycles, and establish yourself as a thought leader in your niche.
Step One: Create Videos with Straightforward Tools
Dubb Chrome Extension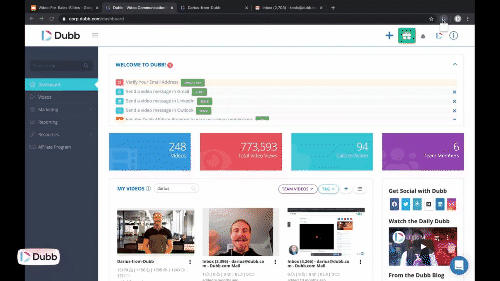 With the Dubb Chrome Extension tool, you can make videos of anything seen on your computer. There's an option to record a video of your whole screen or a small region of it and add a webcam feed of yourself. If capturing the screen isn't needed, you can record just yourself via webcam. You'll find onscreen controls at the bottom corner for making the video so much more interesting than a flat video—you can pause recording any time you want and even annotate the screen with various pointer colors. Aside from onscreen controls, there are also keyboard shortcuts to make the recording process easier.
If you already have a pre-recorded video in your file library or one you prefer to get from YouTube, you can upload that to Dubb as well.
Dubb Mobile App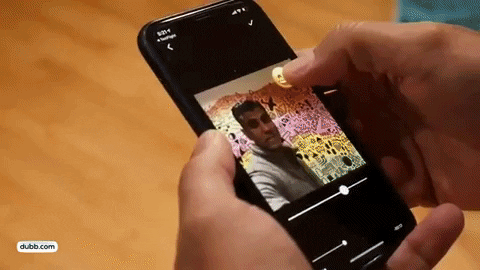 If you're not used to capturing and editing on the computer or if you're on-the-go, you can try out the Dubb mobile app available for Android and iOS for your video needs. With the app, you can record videos and edit them in real-time. Add emojis, text, and background music. You can also cut up video clips and splice them together while shooting.
Like on desktop, taking an existing video from any source and uploading it to Dubb is possible with the mobile app.
Step Two: Customize the Video Experience with Landing Pages, Presets, and Call-to-Action Buttons
Fully-Branded Video Landing Pages
After you've shot and uploaded your video to Dubb, they are packaged automatically in custom video landing pages, complete with your logo, watermark, color scheme, and custom background image.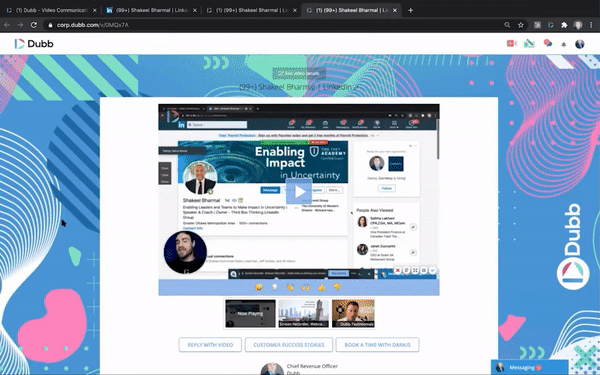 With fully-branded landing pages, your contacts can focus solely on your content without distractions.
Uninterrupted Video Playlists
Dubb's video playlist feature makes for seamless video consumption for your contacts.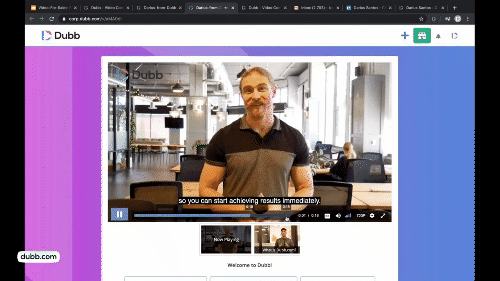 When you're reaching out to someone, you wouldn't want to send them only one video. The best thing to do is send your prospects a sequential set of videos that delivers a cohesive message. No matter how many, these videos will automatically play one after the other. Your contacts won't have to click on separate links to watch each video.
Another benefit of the video playlist feature is that it saves you time and effort. For example, after recording a personalized introductory video, you wouldn't want to explain your product's details and features over and over for each client, would you? Instead of doing it every time you reach out to someone, you can do it once and then leverage that pre-recorded video with custom introduction videos. This way, you're getting the best of both worlds.
Some of the other types of videos you can utilize are testimonials, social proof, and case studies. They help develop your clients' trust even more.
Functional Call-to-Action Buttons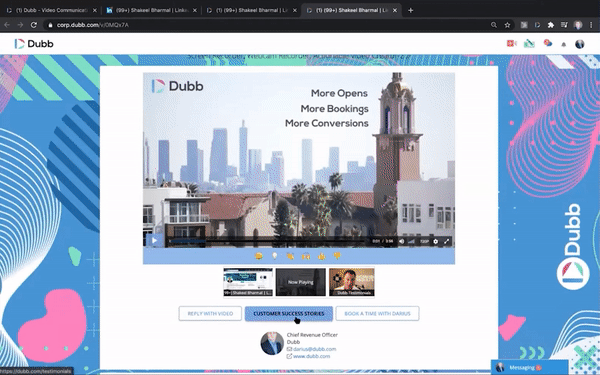 One of the reasons you're creating videos is to generate engagement and conversions. Call-to-action ("CTA") buttons do a great job of doing precisely that. Dubb's CTAs are fully customizable devices designed to prompt your viewers to interact with you and your content. You can set them up to be what you need them to be: for booking a call, downloading attachments, filling out forms, sending video testimonials, and anything else you can come up with.
Customizable Video Presets
To make your video outreach efforts even more personalized, we've made presets available for the video landing pages. You can change everything from the colors to the background image, from the set of videos to the CTA buttons, and many others. All you have to do is set up your templates for different use cases, name them, and you're ready to switch up the entire look and feel of your pages with a few clicks.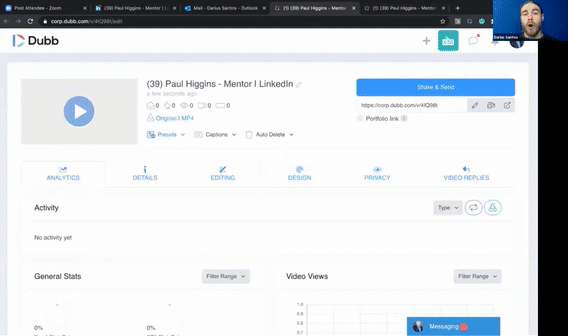 Video presets are incredibly helpful when you're simultaneously reaching out to many people, and you want to cater to their specific needs and varying interests. Dubb makes the customization process extremely scalable, quick, and efficient.
Step Three: Distribute Your Videos Wherever
Direct Integration with Major Platforms
You might have experienced sending videos via email, only to find out that it could only be sent as a link or a downloadable file. Here at Dubb, we do things differently. We prefer moving pictures over uninteresting text.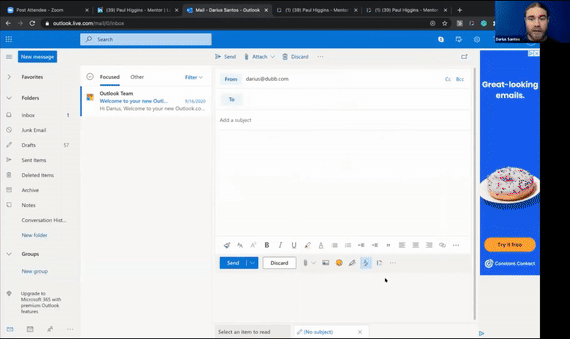 After creating and customizing a Dubb video, you can choose to send it directly from any email or CRM platform, and it wouldn't appear as a direct link. How? It's because Dubb has direct integration with several major platforms like Outlook, Gmail, HubSpot, Salesforce, and a lot of other messaging channels. Just look for the Dubb icon and access Dubb's features from there. And by using Dubb, instead of your content being displayed as a link or a still thumbnail, your recipients would get an animated GIF preview of the first few seconds of your video. Imagine sending someone a Dubb screen recording of you browsing through their LinkedIn profile. They would be far more likely to click on your email because they would immediately see that it's not just another spam message trying to make its way through their inbox, but a personalized message made specifically for them. Besides, a GIF preview is much more intriguing and exciting than plain text or generic emails.
Universal Copy and Paste Method
Aside from sending via direct integration, you can also use Dubb's share and send feature with universal compatibility. If you're using a platform that doesn't directly integrate with Dubb, this universal sending feature is your best bet.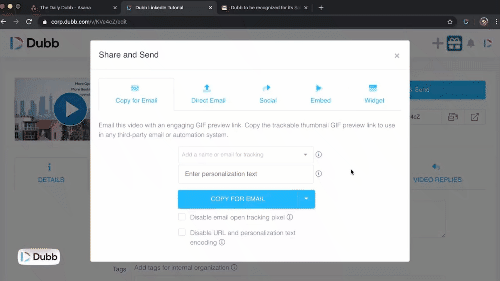 Basically, anywhere you can paste something into, you can insert a Dubb video into. It's that simple. Just click on the "copy for email" button, and then proceed to paste on any channel you're using. This can work on social media platforms, CRMs, LinkedIn, and even text messaging. If the medium allows for media previews, the video will automatically display an animated GIF preview, virtually the same as what would happen if sent via direct integration.
Built-In Marketing Automation and Drip Campaign Feature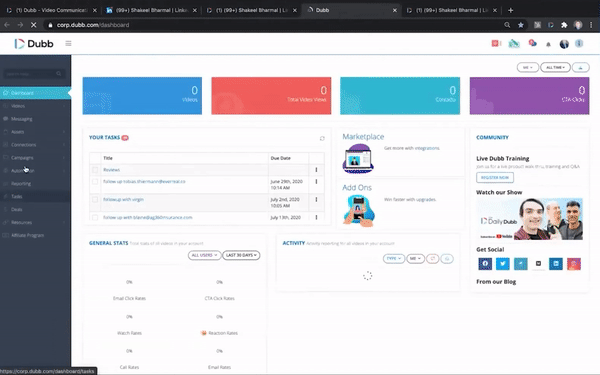 Marketing Automation
The ability to send out automated emails is one of the most exclusive features Dubb has.
Automation consists of workflows that make use of triggers. Triggers can be a specific action, event, or date you set up that initiates the distribution of dynamic messages. The series of messages will largely depend on your recipients' behavior, primarily caused by conditional if-then statements you put in the workflow. These statements make the entire system dynamic—your recipients might not receive the same series of emails because their responses to the messages would vary.
Drip Campaigns
Email drip campaigns have some similarities with email automation, but they're not exactly the same.
Sending out video messages in campaigns means sending them out in bulk. They are not dynamic in any way, and they only mainly serve the purpose of nurturing leads or following up with contacts. These are simply scheduled one-off messages that contain predetermined content, which will not depend on user behavior.
Granular Tracking and Analytics Data
When sending out videos to your prospects, it's crucial that you're able to monitor every bit of engagement. Surface-level analytics, like the number of views, won't be much use for formulating outreach strategies that work.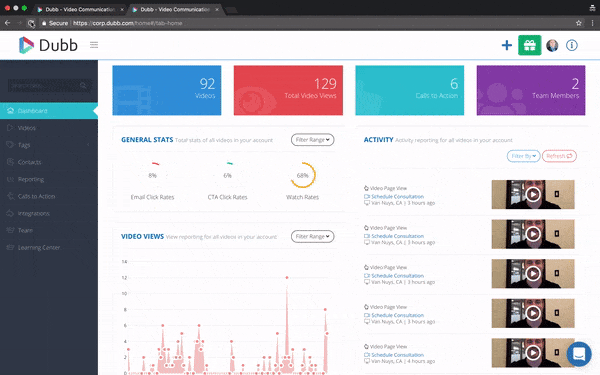 Dubb provides you with the most granular statistics about your videos' engagement because we know how valuable it is to obtain data that displays your contacts' every activity—who among them watched your videos, what percentage they watched, email click rates, CTA click rates, and many other helpful insights.
Now that we've talked about what Dubb can do and how you can use it to use video to your advantage, let's get started on applying this knowledge to real-life outreach situations.
Three Ways to Get Clients on LinkedIn
Paul presented a model that's sure to help you win over clients' trust on LinkedIn.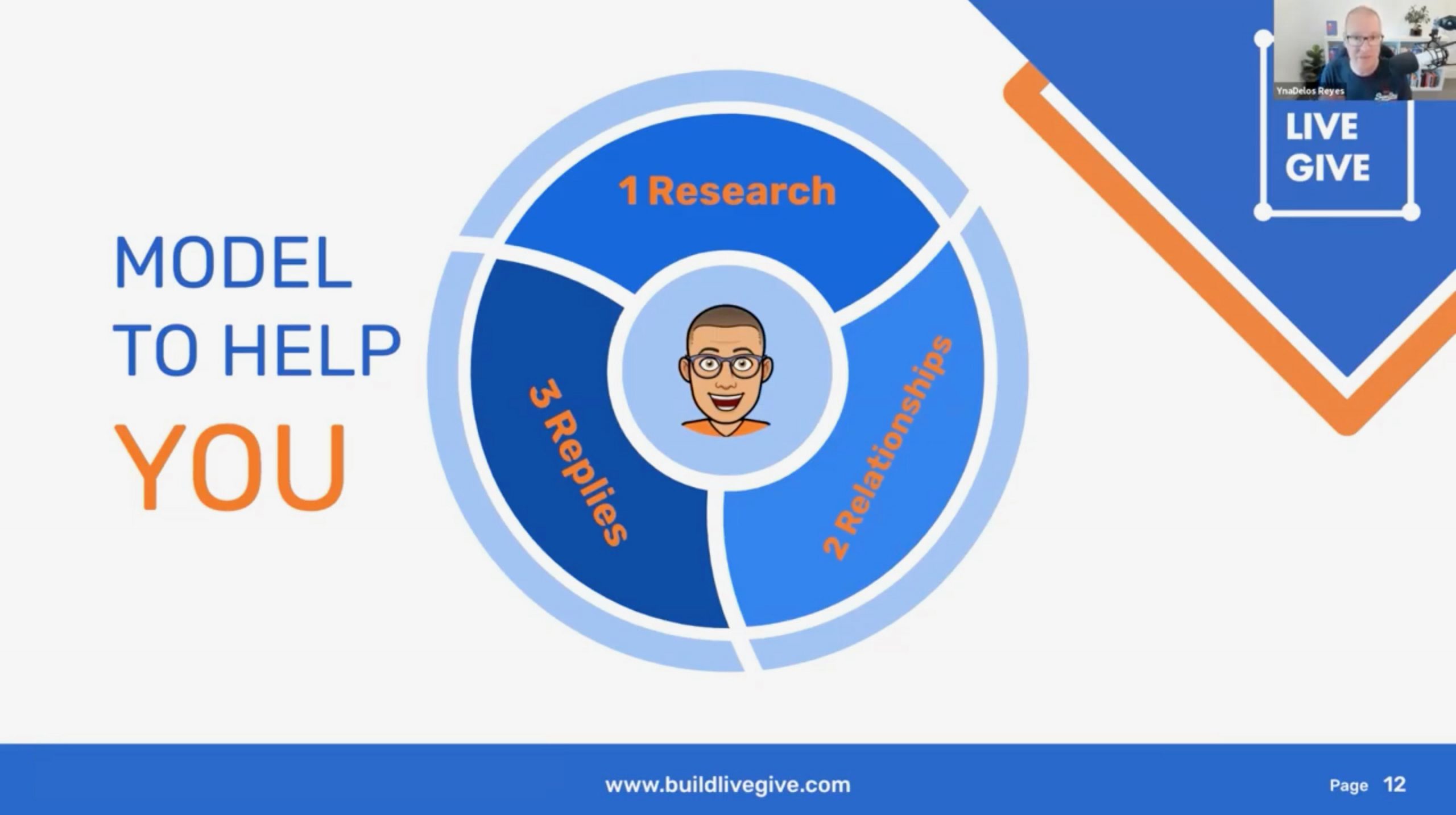 Research
1.1 Qualification
Now, qualification may sound like a tedious task, but it's worth your trouble. You can go down the sales automation route and focus on quantity, but that doesn't work. You're always going to have to qualify. It's a simple practice of garbage in, garbage out. A long list of leads may look promising, but qualification guarantees that every sales opportunity will produce a return on investment.
Qualification doesn't even have to be too much of a burden. You can get started by trying out LinkedIn Sales Navigator, a more sophisticated version of LinkedIn built mainly for sales professionals. Sales Navigator gives you better research capabilities, functions almost like a sales CRM database, and has personalized algorithms that help you find the right people to connect with.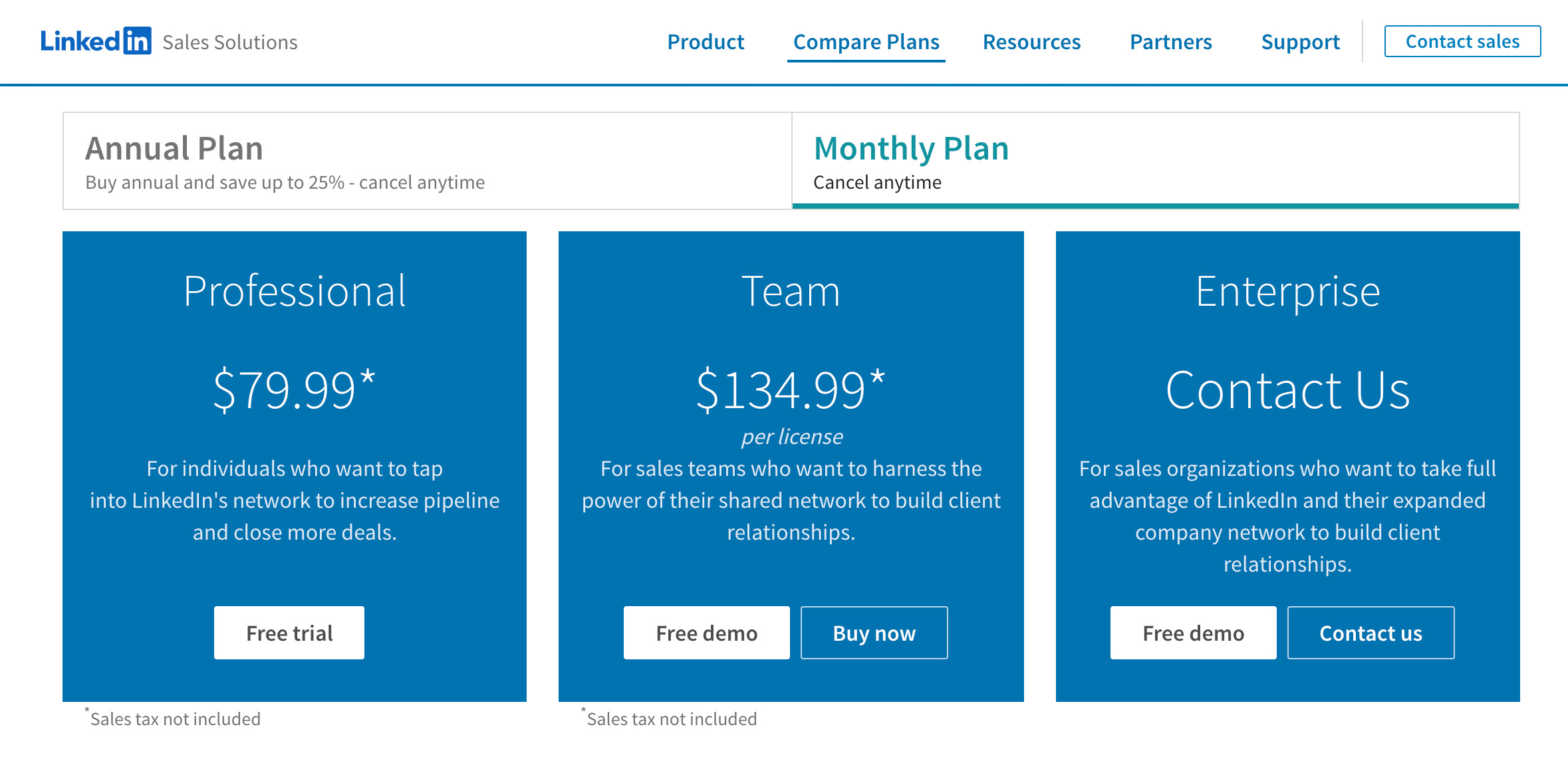 Paul and his team begin qualification with a series of questions that they take their leads through. Some qualification standards are easy to determine because the answers can come straight from LinkedIn profiles, but some are more subjective and require careful deliberation. Here are some of the essential questions they consider:
Are they a

thought leader

?

How often are they posting? Are they posting

high-value content

?

Have they got

mutual connections

with you? Are they surrounding themselves with the same people you are?

What does their

business design

look like?
Qualification does not only benefit you, but your leads as well.
Knowing your clients provides you with enough clarity to be able to identify their pain points and attend to them by improving your products or services according to their demands.
Not only that, qualification saves you a tremendous amount of resources. How many times have you invested time and energy on a lead only to find out in the end that they weren't the right fit for you? Similarly, qualification does not only save your time but also your prospects'.
In essence, qualification helps you make sure that you're connecting and working with the right people. Ultimately, the better you qualify, the easier it will be to make conversions as you incorporate video further along the journey.
1.2 Research
Research works twofold. While the qualification process itself already requires research, you must also conduct research in preparation for creating videos to send to your prospects.
The following are research steps that Paul suggests you take during the qualification process leading up to the building relationships stage:
Evaluate and filter in your leads using LinkedIn Sales Navigator. It's the best tool to use for you to get excellent qualifications.
Look at their About section. While you're at it, think about yours, too. Unfortunately, most people fail to get their

About

section as good as it should be. When writing your

About

, don't write too much in the first-person point of view. Why? Because frankly, people won't care much about you. They care about themselves and what you can do for them. Therefore, it would be better to write to them. Use "you" often when writing your

About section

. Going back to your prospects, look for themes in their

About

section that you can cover as you reach out with video.

Study your prospects' Experience section. In making them a video, you'd want to compliment them. Therefore, you have to gather as much information as you can from their

Experience.

Observe their posts. What have they been up to? What particular subject matters are they posting about?
Check their company page. Most people don't pay much attention to their company page because it's better to post and market as an individual, but it's still good to see what they do, their vision and mission, and the number of people working on their team.
Lastly, visit their website for additional information.
Performing these steps will surely help you identify your ideal client.
Once you've qualified your leads and done extensive research, now it's time to build on those relationships.
Relationships
2.1 Relationships
The first step to working on building relationships is pre-engagement. The best way to do this is by liking and commenting on posts that are relevant to someone. It's essential to pre-engage before sending someone a connection request because it considerably affects whether you're gaining people's trust. If you're regularly liking and putting in well-educated comments where appropriate, people will begin to notice. But remember to curate your profile beforehand and make it as impressive as possible because they might visit it at any time.
2.2 Send connection requests
Once you have made yourself known to someone, proceed to send a connection request.
2.3 It's all in the wording
In making a connection request, it's crucial to mind the wording of what you write. Paul and his team have used thousands upon thousands of scripts to test and iterate, but this is the one they have found to work best: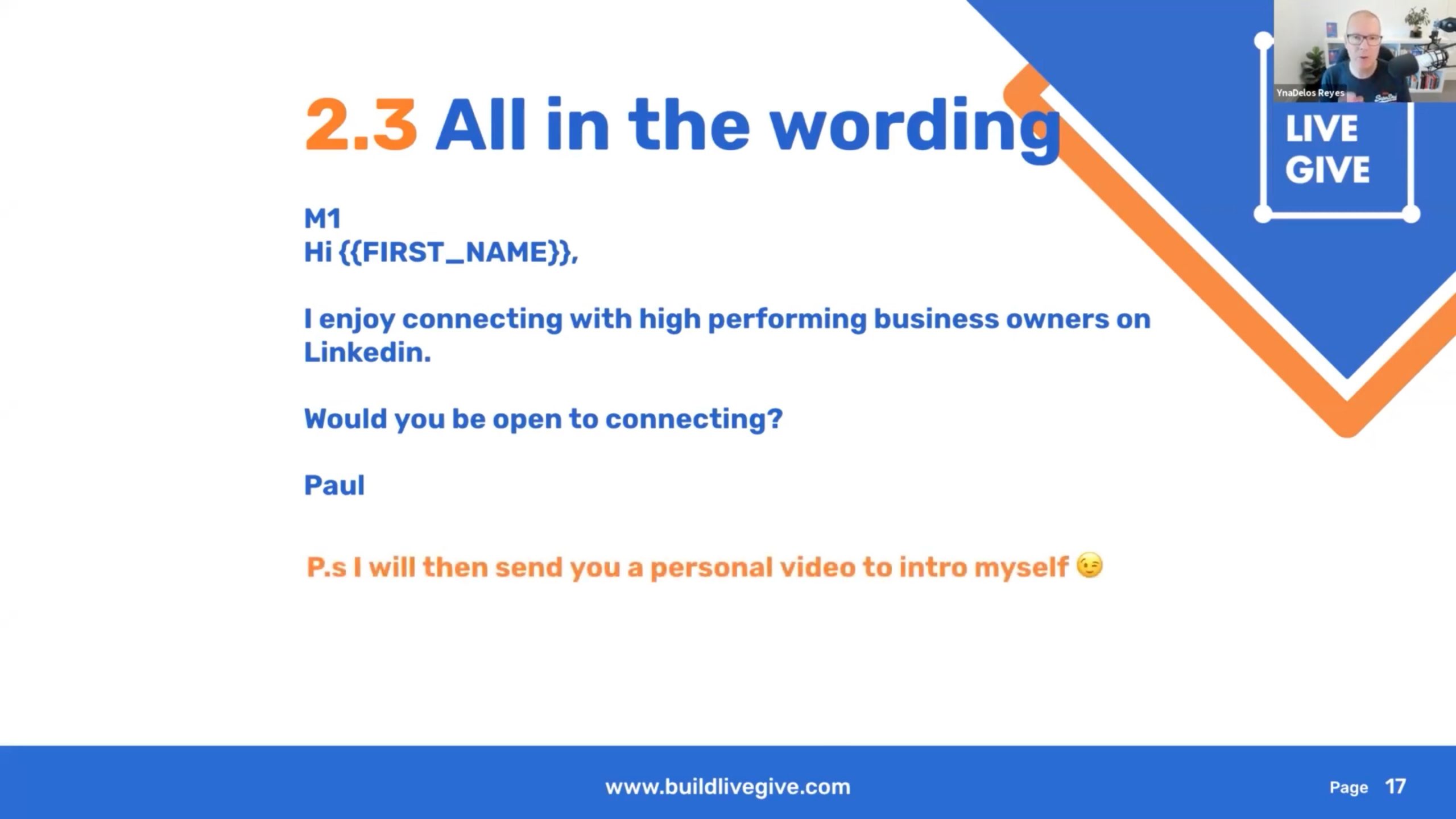 Of course, you will need to tailor this script for your own connection requests, but let's examine its essence and how it works.
Tell them who your target market is. In Paul's case, they are "high-performing business owners." So, insert in your connection request who yours is. Remember, you've already done the research, and you've already worked out the fact that your target market is

them

.

The keyword here is open. It's probably the most powerful word to use on LinkedIn. Sometimes, entrepreneurs can get insistent when reaching out to prospects. However, it's not ideal. You want to give them the choice of whether they would work with you or not.
At the end of your connection request, set up the fact that you're going to send them a video message to introduce yourself later on. It separates you from the typical connection requests that merely send spam messages without actual value.
2.4 Video script
In constructing your video script, here are a few important pointers you need to consider:
During the video recording, have your prospects' LinkedIn profile up and your messages with them open so that there will be no confusion as to why they're getting your video message and where you're coming from. Remember to tell them why you selected them and how you found them.
Keep in mind that you're doing video to put a face to your name. Introduce yourself not just as a brand but as a person, and be your most authentic self.
Having already done your research about their experiences, go ahead and compliment them. Whether they might have recently written a book, acquired a new team member, or posted content that received great engagement, congratulate them on their accomplishments.
Like we've already discussed, LinkedIn profiles do not tell the entire story, only the ones people choose to provide. And so, the next step would be to ask them if they would be open for a call. You can make use of Dubb's CTA feature so that your recipients could easily arrange a call with you. Again, you're using the magic word "open." Because not everyone will book that call right away, but you're providing value by respecting their decisions and their time. Remember that you're not exactly selling at this point, only building relationships and adding value.
Aside from the CTAs, this is also where you can utilize the video playlist feature. You can include testimonials, explainers, social proof, and various other value-adds using the playlist.
In most cases, you would have acquired someone's personal email that they have made public on their LinkedIn profile. But still, in your video message, ask them to reply with their business email if they're interested in finding out more. There are other ways to obtain business emails, mainly with software, but asking your prospects yourself allows for trust to develop.
To end, ask your prospects if it's the right time for you to connect. If they tell you that they've got higher priorities at the moment, accept courteously.
This script isn't to be followed as it is, but you can adapt it depending on the circumstances and the people you're connecting with. But Paul's secret to keeping himself on track with these pointers while recording his videos is through this set-up: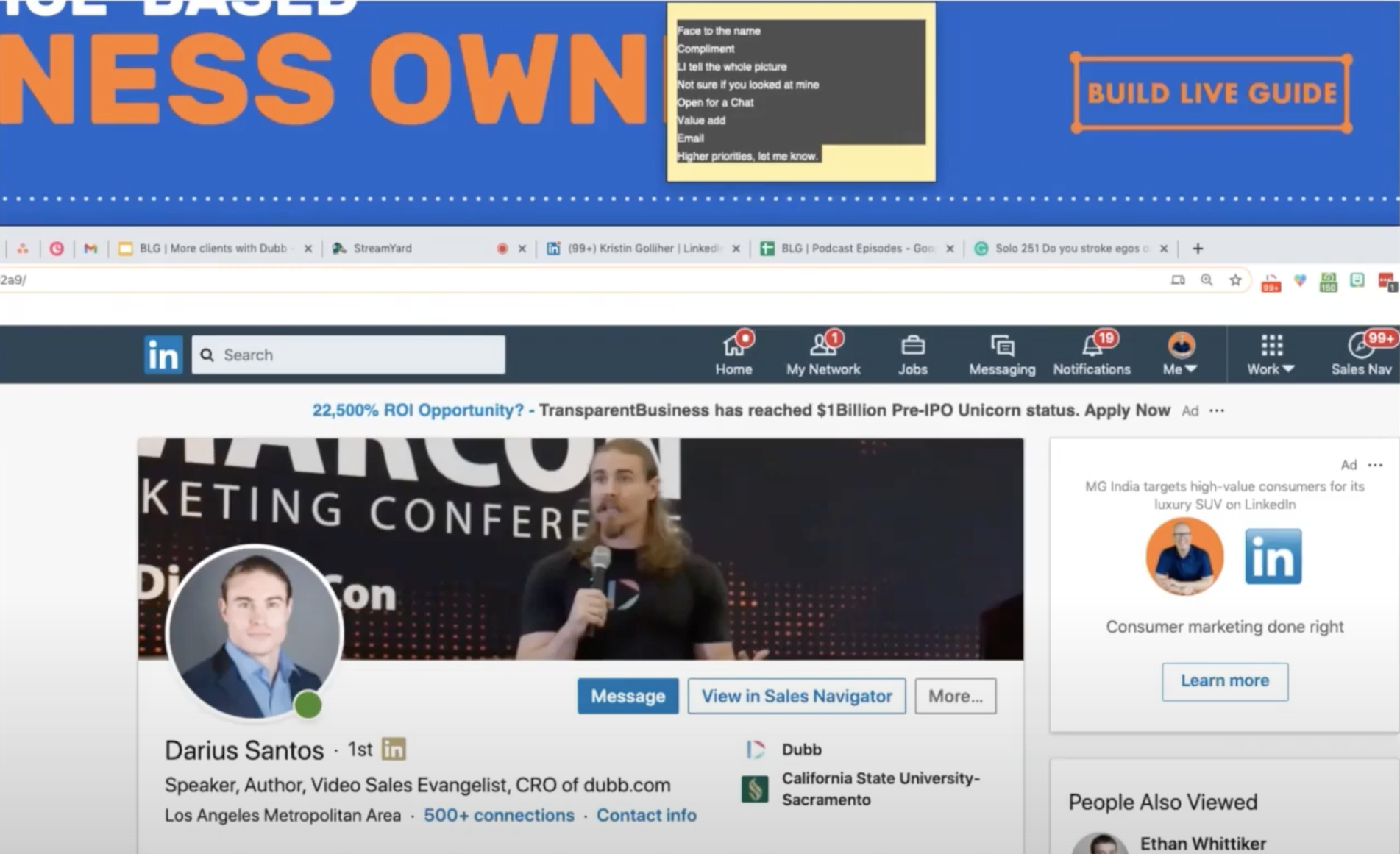 2.5 Record using the Dubb Chrome Extension
Paul uses sticky notes that he positions at the top area of his computer screen near the webcam and places the LinkedIn window directly below it. He can still record just the browser window without the notes using the partial screen record feature of Dubb's Chrome Extension tool.
Wondering how long your videos should be? It's best to keep the duration of these videos to under a minute.
2.6 Name and personalize videos
Aside from a GIF preview of their LinkedIn profile or website, how do you get someone to open your video message when they don't know you at all? You write their name on the video.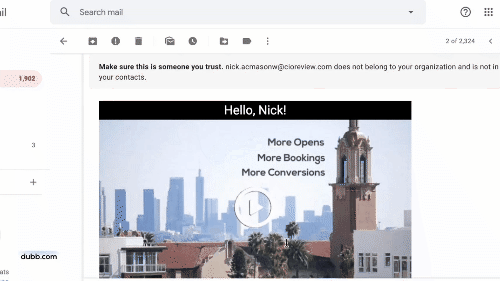 2.7 Calls-to-action and playlists
Call-to-action buttons are not only great for encouraging interaction, but they also make for excellent value-adds.
When it comes to planning your video playlists, get creative. But be careful not to get ahead of yourself—providing case studies and the like might be too early for first-time connections. It's better to keep those for the future. For now, try to produce videos that add as much value as possible.
2.8 Emails
In writing your email, it's important to remind your contact where you came from and why you're sending them a message. You're aware that you have already been in touch on LinkedIn, but with so much happening in their lives, they might forget. In addition, let them know in the written message the duration of the video. This eliminates the assumption that your videos are too long for them to watch.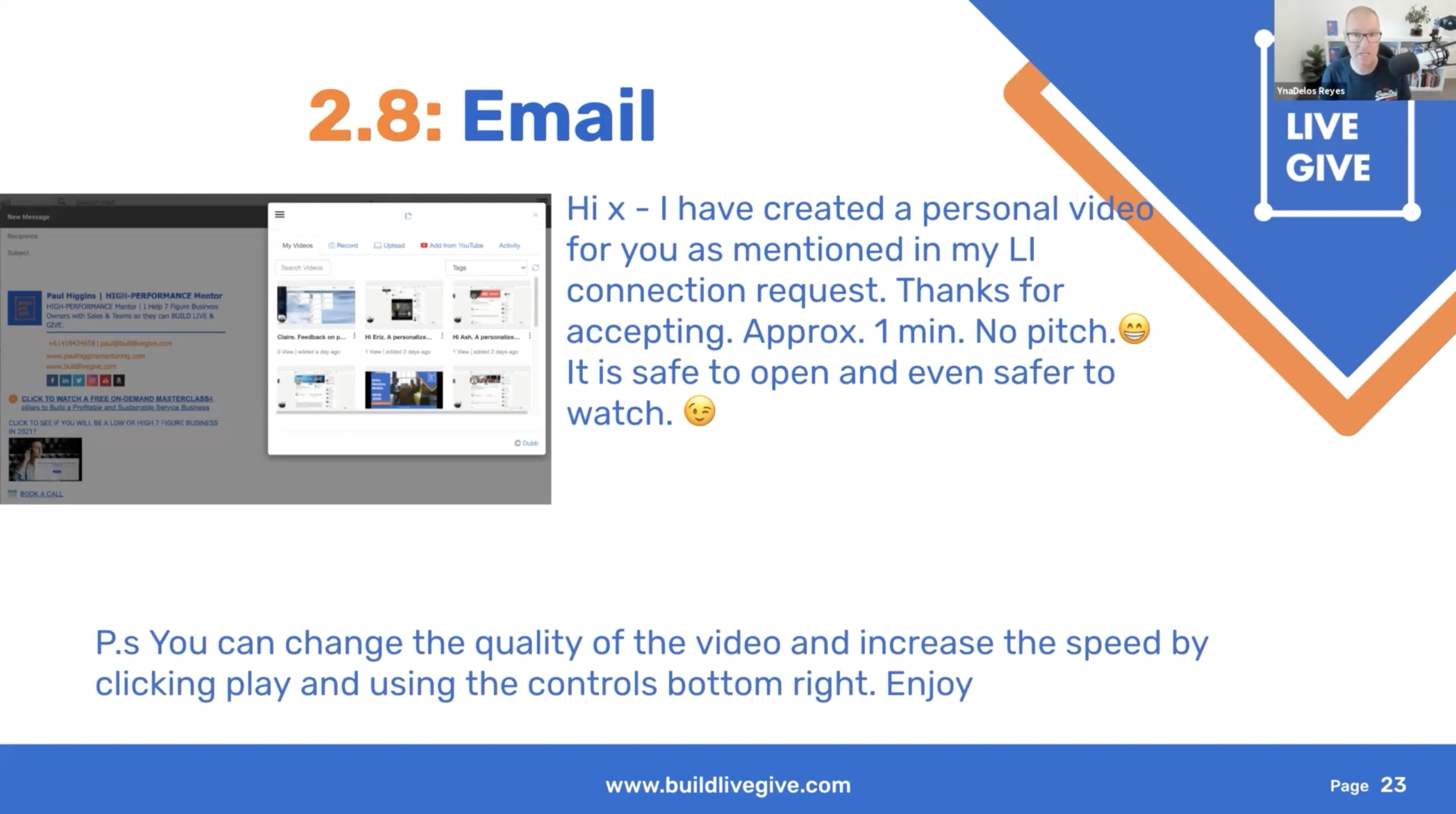 Replies
3.1 Replies
Once you're already exchanging messages with your connection, continue asking open questions because they form trust and help you understand more about what the next steps should be.
3.2 If you can't help
Paul typically asks people what their key marketing focus is—a question that's short, sharp, and leaves room for open replies. It would be best if you did the same.
If you discover that their needs are not your specialty and that you won't be able to help, then ask if they already have someone helping them. And if they say they don't, ask if they would be open to a referral. Should they say yes, refer at least three people.
How does this help you? You might not be the right person for them, but they know of people who are, and they will surely remember and recommend you when the need arises.
3.3 If you can help
On the contrary, if you learn that you can help, ask if they've got someone helping them still. Don't immediately offer your products or services. If they don't, tell them what you can do to help, ask if they're open for a call, and lead them to arrange a video chat.
Research, Relationships, Replies
To recap, begin by qualifying leads to make sure you're selecting the right people and to collect enough information necessary to produce personalized videos of the highest quality.
If you're not very confident with doing video yet, try recording practice videos without sending them to clients, just to get comfortable and natural in front of the camera. It's almost an art; you have to practice, practice, and practice.
Remember not to overlook pre-engagement, your video script, and what you name your videos—they make all the difference.
Finally, work on building that trust between you and your connections by providing them valuable video content with Dubb.
If you're interested in learning more from Paul Higgins about getting three to five new clients a month on LinkedIn, check out his free masterclass at blgclick.com.
Are you up for leveraging the power of video to attract more replies, form new relationships, and gain revenue? Sign up here for a free 14-day trial of Dubb. If you have further questions about our platform, don't hesitate to contact us.