Chances are if you are using a CRM system you have chosen (or considered) the HubSpot sales and marketing platform. HubSpot has become one of the top CRM and marketing automation suites available due to its ease of use, robust functionality, and extensive marketplace.
As we all know, the success of a business is largely contingent on its ability to juggle various business activities with efficiency. With HubSpot, this isn't a problem. The platform offers plenty of tools that are distributed across five primary Hubs:
Marketing Hub

Sales Hub

Service Hub

Content Management System (CMS) Hub

Operations Hub
While each of the products is powerful enough on its own to accelerate growth, you can realize ultimate success by harnessing the synergy in using them together.
Have you ever come across the term "smarketing"? Tracing the origins of that word will lead you to HubSpot. During the early 2000s, HubSpot coined the term smarketing to refer to the process of achieving alignment between sales and marketing teams through direct communication and constant collaboration.
Historically, harmonious coexistence between sales and marketing departments was, well, close to nonexistent. In fact, feuds have been known to frequently arise between the two. Marketing would complain about sales failing to nurture leads properly, while sales would come down on marketing for generating poor-quality leads.
Of course, this isn't an ideal situation. Not only does it impede the success of a business, but it also harms morale and workplace productivity. With the introduction of smarketing and their multi-hub solutions, HubSpot is bringing an end to the finger-pointing once and for all. By leveraging HubSpot, you can rally your sales and marketing teams to work together towards a shared goal — to drive the business forward.
However, figuring out how to navigate such a comprehensive system and all of its intricacies can get overwhelming. The great thing about HubSpot though is that it provides its customers with a knowledge base that teaches everything they need to know about using the platform.
In addition to its learning center, HubSpot has also gone to great lengths to provide education on inbound marketing, sales, and customer service with its free online training platform, HubSpot Academy.
Now, when we said HubSpot has an extensive marketplace, we meant it in every sense of the word. As of writing, HubSpot users can seamlessly connect the CRM platform to more than 1,000 apps.
One of the most powerful integrations into HubSpot is the Dubb video sales system. With the Dubb HubSpot integration, users are empowered to create, share, and track videos directly from 1:1 emails and campaigns sent via HubSpot.
Why Use Video for Sales and Marketing?
Video Generates Engagement
Video is the most effective medium for increasing engagement.
Think about it. Most viral posts on the Internet today are in the form of videos. The reason behind this is simple: people love to consume video content because it's fun, visually appealing, and easily digestible. And if you're trying to get your message across, using video is the best way to catch your audience's attention.
Apart from its entertainment value, video is also perfect for producing informative content for your customer base.
Research shows that 96% of people watch explainer videos to find out more about a product or service. The highly engaging quality that's inherent in videos makes it easier for your target customers to understand what your brand or product is all about, consequently nudging them in the right direction.
Video Encourages The Most Social Shares
Speaking of viral content on the Internet, people love sharing videos. According to a study by Wyzowl, the likelihood of people sharing video content is twice as much as any other type of content.
If you look at today's biggest social media platforms, you'll immediately notice a trend in making video-sharing (especially short-form) more accessible. You've probably heard of TikTok, today's most widely used platform for short-form videos. Even Instagram, which once was exclusively a photo-sharing app, has hopped on the bandwagon with its introduction of Reels. As for YouTube, they now offer Shorts which are vertical videos limited to 60 seconds. Similar to its sister company Instagram, Facebook now also has Reels.
One thing that these platforms have in common is they're allowing users to create and publish videos that are particularly intended to be watched on smartphones. This speaks volumes about boosting the accessibility of video content.
Video Drives More Conversions
Video is a fantastic medium for capturing your audience's attention, but it's also the most effective way to convince them to make a purchase. In fact, the same research by Wyzowl states that 88% of consumers attest to having been convinced to buy a product or service after watching a brand's video.
Unlike text-based communication in the sales cycle through SMS and email, video makes an impactful connection that causes 10-20% more email opens and 30-300% more click-through rates. These result in more connections, conversations, and conversions. Based on this method alone, we have seen users experience a 100-300% increase in sales.
The Results Speak for Themselves
We at Dubb are passionate about helping people leverage the power of video to make a human connection, and ultimately leave a lasting impression among their prospects and clients.
Here are some video testimonials from sales leaders who have achieved success with the video sales system method.
The first would be from the King of Sales himself, Jeffrey Gitomer. Most people know him as the two-time New York Times bestselling author of The Little Red Book of Selling and The Sales Bible. Jeffrey recognized that providing content for his clients to watch — instead of reading — allowed him to position himself ahead of the competition.
Here's Paige Battcher, founder and CEO of Kismet Ideas. She's a master storyteller and has generated tens of thousands of dollars capitalizing on the combined power of story and video. We are so thrilled to be part of such a massive success story.
For Rachael Tresch, business development coach/voice-over artist/social selling guru, video is an absolute game-changer.
How to Integrate Video into HubSpot
The first step is to make sure you have an account on HubSpot. As you're here, it's highly likely that you already do. This integration will work with any plan on HubSpot, including free accounts.
Get a free account on Dubb
The next step is to get a free or paid account on Dubb. By signing up for a free account you will get a 7-day free trial of the Pro plan, which includes advanced features such as presets, calls to action, storage, contact-level reporting, and additional sales-focused features.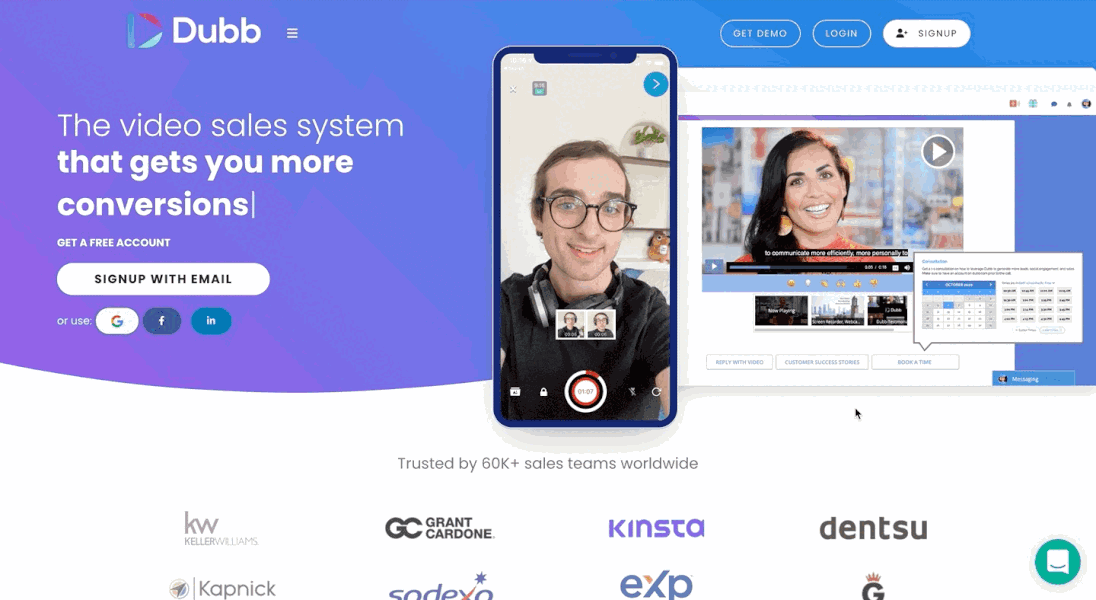 Integrating Dubb video messaging into HubSpot
Now that you have an account on Dubb and HubSpot, you are ready to integrate the Dubb video sales system into your HubSpot account. To do so, search for Dubb in the HubSpot marketplace and click Install app.
Once the integration has been installed you will have the option to specify the appropriate contact owner and tag for contact syncing. To do so, click on the Options button.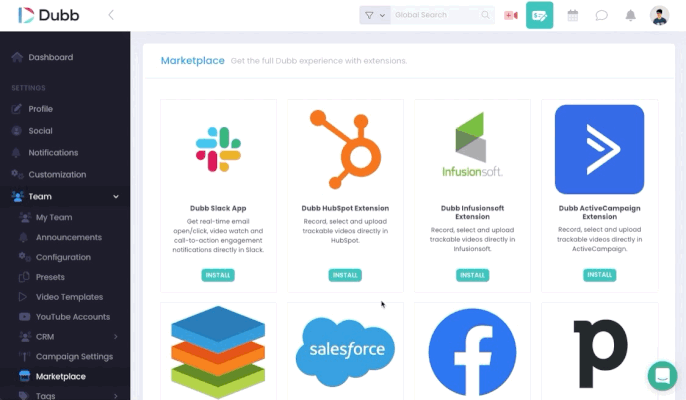 The next step is to import your HubSpot contacts into Dubb.
To start, export your contacts from HubSpot. Then go to your Dubb dashboard, and navigate to your Contacts page. Click on the Add New Contact dropdown in the upper right-hand corner, then select Import Contacts.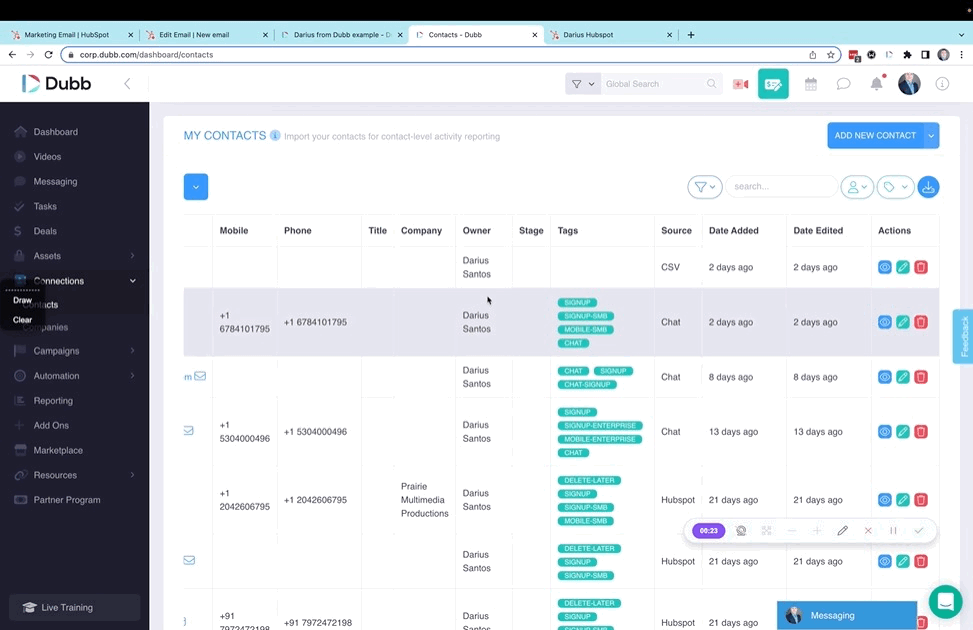 Once these steps are complete, your contacts will be automatically kept in sync between both platforms.
These steps also make it possible for the API reporting to take place between Dubb and HubSpot. This means you'll be able to track who among your contacts specifically are watching the videos you send — from both inside Dubb and contact records within HubSpot. Automation such as this would normally require a third-party app like Zapier, but we've built the Dubb HubSpot integration to be totally seamless.
Start sending videos in your HubSpot email campaigns
Now that your HubSpot and Dubb accounts are connected and contacts are in sync, you are now ready to start including videos in your 1:1 and campaign emails in HubSpot.
What you need to do next is to install the Dubb Chrome Extension. In doing so, you will get quick access to your video library, the Dubb video recorder, and your activity reporting directly from the HubSpot email interface. Make sure to click on the Dubb Chrome Extension button at the top right of your browser and make sure you are logged into your Dubb account.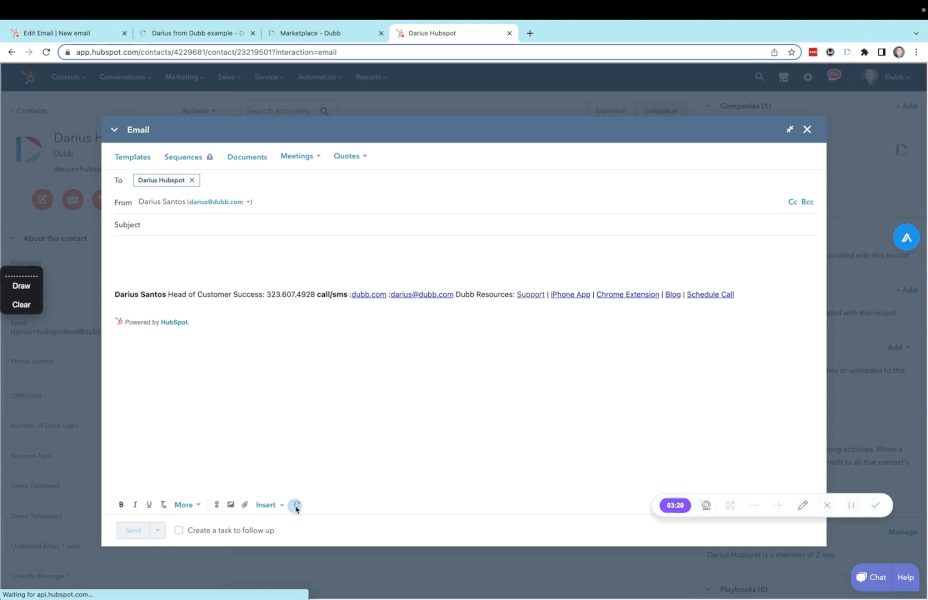 How to Start Sending Video from HubSpot
Congratulations, you are now ready to include videos in your 1:1 and email campaigns. 
Include a video in 1:1 messages
To send video messages to individual contacts, visit a contact profile page. Select Create an email, and you will notice a Dubb icon appear within the toolbar of the email interface. Click on that Dubb icon in order to access your video library. Then, select the existing video you wish to insert into the body of your email. Next, click on Copy Link and Thumbnail and paste the contents of your clipboard wherever you see fit. This will place an animated GIF and trackable link within the email copy.
On the other hand, if you are ready to create a brand new video on the spot, you have two options. Using the Dubb Chrome Extension or desktop app, you can record a video of your screen or webcam. If you want something that's more casual or you're simply on the go, try recording with the Dubb mobile app. It's available for download on iOS and Android. Follow these links to download it from either the App Store or Play Store.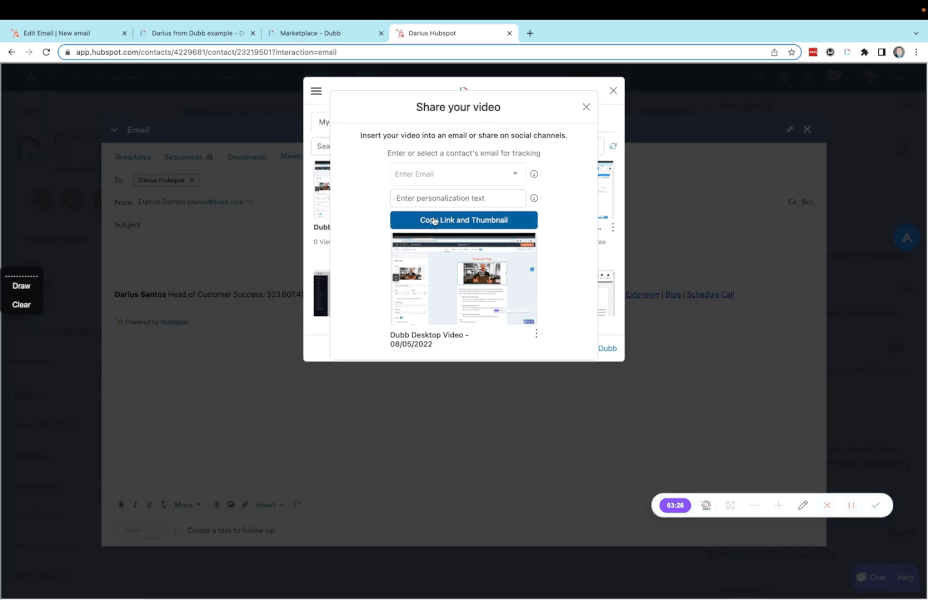 Include a video in an email campaign
To include a video in an email campaign, navigate to the Marketing Email section in HubSpot. Click on Create email and then choose from their many useful templates. Next, drag and drop an image block into the body of the template, wherever you want it placed.
From here, visit your Dubb video page and click Share & Send. A window will pop up, and you'll have to click on the Copy for Email dropdown to download the GIF. After downloading the GIF to your local file library, come back to HubSpot and upload it into the image block. Once the GIF appears on your template, you will have to return to your Dubb video page. In the same Share & Send window, click on Advanced Options. Toggle the Optimize for switch, and then select HubSpot. The next step is to copy the video URL from the Copy for Email dropdown, so you can finally paste it into the link of your HubSpot image block.
Once all of these steps are accomplished, your video message is ready to be sent to multiple people from your HubSpot account. And although you're sending a video through an email campaign, as long as your contacts are synchronized between HubSpot and Dubb, you can still track individual results and activity reporting.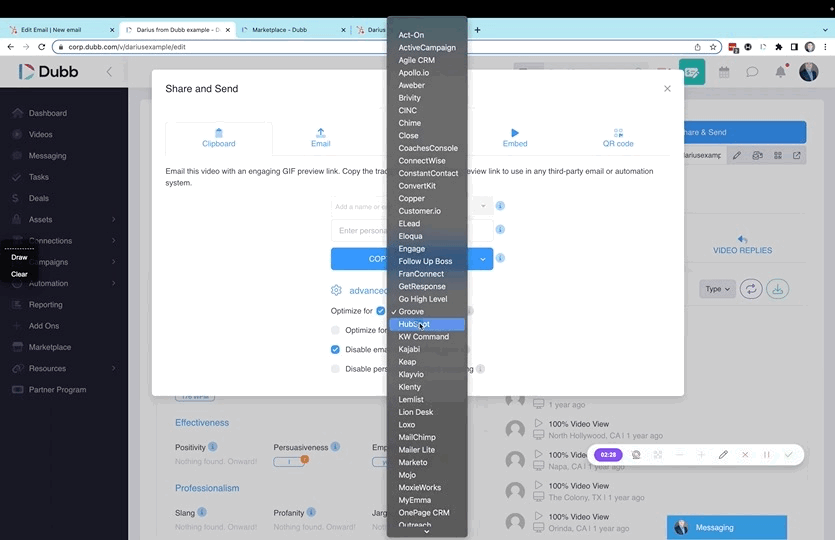 Include a video in Gmail or Outlook
In addition to sending a video email from HubSpot, you can also send one from Gmail or Outlook. It's essentially the same process: install the Dubb Chrome extension, access your videos from the Dubb icon within Gmail or Outlook, and insert your video into the body of your email. For a more detailed guide, check out this blog post.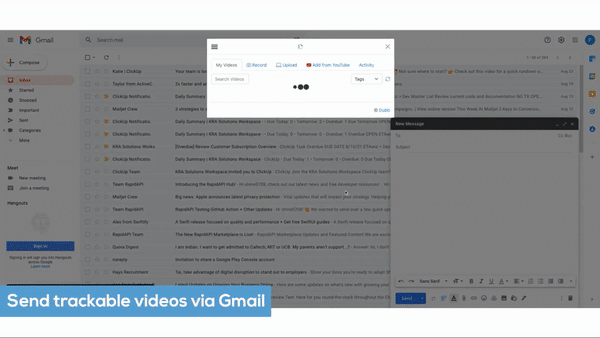 Get real-time activity reporting
Now that you are able to send videos through your emails, you are ready to learn how to access real-time data tracking so that you can follow up intelligently — we call these smart calls.
The various types of activity reporting you will be able to access are:
Email opens (whether the person opened your email)

Email clicks (whether a link within your email was clicked)

Page views (whether your landing page was viewed)

Video watches (what % of your video was watched by the end-user) 

CTA clicks (whether your calls to action were clicked)

Form fill (whether a form submission was completed)
There are three places to view real-time reporting; 
1) in a HubSpot contact profile,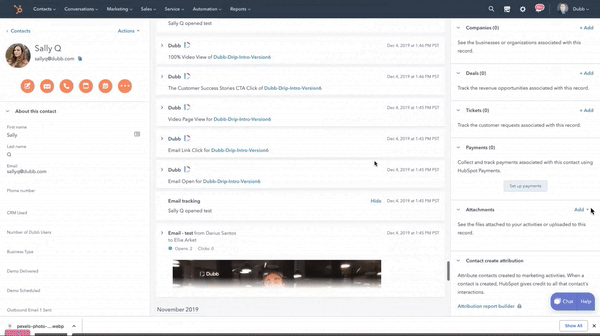 2) in Dubb contact profile; and,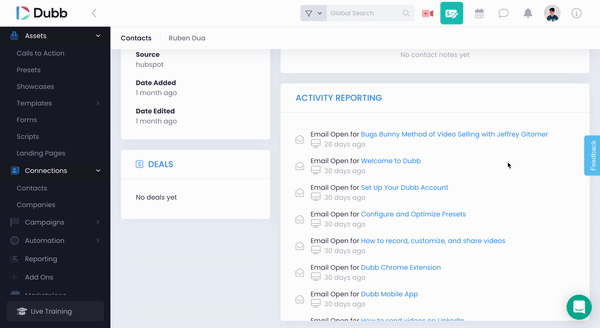 3) the Dubb video info page.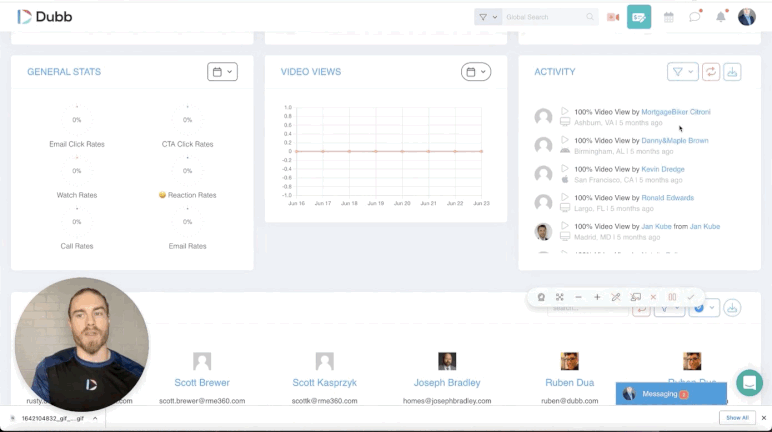 Now, remember, in sales and marketing the gold is in the follow-up. So take advantage of this real-time activity reporting so you can contact engaged prospects, create intelligent reporting, and build automated workflows.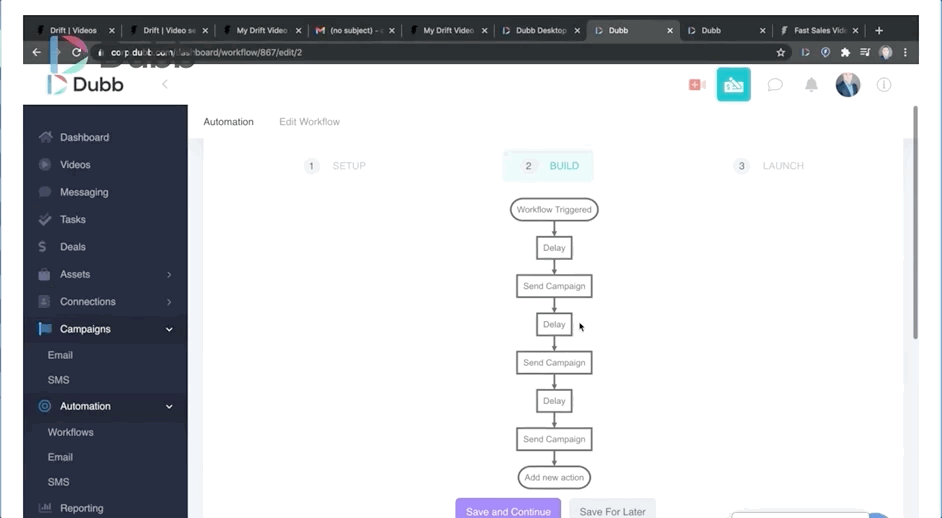 Now that you have completed the integration, you are ready to make video part of your entire sales and marketing process.
If you'd like to attend one of our regular live training sessions, please click here. To access our support articles, you can follow this link. We also invite advanced users to explore features such as reporting, engagement-based contact filtering, and automated workflows.
For inquiries about the Dubb platform, please don't hesitate to contact us.