Get this eBook to learn how what video can do for your business.
Did you know that adding video to emails can increase click-through rates by 200-300%?
Here's a free eBook titled "11 Must-Know things for Video Marketing in 2018".This eBook contains need-to-know facts and information about the role video plays in todays market.
What You'll Learn in this eBook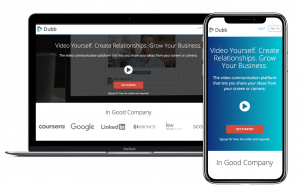 About Dubb
Dubb is a video communication platform that lets users send personalized, trackable videos. The Dubb platform simplifies video sharing with a Chrome Extension, Outlook Add-In, mobile app and website that allow users to share and track screen and camera videos. Dubb offers a free 14-day trial with no credit required.