The Vidyard GoVideo vs. Dubb debate is one that you may be currently contemplating. Both GoVideo and Dubb help everyone from individual creators to the largest businesses leverage the power of video sales and marketing. While the products may seem similar on the surface, there are some key differences between Vidyard GoVideo and Dubb. 
In this post, we are going to explore some of the similarities and differences between Vidyard GoVideo and Dubb. At the end of this post, you will have a very clear understanding of those similarities and differences so that you can make the best decision for you and your company.
A Terrific Way to Connect with Prospects and Customers
Video sales and marketing technology is always improving. There are constantly plenty of opportunities to use video to accomplish your business goals. That being said, the core value proposition of video hasn't changed. 
At its core, video is a tool that can help you tell compelling stories and build strong relationships with your audience. Regardless of the size or sector of your company, you can use video to create strong, organic relationships with your audience and generate more sales. This is true whether you are posting longer videos to your favorite social media platforms or are shooting one-to-one videos for your most valuable sales prospects. 
Both Vidyard and Dubb can help you leverage the power of video. They recognize that video can be a true game-changer in helping you grow your business. However, the way that they go about this slightly varies. Even though these differences may seem slight, they make a difference in the way that you complete your video sales and marketing work. 
Therefore, we are going to take a close look at Vidyard GoVideo vs. Dubb. Vidyard's GoVideo product is actually just called a Screen and Webcam Recorder now. That said, I'll refer to both interchangeably, as many know it by GoVideo. In this post, we are going to compare the Vidyard Screen and Webcam Recorder Chrome Extension to Dubb's Chrome Extension. 
A Brief Overview of the Vidyard Screen and Webcam Recorder Chrome Extension and Dubb Chrome Extension
To start comparing both of these tools, you'll need to download them from the Chrome Web Store. After you have downloaded them to Chrome, you will see that they have been added to your Chrome toolbar. The Vidyard Screen and Webcam Recorder Chrome Extension has a green icon while the Dubb Chrome Extension has the Dubb logo (which is a D shaped icon that is blue, red, and green).
Upon first glance, the extensions look extremely similar. Using both extensions, you have the ability to record your current tab, full screen, and your webcam only. Essentially, both tools give you the options and flexibility to record your screen in essentially any way that you'd like. Dubb's Chrome Extension, however, provides one additional feature here. There is a fourth option that lets you quickly upload pre-recorded videos to Dubb.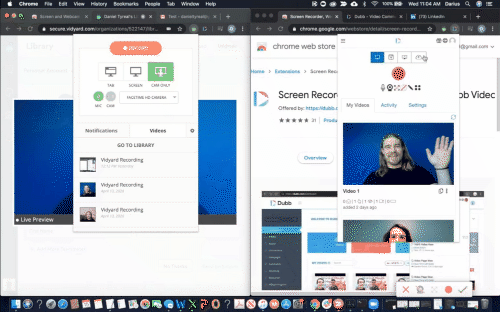 You'll also notice that both Chrome Extensions have a pause button that appears when you are recording. The pause button may not seem like a major thing, yet it can be a lifesaver when recording a lengthy video. This is even truer if you realize you made a mistake when recording. Rather than going back and re-recording the entire video, you can pause, collect your thoughts, record with your corrections, and remove the inaccurate portions during editing. 
Along with these features, you'll find additional options on both Chrome Extension's main pages. You can easily select the webcam and microphone that you'd like to use in your recordings. This is a useful feature if you have different webcams and microphones that you use for different videos. Both Chrome Extensions make it easy to switch between these webcams and microphones so that you can have an optimal setup for your videos. 
Now, let's talk about analytics. Vidyard's GoVideo product has a "Notifications" tab, where you can see who has been viewing your videos. Dubb has a similar feature in a tab called "Activity." However, under Dubb's Activity tab, you'll see that there is some more information. In Vidyard's Notifications tab, users can see the people that viewed a specific video, but it doesn't reveal how much of the video was viewed. By contrast, Dubb gives you that granular data. It shows how long viewers have watched your videos, which can help you create even more engaging videos for your audience.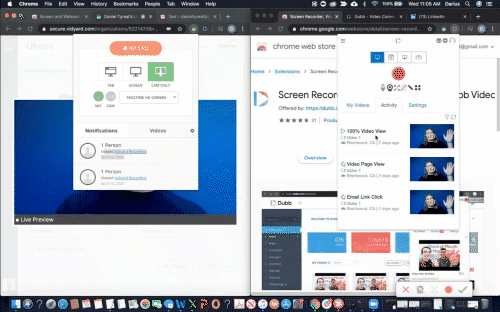 Besides these distinctions, it looks like users are getting much of the same functionality here. To start, users can record directly from these Chrome Extensions. Ultimately, the point of these Chrome Extensions is for users to be able to record videos wherever you are. Both Chrome Extensions have those features, so you will be able to create awesome, compelling videos whenever you feel like it. 
Recording a Tab with Dubb
To better understand some of the differences between Dubb and Vidyard, let's talk about recording tabs with both Chrome Extensions. We are going to start with Dubb.
Looking at Dubb's Chrome Extension, you can see that it looks very similar to Vidyard GoVideo. That being said, it looks like the Dubb Chrome Extension has a few more options. First, users have the ability to expand their webcams. When doing this, the webcam can take up the full screen. This is a great option if you want to have a greater presence when making an important point in your videos.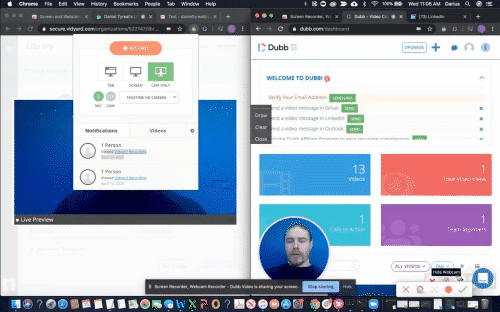 Along with this, there is another unique feature to Dubb that I didn't yet mention. That is the fact that you can annotate your screen when recording. This annotation tool can be a major help when you're making presentations or other professional videos. Using the annotation tool, you can do things like underline, draw, highlight, or circle items or text on your screen. Instead of using your mouse cursor to take note of certain things on your screen, you can do so more easily and quickly through Dubb's annotation tool.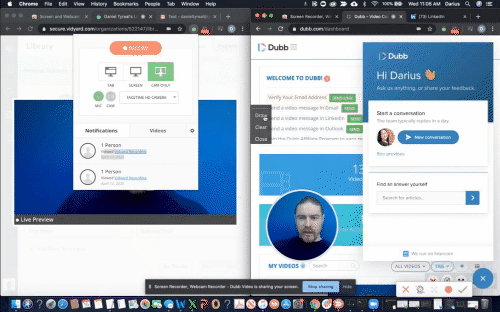 Recording a Tab With Vidyard GoVideo
With these Dubb distinctions in mind, let's talk about recording a tab with Vidyard GoVideo. Like Dubb's Chrome Extension, you will see a quick countdown before you start recording your tab. 
As the recording starts, you'll notice that the webcam bubble appears to be the same size as Dubb's webcam bubble. However, it appears that users cannot move the webcam bubble with Vidyard GoVideo. Users of Dubb's Chrome Extension can move the webcam bubble to the most optimal place on their screen. 
Like Dubb's Chrome Extension, Vidyard GoVideo offers a pause button when you are recording. However, as I mentioned, there does not appear to be an annotation tool within Vidyard GoVideo. If you'd like to highlight a certain part of your screen when using Vidyard GoVideo, you'll have to move your cursor around. And to reiterate, Vidyard GoVideo users cannot resize the webcam. You'll only be able to have the small webcam bubble that is located on the bottom left of your screen. 
Reviewing Vidyard and Dubb's Platforms
That was a quick review of both the Vidyard GoVideo and Dubb Chrome Extensions. The beauty of both is that they are completely free to use. If you want to explore or play with them yourself, you are certainly free to do so.
From both Chrome Extensions, I now want to take a look at both Vidyard and Dubb's platforms. Vidyard and Dubb have great Chrome Extensions, but there are even more features and tools to use on their platforms themselves. If you are interested in the Chrome Extensions, you'll definitely want to leverage these platforms in your day-to-day work.
Dubb's Platform
To start, let's take a look at Dubb's platform. You can immediately see that the video I created earlier is already in my library.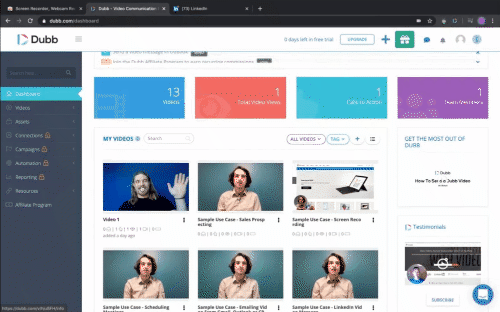 You'll also see that there are a few tabs with locks on them. We'll discuss those in a moment. Ultimately, what we are exploring today are just the free versions of each of these tools. We are looking at Vidyard's GoVideo free product and Dubb's free product. 
Looking at the backend of Dubb's free tool, you can see many tools and features that you can leverage.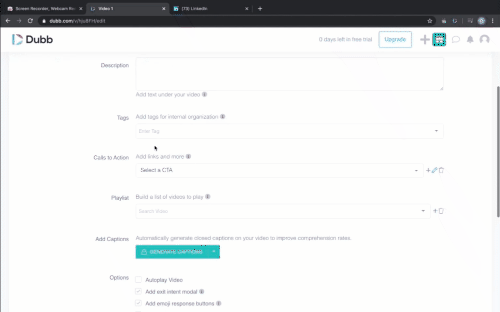 For instance, you can check out plenty of analytics about your videos. You can do some basic editing of any particular video. If you need to do a simple trim, for instance, you can easily do it on Dubb's platform. You can also add a customized thumbnail for your videos (which is especially important if you are uploading the video to YouTube). You'll also see that there is a "Design" tab on this page, but it is only available to users of Dubb's paid plans. If you upgrade to a paid plan, you can automatically generate closed captions for your videos or upload your own SRT file. You'll also see some privacy elements and a video replies tab, which shows the video replies that you received for that particular video.
Finally, Dubb users are able to leverage Dubb Chat. Dubb Chat is a way for you to converse with users on your video landing pages. Dubb's video landing pages are free and automatically generated, so it's a great central hub for all of your Dubb videos.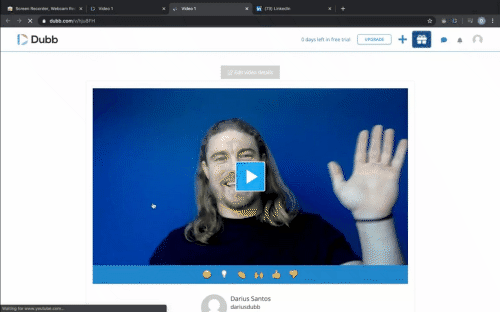 Vidyard's Platform
With that brief look at Dubb's platform, let's now take a quick look at Vidyard's platform. Upon clicking the "Library" tab on Vidyard's backend, you can see that it is difficult to preview the video landing page. That said, we can easily take a look at the Vidyard and Dubb videos when they're included in the body of an email. The Vidyard video is at the top and the Dubb video is at the bottom.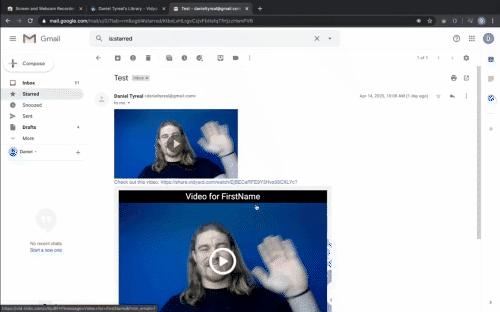 As you can see, these videos appear somewhat similar, but they have some key differences. Dubb's video automatically includes a button (that says "Watch Video") and includes the length of the video on the button. With Dubb, there is also the ability to include some personalization text on top of the animated gif. Vidyard does offer an animated gif and a link to the video below the gif, but it doesn't include these Dubb's features that I mentioned. 
Clicking on the Vidyard animated gif, we can now arrive at Vidyard's video landing pages. In terms of the layout, it looks pretty similar to Dubb. However, there doesn't appear to be a chat module below the video. In other words, there is no ability to chat back and forth with viewers of your videos. 
Putting the Videos Side-By-Side
So once we put Dubb and Vidyard videos side-by-side, we can also see some additional features that come included with Dubb. In the gif below, Vidyard's video is on the left and Dubb's is on the right.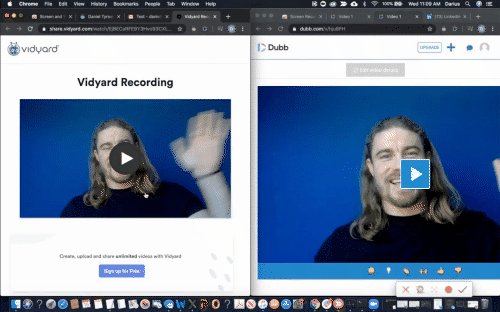 You'll see that Dubb videos contain emoji reactions below their videos. Viewers are free to click on any of those emojis to give feedback to your videos. Once again, you'll see that Dubb offers an extensive chat option. Above the chat option, Dubb also provides contact information. You'll see my name and email address, which makes it extremely easy for viewers to reach out if they have any questions or feedback. Essentially, it is a call-to-action to email your company. You can customize this information to include the contact information for you or anyone else at your organization. 
To remind you, we have been looking at the free versions of both of these platforms. On the paid versions, both platforms will have more custom branding and other features that you can leverage. The free and paid options are useful in many different situations, so you'll need to sit down and contemplate which makes the most sense for your company's goals. For instance, you can click here to take a look at some of the features that you can find on Dubb's paid plans. 
Making Your Choice
We started this post by speaking about the Vidyard GoVideo vs. Dubb debate and how both tools can help you leverage the power of video sales and marketing. From there, we looked at the way that videos are created with both Chrome Extensions. Looking at both from a high level, it appears that they have many similarities, but Dubb offers a few more options. Some of those options include the ability to resize and move the webcam, annotate your recordings, and leverage detailed reporting in the Chrome Extension itself. 
From there, we then looked at the Dubb and Vidyard platforms themselves. Analyzing both video landing pages, we also saw how there is slightly more functionality with Dubb. This includes everything from Dubb's chat module and prominently displayed contact information to personalization text on top of your videos. 
While I may be biased, I believe that Dubb is a fantastic choice. Whether you are just starting with video sales and marketing or are looking for a new tool to reach your video sales and marketing goals, I'm confident that Dubb can get the job done. To learn more about Dubb and how it can help your company, click here. You can also get a free 14-day trial of Dubb's paid plans by clicking here.