Video messaging software can be a true game-changer for your business. Whether you are a first-time entrepreneur getting your business off the ground or are a sales manager who is looking to reach your sales goals, you can rely on video messaging software to accomplish your goals.
In this guide, we want to take a deep dive into video messaging software and how it can provide immense value for you and your business. From building robust brand awareness to actually generating more sales, video messaging software tools can significantly make your life easier.
Let's jump into it.
Table of Contents
Some Basics About Video Messaging Software
To get this conversation started, let's settle on some basic foundational principles about video messaging software.
First, video messaging software is an easy-to-use way of communicating with virtually anyone around the world.
When we think about video messaging software, it is easy to think of two-way chat programs like Facebook Messenger, Skype, and Zoom. However, it is more nuanced than this. Video messaging software is actually a very specific thing that is used to improve communication, aid our productivity, and make stronger connections in both personal and professional settings.
With the advent of cloud computing and video hosting, video messaging became incredibly popular. In many ways, it has become a compelling alternative to simple text messages sent on platforms like LinkedIn, Slack, or even over email. With just a few clicks of your mouse or smartphone, you can send informative, valuable, and entertaining messages to all types of people. It's extremely easy to do and can be accretive to virtually any type of business.
Next, it's important to figure out where you are going to send your video messages. While the message that you're delivering is important, the way that it is being delivered is equally important.
Just think about it: you may have the best message to deliver to your specific audience members. However, if those audience members can't actually watch your video message, that message is essentially for naught. All of your hard work doesn't get the return that it should get.
Because of this, I urge you to be strategic when you are using video messaging software. You don't necessarily want to create one video and share it with as many people as possible and on as many platforms as possible. Rather, it may be better to share your video message on one or two specific platforms.
For instance, if you are communicating with a cold lead that you met at a conference, you may want to send your video message through email or LinkedIn. If it is a much warmer lead, you may want to opt for an SMS message.
Whatever you choose, you want to make sure that you are removing as many obstacles as possible. In other words, you need to make the technology so easy that you can just click on one button and start recording and distributing your video.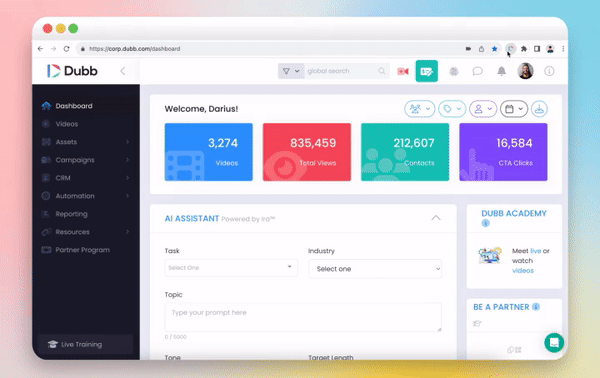 One tool that can help is the Dubb Chrome extension. Using the Dubb Chrome extension, you can record videos straight from your screen or select pre-recorded videos that are already in your library. From there, you can easily distribute your video to so many different places, including social media platforms, CRM systems, email, text messages, and more. Even if you don't use the Dubb Chrome extension, there are plenty of other tools out there that can make recording and distribution all too easy.
Finally, when you are using video messaging software, make sure to embrace data and analytics.
One of the best things about creating digital content today is that you get a wealth of data about how your audience is actually responding to your content. In the past, it was mostly a combination of hunches and talking to your audience members. Now, however, you can access a wealth of tools to help you understand how your audience is really reacting to your video messages.
There are so many things you can do with this data. However, when you are thinking about video content ideas, it is a great way to discover what is and isn't working. You can look at KPIs like emails opened, percentage of videos watched, and types of call to action buttons that were clicked. The bottom line, though, is that you want to double down on what is working and avoid what isn't working.
Ultimately, when you are sending any type of video message, I encourage you to look at that message's data and analytics. You don't need to be checking every hour, but checking frequently can help you better understand what your audience wants. And if you better understand what your audience wants? You will be that much closer to generating more sales and reaching your business goals.
Recording Your Video Messages
Now, let's talk about recording your video messages. In all likelihood, this is something that is going to take up much of your time and attention. It makes sense. Since you are sending video messages to generate sales, you want to make sure that your video messages meet the expectations of all of your audience members.
When you are recording your video messages with your video messaging software, I urge you to keep several things in mind. These aren't the only things to keep in mind, but these things may make the difference between success and failure.
For starters, plan your dialogue. You must realize that when you are speaking to someone through video messaging software, you don't want to speak in a stream of consciousness. While it may seem easier, the fact remains that taking out your smartphone and immediately recording a sales video probably isn't the way to go.
Instead of this, you want to speak in a directed way that comes across as authentic, informative, and concise. Too many people ramble when they are sending video messages. Even though it may seem like a good idea at the time, this type of rambling is scuttling your video marketing work. The fact remains that people get distracted within the first 30 seconds of virtually any task.
For this reason, you want to keep your messages as short as possible. If you have a lengthier message that you absolutely must deliver, it can be a good idea to cut your longer video into multiple videos. This way, your audience member can get through one video and decide whether or not to continue to the other videos. Just remember: brevity is key when using video messaging software.
Next, you always want to start with a hook. This is essentially a way to capture your audience members' attention at the very beginning of your video. When you capture their interest within the first three seconds of your video, you entice your audience members to finish your video. On the other hand, if you lose their interest within the first three seconds, it makes it that much harder for them to keep watching.
Ultimately, you want to provide value in an informative and visual way. You want to deliver realized stories, examples, and authentic information. This allows your audience members to connect with you on a human level. In fact, what you are actually doing is building parasocial relationships with so many different people.
When you are creating valuable, entertaining video messages, it makes your audience members feel like they really know you. It feels like you are speaking to them in a coffee shop, at a business meeting, or even around a campfire. What you want to do is make the entire experience informative and empathetic, not salesy or pushy. By approaching it in this way, you not only build long-lasting relationships, but you make it much more likely that your audience members become paying clients.
Now, it is also critical to make your video messages actionable. We aren't sending video messages for the sake of sending video messages. Instead, we want our audience members to take action. That doesn't necessarily mean buying your product or service right now, but it could mean getting much closer to that point.
What you want to do is look for video messaging software that lets you easily include call to action buttons near your video. Call to action buttons make it easy for you to take your audience from point A to point B. In other words, they help you direct your audience members closer toward a sale.
When using a tool like Dubb, for instance, you automatically get access to video landing pages for each video you create. On those video landing pages can be all different types of call to action buttons. You can do things like have your audience members complete a form, book a time on your calendar, visit a specific website, reply to your video with a video of their own, call your company, or even purchase your product or service. When you both have call to action buttons below your video and have a call to action in your video itself, magic can happen.
Finally, I encourage you to take advantage of artificial intelligence. AI is rapidly becoming the tool to help us improve our personal and professional lives. Just as is the case in many other industries, AI can help marketers and sales professionals leverage the power of video.
The best use of AI for video right now is in copywriting. For example, let's say that you want to create a video message for a specific subset of your client list. At the same time, you don't know exactly what to say or don't know how to phrase certain thoughts you may have. An AI writing assistant can be a massive asset here. Using a tool like Dubb's IRA, for instance, you can seamlessly create any type of script for any type of video. You can include things like the desired tone of your text, certain points that you want to make, and even industry-specific phrases or words that you want to mention.
Once you have a script that you like, you can go one step forward. Specifically, you can import that script into Dubb's teleprompter. The teleprompter works just like any other teleprompter that you would see politicians or news anchors use. With all of that said, you can have a stellar script, start recording your video on your smartphone, webcam, or other device, and read that amazing script through teleprompter mode. This is a fantastic way to create valuable, concise videos that your audience members will love. It offers the triple threat of making your videos visual, concise, and actionable. How great is that?
Sending Video Messages Through Various Channels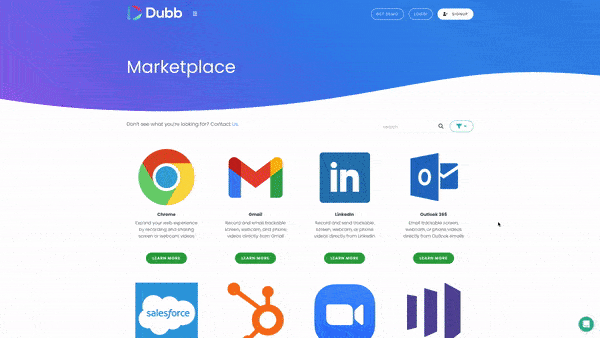 To this point, we have spent this post talking about why video messages are powerful and how you can create video messages that shine. At this stage, however, I want to discuss how you can actually send video messages through several different channels.
Now, to be clear, there are many different ways of doing this. The precise instructions or cadence will likely depend on which video messaging software you end up using. For the purposes of this post, however, we are going to assume that you are using Dubb. And if you haven't tried Dubb yet, don't worry! You can click here to sign up for a free 14 day trial of our premium plans.
Sending Video Messages Through Email
For starters, let's talk about how you can send video messages via email. This is one of the more popular ways of sending video messages. After all, you probably have some type of email list (or lists) containing prospects and clients. That email list is extremely valuable and you can leverage that value if you want to send video messages.
To send your video messages via email on your computer, I would recommend that you get the Dubb Chrome extension and the Dubb desktop app. With these tools, you can record videos from your webcam, your screen, or a mix of both.
Once you finish creating your video, you can upload it to your Dubb account. By doing this, you will automatically get a video landing page for that video. As I mentioned above, video landing pages are powerful—especially because you can add call to action options below your video.
Another thing that Dubb automatically offers is animated GIF previews of your videos. What happens is that Dubb will take the first three seconds of your video and create an animated GIF. Once it does that, you can easily copy and paste that animated GIF into the body of an email. You can do this in Gmail, Outlook, or any other email or CRM system.
This animated GIF preview may not seem like a big deal, but it most certainly is. By giving your recipient a quick preview of what they are about to watch, they are much more likely to actually click on the link and watch your video. Because of this, I always recommend that the first three seconds of your video be as captivating, interesting, and personable as possible. Feel free to wave and smile at the camera.
You can even go so far as to customize the first three seconds of your video. One idea is to use Dubb's whiteboard tool which lets you display the recipient's name on a whiteboard. The whiteboard can say something as simple as "Hey Suzy" and Suzy will know that the video was made for her.
These are just several ideas that you can use when distributing your videos via email. However you go about it, recognize that video and email together are fantastic ways to share your content. Even better is using an animated GIF preview and leading your viewers to a video landing page with plenty of calls to action. By doing this, you get much closer to an ultimate sale.
Sending Video Messages Through SMS
Now, let's talk about sending video messages through SMS. SMS is a fantastic way to get your videos in the hands of your audience members. Obviously, most of us are on our smartphones throughout the day. Because we are spending so much time on our devices, the chances are good that you will get at least some of your audience members to view your video sent by SMS.
To easily send video messages through SMS, I recommend that you download the Dubb mobile app. You can find the app for both iPhone and Android devices. Once you have downloaded the Dubb mobile app, you can quickly create your video message. You can do so by recording a selfie video, uploading a video that you have already created, or recording a video from your mobile home screen. After that, you have an instantly shareable URL that you can send via text message.
Another great thing that Dubb offers is the ability to generate a quick preview in the body of your text message. While it will not be an animated GIF (as you would have when sending your video through email), it will be a thumbnail image. If you don't like the thumbnail that is automatically generated for you, you can change it as you'd like. Whatever you choose, your recipient will be able to immediately see an image that will entice them to click on your link and watch the video.
And lest we forget: like sending your video through email, you can easily direct your viewer to the video's video landing page. That video landing page can be just the thing you need to build a strong relationship with that specific viewer and generate a sale. So if you ultimately choose to send your video message through SMS, you will be in a great place.
Sending Video Messages Through LinkedIn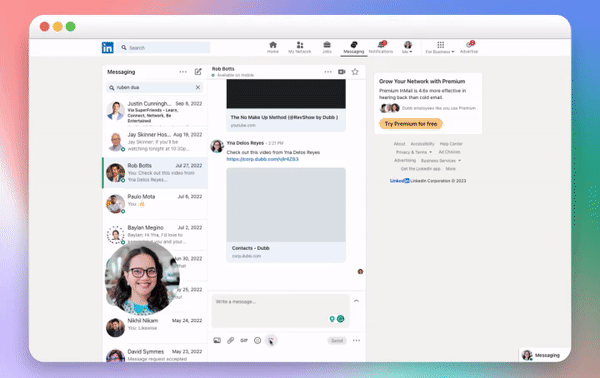 LinkedIn is another fantastic place where you can send your video messages.
The statistics are impressive. LinkedIn has more than 950 million members in more than 200 countries around the world. If you are trying to sell your product or service to a specific prospect, they are most likely going to be on LinkedIn. Even if you aren't actively trying to sell something, LinkedIn is a fantastic destination for high-quality, valuable content (including sales and marketing videos).
If you are using Dubb and want to share your video through LinkedIn, we recommend that you download and use the Dubb Chrome extension. Once you have downloaded the extension and opened Chrome, you will see a small Dubb icon in LinkedIn's direct messaging feature. Go ahead and click on that Dubb icon. After you do this, you will have the option of recording a video from your screen or webcam or uploading a video that you have already created. Once you have made your choice, you can quickly send your video as a LinkedIn direct message.
It's as easy as that. It's also extremely empowering—especially if you have a large LinkedIn following. But even if you don't, video messaging software that can send videos through LinkedIn can be a game-changer for your business. You can meet your audience where they're at and give them a valuable, entertaining experience.
The same is true of other social media platforms. Using Dubb, you can easily share your video messages on Facebook, Instagram, and more. All you need to do is download the Dubb Chrome extension and click on the mini Dubb icon to get started. It is as simple as that.
Proceeding On Your Video Messaging Journey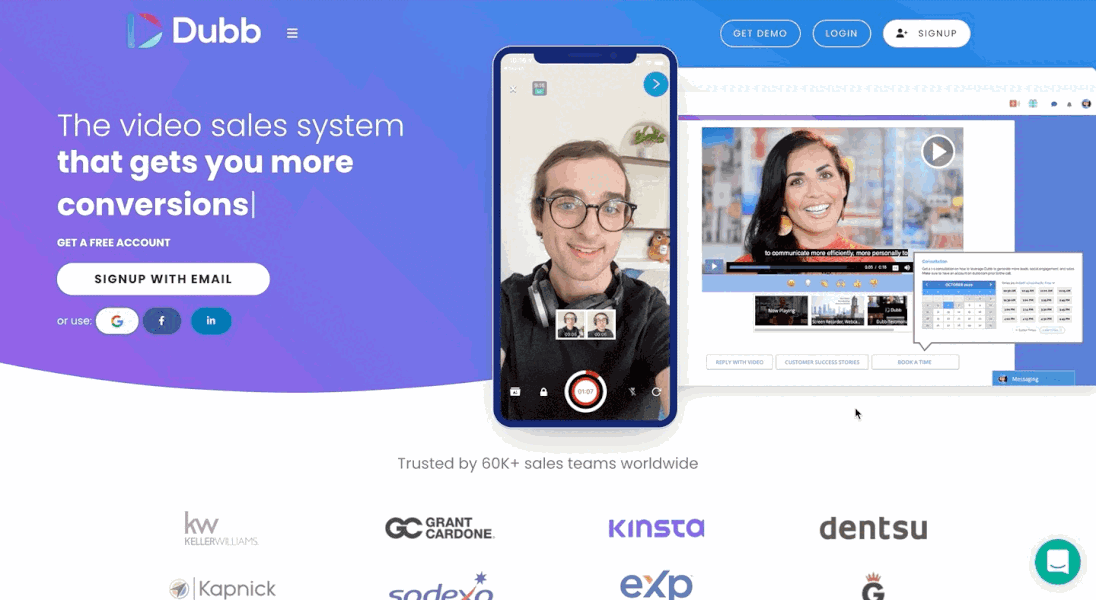 There are plenty of other ways that you can distribute your video messages. For instance, using Dubb, you can send your video through different CRM platforms (like Salesforce), email messaging platforms, and more. The secret lies in the Dubb Chrome extension. Using it, you can amplify your entire video messaging experience. From creating stellar video content to distributing that to virtually any audience, the Dubb Chrome extension can help you get the job done.
In the end, video messaging software can help you reach your sales and marketing goals. Whether you want to convert that specific prospect into a paying customer or simply want to leverage the power of video, I encourage you to implement the insights and lessons described above.
And if you are interested, don't hesitate to check out Dubb. Dubb is a comprehensive video sales system that can help you with all of your video messaging work. If you would like to learn more about how Dubb can help you grow and scale your business, click here. As a reminder, you can also click here to get a free 14-day trial of our premium plans.