They say public speaking is the one thing people fear more than death itself. Some might say there's no truth to it, while some might contend that it couldn't be more accurate. Whichever side of the argument you fall on, we cannot deny that speaking in front of an audience is something that most people are not actively seeking to do. It fills us with so much anxiety and horror that some of us would claim they would rather be dead than deliver a message to a crowd.
In today's virtual-first world, most public speaking engagements have shifted from standing behind a podium to getting on a Zoom conference call with a combination of actual people and still profile photos staring back at you. If public speaking makes you nervous, this new reality might provide you some relief.
If you stutter, you can simply chalk it up to a poor internet connection. Can't decide what to wear? You can dress down and only worry about what you're wearing from the waist up. All jokes aside, the point I'm trying to make is that delivering a message to an audience has now become relatively easier. And if there's anything we've learned from being stuck in our homes, it's that we don't have to take ourselves too seriously—people are looking for authenticity, not perfection.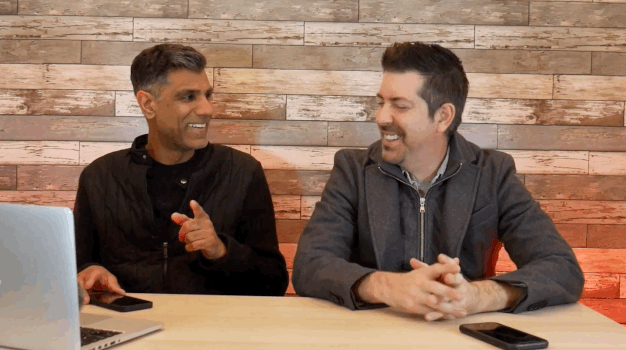 The Next Best Thing to Public Speaking
Now, perhaps you've decided that public speaking isn't your thing, but you still want to communicate a message to a certain audience. Or maybe you're an experienced public speaker wanting to deliver your message through another medium. Fortunately, the next best thing isn't as daunting as speaking to a live or virtual audience.
Asynchronous video.
Whether you're a sales leader, real estate agent, life coach, or fitness coach, you're sure to find great benefits in adopting a video content strategy. What makes video an ideal addition to any business strategy is that it doesn't require much of your existing resources.
Building a full-on production studio and buying the most expensive recording equipment isn't necessary. You can use your smartphone or laptop to create engaging videos that captivate your audience.
A busy schedule doesn't have to stop you from creating video content. Asynchronous video is great because it's done on your own time, for your audience to watch on their own time. You don't need to set aside a big chunk of time. With practice, you'll find that it can easily fit into your daily routine.
Six Actionable Tips to Be More Comfortable and Confident on Video
For the rest of this post, I will list and illustrate six hacks to help you be comfortable on video.
The first would be to have an even eyeline. In film speak, the eyeline is where actors are supposed to look while acting out a scene. Plotting out the right eyelines and maintaining them is an essential part of filmmaking and the same goes for the case of video for business. The only difference is that actors aren't necessarily expected to look directly at the camera, but those who do video for sales and marketing are.
When using video for sales and marketing, you're speaking to an audience that you want to make a connection with. To achieve this, you need to set up your camera at eye level. If you position the camera where it's too high, too low, or a bit off to the side, it won't feel like a natural conversation. Imagine you're meeting with someone face-to-face over coffee. You'd want to maintain eye contact, right? Looking a person in the eye conveys sincerity and builds connection.
If you're recording videos from your phone, you would benefit from using a tripod. I use one from Amazon that also functions as a selfie stick and a smartphone stabilizer from DJI. Consider checking out our blog post that talks all about my recommended video equipment here.
Next, you need to have adequate front lighting. You're creating video content to put a face to your brand, so recording in dimly lit environments isn't the best approach. You want to make sure that your viewers can see your face clearly, so that they may perceive every emotion and gesture you communicate.
Now, our little studio at Dubb is located in an office with a fairly large window that allows for natural light. If you have access to a room with natural light, take advantage of it. Otherwise, you'd want to invest in some ring lights (or selfie lights, as some might call them). Let's run through the various types of ring lights.
There are large ring lights that sit on tripods and would fit better in a dedicated video production studio. It's ideal to have two ring lights when recording—one light off to the left, another off to the right. This ensures that neither side of your face gets shadows. Just don't set the lights too bright that they're blinding because you don't want to be squinting. On the other hand, you might want to opt for clip-on ring lights that snap to your phone if you're looking for more portable lighting equipment. Additionally, USB lights are perfect for recording videos using your laptop or computer. These plug easily into USB ports for power and are just as lightweight as clip-on ring lights.
Now, you don't have to worry about breaking the bank because these lights are relatively cheap and very easy to find at online stores like Amazon.
Third, ensure your recordings have clear sound. People are going to watch bad visuals, but they're not going to listen to bad audio. Filmmaker David Lynch once said, "Films are 50 percent visual and 50 percent sound. Sometimes sound even overplays the visual." This is true in filmmaking, and it's true in any type of video production. 
If you were presented with a video with poor image quality but crisp audio, you're likely to still watch it all the way through. However, if you were to watch a video with high-definition video quality but terrible audio, you'd probably rather not. Poor audio quality takes you out of the experience. Don't treat audio as an afterthought.
At our studio, we use a Blue Yeti USB microphone for podcasting, recording YouTube videos, and nearly every other type of video content we create. It's high-quality yet affordable and gets the job done.
Looking for something a little less obvious? You might want to check out lavalier microphones (more commonly known as lav or lapel mics). These mics clip onto clothing, making them discreet—almost invisible if you hide them well.
If you haven't invested in any microphones yet and are using your computer's native microphone, make sure you're at a good distance from your computer. If you stand too far, your computer microphone may not pick up your voice enough to be usable.
In addition to maintaining an even eyeline, having good lighting, and ensuring clear audio, integrate the use of a teleprompter into your video creation process. One might argue that relying on a teleprompter when recording videos makes you sound like a robot, but that's not always the case.
You see, it all depends on how you speak. You can read from a teleprompter and still sound natural, it just requires some practice. And if you're struggling to not sound like a robot when reading a video script word for word, consider writing out an outline with bullet points instead. This will enable you to speak naturally and allows more freedom without going off on tangents.
The Dubb platform has a built-in teleprompter that helps you be efficient and stay on message. Once you have your script ready, all you have to do is upload or copy and paste it into your Scripts library. The actual teleprompter can be customized in terms of scrolling speed and text size. Best of all, it sits right in the middle of your computer or phone screen, slightly transparent, eliminating the struggle of constantly looking off-camera to glance at your script.
My fifth tip for you would be to record in clips. Now, if you did this using your smartphone's native camera app, you'd have to spend time splicing your clips together using video editing software. I highly recommend using a video recording app that lets you make real-time cuts and edits, such as Dubb.
As you might have heard from this post's featured video, the Dubb mobile app (available for download on both iOS and Android) allows you to splice multiple video clips together in real-time. Normally, when you tap the record button the second time on a camera app, it stops recording. But with the Dubb mobile app, hitting record the second time only pauses the recording. This means you can tap on it again to resume recording, and have multiple clips together in one video. What's more, you can reorder these clips by dragging them around. Only when you tap the blue arrow button does the app finish the recording.
Using the Dubb desktop app, Chrome extension, or website recorder produces a similar result, except for the reordering of your clips.
What does being able to shoot in multiple clips in real-time do for you? It enables you to gather yourself. Perhaps you haven't yet figured out what you want to say entirely— shooting in clips lets you take occasional pauses to come up with what you want to say next.
Lastly, always make it a point to smile! You don't have to take yourself too seriously. Just because you're doing video for business doesn't mean you should be doing it with a straight face. Putting on a smile absolutely makes a difference in forming that connection with your audience.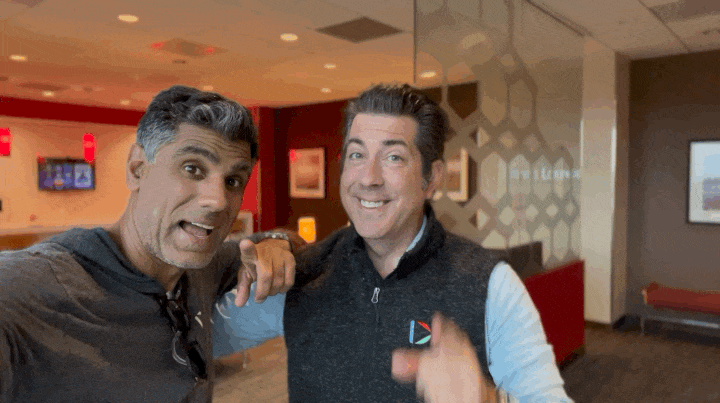 Putting These Tips into Action
Following these six tips will not only help you feel more comfortable on video, but also make you a more efficient and practical video content creator.
Apart from these practical tips, I have one more actionable piece of advice: when recording videos for prospects or existing clients, remember to be yourself. It may sound trite, but it is the best advice one can give. Trying to put up a facade or being overly professional won't help. People can easily detect inauthenticity. However, being your most authentic self will go a long way.
If you'd like to give Dubb a go, you may sign up for a free trial here. For any inquiries about the Dubb platform, you may contact us at support@dubb.com or visit our support page. I'm looking forward to seeing how you apply these tips to your sales and marketing efforts!