In this recap post from a Dubb Support video, we are going to discuss how to view activity reporting and how to follow up with Dubb. This is a great video and blog if you are looking to get the most out of Dubb. Whether you have been creating sales videos for individual prospects or for your entire email list, you can use the tips and tricks in this post to supercharge your sales work. If you would like to view the video in its entirety, go ahead and click on the play button above.
If you are a Dubb user or have been reading our blog for some time, you undoubtedly know about our passion for video. Video, both in the sales and marketing context, is a fantastic tool to help you build better relationships with your prospects, create strong brand equity in your industry or sector, and generate more sales. Whether you work for a large company or recently started your own startup, you can get plenty of benefits by relying on the power of video.
One of those benefits comes from tracking your videos. When spending time on sales and marketing videos, it is all too easy to focus on creating your videos. Granted, it is important to spend time on the creative process. You want to be sure that you are creating valuable video content for any type of audience. That video must also be concise (your audience is undoubtedly busy). But once you have created that video and sent it to your specific audience, you don't just want to move on to your next video. You will want to analyze how that video is performing so that you can more effectively follow up with your audience.
The great news? Analyzing that data and following up is extremely easy to do with Dubb. We are going to discuss how to do so in this post. Whether you are creating your first Dubb video or want to get the most value out of Dubb videos you have already created, you can get plenty of helpful tips here.
Let's get started.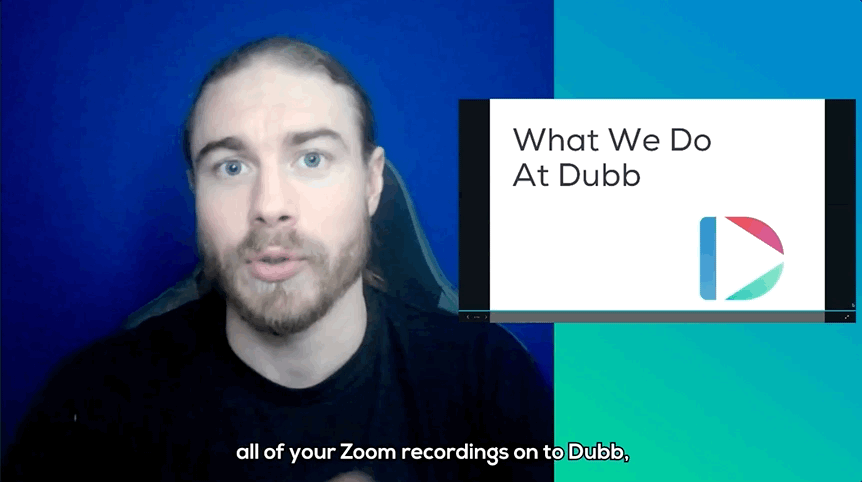 Discussing the Prerequisites
Before getting into how to view activity reporting and follow up using Dubb, we will need to take care of a few things.
For starters, you are going to need a Dubb account. If you already have one, feel free to skip this step. If you haven't yet signed up for Dubb, you can do so by clicking here. If you are a new user, you will get access to a free 14-day trial of our premium plans, so I highly encourage you to take advantage of this.
Once you have created a Dubb account, you are going to need to create a video. You will probably have your own ideas for sales or marketing videos. With Dubb, there are plenty of different ways to record your sales videos. I want to briefly speak about three of them here.
The first tool is Dubb's desktop app. The desktop app, which is available for both Mac OS and Windows, lets you easily record video content from your desktop or laptop. This is one of the newer tools in the Dubb portfolio, yet it makes it easy for you to create your ideal piece of video content and distribute it from a device that you already own.
Next, there is the Dubb mobile app (which is available for both iOS and Android devices). The mobile app offers so many different features that can help you create awesome video content and distribute that content to your chosen audience. For instance, using the mobile app, you can record individual clips as part of a longer video, add annotations and music to your video, and easily upload your video to the Dubb ecosystem. Ultimately, the Dubb mobile app is an extremely helpful tool that empowers you to create awesome content wherever you are.
Finally, there is the Dubb Chrome extension. The Dubb Chrome extension lets you record fantastic videos within the Chrome browser. You can record video from your webcam, record a screen recording, or a combination of both. Screen recordings are really helpful if you are delivering a presentation or showing a customer how to better use your digital product. Using the Chrome extension, you can quickly record a value-added screen recording and quickly send it to your intended audience.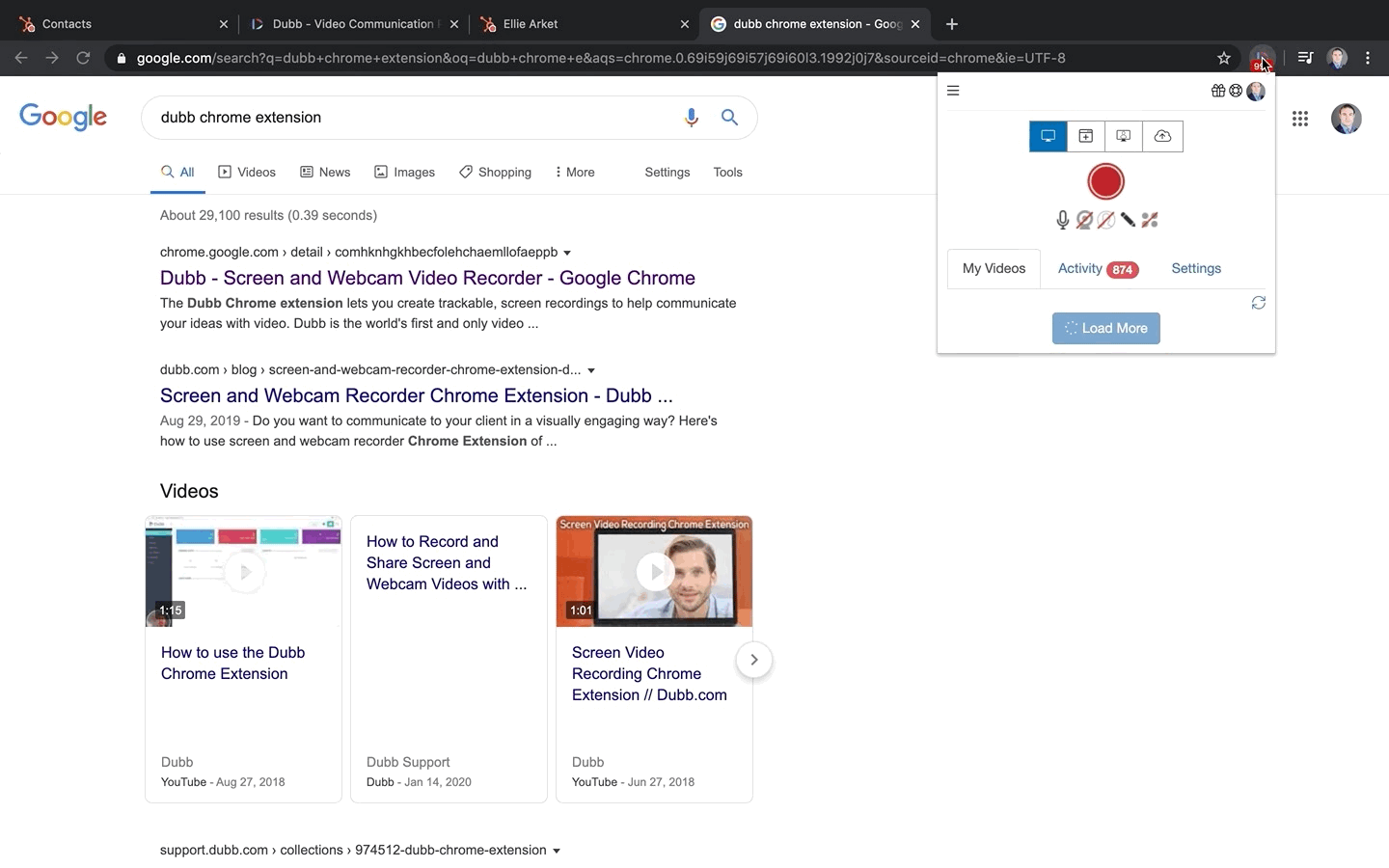 Once you have created your video, you will need to send that video to someone else. I could spend a lot of time talking about the different distribution options that Dubb offers. That said, using Dubb, you can easily copy your video and paste it into plenty of different platforms and tools. Whether you are using email platforms (like Gmail or Outlook), social media channels (like LinkedIn), CRM systems (like Salesforce), or other marketing platforms, you can easily get your Dubb videos in front of your intended audience. Using Dubb, you can even create automated workflows which automatically distribute your videos based on certain criteria. The choice is yours and the best way to check this out is to try it yourself. 
Activity Reporting on Dubb
So let's move on to talk about activity reporting. By logging into Dubb, you can easily take a look at reporting for every particular video. Once you log in, navigate to the dashboard. There you will see all of the videos that you have recorded or uploaded thus far. Go ahead and focus on the video that you just created and distributed.
Basic Activity Reporting
Before clicking on the video itself, you can see some basic metrics about that video. For instance, you can see statistics about email opens. An email open means that someone opened the email. It doesn't necessarily mean a person opened the email. There are plenty of email applications and devices (like your Apple Watch and other applications that preview these emails) and many of them will often trigger an email open pixel. What does this mean? Sometimes, you may get many email opens when, in fact, the person on the other end wasn't manually opening the email. 
The next quick metric you may see is clicks. This means that somebody actually clicked the link. Compared to the first metric, this will not be a bot. If you see a click on a particular video, this means that somebody actually clicked on the link in your email. 
The next thing you can track is a view. This is referring to a video page view. Essentially, this means that somebody actually viewed the Dubb video page that the video was on. As a reminder, Dubb video pages are central hubs for your videos. Whenever you create a video on Dubb or upload an already-existing video to Dubb, you automatically get a video page for that specific video. On that video page, you can include custom branding, call to action buttons, a direct integration to your calendar, and more. To be clear, a potential viewer can view your Dubb video page without actually watching the video itself. There may be a number of reasons for this, so this is why we track this metric.
Then, there is the watch. A watch means that the viewer actually watched a percentage of the video. So if you are seeing a watch, you will see a percentage associated with that. 
Finally, you will see call to action clicks. It's self-explanatory. This metric tracks whether a viewer clicked on any call to action buttons on that video's Dubb video page. 
More Detailed Activity Reporting
There are several different metrics that don't appear on this broader tracking data here. For instance, Dubb tracks whether an individual left an emoji response to your video. Those will show up in the activity reporting section for the specific video. You can find the activity reporting for a specific video by clicking on the video itself. 
Once you click on that individual video, you will see a variety of data and analytics. It is in a section called "General Stats." You can see broader data on things like email click rates and call to action click rates. This data is in percentage form, so if you send your video to one prospect and they do not click on one of your calls to action, you will see a zero here. You will then see a metric for "watch rates," which means that out of the people who clicked your video, how many actually watched it. You will also see a metric called "call rates." This is if you have a phone call to action. Note that phone call and SMS calls to action only appear on mobile. Then, you will see an "email rates" metric and "emoji reaction rates" metric, which tell you if a viewer opened your email or reacted to your video with an emoji. 
From these basic metrics, you can scroll down to find some more data and information. In the "Activity" section, you can see some more granular data about where a viewer viewed your video and how long ago they viewed your video. 
Keep in mind, however, that the locations can sometimes be off. They are not always accurate and this is due to several reasons. For instance, if the viewer is on their mobile device and connected to their office Wi-Fi, the location may not be accurate. The same is true if that viewer is on their mobile device and connected to certain Wi-Fi networks. They can display locations that are very different from where they are actually located. For example, if your prospect is working out of a WeWork office, their device can show that they are located at a completely different location across the country. If your viewer is on mobile data, that will typically show where they are located (since it is bouncing off of local cell phone towers). In the end, just be aware of these limitations as you are tracking the location of individual viewers. 
Now, let's take a step back for a moment. While Dubb provides all of these analytics to users, you may be wondering which ones are the most relevant. Granted, this question will depend on what you are trying to accomplish. At the same time, users are usually concerned with the "100% video views" metric and "CTA (call to action) clicks." The former metric tracks how many viewers watched your entire video and the latter tracks how many viewers clicked on one of your call to action buttons. These are definitely helpful metrics, so you will want to monitor them as you seek to optimize your video content. 
Filtering and Following Up
At this point, we have reviewed some of the general data and analytics that you can get for individual Dubb videos. Now, let's dig deeper and talk about filtering and following up. Filtering can help you get even more value out of the activity reporting that Dubb provides. On the right side of your video page, you can easily filter your data based on a specific metric. For example, if you want to quickly see who clicked on one of your call to action buttons, you can click on "CTA clicks" to see those individuals who have done so. And then, once you have filtered out your desired list, you can export that list in a CSV file. Opening that CSV file in Excel (or another tool), you can then play with and manipulate that data in whatever way you'd like.  
Now, let's talk about following up. To do so, I want to use a simple hypothetical. 
Let's say that you just created a handful of videos. Those videos are screen recordings that you created with the Dubb Chrome extension. If you are creating these videos to generate sales, you are really going to want to pay attention here. For instance, if you see that one of your videos has zero watches, you will need to follow up with those prospects. You can say something like, "Hey ____, I saw that you didn't have a chance to watch the video I created for you. I know you're going to find some value in it. Let me know what you think." 
Ultimately, we need to follow up with these people. Just think about it: if we are going through the trouble of creating a custom video for somebody and they are not watching it, we absolutely need to ensure that they get a chance to see it. The fortune is in the follow up and this is absolutely critical with video. 
So what do we really mean by following up? To show you, go ahead and open up your Gmail account (or your favorite email provider). If you sent a video email through Gmail and you noticed that the recipient didn't open the email, you can follow up with a quick text-based follow up message. Whatever you choose to say, once you click send, your conversation will be bumped up to the top of their inbox. It will also include the video that you sent in the initial email.
This is just a simple example of how you can follow up with a prospect that hasn't watched your video. Using Dubb, you can also look at a separate reporting section on your dashboard. This is a nice way to identify some low-hanging fruit. I would recommend that you take a look at this reporting section (specifically the activity section). As I mentioned above, you can track call to action clicks and 100% video views. I think these are two great metrics to evaluate the success of your sales videos. I can easily filter by both of these metrics, which ultimately lets me be more efficient in my sales and marketing work. 
One quick note: you may notice that some of the reporting does not have names attached. That can be based on how you set up your tracking. Videos that are (1) included in websites or landing pages, (2) sent without tracking, or (3) sent through third-party tools will not have names on them. For instance, if you are embedding a sales video on a specific website, you won't get the names of the people who played it. On the other hand, if you are sending a video through a tracked email, you will see who opened it. 
So if you are really concerned with tracking and want to see some of that granular information about particular viewers, you will need to enter your contacts onto the Dubb side of things. Once your contact is on Dubb, you'll be able to get some of that specific tracking data that we mentioned above. If you have any questions about this, you can check out some of our videos on tracking and sending video emails, so go ahead and click on the "i" button for more. 
Moving Forward and Tracking Your Videos
To sum up, there are several different ways to track your videos on Dubb. First, you can look at a glance by accessing your video library. This is the first strategy that I mentioned. Simply click on the "Videos" tab on your Dubb dashboard to get these simple analytics. For instance, by doing this, you can see whether your videos are being watched or not. You can even use that simple data to follow up with prospects that you want to target. 
Then, in the actual "Reporting" section, you can see who actually watched your video. This then results in a different type of follow up. This is where you can find some of the more low-hanging fruit. Upon identifying those prospects, you can follow up by saying something like, "Hey, I saw you recently watched the video. What did you think of it?" You can certainly add whatever you'd like, so feel free to experiment here. 
Finally, there is one additional reporting area that I want to mention here. If you download Dubb's Chrome extension (which you definitely should!), you will notice some simple activity reporting there. All you need to do is click on the Dubb icon in your Chrome browser and then click on the "Activity" tab. With this tab, you don't actually need to come back to the website to see some of your data and analytics. The same is true when you are using a Dubb integration. Say that you are trying to send a Dubb video within Gmail. You can click on the little Dubb icon within Gmail and then click on the "Activity" tab. 
I started this post by raising the question of how to view activity reporting and how to follow up using Dubb. Whether you are brand new to video sales and marketing or were looking to get even more from your current work, I hope that you implement some of the ideas and topics discussed here. The great news is that you don't need to take any large steps today. If you are just starting out, sign up for a Dubb account. If you already created video content on Dubb, go to the "Reporting" tab and see how one of your videos is performing. The best time to get started is right now.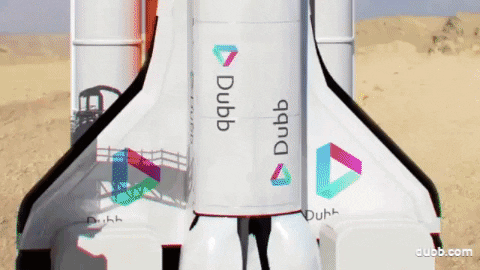 At Dubb, we love thinking about and discussing topics like how to view activity reporting and how to follow up. If you have any questions about the ideas in this post or want to discuss these ideas further, I encourage you to contact our team. You can also click here to learn more about Dubb and click here to sign up for a free 14-day trial of our premium plans.