In this recap of a conversation I had on Dubb's Support channel, I spoke with Noah Scott about how to transform your business with testimonials, booking pages, YouTube ads, and Facebook lead ads. This is a fantastic discussion for anyone that is looking to build stronger relationships with prospects, build a stronger brand in their sector or industry, and generate more sales. If you would like to view the video in its entirety, click on the play button above. I hope you enjoy the discussion!
Have you been looking for a way to transform your business's sales and marketing work? If so, you are definitely in the right place. In today's day and age, it is increasingly difficult to stand out. Your prospects and customers are extremely busy, whether they are putting out fires at work or taking their kids to soccer practice. Even if your product or service can add significant value to their lives, they may not even hear about it. And even if they do, life may get in the way. They may simply forget about your product or service and, even more troubling, decide to work with a competitor.
So what can you do? For starters, you can read this blog post. Here, we are going to take a deep dive into how to transform your business through a few key tools. While you don't necessarily have to use all of these tools, using them in conjunction can really transform your business. Whether you are a solopreneur or are a sales or marketing leader in a much larger company, you can use these tools, tips, and strategies to accomplish your goals and build strong relationships with your audience members. 
To help explore these topics, I shot a Dubb video with Noah Scott. Noah is the founder and CEO of The Big Possible. The Big Possible is a series of events for entrepreneurs, executives, and leaders who are making waves. Noah is not only a talented entrepreneur, but he is passionate about the topics we discussed. As you will see in the video and post below, we used Noah's upcoming events as a working case study as we explored several game-changing tools that Dubb offers. 
So are you ready? Let's dive in and discuss how to transform your business through several game-changing tools and strategies.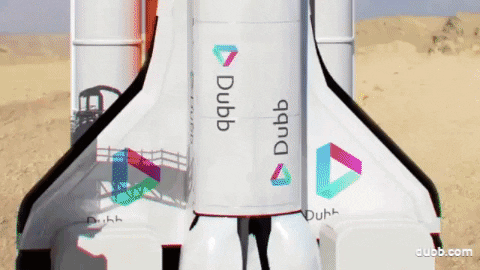 Optimizing a Dubb Account for a Go-To-Market Strategy
To start off, when we think of a go-to-market strategy, there are several things that we can include. First, there is email marketing. Then, there is advertising, whether you are purchasing digital ads or space on a billboard in your town. Then, there is organic outreach through social media platforms like LinkedIn, Facebook, and others. 
Because of this, I wanted to spend some time showing several different ways to optimize a Dubb account so that you can fully execute a go-to-market strategy. Noah and I shared some advice and tips on how to get the most out of these strategies in order to promote his upcoming events. Even if you aren't hosting an event or aren't thinking of doing so for some time, you can take the lessons from this case study and apply them to your own sales and marketing work. 
If you already have a Dubb account, I encourage you to log in. And if you don't? No worries. You can sign up for a free Dubb account by clicking here. By doing so, you can also gain access to a free 14-day trial of our premium plans, so don't hesitate to take advantage of this opportunity. 
Creating Calls to Action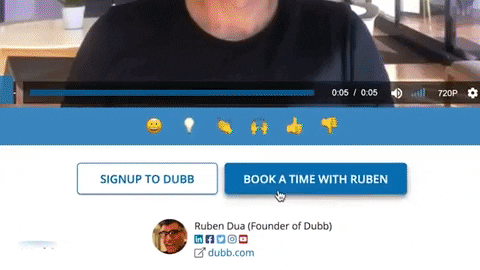 We are going to start by talking about calls to action. If you haven't yet heard of calls to action, you can basically think of tools that can lead your audience to do something. One of the more common calls to action is a link to another webpage or URL. That said, calls to action can do so much more than that. As you will see below, you can use Dubb to help your viewers take a variety of different actions. The ultimate effect? You get to create stronger relationships with your viewers, which substantially increases your chances of generating more sales. 
To take advantage of calls to action on Dubb, you will first want to go to your Dubb homepage. From there, you will want to click on the "Assets" tab. You will then click on the "Calls to Action" option. Once you do that, you will notice several things. When looking at Noah's Dubb page, we can see that he implemented several calls to action. 
The first call to action is a link to his website. Like I mentioned above, this is one of the more common calls to action. It is a simple, yet easy way to direct your viewer's attention to another webpage or website. In Noah's case, he created a call to action that sent audience members to one of his event's websites. This is a great option if a brand new prospect watched one of Noah's Dubb videos and is looking for more detailed information about that specific event.
From there, Noah also had a calendar booking call to action. At Dubb, we make it extremely easy for viewers to automatically book appointments on your online calendar. We have integrations with Calendly, Book Like a Boss, and many other popular calendar tools. This way, if a viewer has specific questions about one of Noah's events, they can easily book a call or video chat on his calendar. All of this is on the video landing page (which is automatically generated by Dubb). This makes it extremely easy for a viewer to watch Noah's video, get intrigued about the experience that he is providing, and take the next step to get on Noah's calendar. It is a much easier way of nurturing the prospect relationship than exchanging many scheduling emails. 
Besides several other link-based calls to action, Noah has a video reply call to action. This is one of my favorite calls to action on the Dubb platform. Video replies are extremely powerful for several reasons. For starters, video replies are a much more efficient way of communicating. Instead of needing to think of subject lines and type out lengthy emails, you can click on one button and start speaking to the camera. Along with pure efficiency, video replies are fantastic ways to gather video testimonials. Social proof is an extremely powerful way to build trust with any type of prospect, and video testimonials can help you gather that social proof. If you are debating between several calls to action below your Dubb videos, I highly encourage you to choose this one.
The calls to action on Noah's video landing page are rock solid. Once I reviewed his calls to action, I entered Noah into the Dubb Partner Program. This ensures that he can get recurring commissions if others use Noah's referral link to sign up for Dubb. If you haven't done so, you can go to your Dubb dashboard and click on the "Apply Now" button (which is on the right side of your screen).
Creating Presets
Calls to action are an extremely important part of any go-to-market strategy. Whether you are trying to sell a new product or service or simply want a new prospect to purchase one of your core products, you can (and should) rely on calls to action to generate those conversions.
From calls to action, let's now move on to presets. The first thing I wanted to do for Noah was create a preset for his booking link. To do this yourself, you would need to go to your Dubb dashboard again. From there, navigate to the left side and choose "Assets" and then "Presets." Then, you can click on the "+" button to get started. For Noah, I titled it "Tulum Booking Link." Once I did that, I decided to include some calls to action. These included an "email me" call to action and a booking link. A best practice here is to be very clear on your call to action titles. For instance, if one of your calls to action is a calendar booking link, you can title it "Calendar: ____," with the blank being whatever else you need to identify it. This can help you avoid any confusion and make your life easier. 
One great thing that Noah already did was create a very solid booking video. He edited that booking video with testimonials burned into the video. Like I mentioned above, testimonials are an extremely powerful way of building trust with cold and brand new prospects. Instead of burning those testimonials into a sales video, most Dubb users record a single sales video with the Dubb mobile app, Dubb Chrome extension, or the Dubb desktop recorder. From there, these users have additional testimonials or case study videos that they import into their Dubb accounts. They then incorporate those videos into Dubb's playlist feature, meaning that they will automatically play when the initial sales video concludes. There is no right or wrong way to do this. It goes to show that there are plenty of ways to incorporate video testimonials with your sales videos.
At this point, I did some fine-tuning to Noah's presets. I decided to check off the autoplay option, which means that this specific sales video will automatically play once a viewer visits this specific Dubb video page. I like this feature, but you don't have to use it if you don't want to. From there, I chose to automatically transcribe the video. This is a great feature if a viewer wants a different way to consume your content. It is especially helpful for some of your longer videos, as viewers can easily scan the transcript and get the gist of what you are saying. And if your viewer doesn't have their sound on? They can still consume your video and understand the message that you are trying to communicate. Finally, I like to display animated thumbnails on the video landing page. This is another way to engage the viewer and invite them to click on your video and start watching. 
There's another cool thing here that you can do with the backgrounds of your Dubb video pages. If you were going to take a large wallpaper image, you can go into your Dubb account and import it. Critically, it must be 1280 by 720 pixels. Once you do that, you can use that image as the background to your video page, giving you another way to add branding and customization. Dubb also gives you the option to move your video player around. You can have it either centered or left justified. This is purely a personal preference, so feel free to select the best option for you. 
Finally, I noticed that Noah's video landing page included the Dubb logo on the upper left. For as much as I like the Dubb logo, Noah has the option of choosing to include it or upload his own logo. I decided to remove the Dubb logo and upload The Big Possible's logo. 
Once we have done all of this, we have created a preset for Noah's Tulum sales video. Then, you can click on the "Default" button on your presets page. By doing this, you ensure that every video you create incorporates that preset. Since it seemed like event hosting was the vast majority of what Noah was doing with his business, I decided to use a single preset. This may be a great option for you if you are creating multiple videos as part of one overall objective. 
That said, you don't have to restrain yourself to one preset. If you can see a scenario where it's helpful to have multiple presets, don't hold yourself back from creating them. Just think about this for one second: all of us have many functions in our day-to-day work. We have five, ten (or even more) things that we need to do. For Noah, it may be booking speakers, sharing opportunities with sponsors, speaking on podcasts, and getting sales discovery calls. Consequently, you may want to think about having a default preset and then creating different presets based on your duties and responsibilities. That way, you will have more relevant presets that you can set and forget. 
To view a specific preset, I recommend that you run a simple test. You can open an incognito window on Chrome and see how it looks when a brand new viewer visits the page. Running a quick test ensures that you won't make any unnecessary mistakes and that your presets and video landing pages look the way that you want them to look. 
Even though there is some upfront work in creating these presets, they can save you significant time in the long run. I highly encourage you to take advantage of them. At Dubb, we have spent years optimizing Dubb video landing pages. Our goal? To make those video landing pages convert better than a typical website. We are extremely proud of all of the tools and features that are available on Dubb landing pages. I think you'll find that by using the tips and strategies above, you will get more conversions with Dubb's video landing pages and Dubb's tools. 
YouTube and Facebook Ad Strategy
From calls to action, presets, and Dubb landing pages, I want to segue to speak about YouTube and Facebook ads. While I am going to be brief on this specific subject, there are several key insights here that can help you execute a more effective ad strategy on these platforms. 
The first point isn't commonly known, yet it is a really effective way to save time (specifically on Facebook). I'm talking about connecting your Dubb automations to Facebook Lead Ads. Let's think about this for one second. When you go to Facebook, picture an ad that is both clickable and pre-populated with data. Typically, what happens is that if someone clicks on that ad, the form is filled and the data is saved to Facebook. Then, the marketer has to log in to Facebook and download a CSV file. That is stage one. Stage two is about connecting a tool like Zapier to a marketing automation platform. Step three is to then trigger automated workflows. 
This is my favorite step because it is so powerful. Think about it: when someone clicks on a button, it gets pre-populated with their first name and email. Once that is pre-populated, it actually goes to a Dubb automated workflow. This is so powerful because it becomes much easier to nurture your viewers. Nurturing does not simply come from filling out a form. In other words, you can't immediately get a customer this way. You need to execute on multiple touch points. Whether there need to be six, eight, or more touch points, it takes a significant amount of effort. You can facilitate this through Dubb.
So once a prospect sees an ad on Facebook, they will notice that it is pre-populated with their first name and email. Once they click on submit, they can then visit another page. This can be a Dubb video page, your website, or some other website. The most beautiful part of this process is that email goes to an automated workflow, which can automatically send them video emails or video SMS messages. That video could say something like, "Hey, this is Ruben from Dubb. Thank you so much for filling out the ad on Facebook. I would love to connect. Click on the button below to learn more or to book a time on my calendar." 
That is immediate and extremely beneficial. There is data out there showing that if you connect with someone within the first five minutes of their touch point, you can increase your conversion rate somewhere from 100 to 300%. It's about speed and people like good customer service. Video automation is the answer to that, so keep that in mind when you are working with Facebook Lead Ads.
As far as YouTube ads, I like to think about how we can optimize our ads here (and on Facebook). After all, we don't want to pay an unnecessary amount of money. There are several ways I do this on YouTube.
For starters, I make sure that we get our cookie pixel on Dubb. I do this for both YouTube and Facebook. This is important because anytime someone visits a Dubb video page, it can add that individual to a lookalike audience on YouTube and Facebook. In other words, a viewer goes to your Dubb video page and you can then give them a more relevant and engaging experience on both platforms. It is a very powerful way of engaging those prospects and viewers, so keep this in mind. 
Secondly, you should focus on running some A/B tests. I always ask myself: what are the one, two, or three pages that we can test? In Noah's case, we can test his calendar booking page, a page that asks them to fill out a form, and then a Dubb video landing page. These are all great ideas to test, but I especially love A/B testing Dubb video landing pages. Essentially, use Dubb video landing pages to compete with your website. By doing this, you may discover that your Dubb video landing pages are getting more conversions than your website. Not only are people going to watch your videos, but they will have clear calls to action. They can book a time on your calendar, email you with questions or comments, connect with you on LinkedIn, and more. All of this builds trust, and trust drives conversions. 
Transform Your Business Today
We started this post by floating the question of how to transform your business. Whether you are aiming to meet new sales goals or are looking for a way to execute a game-changing business pivot, you can rely on the tips and tactics above to get the job done. 
So go ahead and create a Dubb video. Once you do that, customize some calls to action and make some presets. The quest of how to transform your business is full of twists and turns, but by using these strategies and tools offered by Dubb, the road can be much easier. However you choose to proceed, I can't wait to see what you create!
At Dubb, we enjoy thinking about and discussing topics like how to transform your business through different sales and marketing tools. If you have any questions about anything that we discussed here, feel free to contact Dubb. You can also click here to learn more about Dubb and click here for a free 14-day trial of our premium plans.