Zoom fails have become a constant thing as we experience life under lockdown. Fortunately, there is a better way to communicate with our colleagues when working with home. It all comes down to the power of asynchronous video. Read on to learn more about how asynchronous video can make your working life substantially easier.
We're Living in a Zoom-First World. But Should We Be?
Mandatory lockdowns and quarantines have forced us to become much more adaptable. Large and small companies alike are still trying to determine how to complete their best work away from the office.
This is often where Zoom comes in. The idea is simple. Since we can't have face-to-face interactions in a physical office, the compelling option is to have those conversations virtually. There are a variety of communication platforms out there— like Zoom, Teams, or Google Hangouts—that let us synchronously speak with our colleagues around the world. 
But just because it's natural for us to hope on live video chats with our colleagues doesn't mean that we should. Granted, synchronous video has provided a lot of value in our world. At the click of a button, we can virtually attend meetings, online conferences, and more. 
As you likely know, however, Zoom meetings are often more than that. Before we even join the Zoom call, we need to find a suitable time for everyone. Once the call starts, our microphones may not be working. One of the call participants may have forgotten to mute their microphone, making the call incredibly distracting for everyone. And while Zoom's technology is often quite good, video or audio lag can be another distraction that takes you out of your zone.  
Along with this, Zoom is burning us out. According to the Harvard Business Review, Zoom fatigue is a real thing. It stems from several things, including the fact that we must focus intently on the conversation, the fact that video calls, at the same time, make it easier to lose focus, and the everpresent "constant gaze" when making Zoom calls. 
Why Pre-Recorded Videos Can Help You Avoid Zoom Fails
So while Zoom and other synchronous video tools do provide some value, the simple fact is that Zoom fails occur much more often than we may think. Yet still, the natural assumption is that we should be immediately hopping on a Zoom call for shorter meetings or even company-wide status updates.
My colleagues and I at Dubb think that there is a better way. We believe that pre-recorded videos (also called asynchronous videos) are a tremendous way to communicate with your co-workers. These videos let you avoid all of those aggravating Zoom fails while freeing up your schedule and improving your productivity throughout your day. 
It is for this reason that we created Dubb For Remote. Dubb For Remote is an all-in-one solution that can help your team convert anywhere through actionable videos. Essentially, you can conduct your entire sales, marketing, and support efforts through a fully integrated asynchronous video platform. Some of the features that you'll find in Dubb For Remote include plenty of integrations (like YouTube, LinkedIn, and Asana), Dubb's awesome Chrome Extension, easy to use desktop and mobile apps, and auto-transcription services.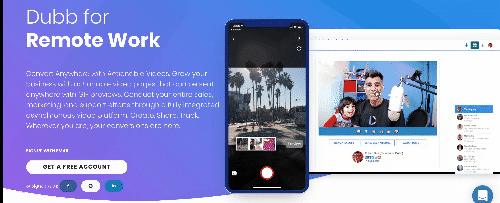 Whether or not you use Dubb For Remote, there are several powerful attributes of pre-recorded videos that anyone can leverage. A few of them are below:
Communicating On Your Own Time
The first is avoiding that constant back and forth around scheduling. With asynchronous videos, you don't need to take a hatchet to your schedule. You don't need to find time for that one unexpected Zoom meeting in the early afternoon. Rather, you can communicate with your team on your own schedule. 
This can be massively liberating. With asynchronous video, you can put your calendar away. You get to respond and create videos on your own time, whether that is in the morning before your kids wake up or in the late afternoon when you have more free time. Granted, there may be an urgent matter that requires you to respond with a set period of time. But putting that scenario aside, you are able to capitalize on much more freedom and flexibility through asynchronous video.
The same is true of those on the other end of your videos. Even if you know that the recipient has an extremely busy day, you can send them an asynchronous video without the fear that you are interrupting them. You'll know that they will respond when they are able. It truly is a win-win for everyone involved.
Avoiding Repeated Steps or Instructions
From freeing up your own schedule, one of the greatest things about asynchronous videos is that they help you avoid wasted time. Instead of reminding your colleagues of some important point or constantly repeating yourself on a Zoom call, you can capitalize on the pre-recorded part of pre-recorded videos.
For example, instead of spending hours in kick-off calls, you can send your colleagues a video of the next steps that they need to take on a certain task or project. They even help when communicating with your customers. These pre-recorded videos can be carefully thought and well-produced. You can then also include a call-to-action ("CTA") below these videos which can direct them to fill out a form, schedule an actual telephone call, or even watch another pre-recorded video. 
Thus, by sharing these videos, you can minimize repeated instructions and be confident that your customers or colleagues will know which steps to take. There is less back and forth and more time spent on those mission-critical projects throughout your day. Not only that, but leveraging pre-recorded videos in this way gives you the peace of mind that all of your viewers will be on the same page.
They Work Well With Project Management Tools
There are plenty of great project management tools out there. Whether you are using Asana, Monday.com, or another tool, these project management tools can keep your team on track. It's really easy to allocate certain tasks or responsibilities and ensure that those tasks are actually being completed.
But beyond these basic features, we at Dubb have found pre-recorded videos to work wonderfully with project management tools. We use Asana, but the principle still remains. With project management tools, you can create tasks for your team and then discuss those tasks in the comment section with videos. Instead of typing out lengthy comments or emails, you can simply turn on your webcam and quickly record your thoughts. Once again, you can have meetings that are essentially on everyone's own time. It can allow for more productivity while still maintaining that critical work-life balance.
If you are looking for a tool that can help you use video within project management tools, I recommend that you check out Dubb's Chrome Extension. The Chrome Extension lets you quickly record videos from your Chrome browser. You can record your face, your screen, or both your face and screen. It is a quick and easy way to record video responses and incorporate them into your favorite project management tools.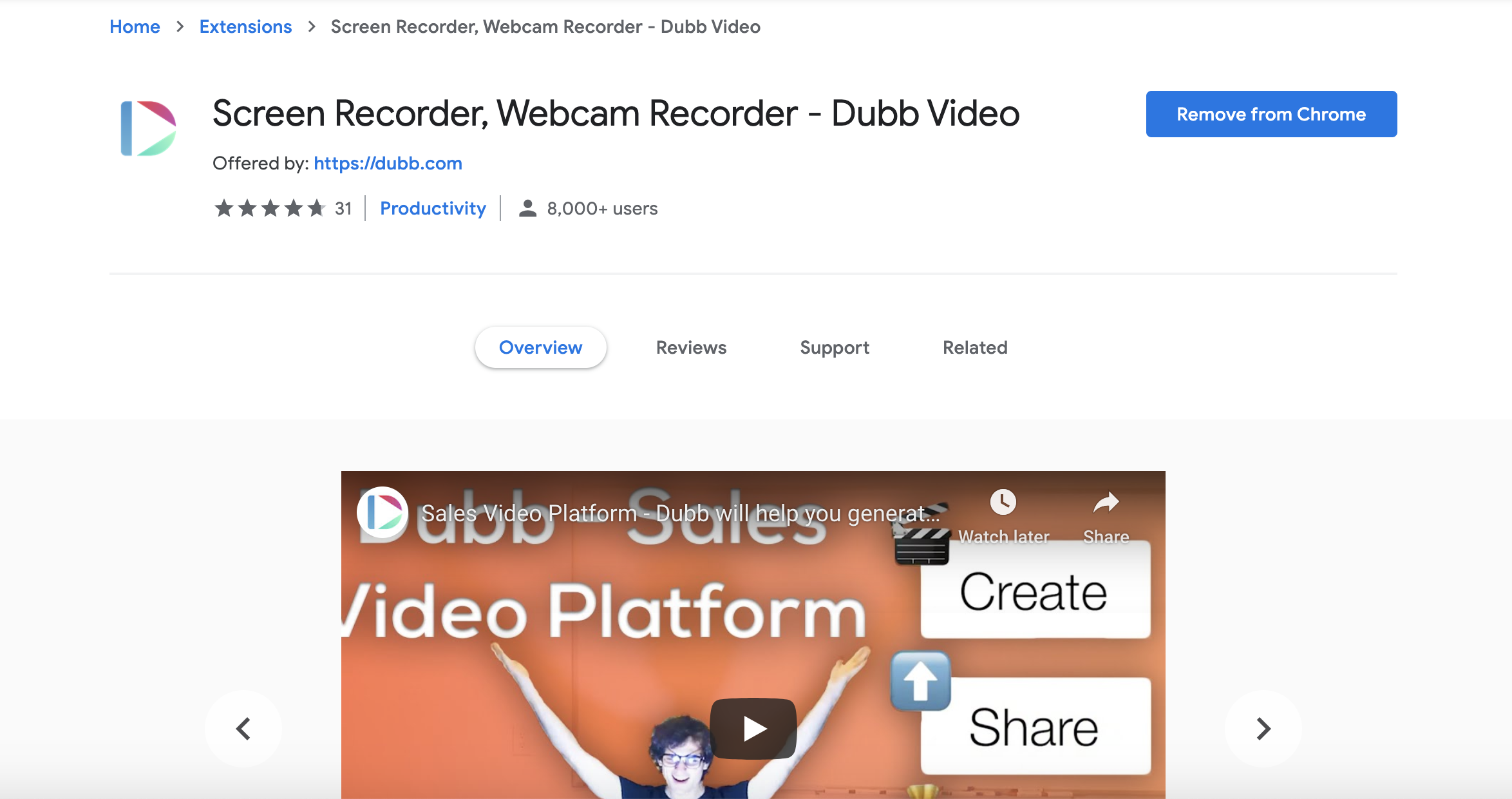 They Help You Avoid Distractions
Finally, one of the key features of asynchronous videos is that they can help you avoid distractions. 
Working from home presents its fair share of opportunities and challenges. The good news is that it lets you stay as comfortable as possible and avoid risking your health in these troubling times. The bad news, however, is that there are distractions—especially when you are on Zoom calls. Not only may there be distractions on your end (like your kids), but there may be distractions from other participants in the room. 
All of these distractions can lead to some interesting Zoom fails. While they may be funny as they happen, Zoom distractions can be time wasters. They can make it hard for your team to concentrate and remember what actually happened during the meeting.
With asynchronous video, however, you don't need to worry about these distractions. You get to create your videos when you are fully immersed and focused. If someone walks in the room and you lose your train of thought, there's no problem. You can simply go back and record again. As for the recipient, he or she can watch your video at their convenience. They can also go back and rewatch your video if something is unclear or if they were distracted.
Ultimately, the recorded nature of asynchronous video can eliminate those pesky distractions. They make it much easier to stay on the same page and more efficiently complete your work.
Moving Beyond Zoom
Zoom can be a great way to synchronously communicate with your friends, family, and colleagues. But as I've pointed out in this article, synchronous communication isn't everything that it seems. Not only are there flaws with it, but you are missing out on several appealing features by opting for synchronous calls.
Pre-recorded or asynchronous videos, on the other hand, let you avoid those dreaded Zoom fails. Along with this, you can communicate on your own time, avoid repeated steps or instructions, integrate them with your favorite project management tools, and avoid distractions. In the end, asynchronous videos are definitely a worthwhile investment.
If you would like to further explore the power of asynchronous videos, I recommend that you check out Dubb. You can click here to learn more about the features that you get with Dubb. You can also click here to get started with our product.