Vidyard Pricing vs. Dubb Pricing: A Comparison
If you are looking to take a significant step forward in your video sales and marketing work, you may be considering Vidyard or Dubb. Both Vidyard and Dubb are great tools that can help you accomplish your sales and marketing goals. That being said, there are some significant differences—in terms of both pricing and features.
In this post, we want to explore both the pricing and feature differences between Vidyard and Dubb. At the conclusion of this post, you will have a much better understanding of the key differences between both platforms, allowing you to come to a decision that is best for you.
What is Vidyard?
Vidyard is a video marketing platform that allows you to create, share, and gain the user analytics from each of the videos you send across a variety of digital distribution channels.
In this way, Vidyard is very similar to Dubb. 
We both allow our users to download application extensions on the Google Chrome browser. 

We both have smartphone apps for iOS and Android. 

And we both allow our software on any applicable form—desktop or smartphone—to record and send videos directly from the application itself.
Although Vidyard and Dubb are—in practice—used in very similar ways, there are three key differentiators between the experience of Vidyard and the experience of Dubb: price, benefits, and customer service.
All of which, culminating to have a significant influence on Vidyard's perceived value.
Let's start with the price.
Vidyard's Prices
To start, let's spend some time talking about Vidyard pricing. 
Vidyard pricing is based on several factors including usage, company size, and feature set. The Vidyard platform lets you record, host, and analyze videos for marketing. Similar to Dubb, it allows users to create personalized, interactive video content and send them to leads. The videos can also be integrated into some apps and CRMs. Vidyard is structured as a premium SAAS (software as a service) for marketing campaigns and sales professionals, with most packages including a setup charge and monthly fee. To know the setup fees, customers need to contact a Vidyard sales representative.
Vidyard Pricing at Premiums
Vidyard packages include one free option – but the others require hefty buy-ins, and many require customers to contact sales teams before even knowing the full price or the setup fees. The packages are broken into two categories: "Sales" and "Marketing." While there is some overlap in the features offered in both packages, some features in the Sales packages are not found in Marketing (and vice versa). 
Vidyard Pricing: Sales Packages
For sales professionals, Vidyard does offer a free option. It used to be called GoVideo. This free plan is $0 per month with no credit card required. This allows for unlimited screen and webcam recordings, shareable links, and customizable thumbnails. While free users weren't able to embed their videos, Vidyard now lets you embed up to five videos on your website. This free plan is designed for one-to-one outreach and it will contain all of Vidyard's branding. 
After this free package, however, Vidyard pricing starts increasing at a steep rate.
The next package offered for sales professionals is called the Pro plan. The Pro plan $15/seat per month, billed annually; without including setup fees, this comes out approximately to $180/seat. This Pro plan includes the ability to upload and share unlimited videos, download videos, 20 embedded videos per license, custom video-sharing pages, email support, remove Vidyard branding, interactive calls-to-action (CTAs), and video performance insights. 
From the Pro plan, Vidyard users can subscribe to the Starter plan. The Starter plan goes for $150/seat per month, billed annually. Taking that over a 12-month period, the price for the Starter plan comes out to $1800 per seat per year. Once again, this does not include setup fees.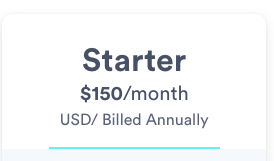 This is the plan where you have access to the features that Vidyard has designed to help you convert. This plan offers interactive calls-to-action, which are Vidyard's in-video CTAs. Dubb's CTAs are found below videos. You also get five shared videos per license, video playlists, custom video-sharing pages, the ability to download your videos, removing Vidyard branding, and email support. Ultimately, the main difference between the Pro and Starter plan is the ability to have interactive CTAs, five shared videos per license, and video playlists. 
According to Vidyard, this Starter plan is geared toward small businesses, companies with 50 employees or less, and companies who don't need extra analytics or much shareable video content. 
The final Vidyard sales package is called the Teams package. It is billed annually. The price is customizable depending on needs and usage, but a sales representative must be contacted to even receive an average. According to Vidyard, this is for large-scale operations that need to "drive velocity and revenue" and that need secure video transactions. Factors affecting the monthly/per user price include:
If the content needs to be shared across the team.

How many team members need access.

How many apps, CRM, and dashboard integrations are needed.

If the video needs extra security (accessed by a password, etc.).
Vidyard Pricing: Marketing Packages
The marketing packages offer a lot more features, even with the starter pack, reminding users that this is a SAAS originally designed for marketing campaigns. Rather than being priced per seat, customers are billed how many videos they want to be included in their package and smoothly and securely they want to be able to integrate video use with their campaigns. Ultimately, these marketing packages are primarily used for embedding videos on websites and landing pages. As we will discuss below, many of the same features in these packages are included in Dubb's basic sales and marketing packages. 
The first package offered is the Starter at $150 per month. This basic package generally includes everything you need to start (get it?). For instance, it offers hosting, analyzing, sharing, and embedding video content, interactive CTAs, and it includes 20 videos to work with. It includes all the core features of Vidyard and a few advanced ones like fully customizable players. Custom video-sharing pages is also an included sales feature here, but it is only in Vidyard's Starter sales plan. Again, Vidyard pricing with setup fees is not listed.
Next is the Plus plan at $850 per month. This is targeted at growing teams that are focused on creating engaging and interactive video experiences. This plan includes 100 videos and one data integration (for example, an integration to Hubspot or Pardot). Any additional videos or data integration will cost more, but a sales rep needs to be contacted to know how much. While this one integration isn't listed as a custom integration, your Vidyard customer service representative can probably customize that integration per your needs.
In this Plus plan, you can also take advantage of features like A/B test thumbnails, advanced analytics, automatic transcripts, custom in-video CTAs, custom user permissions, and a dedicated customer success representative. In the end, if you opt for a "lower" plan than the Plus plan, you'll need to share your videos on a website, landing page, or through email and an existing marketing automation system. 
The last tiered package is for scalable campaigns called Enterprise, based completely on customized pricing. Understandably, this tier offers the most features, many of which also have customizable abilities and numbers. This plan also includes full email and phone support. To get the precise pricing for this Enterprise plan, you will need to contact Vidyard. 
Dubb Prices
Vidyard is well-known in the field and for years has helped marketers and businesses grow with their platform. However, if you wanted access to both Vidyard's marketing and sales plans, you would likely need to have an account with both. The sales plan does include some embedding features, but not the ones that you can find with Vidyard's marketing plans. Your ultimate price would depend on which packages you want and how large your team is. 
Considering all of the above, Dubb recognized that there are businesses wanting to grow but unable to start with Vidyard's steep buy-ins. That's why Dubb has peace of mind pricing, rather than premium pricing. Sales and marketing features are in one stack, meaning that you and your team don't need to subscribe to multiple services to get the most out of Dubb. 
Dubb is a video communication platform that lets you record, share, and track video messages via Gmail, Outlook, LinkedIn, Twitter, Instagram, SMS, and CRMs. The company is a SAAS platform that does not require a setup fee for individuals. Dubb is completely mobile: film, edit and convert from anywhere. Once you've created videos, integrate them seamlessly into emails, social media, websites, dashboards, and apps. A standout feature of Dubb is the ability to make highly personalized videos: add original text directly onto videos; pick your animated thumbnail previews; add your face and personality to everything you record. This sets Dubb apart: you don't have to make formulaic videos or hold up a whiteboard. Communicate directly with leads; add your face and humanize your company.
Monthly fees for Dubb range from $0/mo for the free plan to $40/mo for the first tier of the paid plan. None of the plans require credit cards and all have transparent pricing and setups fees.
Dubb For Individuals and Small Teams
Dubb offers a Free Forever Starter plan for small businesses, which is exactly what it sounds like: $0. Forever. 
This is a basic starter plan that lets businesses take advantage of a whole host of features. For instance, free plan users have access to self-serve usage, unlimited storage, mobile and desktop apps, Outlook add-in, and a Chrome extension. Without a setup fee, individuals can get started at their own pace. 
Unlike the other higher-tiered options, however, Dubb's Starter plan does not offer contacts. The free plan also includes Dubb branding. Besides these exceptions, however, Dubb's free plan lets you take advantage of many of the features found on Dubb's paid plans. 
From Dubb's Free Forever Starter Plan, users can take advantage of Dubb's Internal Support Plans. Dubb's Support Pro plan is $10 per month ($8 per month if paying for one year in full) and its Support Pro Plus plan is $20 per month ($16 per month if paying for one year in full). There are no setup fees for either of these plans. 
These plans have many of the same features found in Vidyard's Pro plan. Some of these features include HD video, custom logos and subdomains, calls-to-action, team management, advanced reporting, and Slack notifications. Password protection is automatically included, as well as email and chat support. 
Importantly, all of Dubb's Internal Support plans contain all of Dubb's integrations. Some of those integrations include Asana, LinkedIn, and YouTube (to check out the full list of integrations, click here). With Vidyard, these sorts of integrations will only be available on the Enterprise plan. With Dubb's Support Pro Plus plan, you also get a dedicated account manager, API access, and custom integrations. 
From these support plans, let's move on to some of Dubb's more advanced plans. Dubb has one solution for individuals and small teams. The Small Business Pro plan is $40/user per month or $480 per year; and setup is free, as listed on the pricing page. If you purchase one year in advance, the price drops to $32/user per month or $384 per year.
This Small Business Pro plan has access to all of the features the platform offers. You get everything in the Starter plan, along with features like HD video, custom logos and subdomains, team management, advanced reporting, CRM integrations, live U.S. based phone support technicians, and more. You are also allowed up to 10,000 contacts, but if you need more, this can be arranged. 
That said, there are some key differences between Dubb's Small Business Pro plan and Vidyard's Starter plan. Vidyard's Starter plan has CTAs appear on top of the video, while CTAs in Dubb's Small Business Pro plan appear below the video. While this isn't a huge difference, Dubb is also working to incorporate interactive CTAs on its platform. With Dubb's Small Business Pro plan, you get unlimited storage while Vidyard's Starter plan only offers five shared videos per license. While Vidyard's Starter plan begins to offer video playlists, you can find the video playlist feature in all of Dubb's plans. Finally, Vidyard's Starter plan doesn't offer the ability to send out videos at scale from their tool, while Dubb's Small Business Pro plan offers things like email campaigns, large email blasts, and even marketing automation.
For enterprise and larger teams, Dubb has another set of solutions based on the size of the team. Specifically, this plan is called the Pro Plus plan. This plan is $99/month ($80/month if you purchase one year in advance) and it includes five users by default. If you want to add additional users to the plan, it is $50/month per additional user. 
This enterprise solution includes everything in Dubb's Pro plan, along with additional features. For instance, this plan offers a dedicated account manager. If you are having any issues with Dubb, you can call your dedicated account manager and go from there. This is unlike Vidyard's Starter plan, where users only get help through email support. With the Pro Plus plan, you also get 50,000 contacts ($10 per month per additional 10,000 contacts), API access, and custom integrations, scripts and email templates. 
Finally, enterprise solutions come with two to four coaching sessions to make sure the whole team is getting the most out of the platform. The plan includes a transparent $500 initial setup fee. Ultimately, this plan is most equivalent to Vidyard's Plus plan (which is $850 per month).
Dubb for Enterprise and Large Teams
For enterprise and larger teams, Dubb has another set of solutions based on the size of the team. The first tier is the Enterprise package: it costs $500/month with a $1,000 setup fee. An enterprise solution allows for 50,000 contacts and 10 gigabytes of video storage per user. This level includes full-scale video integration across the platform. Enterprise solutions come with two to four coaching sessions to make sure the whole team is getting the most out of the platform.
The next level up is the Enterprise Plus package at $1,000/month and a $1,500 setup fee; it includes 20 users.  Each additional user is $50. With 100,000 contacts and unlimited videos, this is one of the most cost-effective and popular packages.
The highest tier is Enterprise Elite but it is the first level that requires users to contact a sales representative to find out the price. Unlike Vidyard's highest level, which promises full email and phone support, Dubb's Enterprise Elite gives direct contact with the CEO and the Head of Client Success (as well as full email and phone support, of course).
Feature Comparison
The discussion above was a quick overview of the differences between Vidyard pricing and Dubb pricing. Ultimately, Dubb is less expensive than Vidyard across all its packages and features – and offers features at its lower tiers that Vidyard saves until its more expensive higher tiers.
For a free 14 day trial, head over to Dubb.com.
But what about some of the additional features that you can find in Vidyard and Dubb? Let's take a deep dive into some of the different features between Vidyard and Dubb. 
To start, let's take a side-by-side look at Vidyard's product offering vs. Dubb.
| Features | Vidyard | |
| --- | --- | --- |
| Detailed Tracking/Analytics | ✓ | ✓ |
| Custom Branding | ✓ | ✓ |
| Outlook Add-In | ✓ | ✓ |
| Video Upload | ✓ | ✓ |
| Team Reporting | ✓ | ✓ |
| Gmail Extension | ✓ | ✓ |
| Multiple Calls-to-Action | | ✓ |
| Personalization Text | | ✓ |
| Calendar Integration | | ✓ |
| Facebook Messenger Integration | | ✓ |
| LinkedIn Extension | | ✓ |
| Unlimited Storage | | ✓ |
| Mobile app | ✓ | ✓ |
Mobile App
One of the key differences between Vidyard and Dubb is that Dubb has an app for iPhone and Android users; whereas Vidyard's app is only for iPhone.
Maybe this seems small, but consider this: according to Android's product manager in May 2019, Android had 2.5 billion active users. In 2018, Apple announced that there were 1.4 billion active Apple users. While both are impressive numbers, if Vidyard only offers an iPhone app, then it's missing out on innumerable other customers. Vidyard users are only able to use its mobile app if they have an iPhone, despite there being more Android users, on average.
Dubb has both a mobile-optimized website and an App Store app. This allows Dubb users to create, send, and track videos anytime, anywhere – no matter their device.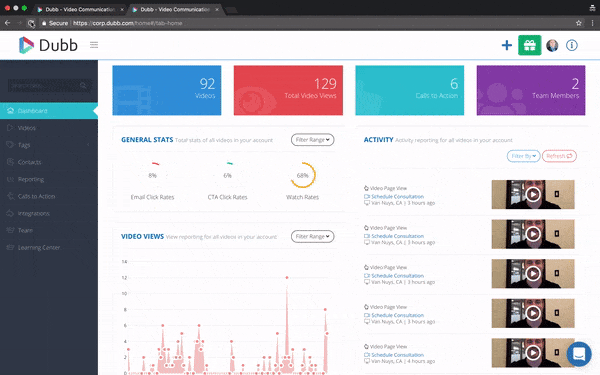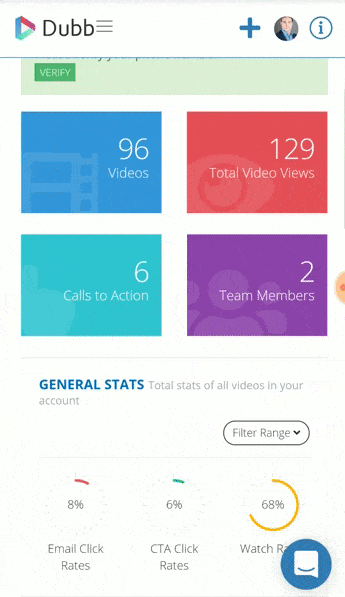 Multiple Calls-To-Action
Both Dubb and Vidyard offer customizable Calls-to-Action (CTAs); but Dubb offers them much sooner, more freely, and with more options. A call-to-action, or CTA for short, is an instruction to the audience designed to provoke an immediate response. If you've harnessed the power of video content, then the customer wants to know more about your video. CTA is the "next step" option. CTAs have been shown to increase conversions and sales dramatically.
Dubb designed its software to ensure that you can employ a CTA as easily as possible. Specifically, Dubb's CTA feature provides a clickable, customizable button that appears below the video. When CTAs are customized, the rate of click-throughs and sales further increases. Over a 6-month period, Hubspot analyzed 330,000 CTAs and found that personalized CTAs convert 202% better than default or multivariate ones.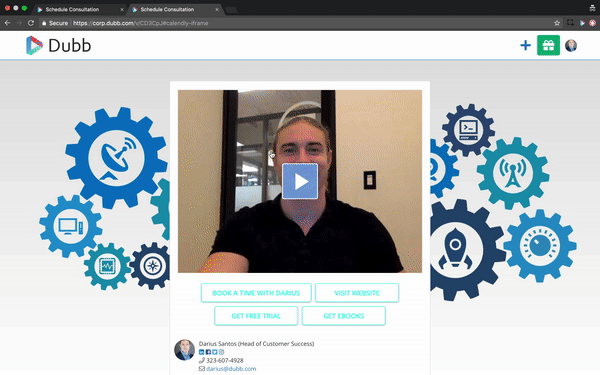 The button is easy to create and can be programmed to perform in several ways:
Email Replies – You can program the button to have the recipient reply to any email of your choice with just one click

Phone Replies – If you are sending videos via SMS you can have the recipient reply with a call or text with just one click from their smartphone.

URL – You send the recipient to any URL of your choice with just one click. You can have them visit a website, download a file, etc.

Facebook Messenger – You can program the button to open a conversation on Facebook Messenger with the person of your choice with just one click.

Calendar – You can program your CTA to take the recipient right to your booking calendar. If you have Calendly or Acuity, your calendar will be on the same page as the video.

Reply with Video– Dubb allows users to send a video message that requests the recipient to reply with a video. This is a valuable tool when looking for two-way humanized communication, testimonial generation and more. While you may not use this feature in each and every email, it can be a terrific tool in your marketing portfolio.
Exit-Intent
The Dubb CTA feature doesn't stop there. There is also an exit-intent module that, when selected, provides a pop up with your CTA and description when a recipient tries to exit the page without clicking the CTA.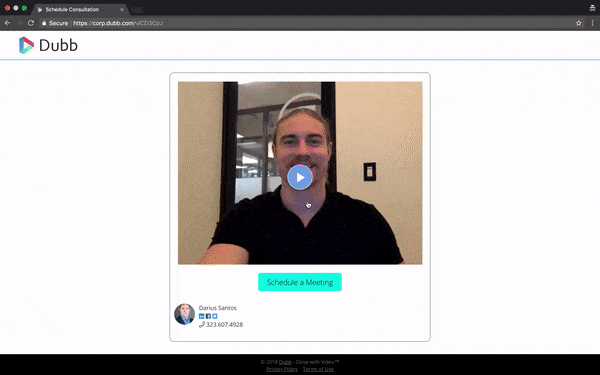 An exit-intent module can be a critical tool to increase the conversion rate of your CTA. It gives you one more chance to share your CTA and direct users toward a targeted behavior. The pop-up is in the form of a "lightbox": a box that opens in the center of the page, obscuring the background content until the user clicks a choice (usually a "yes" or "no" option).
While some users may find pop-ups annoying, they are effective. Pop-ups and lightboxes offer 2% higher clickthrough rates – which, depending on your customer database, can yield a few hundred extra clients. And, according to Entrepreneur.com, their pop-up utilization increased their subscriptions from 86% to 162%.
While it is up to you on whether you actually want to leverage exit-intent popups, the option is available.
Personalization Text
Another powerful feature that is unique to Dubb is personalization text. Instead of holding up a whiteboard in your videos to connect with your recipient, which can come across as formulaic and outdated, you can use technology to add personalized text directly onto all of your videos.
If you're sending one-to-one videos or trying to reach your entire database with a single email, Dubb's personalization text feature allows you to add a personal message to every video. The technology works in unison with your CRM or email sending platform to send hyper-personalized videos, without the heavy lifting of having to hold a whiteboard up and record a new video for each recipient.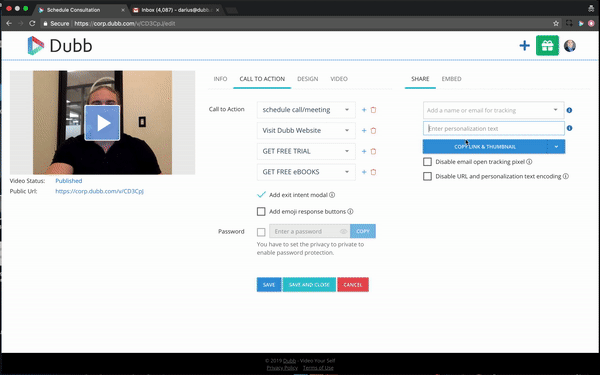 Social Media Integrations
First, by quickly glancing at the feature comparison chart, you will discover that Dubb has more integrations as compared to Vidyard. Regardless of whether you work for a small or large organization, these integrations, simply put, will make your life easier. They will allow you to share your video content much more easily so that you can focus on other, important tasks. And by including a wide range of integrations within the Dubb feature set, you can pick and choose among the integrations that are most relevant to you. You can set and forget about your integrations, empowering you to work on creating the best video content possible instead of struggling with how to share your content across different social networks.
Nearly four billion people use the internet –- and of those, three billion use social media. Maybe this isn't surprising: what is surprising, though, is how often businesses fail to fully utilize social media campaigns. While email marketing campaigns are definitely effective, social media allows for greater reach and direct engagement with customers – and the customers using social media the most (Millennials and Gen Z) have the most purchasing power in the world. Even emoji use is now a viable marketing tool. Not to mention that a lack of social media presence makes your company seem out-of-date.
In short, you need a social media presence. Dubb makes sure that you won't miss out on this important marketing tool. Vidyard does offer Facebook integration, but Dubb goes beyond that with LinkedIn, Instagram, Twitter, and Messenger integration – the fastest growing and most profitable social media markets.
Takeaways
Vidyard is not transparent with their pricing, and the price you pay will depend on your negotiations. Alternatively, Dubb offers haggle-free prices that are less expensive than Vidyard, while maintaining the same important features that will help you win more deals. In addition, Dubb offers important features at lower tiers that Vidyard saves until higher tiers. Dubb's mobile options and proprietary CTA functionality further increase the gap in value between the two platforms, placing Dubb well ahead of Vidyard in terms of bang-for-your-buck.
If you're interested in signing up for a free Dubb account, sign up here. 
Get the Vidyard Pricing vs. Dubb Pricing Comparison Guide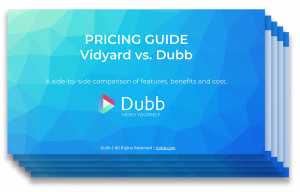 Interested in seeing a side-by-side comparison of BombBomb vs. Dubb? Get the free guide to learn about Dubb, a popular BombBomb Alternative.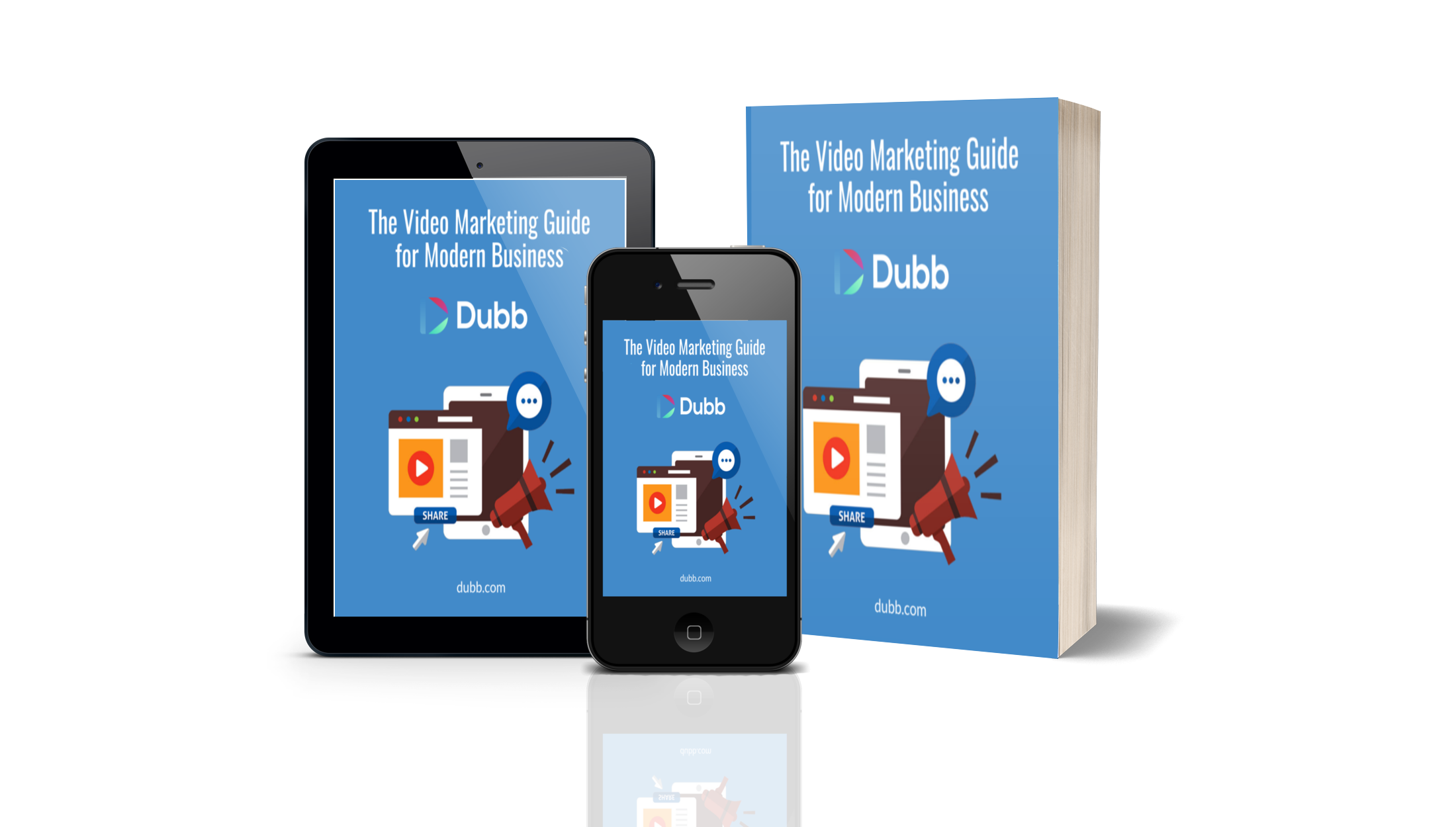 [eBook] The Video Marketing Guide for Modern Business
Dubb is a video communication platform that lets users send personalized, trackable videos. The Dubb platform simplifies video sharing with a Chrome Extension, Outlook Add-In, mobile app and website that allow users to share and track screen and camera videos. Dubb offers a free 14-day trial with no credit required.
Dubb - Video Communication Platform
Average rating:
3 reviews
Jul 25, 2019
Very informative
This post is very informative and very detailed when it comes to a comparison of these platforms. Thanks for the help.
Oct 23, 2018
Good summary
Great review.
Oct 23, 2018
Thanks
Thanks for the info.