The debate of Vidyard GoVideo vs Dubb is certainly an interesting one, as both tools seem to be similar on the surface. As an example, both Vidyard and Dubb offer Chrome Extensions that can help you easily record videos within your favorite browser. In this article, however, I want to further explore both Vidyard's Chrome Extension (which is called the "Screen and Webcam Recorder" and Dubb's Chrome Extension. Specifically, I am going to highlight the similarities and differences between both so that you can make the best decision for you and your company.
Vidyard GoVideo vs Dubb: A Brief Overview of Both Chrome Extensions
To start comparing the Vidyard Chrome Extension and the Dubb Chrome Extension, you'll need to install both extensions within your browser. When you click on both the Vidyard icon and Dubb icon in the Chrome toolbar, you will see that both Chrome Extensions look very similar.
When creating Vidyard videos or Dubb videos with these extensions, you can see that you can record your current tab, full screen, or your webcam only. With Dubb, you also have the option to click a button and upload a previously-recorded video to Dubb.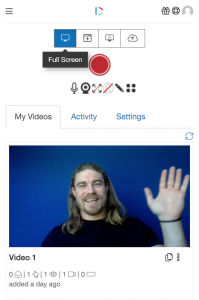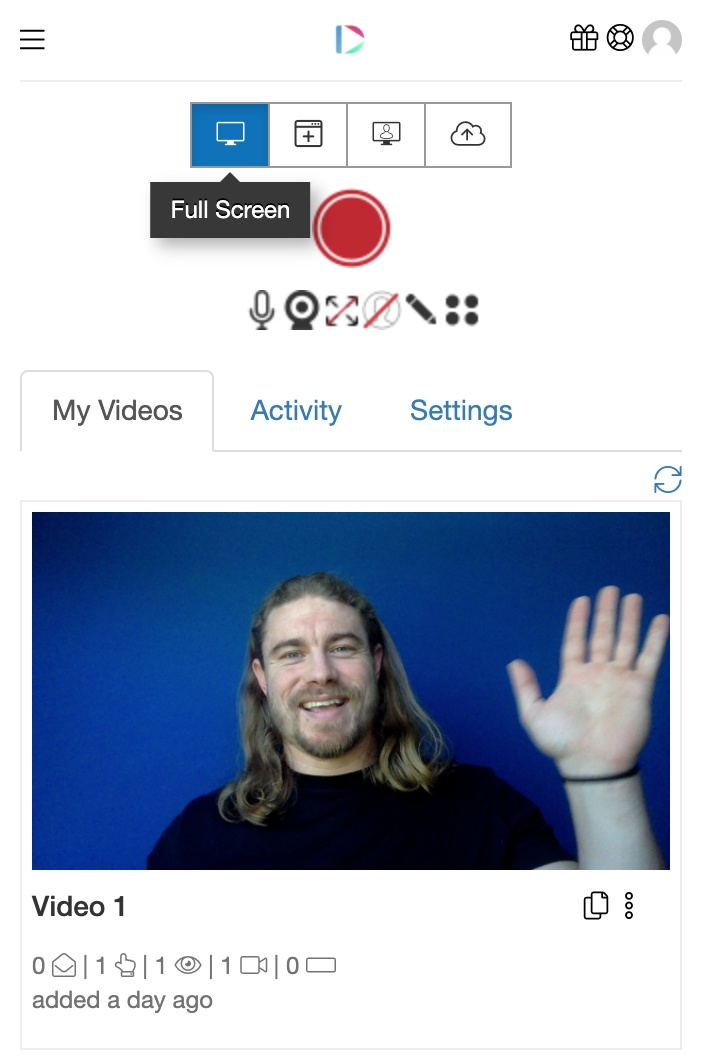 There doesn't appear to be a similar button in Vidyard.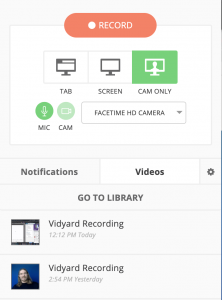 That being said, both Chrome Extensions offer webcam and mic selections as part of these basic features.
Moving beyond these basic features, both Vidyard and Dubb's Chrome Extensions offer a tab ("notifications" in Vidyard and "activity" in Dubb) that lets you view analytics for your videos. With Vidyard's notifications tab, you can see the number of people viewing your video, but it doesn't say how long how much of the video was viewed.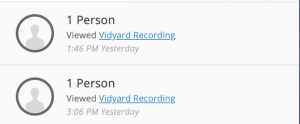 With Dubb, however, you get more detail, including the length of time watched, the viewer's city, and when they watched your video.


Some More Detailed Distinctions Between Dubb and Vidyard's Chrome Extensions
Ultimately, the point of both these Chrome Extensions is to make it easier to record your videos, wherever you are. As a starting point, both of them offer that level of convenience. But having said that, the Dubb Chrome Extension offers a few more features within the extension itself.
Users of this extension can easily turn their mic and webcam on or off. They can expand their webcam with one click. Doing this, users of the Dubb Chrome Extension can have their webcam take up their entire screen. Dubb's Chrome Extension also offers an annotation tool. When recording, you can easily underline or circle the most important parts of your screen. This can be especially useful if you are giving a presentation to a prospect or to your colleagues.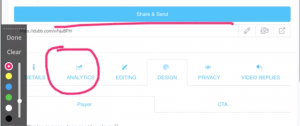 Dubb also offers an intuitive toolbar that lets you easily pause or end your recordings. You can even move around your webcam image as you are recording the entirety of your screen.
Looking more deeply at Vidyard, we can see that the recording experience has some similarities. Like Dubb, there is a countdown when you are about to record your Vidyard videos. The webcam bubble looks about the same size as the one that you'll find with Dubb. Having said this, you aren't able to move or resize the webcam bubble like in Dubb. It will stay on the bottom left part of your screen and it will stay the same size.
Like in Dubb, you'll see a toolbar that contains a pause and stop button. However, the Vidyard Chrome Extension is missing an annotation tool. If you are creating a Vidyard video as part of a sales or marketing presentation, for instance, you may need to use your mouse cursor to bring attention to a certain part of your screen.
Vidyard GoVideo vs Dubb: Exploring Both Platforms
When creating Vidyard videos or Dubb videos in the office, you'll likely want to do so through these Chrome Extensions. These Chrome Extensions can make your life significantly easier, as they can handle many aspects of the recording process through your favorite Internet browser.
Nonetheless, Vidyard and Dubb are more than their Chrome Extensions. Both companies offer larger platforms that can help you accomplish your video sales and marketing goals. Like their Chrome Extensions, both platforms have some similarities, but they also have some differences which can play a large role in your final decision.
Before we get started, a caveat. I am only going to explore the free version of both of these tools. Both Dubb and Vidyard offer paid premium plans that offer even more tools for your sales and marketing work.
With that said, let's begin by looking at Dubb. Starting with Dubb's dashboard, you can quickly see the Dubb videos that you have created. Clicking on a particular video itself, you get taken to another Chrome page which contains a plethora of options. In the first tab (labeled details), you can do everything from adding captions to your video, edit your video description, and create call-to-action. In terms of the captions, you can either have the captions automatically generated or upload your own SRT file.
The analytics tab is straightforward, as it lets you check out some analytics for your specific video. By clicking on the editing tab, you're able to trim your video and add a custom thumbnail.
Selecting the design tab, you can see that these features are locked. Dubb makes you sign up for a paid plan in order to do things like display your company logo on the video player or change the video player's color. There are privacy elements that you can leverage (including the ability to keep your video public or private). Finally, you can take advantage of Dubb Chat, which is the ability to converse with viewers on your Dubb video pages.
Now, let's take a look at Vidyard's backend. Compared to Dubb, it is difficult to find a preview page for a particular Vidyard video. But looking at a traditional Vidyard video page, we can see that the layout is pretty similar to Dubb's. However, there doesn't appear to be a chat module below the animated GIF preview of your video. Vidyard video landing pages also don't contain quick emoji responses below your video or contact information below the video. Dubb video landing pages do have these emoji options and do contain contact information below their videos. This contact information is essentially a call-to-action, which can be extremely powerful in leading viewers down your sales funnel and generating more sales.
Finally, to further compare both Vidyard and Dubb, let's take a look at how Vidyard videos and Dubb videos appear in an email.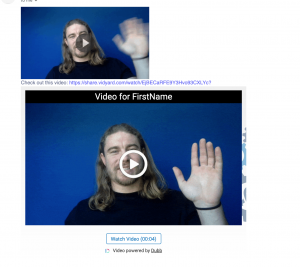 We can see that Vidyard videos and Dubb videos are pretty similar. That said, you'll see Dubb videos include a button below the video that invites the recipient to watch the video. It also includes the length of the video which can help set your viewers' expectations. With Dubb, you can also include personalization text at the top of your video. This can be a great way to build a closer and more personal relationship with your audience members—all at scale. With Vidyard videos, you'll also see a link below the video itself, but you can't offer personalization text or display the length of your video.
Some Final Thoughts: Vidyard GoVideo vs Dubb
This has been a very brief overview of both Vidyard videos and Dubb videos. By now, I'm sure it's clear that both platforms share some similar features. Videos can be created with both the Vidyard and Dubb Chrome Extensions. The Dubb Chrome Extension, however, had a few more options—like the ability to resize your webcam, annotate your recording, and access more detailed analytics.
We also compared Dubb and Vidyard video pages. Ultimately, Dubb offers a few more features, including the inclusion of contact information below your videos, Dubb Chat, personalization text at the top of your videos, and emoji responses below your videos.
In the end, I hope that this comparison of Vidyard videos and Dubb videos has been helpful. If you would like to learn more about Dubb, I encourage you to click here to discover more features. You can also click here to take advantage of a 14-day free trial of Dubb's paid plans.