At Dubb, we love exploring new ways to use LinkedIn for sales. If you're a longtime consumer of our content, you recognize that we are extremely bullish on the power of both video marketing and LinkedIn. Yes, we're excited about how video is such a fantastic medium for storytelling and connecting with your audience. But along with that, video marketing is so exciting because it is always changing. This is even truer today, as many of us are embracing the work from home movement due to COVID-19.
We have even incorporated some new features into Dubb which we call Dubb For Remote. You can check out by clicking on the image below: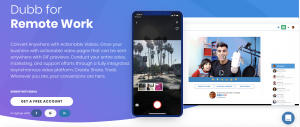 Along with this, we love learning new strategies to use LinkedIn for sales. LinkedIn is a highly underrated platform for connecting with your clients and audience. It can go a long way in driving more sales and building your brand equity.
That said, to learn more about both of these things, I recently sat down with Tracey Enos for a recent edition of our Dubb Jam Sessions. Tracey is a LinkedIn speaker, international best-selling author of LinkedIn Publishing to Profits: A Simple 5-Step System to Attract High Paying Clients, and a renowned marketing expert.
Simply put, Tracey is a marketing and sales rockstar who knows how to help her clients get more sales and increase their revenue. It was because of her track record and familiarity with Dubb that I was so excited to speak with Tracey about video marketing strategy.
In these Jam Sessions, I try to get a sense of how several things, including how Dubb power users use our product, how we can improve, and new trends in video marketing. It's not only a great learning opportunity for us at Dubb, but it's a great opportunity for you to learn some new tips and tricks about video marketing.
In this Dubb Jam Session, Tracey and I spent a good amount of time talking about LinkedIn for sales. But along with Tracey's important insights on LinkedIn, I wanted to share some cool things that you can do on Dubb to better connect with your prospects and current clients.
To view the Jam Session in its entirety, go ahead and click here or watch the video below:
Getting the Most Out of LinkedIn For Sales
Even though it may not be at the top of mind, LinkedIn can be a fabulous part of your video marketing strategy. The platform has evolved from primarily connecting with contacts made in real-life to a content platform where you can build a brand and connect with those who consume your digital content.
As of November 2019, LinkedIn has around 660 million users spread out over 200 countries. The audience is there for your chosen niche or sector. Moreover, engagement has increased 50% year over year and four out of five people use LinkedIn to drive business decisions. As Tracey says, it is an awesome platform that you can use to accomplish your marketing goals.
Throughout the Jam Session, Tracey and I exchanged insights on how individuals and companies can get the most out of LinkedIn. Whether you follow some or all of these insights, I'm sure that you will find them useful for your company's video marketing strategy.
Using Captions For LinkedIn For Sales
LinkedIn captions can be a fantastic way to describe the content of your video. Not only can they provide high-value information about the video content itself, but you can use it as an opportunity to further promote your brand.
Having said this, you need to be careful if you want to include a hyperlink in your post.
The LinkedIn algorithm, like many other algorithms on the Internet's most populated websites, is quite mysterious. It is constantly changing and few (if any) outside the company knows how it actually works. Tracey's theory, however, is that you must tread lightly when including hyperlinks in your LinkedIn captions. If your link takes the user outside of LinkedIn (like to a YouTube page or your company's blog), you will want to include it in the first comment to your post. The reason for this is pretty obvious. LinkedIn wants users to stay on its platform for as long as possible. If your hyperlink is taking users away from LinkedIn, the platform is going to be biased about this type of content.
Therefore, the best practice here is to tell everybody that the link is in the first comment and that they should check out. You need to actively tell them where to go, as it's all too easy to keep scrolling past the comments. Here's an example from my LinkedIn page: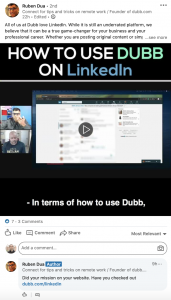 If you have about 30 likes or comments, however, you can think about reposting the link into the description. While it's not guaranteed, there's a better chance that the LinkedIn algorithm won't punish that particular post.
If your hyperlink links to another LinkedIn asset (like a LinkedIn post or profile page), then these restrictions don't apply to you. You can go ahead and include this link in your post description.
Some Video Best Practices
When you are posting a video to LinkedIn, I encourage you to prioritize shorter over longer videos. At Dubb, we used to post full 10-minute videos. But after thinking about it, we decided to emphasize 60-second videos. These videos also contain a scroll bar which lets the user know the video's progress. We have found more success with this approach. That said, you may be wondering what the optimal length is for any LinkedIn video.
According to Tracey, the optimal length for a LinkedIn for sales video is three minutes. It's also important to remember that these videos do not play sound by default. Rather, you need to click on the video to hear sound. This requires the viewer to take action, however, so you'll want to also add an SRT file to your videos.
SRT files are essentially transcripts of your videos. At Dubb, we use services like Rev and Otter.AI to transcribe audio into text. The quality is pretty good and the rates are reasonable.
You can also take advantage of a helpful YouTube feature. Here, upload a video to YouTube and wait for about five to ten minutes. After, you will see that YouTube has generated captions and an SRT file. You can go ahead and edit your SRT file on YouTube, but it can take longer than other paid options.
Finally, you can also use Dubb. At Dubb, we now offer transcriptions. It's not a free service, but we are happy to provide you with SRT files for your videos. An example is below: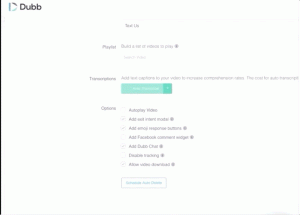 The bottom line? Audio is turned off on LinkedIn, so make sure that you get transcriptions of your video content and upload them as SRT files. With the transcription, you can also burn in the captions on your videos by using software like Adobe Premiere or Adobe After Effects. The choice is yours.
Beware Over Mentioning When Leveraging LinkedIn For Sales
When using LinkedIn for sales, it's tempting to over mention. By over mention, I mean this idea of tagging other LinkedIn users and asking for feedback or extending your thanks to other users. I'm sure you've seen this on your LinkedIn feed, whether it is a user thanking 10 or 20 users for inspiration or posting a video and tagging many different users.
Ultimately, I think there's a fine line here. There's nothing inherently wrong with mentioning one or several users that you know well. Of course, you want engagement for the valuable content that you post. Nonetheless, mass mentioning users that you may not know well can be annoying. If you do it too much, you also run the risk of LinkedIn shutting off your account.
It pays to be strategic. As Tracey says, it doesn't necessarily feel good to be mentioned along with 20 or 30 other LinkedIn members. On the other hand, mentioning one or two users can show that you were specifically thinking about that LinkedIn member in your posted video or article. It provides that personal touch which can go a long way in building a closer relationship with the targeted member. For instance, if you just completed a podcast interview with a renowned LinkedIn member, go ahead and tag that member when posting a clip of your interview. Doing so helps that member engage with your post and share your content with their network.
Are LinkedIn Ads Worth It?
Any discussion of LinkedIn for sales inevitably includes LinkedIn ads. Like other social media companies, LinkedIn lets individual users and companies purchase ads that they can display in front of other LinkedIn users. You can see all the different ad types by clicking here.
These ads can help introduce your content and brand to a certain segment of the LinkedIn population. As just one example, you can leverage promoted or sponsored posts that appear in the user's newsfeed.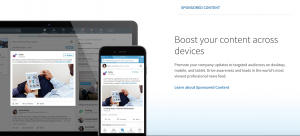 You can also use sponsored InMail, which appears in the LinkedIn user's inbox.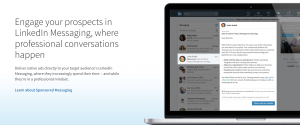 The options are there, but the bad news is that LinkedIn ads can be expensive.
So what do you do? As a starting point, Tracey thinks that the decision is personal. There may be certain circumstances (including your potential budget) that may tip the scales for you. Nonetheless, she doesn't use LinkedIn ads that often. She works with her clients to use LinkedIn as a way to organically start conversations and create personal relationships.
At Dubb, we see some specific reasons why you would want to use LinkedIn ads. For instance, LinkedIn ads can be valuable as part of a conversion funnel for a masterclass or webinar. We also used to use LinkedIn lead gen forms in the past, but the quality of leads wasn't satisfactory.
In the end, you'll want to look at the costs and benefits of investing in LinkedIn ads. A third way is to nibble on LinkedIn ads. While these ads are generally expensive, nothing is stopping you from experimenting.
Developing a Content Calendar
Whether you're posting on behalf of yourself or your company, you don't want to post video (or other) content in an ad hoc manner. Rather, when leveraging LinkedIn for sales, it pays to be methodical. With all of your day-to-day responsibilities, it's difficult to constantly think about the content that you are going to post.
This is where a content calendar comes in handy for your overall video marketing strategy. Tracey creates a Google Doc for her clients that has over 49 different post and video ideas. Whether you use Tracey's list or develop your own, having an ongoing list of post ideas takes the pressure off. If you aren't feeling creative on a particular day, you can just consult the list.
Tracey also recommends that you and your team hold a monthly content meeting. Sit down with your colleagues, brainstorm topics, and place them in a scheduling tool like HootSuite or Buffer. Tracey prefers Buffer, but she tends to avoid it when she posts photos or LinkedIn live videos.
As with other social networks, you'll need to post frequently for your content to be seen. There is no exact number that you should target. Consistency should be your goal here, whether that means you post once every day, once every other day, or something else.
At Dubb, we tend to use what I call the "waterfall method." Here, it is basically taking long-form content and cutting it into medium-form and short-form content. An hour-long recording, for instance, can be broken down into 10-minute clips, and those can be further broken down into 30 or 60-second clips. This is just a way that you can get much more content from one lengthy video.
Along with this, try to post at optimal times throughout the day. You can use LinkedIn analytics to see how your posts are performing. Tracey recommends that you post according to an Eastern time zone schedule (even if you don't live in that time zone). This is because a whopping 75% of the country lives in the Eastern time zone. Tracey also likes publishing on Tuesdays, Wednesdays, and Thursdays. That said, you'll need to develop your own schedule according to the data you see.
Increasing Your Video Marketing ROI With Dubb
As you can see, LinkedIn is an increasingly important part of your video marketing portfolio. The best time to get started with your LinkedIn video marketing strategy is today.
But along with this, Tracey and I spoke about some cool features on the Dubb platform. You may or may not be familiar with these features. Nonetheless, I want to share how these features can help you accomplish some of your video marketing goals.
Using Reply With Video to Get a Speaking Gig
Reply With Video is a terrific feature on the Dubb platform. It lets you and your recipient quickly communicate with video. It's a more personal and time-saving way of communicating compared to sending a lengthy email. Moreover, it's extremely simple. All you need to do is click one button, start recording your message, and then send it off to the recipient.
To show this in action, I want to use a recent example from my own life. Recently, I was placed on the shortlist for speaking at HubSpot's INBOUND conference in August. I was excited and wanted to tell HubSpot that I would deliver my pitch on video marketing. Instead of typing out an email, I clicked on the Dubb extension directly from Gmail. I then recorded a short, 30-second video to the HubSpot team, and sent it out.
When it was sent, Dubb automatically generated a three-second GIF of my video, making it more likely that the HubSpot team would actually view it. I also included some personalization text so that they knew the video was solely for them. While I could have chosen a better call to action, Dubb lets you easily incorporate a CTA below your video.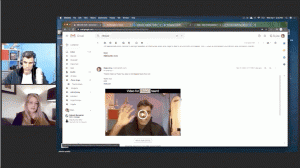 Ultimately, Reply With Video is a great way to communicate with prospects, customers, and business acquaintances. Go ahead and take advantage of it!
Using Dubb's Extensions and Integrations
Dubb has a wide range of extensions and integrations that can make your life easier. Some of our many integrations are below: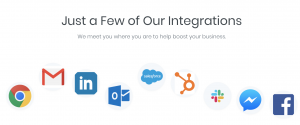 In this era of remote work, however, we're especially excited about our Google Chrome, LinkedIn, and YouTube integrations. As just one example, when you are on LinkedIn, the Dubb Chrome Extension can make your life much easier when executing your video marketing strategy. When you're ready to post or respond to a message that you received, you will see a Dubb icon. You can quickly record a video or select a video from your library and send it out via LinkedIn.
At Dubb, we focused on making this process as seamless as possible. These integrations may not seem that helpful on the surface, but they can save you significant amounts of time. This is especially true if you are working with a large team and are releasing content on a consistent basis.
Using Dubb to Reconnect with Your Contacts
In this era of COVID-19, many of us are also feeling the urge to reconnect with family members, friends, and business acquaintances. If you want to renew some of those relationships that you have on LinkedIn, Dubb can help.
Every video on Dubb automatically generates a video landing page. This is true whether the video is shot on desktop or mobile. On your video landing page, you will see that there is a playlist feature. This feature is a great way to send quick personalized videos to your contacts while chaining them to some of your other content.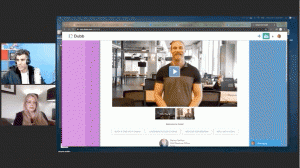 So to reconnect with a contact on LinkedIn, you can start with a primary personalized video. It can be a quick one-to-one video where you reconnect with your contact. The second video in the playlist, however, can be a longer-form, multi-minute video. It should have social proof (like testimonials) and meatier content about your business. It can even be a professional commercial, webinar, masterclass, or something else. Along with this, include a high value call to action so that your recipient will know what to do after viewing your video.
The Power of Dubb and LinkedIn For Sales
Both LinkedIn and Dubb can be fantastic tools to help you execute your video marketing strategy. Used in conjunction, they can be even more powerful.
You'll obviously want to experiment and adapt these strategies to your specific needs. That said, I'm confident that the tips and strategies above can help you get more out of LinkedIn and Dubb. I can't wait to see what you do!
To learn more about LinkedIn and Dubb, I encourage you to watch the entire Jam Session on LinkedIn for sales. You can do so by clicking here.