Are you looking for the best way to record and share Zoom recordings? In this article, you will learn about sharing Zoom recordings, some advantages and disadvantages that you will find with Zoom, and how Dubb can help you overcome some of Zoom's shortcomings and distribute outstanding video content. 
Let's face it: Zoom is a juggernaut in many of our professional lives. Whether we work for a startup or are working remotely for a larger company, Zoom offers great software to let us synchronously communicate. That being said, you may be wondering how you can effectively record and share your Zoom recordings. From new Zoom users to experienced Zoom users, it is worth the time to explore this important topic.
Zoom recordings can be outstanding assets to grow and scale your business. They can help you accomplish your business goals. Considering this, let's jump into the recording and distribution process. At the end of this post, you will be able to confidently record and share your Zoom recordings. At the same time, you will understand where Dubb fits in and how you can use Dubb to accelerate your video sales and marketing work.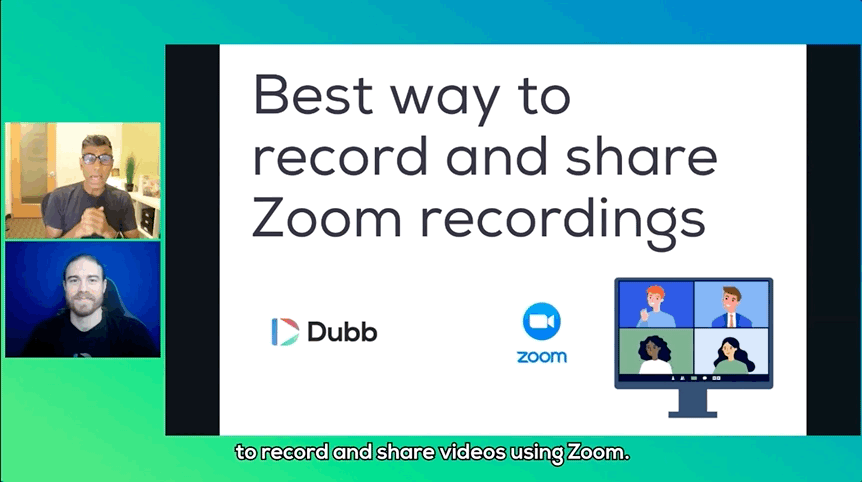 Table of Contents
Some Disadvantages That You'll Find With Zoom
Moving Forward and Accomplishing Your Business Goals
Why Zoom?
Before getting into the specific strategy, however, I think it's important to address one important question. That question is why you should use Zoom to record videos. After all, you have plenty of options to record your video meetings. Why should you choose Zoom over Microsoft Teams and other alternatives? 
Ultimately, there are a few different reasons why Zoom can be an attractive choice. But along with this, there are several reasons why you will not want to use Zoom. Understanding both of these scenarios can help you strategically use Zoom and avoid using it in other circumstances. 
Where Zoom Shines
So let's start with situations where you will want to use Zoom. One of those situations is when you want to use a virtual background. If you look at different types of recording tools, you will find that Zoom has one of the most advanced virtual backgrounds on the market today. From a research and development perspective, the company has invested so much money into virtual backgrounds. Zoom sees virtual backgrounds as a way to provide value to its users. 
With Zoom, you can choose from so many different great backgrounds. By using Zoom, you can even add custom backgrounds to your video content. Whether you are in a serious Zoom meeting with a client or a not-so-serious Zoom meeting with your team, you have the power to choose so many different high-quality backgrounds. Zoom backgrounds also have nice, clean borders. This makes it even more effective to use Zoom backgrounds in all types of video meetings. 
That being said, there is a caveat here. When selecting your custom Zoom background, you need to have a homogenous light and color behind you. It seems to help your video when you have that proper lighting that you can automatically leverage. Keep this in mind and don't hesitate to do some experiments. See what looks best for you. If you end up not being satisfied with your chosen virtual background, it may be better to either not use a virtual background or simply use a solid color behind you. 
From virtual backgrounds, let's talk about touching up your appearance on Zoom. Zoom's technology lets you smooth out colors on your skin, your hair, and even complexion issues. While it works well at times, there are other times where it doesn't work as well. Like the virtual background feature, you are going to want to spend some time experimenting with this. You may discover that this feature is a must-have when you are communicating and interacting with others in a digital format. 
Zoom also lets you have multiple angles. You can go into a two-shot, a single shot, a screen share shot, or something else. By leveraging this feature, you can complete some real-time editing where you can have different perspectives, angles, and personalities in the frame and screen. It adds a dynamic element that can make your Zoom videos more intriguing and engaging. 
Another positive that comes from Zoom is the ability to meet with people. Zoom is one of the best ways to meet with people online. There are plenty of applications here. For instance, you could have a virtual conference on Zoom. That virtual conference can be about anything that you'd like. The value doesn't stop when the conference ends, however. With Zoom, you can record that virtual conference and then have it as a virtual asset. That virtual asset can be used in so many different ways, whether you want to share it with your current customers or something else. Having that digital asset lets you provide immense value to your targeted audience. 
If you are recording videos on Zoom, however, there are two things that you'll want to remember. The first is to locally download your video to your device. The second thing (if you don't want to download your video to your device) is to upload your video to the cloud. If you are uploading your video asset to the cloud, make sure that you have enough storage space before doing so. Zoom is pretty flexible if your storage is full and you are still recording your video. At the same time, however, you don't want to risk it. 
Whichever option that you choose, make sure that you are properly securing your video. Make sure you have enough storage, especially if you are recording a long video (I define "long" as a video that is 30 minutes or longer). These videos tend to be many gigabytes, so make sure you have enough storage. In the end, putting in this work now can help you avoid some unnecessary headaches in the future. 
How You Can Record with Zoom
Now, I want to spend a few moments discussing how you can record with Zoom. If you are already a Zoom user, you already likely know how to record with Zoom. Upon opening Zoom, you will see a record button in the button right-hand corner of your screen. By simply clicking on that button, you are off and running. Once again, as you are recording, make sure that you decide where you are going to store your video. You will be storing the video either on your local device or in the cloud. 
Ultimately, it's pretty straightforward when you are recording with Zoom. Make sure that before you are clicking the record button, you are confident about several things. First, make sure that you are selecting the precise background that you want. To reiterate, Zoom gives you plenty of options in this department. In all likelihood, you can find a virtual background that meets all of your needs. 
Along with this, try to ensure that all of your guests or attendees have the correct link or login information. I'm sure you have been in Zoom meetings where there are technical difficulties or where you are waiting for important guests to log in. While you can't prevent all technological or logistical hiccups from happening, you can prevent simple unforced errors (like attendees not having the proper login information). Taking care of this now can help you avoid headaches in the future. 
How to Share Your Zoom Videos
Now, I want to spend a few moments speaking about how you can share your Zoom videos. After all, creating a Zoom video is only one half of the equation. While you may have this amazing Zoom recording, you are going to want to share it with others. You may even want to use it as a digital asset for your business, meaning that it needs to be easily shared whenever you need it to be shared.
In a business setting, there is a clear reason why you'll want to share your Zoom recording. What is the reason? To create conversions. You want to use Zoom as a way to create opportunities for your business. 
When you are sharing your videos, Zoom provides a few options for sharing. At the most basic level, you can share the link that is provided. With that link, you can copy and paste it wherever you'd like. In some situations, this is the fastest and easiest option. If, for example, you are texting a prospect and want to share a Zoom video, you can copy and paste that link into a text message. From there, that prospect can easily click on that link and watch the video.
That's not all, however. Using Zoom, you can automatically have a recording sent to a particular audience. That makes it easier to distribute your videos and focus on the other tasks that are on your plate. 
Some Disadvantages That You'll Find With Zoom
With that said, there are a few limitations to these distribution options. One of those limitations is related to storage. Like we discussed above, storage is an important thing to consider whenever you are creating video content. Videos are inherently large, and because of this, you want to make sure you have enough storage space before you hit the record button. 
Ultimately, Zoom's file storage isn't quite as affordable as some of the other options on the market today. If you are creating lots of Zoom videos and are on a limited budget, you may find these pricier storage options to be a deterrent. On one hand, you may not want to pay these elevated prices to store your video content. On the other hand, however, you don't want Zoom's pricier storage options to prevent you from creating awesome video content for your audience. 
And yes, you can choose to store your Zoom videos on your local device. Nonetheless, you are limited. Simply put, you don't have unlimited storage on your device—no matter how advanced or new your device is. One of the more frustrating things can happen when you create an awesome video and want to save it to your local device, but you find out that you don't have any storage available on that device. 
Storage becomes an issue when you are regularly using videos for your business. If you are doing this (as you should), it is important to keep storage in mind. 
There is one other part of this discussion. With anything that you do or share from your business, you will want to track the return on investment (ROI). Even if you don't enjoy digging into the numbers or metrics, it is universally true that you want your video content to have some tangible, positive return for your business. This can even be things like creating video content to build your brand. Whether the return is measured in dollars and cents or likes, you are creating video content to accomplish some objective. 
Ultimately, you want to track how effective your work is. That's the case whether you are sending emails to prospects or getting on follow-up calls with paying customers. Whatever it is, we need to know what we are getting out of our work. This is where tracking becomes really valuable. 
Traditionally, sharing your recordings through the ways that Zoom provides didn't provide much tracking. You couldn't see things like the percentage of videos that are being viewed, how many times they are being viewed, if they are sharing your video content with other people, and more. If you think about it, this is the type of information and data that will drive our business decisions. Without that kind of data, we are wandering in the dark. We are relying on our gut and intuition to discover which videos are the most effective. While we may get lucky and make some correct guesses in the short term, the long-term outcomes may be much different. In fact, we may miss out on fantastic opportunities to provide even more value to our audiences, thereby growing and scaling our businesses. This is a shortfall in traditionally sharing Zoom recordings. In effect, we are missing out on some of the key features and data that help our businesses get the most out of video sales and marketing. 
Where Dubb Fits In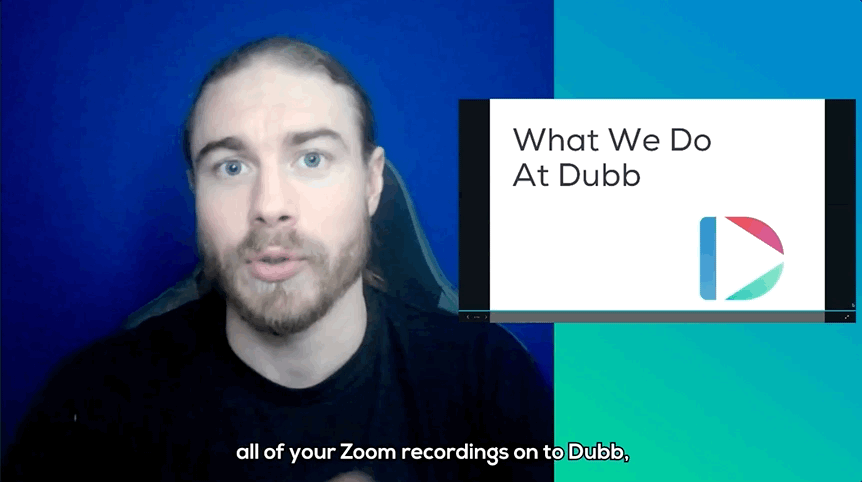 As you can see, Zoom offers some positive and negative features. It is one of the world's largest synchronous video platforms for a reason. By getting on a Zoom call, you can communicate in real-time with virtually anyone around the world. But at the same time, some of these shortfalls can make it difficult to use Zoom. This is especially true if you want to get the most out of your video sales and marketing work.
Dubb is slightly different from Zoom, yet it offers plenty of tools and features that can make up for Zoom's shortfalls and help you grow your business. Ultimately, Dubb offers one of the best ways to share your Zoom recordings, whether you are recording a simple Zoom conversation with you and a customer or a much larger Zoom discussion with a group of prospects. 
So why is Dubb a tremendous tool to help you share your Zoom recordings? I think there are several things to keep in mind here.
More Storage
The first thing to keep in mind is related to storage. Essentially, Dubb lets you upload all of your Zoom recordings onto the Dubb platform. We will host all of your Zoom recordings, which can eliminate some of the anxieties that you may have about finding enough storage space for your Zoom videos. By doing this, you can avoid filling up your cloud storage on Zoom or the memory on your local device. To put it another way, by using Dubb to host your Zoom recordings, you can focus less on storage and more on the content that you are actually creating. You can even use your cloud storage on Zoom for emergencies. 
A Wealth of Analytics
As for the second thing to keep in mind, using Dubb, you get access to a wealth of analytics. As I mentioned above, data and analytics are huge parts of creating great video content and connecting with your audience. By incorporating those data and analytics into your processes, you can build stronger relationships and generate more sales. 
Dubb offers you plenty of data and analytics for each of your videos. For instance, you can actually see how much of your video was viewed. You can go beyond that and see how many times your video has been watched. You can even see who is actually watching your video and how much of the video that a specific audience member has watched. All of this is the type of information that you get when you share and host your Zoom recordings on the Dubb platform.
Calls to Action 
At this point, we haven't discussed one of the more important features that you'll find on the Dubb platform. Really, the most part of all of this work relates to conversions. You are likely focused on getting the conversions and opportunities by sharing your Zoom recordings. The great news? You can easily accomplish this this through Dubb. 
There are plenty of features that can help you increase conversions through the Dubb platform. However, I think one of the most powerful is the call to action (CTA) feature. As you probably already know, CTAs are tools that direct someone else to take some sort of action. In the video sales and marketing context, you can rely on CTAs to move prospects down your sales funnel and generate more sales. 
By becoming a Dubb user, you get access to all types of CTAs. Some of the many that you'll find on our platform include:
Communicate via Facebook Messenger

: When sharing your Zoom recordings with members of your audience, you may discover that some audience members don't want to share their emails or phone numbers. They would rather communicate over a platform like Facebook. This CTA gives you and them the power to advance the conversation on their preferred social network.

Download an eBook or White Paper

: This can be a great CTA if you are sharing a Zoom recording with audience members who are at the top of your sales funnel. If, for instance, your Zoom recording provides a very high overview of your product or service, you can direct your audience members to download a white paper that explains that product or service in more depth.

Schedule a Call on Your Calendar

: Sometimes, a viewer wants to immediately speak with you (or one of your colleagues) after viewing some of your video content. This is especially true if it is a Zoom recording that speaks about your product or service in-depth. With this CTA, your audience member can find time that fits on your schedule and their schedule, thereby making it easier for you to get on the phone and move that audience member down your sales funnel. 
Send a Text Message

: You can include a CTA that lets your organization automatically send a text message to an audience member. That text message can include virtually anything. Because most of us are spending more time texting and less time speaking on the phone, this can be a compelling option to keep the conversation going. 
Reply With Video

: Reply with video is a fantastic CTA for so many reasons. For starters, it is a quicker way for an audience member to respond to your Zoom recording. If they want to share their thoughts, for instance, they can easily do it through video. Beyond that, however, you can use the reply with video CTA to gather customer testimonials. These testimonials can then be shared with other audience members, thereby building social proof for your company, products, and services. 

Make a Purchase

: This is one of the most exciting CTAs. If you created a stellar Zoom recording and want to direct your audience members to immediately purchase your product or service, you can do so. This CTA can lead to a purchase page, where your audience member can pull out their wallets and make a purchase. 
With Dubb, these CTAs will appear as buttons below your Zoom recordings. These are very obvious buttons and can be programmed however you'd like. They are all below your Zoom recordings, making it very easy for your audience members to view them and select the CTA (or CTAs) that best suit them. 
No matter what your objectives are, I highly encourage you to use the many CTAs that are on Dubb's platform. Your future self is already thanking you. 
Other Helpful Features
But what about some of the other features that you'll find on the Dubb platform? Ultimately, the best way to get a sense of Dubb is to try it out for yourself. That being said, whether you are recording Zoom videos or any other type of video, you'll find that Dubb has plenty of features that can help you reach your sales and marketing goals. 
For instance, by becoming a Dubb user, you get to take advantage of a playlist feature. This is especially relevant if you have created high-quality video content and want to consistently share it with all types of audiences. 
You can see the value of the playlist feature by comparing the experience to a platform like YouTube. YouTube is an extremely powerful video platform for so many reasons. By posting your Zoom recordings (or any other type of video content) to YouTube, you can find an audience for virtually any type of content. With that said, however, YouTube has some flaws. Specifically, you don't get much control over the audience experience. What I mean by this is that you can't specifically control what your audience sees on the screen. For instance, you can't control the suggested videos that surround your video. And when your video is finished playing? You can't control what video comes next.
The story is different with Dubb. By becoming a Dubb user, you automatically get access to your own Dubb action pages. These action pages are central hubs for your video content, whether that content was recorded on Zoom or somewhere else. Like I mentioned above, you can include your CTAs below your videos on your Dubb action pages. But beyond that, you can leverage the playlist feature, which gives you the power to select the types of videos that automatically play after the initial video.
You can use the playlist feature in many different ways. For instance, let's say that you attended a quick Zoom meeting with a prospect. You recorded the Zoom call, where you learned about the prospect and the problems that she faces in her life. After the Zoom call, you can send that prospect the recording and then follow it up with a longer video of you explaining your product or service in-depth. That second video, while it may be more generic, can be an extremely polished video that concisely explains your product or service's value proposition. 
This is just one example, but it shows you the power of the playlist feature. If you become a Dubb user, we encourage you to use it frequently in your sales and marketing work.
Beyond the video playlist feature, you will also find the ability to create custom workflows and leverage plenty of automations. This is, yet again, another feature that can help you build better relationships with your audiences and generate more sales.
Using Dubb, you can build as simple and as custom workflows as you'd like. For instance, if you distribute a Zoom recording to a certain audience and want another video to be sent depending on the CTA selected, you can create a simple workflow that incorporates that rule. On the other hand, if you have a much more complex workflow in mind that segments out particular audience members and serves content to those cohorts, you can create that workflow on Dubb.
Ultimately, our goal is to make your life as simple as possible. You can do that by building logical and robust workflows that rely on the power of automation. By doing this, you can serve more relevant content to your audiences, increase the chances of making more sales, and save time while doing so. In other words, custom workflows and automations on the Dubb platform provide immense value to both your audiences and your team. 
Finally, on the Dubb platform, you will find Dubb transcribe. This is a cool feature that can help your audience members consume your content in a different way.
For as much as we love video, there are situations where your audience members may want to read text. This may be because they forgot their headphones or they don't have the time to watch a lengthy Zoom video. In these sorts of situations, you may want to seriously consider including captions below your video (that should be a great best practice going forward). At the same time, however, you may want to take advantage of the Dubb transcript feature. 
Essentially, Dubb transcribe lets you leverage the power of auto-transcription. Using our software, you can get a transcription of your video to the language of your choice. Through a modest price per minute, you can get a very accurate transcript that you can share with your specific audience. When you become a Dubb user, you can easily access this feature. All you need to do is go to your Dubb Dashboard, select the video that you want, navigate to the video details page, and scroll down to find the auto-transcription option. Once again, it is a great way to provide value to those audience members that may not be able to watch your video right now. 
Moving Forward and Accomplishing Your Business Goals
I hope that this post was helpful on your journey to record, share, and track videos using Zoom (or Dubb). If you are interested in embedding a Zoom video on a Dubb video page, you simply need to create a CTA and then place your cloud Zoom link. That's all you need to do to get the benefit of this extremely helpful tool.
We invite you to reach out if you have any questions on Zoom, Dubb, or using Zoom within the Dubb ecosystem. Feel free to visit support.dubb.com for some helpful information. You can also click on this link for a free seven-day trial of Dubb's premium plans. If you enjoyed this content, feel free to subscribe to our YouTube channel.