By now, you have probably heard that HubSpot is one of the most powerful customer relationship management (CRM) systems on the market. Whether you run a one-person shop or are a sales leader in one of the world's largest organizations, you can use HubSpot to accomplish your sales and marketing goals. 
It gets better, however. In this post, I want to share how you can use Dubb to supercharge your work on HubSpot. The secret all comes from the power of video. Combining HubSpot and video, you can build extremely strong relationships with any type of contact and generate more sales.
So how can you unlock all of these benefits? We are going to discuss the strategy in this post. If you have any questions about HubSpot or Dubb's integration with HubSpot, however, I encourage you to contact our team at Dubb. We would be happy to hear from you!
This post is based on a RevShow video about supercharging your HubSpot sales marketing CRM with Dubb videos. If you would like a more detailed explanation, feel free to view the video above.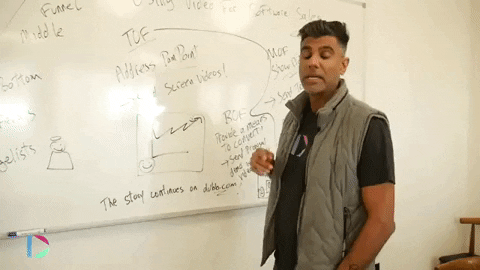 The Power of HubSpot
It's clear that sales and marketing are most powerful and most integrated when there is a centralized system. Before the rise of digital technology, having this type of centralized system was extremely difficult. Sales leaders needed to consolidate paper records and develop some detailed processes to nurture their prospect and customer relationships. Moreover, they needed to coordinate with their colleagues—not only to put on the best face for their audiences, but to ensure that they weren't stepping on each other's toes.
As you can guess, this task was much easier said than done. Many businesses failed to sufficiently develop customer relationships and generate more sales. The job got much easier, however, with the acceleration of the internet and digital technologies. Regardless of the size, sector, or location of the company, sales leaders could use these new tools to find new clients, generate more sales, and create longer lasting customer relationships. 
This leads us to HubSpot. HubSpot has become the CRM of choice for millions of companies around the world. What is so interesting about HubSpot is that it has effectively combined sales and marketing into what I call smarketing. That is a powerful thing and something that both small and large businesses alike can leverage. HubSpot's smarketing platform is extremely powerful and easy to use. Even if you don't consider yourself to be a "techie" or technically inclined, you can quickly get started with HubSpot. And if you work with a larger team? HubSpot gives you the power to easily delegate responsibilities, keep track of customer interactions, and deliver the best possible customer service. 
I have personally gone through a number of the certifications that are offered within HubSpot Academy. By doing this, I got a chance to learn valuable things like how to track the customer journey, how to build workflows, and how to capitalize on advanced data reporting. While it is easy to get started with HubSpot, there are so many different things that you can do with the platform. If you are interested in getting the most out of HubSpot, I recommend that you check out the HubSpot Academy. I'm sure that you will get some value from it. 
If you are first hearing about HubSpot, I generally recommend that you try it out and see for yourself. That being said, one of the greatest things about the HubSpot ecosystem is the marketplace. There are countless numbers of integrations that you can add to your HubSpot account. To take a quick look at some of the integrations that you can use, go ahead and click here. 
By taking advantage of these integrations, you can get even more value from the platform. In practice, this means more engagement, more features, and more conversions. As sales leaders and marketing leaders, this is what interests us. We want to use the tools at our disposal to provide the most value to our customers and to help us reach our sales goals. HubSpot's integrations (including one specific one that we'll discuss below) can help us do just that. 
The Dubb HubSpot Integration
With this background in mind, let's talk about Dubb's HubSpot integration. With this specific integration, you have a chance to supercharge your entire HubSpot account. 
In practice, what that means is that you can start to communicate with video. You can do things like add video to your one-to-one emails, your email campaigns, and even your automated workflows. If you are looking to get the most out of video while staying within the HubSpot universe, you'll find that this integration is just for you. 
At the same time, you may pause and ask, "Why should I use video?" In other words, why should you spend time learning about HubSpot, Dubb, and how you can use video to accomplish your sales and marketing goals?
If you are feeling this way, don't worry. There are still plenty of businesses out there that haven't yet incorporated video into their sales and marketing work. Whether it is due to time constraints or simple unfamiliarity with the value proposition, there is still plenty of time to capitalize on everything that video has to offer. 
To put it simply, video is powerful for so many different reasons. 
For starters, video helps you build trust. This is because as humans, we are naturally inclined to prefer stories, and video offers one of the best ways to share stories with any given audience. Ever since the early humans sat around a campfire and shared stories, we have been obsessed with stories about virtually anything. While other mediums (like text and audio) let you share stories, I strongly believe that video is the best way to share those stories. As humans, we process images at a substantially faster rate than text. Along with this, images stay in brains longer than text. If you tell a really compelling story through video, you can be sure that that story is going to remain in your viewers' minds. All of these stories build trust and make it more likely for a prospect to become a paying customer.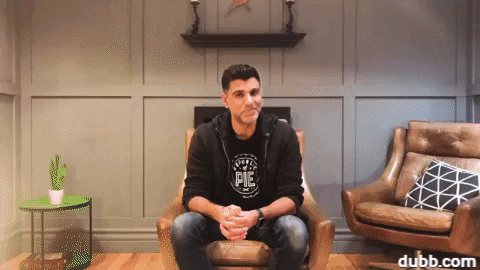 Along with that, video helps you, your team, and your customers be more productive. Think about how long it takes you to type out an email or text message (this can be to your colleagues or customers). Especially when typing out an email, you need to think of the message you want to articulate, use great grammar, and ensure that the recipient will actually open that email. It is a very time-consuming and time-intensive process. Even if you craft the perfect email, you spent a significant amount of time on that single email, meaning that you have less time to spend on other important tasks. By contrast, video is both effective and efficient. You can simply take out your phone, press record, and start speaking to the camera. Then, using a tool like Dubb, you can easily distribute your videos to your audience. You can even set up workflows ahead of time so that you can finish recording and automatically distribute your video to a certain audience or audiences. It is that easy. 
As if that wasn't enough, video can help you generate more sales. As sales and marketing professionals, that is ultimately our end goal. That being said, the sale-generating nature of video is more subtle than completing a cold call or asking for business at a networking event. Video is all about the long game. It is about providing value on a consistent basis and then asking for the viewer to purchase your product or service. By sticking with it and creating valuable content, you can build long-lasting relationships that result in years (or even decades) of sales. 
Related to this, there are some really interesting statistics here. Anyone can take advantage of the power of video and the benefits are quite stark. For instance, when you put "video" in the subject line of your email message, studies have shown that you will get a 10% to 20% increase in your email open rates. Think about that: when someone looks at that specific subject line and sees the word "video," their curiosity spikes. They will be more likely to open your email and see what's inside. It is through adding this one word to your email subject lines that you increase your chances of having a key prospect or audience member view your content. 
It gets better. Once your recipients open that email, they are 30% to 300% more likely to click through. Ask yourself what 10% to 20% more opens and 30% to 300% more click throughs would do for your campaign. I'm assuming quite a lot! All of this comes from the compelling nature of video. 
To be clear, your videos need to add some type of value to your audience's lives. The last thing you want is to put forth a bait and switch. Even if your audience is more likely to click through, recording and submitting a subpar video will turn your audience off. It will make it less likely that they will open future emails. 
To illustrate the power of video, we can also look at how several Dubb power users have used it in their businesses. Jason Forrest, the CEO of Forrest Performance Group, uses video in many different ways. As he explained, Dubb videos are integrated into his company's sales processes. Every sale that the company makes comes through Dubb. Ken Newbill, the CEO of Newbill of Health, also said that Dubb solved the problem of connection. By making a Dubb video, you have a much easier way to connect with others. Paige Battcher, the founder and CEO of Kismet Ideas, agreed. She said that she has made and generated tens of thousands of dollars from video content. Chris Kirkpatrick, the president and founder of LIFE180, even closed a $3.4 million deal less than 30 days after sending a Dubb video out. Perhaps Jeffrey Gitomer said it best. One of the most renowned CEOs, authors, and speakers on sales, Jeffrey argues that "video converts to money. Make it convert to yours."
Ultimately, adding video to your HubSpot accounts lets you leverage a whole host of things. Most prominently, however, it helps you get more connections, more conversations, and more conversions. That means more clients. Pretty great, right?
More About Dubb's HubSpot Integration
If you have been watching RevShow, none of this should be unfamiliar. You know how we feel about video. One of the biggest things about video is that it makes an impact. At Dubb, we have known this for a long time. The great people at HubSpot have identified this as well. If you haven't yet seen the power of video, I encourage you to see it for yourself with Dubb.
Now, let's dive a little deeper into Dubb's integration with HubSpot. Simply put, Dubb integrates with nearly every aspect of HubSpot. Whether you are a HubSpot power user or are still getting used to everything that HubSpot has to offer, you can find plenty of value with this integration. 
Looking from a very high level, what does this integration mean for you? Basically, you can add and track videos through nearly every component as you are sending messages out of your HubSpot account. With just a few clicks, you can easily add trackable video to all of your campaigns. Not only that, but you can add your videos to all of your sequences and your one-to-one messages that are coming out of HubSpot. 
I'm sure you can imagine the many ways that this can add value. As just one example, let's say that you met an extremely interesting prospect at an industry conference. She just heard about your company and you promised to follow up with more information. What you can do here is record a quick, personalized video for that prospect. Then, using Dubb, you can add that personalized video to a longer explainer video that you have already created about your product or service. Using this playlist feature is a great way to both personalize your outreach to a specific prospect while including a more in-depth video on how your company can provide value in their life. Once you have these videos ready, you can easily send them through your HubSpot account. The heavy work can be done in just a few minutes. 
From there, you can track those results. You get to see all of your real-time activity reporting right in your favorite spot—your HubSpot account. This makes it extremely easy to see how your videos are doing and how your contacts are engaging with those videos. Continuing from the example above, you can use HubSpot and the Dubb integration to see how that specific prospect responded to your personalized video. You can also see if she watched the second video in your playlist (the longer, more polished video about your product, service, and/or company). 
With those results in mind, you can work with your team to take action. If you saw that the individual prospect watched all of your quick, personalized video, you can use that data to make similar videos for your new prospects. If you noticed that the prospect did not watch your longer video, however, you will want to dig deeper. Using the data that you have, you will want to see whether the prospect skipped part of your video, churned away because your video was too long, or something else. By spending the time looking at this data, you can get a better sense of what is working and what isn't working. From there, you can avoid what isn't working and double down on what is. 
Importantly, however, you don't want to drastically alter your strategy based on the data from one customer or prospect. As with many things, you will want to get a diverse and representative sample before making any changes. You can find this type of data by using Dubb and HubSpot together. In the end, being able to track your videos' performance and make the requisite changes is huge. It is a killer combination that can help you get much closer to your sales goals.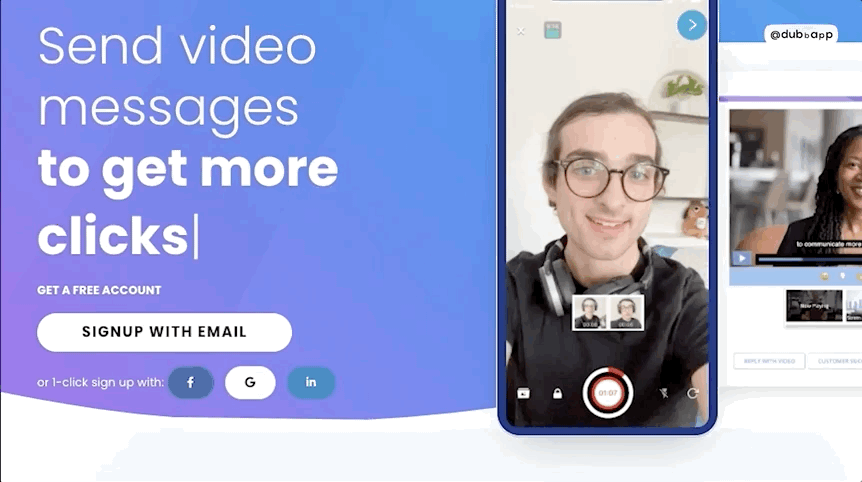 Going Forward with the Dubb HubSpot Integration
With nearly 500 installations of Dubb's beta HubSpot integration, we are able to help hundreds of businesses supercharge their HubSpot CRM and leverage the power of video. These businesses have found that this special combination of Dubb and HubSpot's technical capabilities can make magic happen. 
Now, we are continuing to invest in our partnership with HubSpot by building out the integration even further. We're doing this not only to help current users, but to help even more businesses use video to achieve their sales goals. We are always looking for feedback and new ideas on how we can deliver the most value from this integration, so feel free to contact us if you are interested. 
In this post, we really covered why you want to supercharge your HubSpot CRM with the power of video. If you are looking for a technical, step-by-step demonstration, feel free to click here. From there, you can watch the video on how to install Dubb's HubSpot integration.
Whether you are a solopreneur looking to grow your business or a sales leader that is looking to be more efficient with your time, you can rely on HubSpot and Dubb to get the job done. Through just a little upfront work, you can consistently use both tools to reach your sales goals and grow your business. I can't wait to see what you do!
If you would like to learn more about Dubb, click here. Our entire team is also happy to answer any questions that you may have. You can click here to contact us and click here to sign up for a free 14-day trial of our premium plans.