Research shows that the number of people consuming video content online has skyrocketed.
In fact, by 2021, online videos will make up over 82% of all consumer internet traffic — 15 times higher than it was in 2017.
What's more, a recent survey revealed about 88% of marketers agree that video content offers them the best ROI.
These trends all point to the fact that sharing high-quality videos with your audience should be part of your content marketing strategy.
In this article, we'll be looking at a side-by-side comparison between two popular video hosting sites, SproutVideo and Dubb.
But before we dive in, it's important we go over the capabilities of a video hosting platform.
What does a good video hosting site look like?
There are several video hosting platforms to choose from. While some are popular and get the job done, others lack certain features that are essential for business.
That being said, a good video hosting platform should tick most of these boxes:
Have an easy-to-use user interface.
The ability to embed your videos on external websites.
Compatibility with mobile devices, players (Flash and HTML5) and most browsers.
Analytics tools to measure the impact of your videos.
Ability to fully customize your video player.
Here's what SproutVideo and Dubb have in common
Video Hosting
The primary feature that Dubb and SproutVideo have in common is video hosting.

There isn't much of a difference when comparing the two based on this feature, as both platforms have solid hosting capabilities.
With both Dubb and SproutVideo, you can upload as many videos as you need and easily embed them into landing pages and websites.
Both platforms offer lots of options for customizing these embedded videos — you can edit the description, tags, and CTA. You're not limited to the basics though, as the player options allow you to tweak the appearance as a player — including the color, control bars, and auto-play.
It's worth mentioning that unlike Dubb, there's a 500-gigabyte upload limit with SproutVideo with the option of buying higher bandwidth for a small fee — but it's highly unlikely that organizations will reach that limit.
Also, the controls and buttons appear somewhat differently on both platforms, but the features and functionalities are basically the same.
Landing page and website builder
Another feature that Dubb and SproutVideo have in common is the website builder tool. While both platforms allow you to create landing pages for the videos, they differ in some way.
SproutVideo offers different themes that you can apply on the video landing page. But the downside here is limited customization options — as it usually applies the selected theme to the entire page, with little to no options for editing the appearance of the page.
If you'd like to customize the design of the landing page, you'll have to edit the code manually, in which case they will charge an extra fee.
On the other hand, Dubb gives you more flexibility to customize the landing page — you can include pop-ups, change the default logo, and even edit the background. These tweaks can help you test different elements to see what works best and boost conversion rates.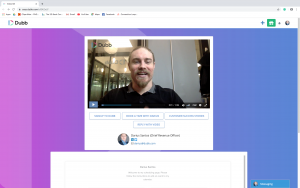 Another additional feature that Dubb offers is the option to customize the CTAs on the videos.
While SproutVideo includes a CTA (usually a link) at the end of every video, Dubb allows you to include different CTA buttons and integrate them with other tools (calendar, opt-in page or download links). This opens up a lot of lead capturing opportunities and reduces the friction users may face when prompted to take action.
What are some extra features you get with Dubb?
So far so good, we've looked at the similarities between Dubb and SproutVideo.
SproutVideo is primarily a video hosting tool, while Dubb provides the same hosting feature plus other powerful marketing tools to help you get better results from your campaign.
Let's briefly go over the differences between the two, so you have a clear idea of what they both offer if you're considering partnering with a video hosting site.
Video creation tools
Uploading and hosting a video is one thing, but creating them is a different challenge entirely. Since SproutVideo is primarily a video hosting site, the platform is geared more towards delivering the video content, and not the creating process.
Dubb, a SproutVideo alternative, makes creating videos as simple as a few mouse clicks by allowing you to record videos — from your webcam or screen — either using the Google Chrome extension, desktop, or the mobile app. 
For users that want to share their content directly with their network, there's the option to integrate Dubb with LinkedIn, Gmail/Outlook, and even their CRM, so creating and sharing can be done on those channels directly.
Customer relationship management
In addition to the creation tools, Dubb provides the ability to import and manage your contacts for distribution of the videos.
With this CRM feature, users can organize and segment contacts to ensure that videos are delivered (through either SMS, email, or social channels) to prospects at the right time to boost engagement.
"I like the fact I can track email views, video videos, rapidly create standalone landing pages and the professional look of the videos. I also like the player and how it can be sped up and have video subtitles, and multiple call to actions. I really love how it just works. I nearly always get a response from the video when send using Dubb."

Virginia G.

Co-founder, Cloudsail Technologies
Sending and automation
While SproutVideo focuses on embedding the videos on your landing page and sharing via a link, Dubb provides the same options — plus a lot more — for sharing the videos through different channels. 
With Dubb, users can send videos in a one-to-one mode or in bulk through SMS, emails or directly from their dashboard.
Dubb allows you to build sequences to share your content automatically, and since the platform doubles as CRM, you can tailor the workflow to fit different contact segments depending on their behaviour.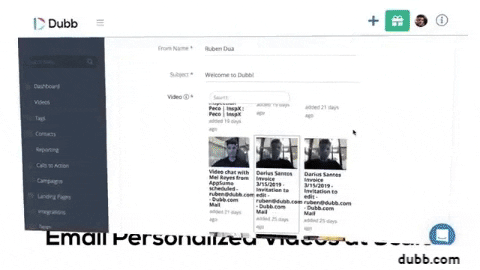 Tracking and analytics
When you create and share your video, it's crucial to get all the data needed to understand its performance.
With Dubb, you can see specifically who watched a particular video, what percentage of the video they watched and the actions they took — you can even see if they clicked on the CTA.
These detailed insights can help you understand the areas of your campaign that need to be optimized.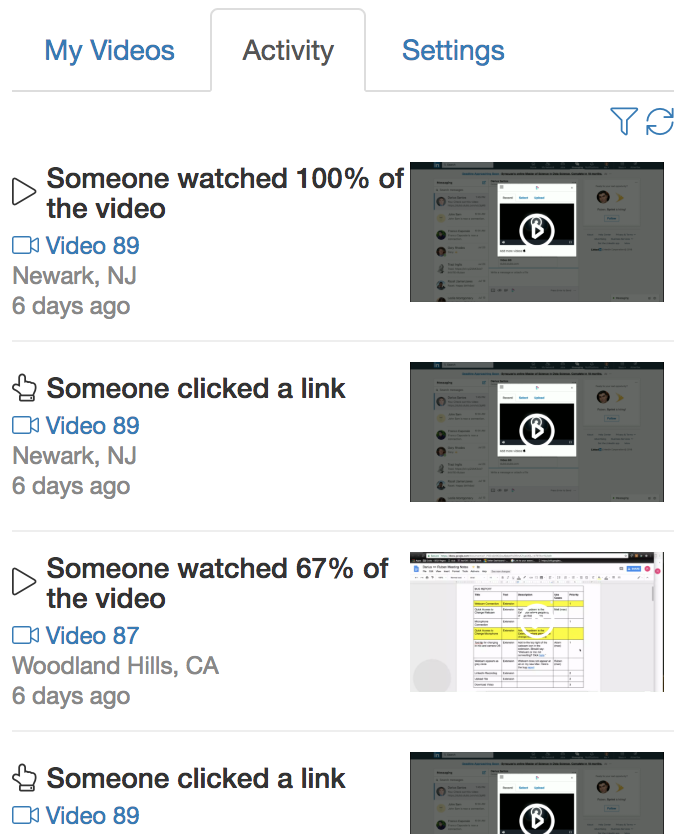 Pricing
For the basic video hosting feature, SproutVideo has an entry price of $25/month while Dubb comes in at $10/month. But these starter plans do not include certain important features like the landing page builder.
To access these features, you'll need to upgrade to a higher plan which costs $60/month while it's equivalent, Dubb's pro plan, costs $40/month.
Besides providing an identical video hosting service with more flexible customization options, this SproutVideo alternative also offers all the tools you need to create the videos, share and track them — including a CRM, automations, and custom email templates for campaigns.
So you'll be getting an all in one tool, rather than just video hosting.
Conclusion
Whether you're an old user looking for a SproutVideo alternative or about to host videos for the first time, there are a ton of different options out there.
But at the end of the day, choosing a video hosting platform comes down to three things — which product will get the job done best, with the least amount of effort, and at the best price.
For businesses looking for an easy-to-use, affordable video hosting platform that has all the tools tailored to drive sales and engagement, then Dubb is going to be the stand-alone solution.