Social proof is an extremely important factor for any sales leader. It is so important that it can make the difference between losing a sale or creating a customer for life. 
At the same time, it can be surprisingly difficult to generate social proof for your products or services. Even if you have customers that absolutely adore your company, getting them to create a testimonial or generate social proof in another way can be easier said than done.
At Dubb, the sales operating system, we understand both the importance of social proof and some of the challenges that come with generating social proof for your business. As I referenced above, the stakes are high. Because of this, I want to take this post to explore social proof and how you can incorporate it into your video marketing and sales work. At the end of this post, you will have a great understanding of the power of social proof and how you can use it to reach your sales goals. 
Spoiler alert: it is all about the asynchronous content selling (ACS) method. Using the ACS method and Dubb, individuals have increased their results by 30% and even by 300%. If you would like to see similar results in your business, keep on reading.  
This conversation about social proof is taken from a longer video from Rev Show. Rev Show is our show on YouTube that talks about all things related to video sales and marketing. If you would like to hear this conversation in its entirety, watch the YouTube video above.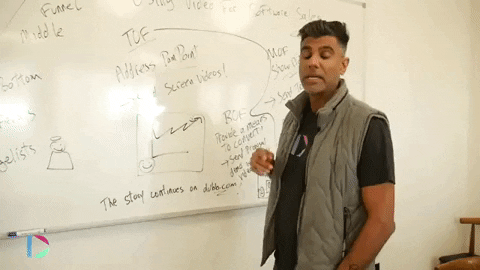 The Asynchronous Content Selling Method
The ACS selling method is where we are going in the sales world. The method continues to evolve and there is so much potential for sales professionals that leverage the method in their day-to-day work.  
Essentially, you can think of ACS as a way to build social proof in the least amount of time possible. Sounds great, right? The magic comes from both asynchronous video and leveraging calls to action.
So what is asynchronous video? Basically, it is a form of video that doesn't require you and the other person to be communicating at the same time. If you think about a tool like Zoom, you are synchronously communicating with the other person (or group of people). In real time, you are conversing with the audience. On the other hand, with asynchronous video, you are recording a video message that the other person can consume on their own time. They can then record a video of their own and send it back to you.
As you can probably guess, there are plenty of benefits of asynchronous video over synchronous video. Most prominently, asynchronous video lets you record and consume video on your own time. Instead of sending emails back and forth to determine an open time, you and your viewer(s) can watch your video when it is most convenient. This is an extremely powerful benefit that makes life easier for you and your viewers. 
Not only that, but asynchronous video lets you take advantage of calls to action. Calls to action are tools that can lead your prospects down your sales funnels (at Dubb, we call them trust funnels). Calls to action can be everything from directly scheduling a call on your calendar to directly making a purchase after watching your video. Calls to action are a direct way of providing value to your audience and helping convert them into paying customers.
So the ACS selling method lets you take advantage of all of these benefits. Using a tool like Dubb, you can easily send out asynchronous videos that ask for a video testimonial. The video, which is asynchronous, can be easily watched by your audience. When they are finished watching your video, they can click on a call to action directly below the video, which let them record a video testimonial of their end.
I'll get into the specifics later in this article. The bottom line? Anyone can do this. Whether you work for a startup or a larger company, you can easily leverage social proof and get the video testimonials that you need.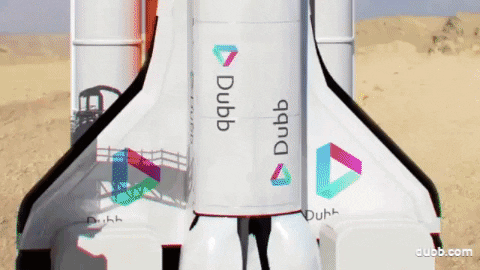 Exploring Six Testimonials
Throughout this post, you will hear from six Dubb clients who we absolutely adore. The best way that we know to share these stories is through stories that they have shared with us through testimonials. 
Luckily, there is an extremely easy way to capture video testimonials for your business. As I just mentioned, we are going to get to that later. Before that, I want to share some of the testimonials they delivered and why they are so effective.
Let's get started. 
Jeffrey Gitomer
First, we wanted to hear from Jeffrey Gitomer. Simply put, Jeffrey is the king of sales. He is the best-selling author of so many great sales books like The Sales Bible and The Little Red Book of Selling. Jeffrey has become a massive success story using Dubb and we are so fortunate to learn from him and have him teach our audience. For instance, Jeffrey recognizes the power of storytelling, authenticity, and humor. 
As he said, Jeffrey chooses Dubb because it is the essence of once. Once he shot a video on Dubb, he realized how simple it was and how amazingly easy it is to record. He added that once he saw his own video replay, he became convinced that Dubb would be his platform. His work absolutely paid off. His videos began to convert and get views. Jeffrey recognized that video converts to money and encourages others to take advantage of the opportunity.  
Jeffrey's testimonial showed that there is value in showing the benefits of the product or service you're speaking about. While potential customers can read about those benefits on your company's website or social media, there is significantly more power from hearing it from the customer themself. When you are asking for a customer testimonial, don't hesitate to have them describe how your product or service changed their life. 
Chris Kirkpatrick
Next, I wanted to speak about Chris Kirkpatrick. Chris is the founder of LIFE180, which is all about helping entrepreneurs Live Intentionally For Excellence (LIFE).
Chris is extremely creative. When creating videos for his audiences, he leverages his creativity, prioritizes a short sales cycle, and tries to build a strong connection with every one of his viewers. Before creating videos, however, Chris was heavily reliant on sending emails to his prospects. The problem was that no one was responding. Then, he tried relying on phone calls, but he was getting the same result. 
At that point, however, Chris found Dubb. He started recording videos and started seeing significant success. In fact, using Dubb, Chris was able to close a $3.4 million deal less than 30 days after sending out a Dubb video. 
Like Jeffrey, Chris was able to describe how Dubb significantly improved his life. However, it's also important to note that he described the problems he was having before he started using Dubb. This cause and effect type of relationship can be a powerful way to sell your product or service. It provides more color and context to the fact that your company was the direct cause of significant value in the individual's life. 
Paige Battcher
In sales, storytelling means everything. At the end of the day, that's what we are doing. We are sharing stories and building relationships. 
No one else can teach us more about story selling than Paige Battcher. Paige is a self-described design and tech nerd, coach, and TV host. She is the founder and CEO of Kismet Ideas, which helps clients design their destinies so that they can make a bigger impact on the planet. 
Like others, Paige was using all of these different types of tools when creating stories for her viewers. While she was seeing some success in doing so, she saw Dubb hit the scenes. Upon using it, Paige recognized that Dubb isn't just a video tool. It isn't just a piece of software that can send video content from one person to another. Paige started to see Dubb through her lens of landing pages and sales funnels. 
Upon recognizing the power of Dubb, Paige told as many people as she could. She essentially said that this amazing tool is launching—get in when you can and start using it. Along with telling others about Dubb, Paige started teaching others how to get the most out of Dubb. As she told us, Dubb removed the overwhelm of creating a more robust website. Instead of having to invest significant time and resources into creating that website, individuals could obtain instant landing pages. From there, they could create mini video funnels and actually generate sales. Even better, they could reinvest into the more complicated structures to get even more value from the platform. 
As Paige said, Dubb is an extension of the content that you are releasing onto platforms like Facebook, LinkedIn, Instagram, and YouTube. In almost every case, you can use featured links that send your audience back to a Dubb page. Paige said that this has been one of the highest converting types of landing pages because it is so simple. If you really think about it, a Dubb landing page has a video, you, your personality, and then a simple call to action so the viewer can take the next step. There isn't a lot of scrolling on a Dubb landing page. Simplicity rules the day. It is about taking one step at a time together.
Paige thinks that one of the most incredible things is that she has generated tens of thousands of dollars from videos that she recorded in one take. She didn't need to put on makeup and didn't even think she was going to create a video on those days. That said, she quickly recorded the video, linked it to her landing page, and saw extremely positive results. Doing that, she discovered that her viewers didn't care if her videos were pretty or perfect. They just wanted to know if she could help them, and if she could, they wanted to take the next step. 
Paige continues to see the value of Dubb. In fact, she recently told someone about Dubb and that person ended up landing a $5,000 deal within 48 hours. Further, Paige has had clients and friends of her adopt her advice and achieve significant success. They have landed many contracts (some of which were worth tens of thousands of dollars)—even without a website. There is power not only in the personalized connection that the Dubb ecosystem offers, but in the shift in thinking that occurs. Paige said that her thinking changed from, "This is hard" to "I can't wait to go and do this because this is fun." 
Once you hit record and share a video, Paige promises you that you are going to get a response. As she said, there are women and men who have been running businesses for more than 20 years who have started to embrace videos. Once they start sending videos to their email lists, they are getting replies from people that they haven't heard from in years. They are also getting replies from people who felt like they were just trying to talk to them. Ultimately, those individuals are much more likely to make purchases and become long-term customers. 
The amazing thing that Paige has taught us is that you can be authentic, share stories on video, and, most importantly, you can leverage automations to create smart sequences. The smart sequences that Paige creates incorporate things like email and SMS workflow automations. Her authenticity is striking in her testimonial video. It's important to seek out individuals who can deliver authentic testimonials. After all, if the individual is half-heartedly talking about your product or service, your viewers will definitely notice. It's better to find an individual who is absolutely passionate about your company than someone who feels simply so-so about your company. 
Kenneth Newbill
Now, I want to share some insights from Kenneth Newbill. Kenneth is a functional nutrition practitioner and holistic health coach. He is all about changing people's lives and transforming what they are currently doing. 
If you think about it, that's what it's really all about in sales. It is about leading with value and changing lives through the value of what you are selling. 
As Kenneth said in one of his videos, when he found Dubb, he was in the middle of doing a yearly inspection for new technology in his business. He was looking to see if there was a different customer relationship management (CRM) system that could help him reach his goals. He ran across Dubb, and as he described, he discovered that he had a problem that he didn't realize he had. 
For Kenneth, Dubb solved the problem of connection. Using Dubb, Kenneth had a much easier way of connecting with others. For someone that may not know all of the technicalities of creating a sales funnel, for instance, Dubb users can easily get their prospects from point A to point B. There's essentially an instant ability to record and upload a video with calls to action and plenty of other features. As Kenneth said, Dubb's software is so well orchestrated. It's a great tool to have, simply because it will force you to be a better connector. 
Ultimately, all of us want connection. People want to hear who you are and what you have to say. They want to hear your voice and want to see your eyes and body language. These days, using a tool like Dubb or something else, we have the power to make these authentic connections whenever we want. Especially because we are doing more business behind cameras these days, you can click on one button to get a whole host of benefits. You can get set up in literally seconds and start making those connections. 
At Dubb, we pride ourselves on making our software as simple and as effective as possible. Even if you don't have a technology background, you can get started right now. It's that easy. You don't need to use hours of your precious time by watching a course or reading difficult-to-understand documentation. You can bypass all of that and create so much valuable content for your audience. 
Kenneth also taught us the value of giving. What he is giving is transformational in changing people's lives. No matter the business or work that you complete, you can adopt this attitude. You can make your audience's lives better—even if you aren't running a charity or doing nonprofit work. A testimonial video itself can make an audience's life better. It can help remove anxiety and help convince that audience to improve their lives through your product or service. 
Rachael Tresch
Now, let's talk about Rachael Tresch. Rachael is a business development coach and voice-over artist. Simply put, she is a master at social selling. 
As she described to us, she came across Dubb and was shocked at what she could do with the software. For instance, she was excited about the fact that she could send a message and have it show up directly in front of the end user. That message isn't just a link, and for Rachael, she felt that it was a true game-changer. 
Rachael gets so many emails and so many messages. Moreover, she gets inundated with hyperlinks in those emails and messages. She noticed that if you just send a link to somebody, it looks very suspect. Dubb videos, however, aren't like this. If you are sending a Dubb video to somebody else, Dubb's software will automatically generate a GIF for you. Because of this, in her videos, Rachael holds up a whiteboard and has the viewer's name on it. Her viewers would see that GIF and be pleasantly surprised. They would say things like, "What does she want? I need to find out."
Rachael argued that it doesn't really matter what you are "selling." Dubb gives you a very interesting way of communicating with people. Especially when you just met a member of your audience and you are in a sales or recruiting position, Dubb can help you cut through the noise. You can be different and your audience can easily recognize that you are a human. You're not just a chatbot typing away at certain queries that your audience or prospects may have. On the contrary, you are emphatic and can signal that empathy by taking the time to make a personalized video for that member of your audience. 
In the end, what Rachael has taught us is the power of connecting with people, creating relationships, and creating content that she can subsequently share on social channels. That increases our network. After all, your net worth is your network. When you get your video testimonials, don't hesitate to share them far and wide. Your future self is already thanking you. 
Felicia Johnson
Finally, the last individual I want to profile is Felicia Johnson. Felicia is the owner of Sevenfold Coaching and is all about using smart calls to action to both create conversations and turn those conversations into conversions. Felicia used to write and distribute so many long emails to her prospects and clients. She recognized that with video, the connection, experience, and body energy are drastically different. It is impactful. When she saw Dubb, she quickly realized that it was the product for her. 
Since then, Felicia has been using Dubb to grow Sevenfold Coaching. By doing so, she has gotten extremely positive responses from her viewers. Along with sheer surprise and delight, Felicia noticed that her viewers have a stronger connection with her. She can send videos to clients and her clients still feel as though they are getting that personal connection response that we all seek in face-to-face interaction. Her viewers can share something back and forth—all asynchronously. It also streamlines Felicia's business. She can easily record videos, whether that is an individual video for a prospect or a video podcast. She isn't wasting time typing out marketing copy or lengthy emails to her prospects and clients. Instead of that, she can just click record and get started.
Also, Felicia has found that Dubb is a great tool to help her with networking. If she ever wants to connect with a prospect (or anyone else that seems interesting), she has a standard video that she can send. That video essentially has Felicia deliver a message to her viewer—even when she is busy with other things. While the video may be slightly more generic than some of her other videos, it effectively introduces her to new individuals and helps them schedule a call with her. This direct calendar booking call to action is extremely powerful and saves Felicia even more time. Instead of needing to go back and forth to schedule a call, she can leave it up to the viewer to find a convenient time on her calendar. Dubb, as she said, helps her live smartly and helps her achieve success in her business. 
Felicia's testimonial is powerful because she vividly describes the many benefits she got from Dubb. When seeking out testimonials, encourage your audience to go into detail about your product or service. Have them describe the tangible benefits that your product or service has made in their lives (and other lives). While you don't want your testimonial videos to be too long, details can massively help here. 
Building Social Proof for Your Business
Ultimately, we gathered some great insights and stories from these Dubb power users. These testimonials are extremely powerful and have helped us spread the word about Dubb.
At the same time, you may be wondering how you can mine similar testimonials for your business. After all, these types of testimonials are some of the best ways to build social proof for your business. 
For starters, if you don't already have one, we invite you to grab a free account on Dubb. Here, you have the ability to create a simple video where you can ask your existing clients for a testimonial.
This ability to easily ask for a testimonial is powerful. It is so powerful because one of the smart calls to action that you can put on your Dubb action page is a video reply. Upon clicking the video reply button, your viewer can easily start recording a video testimonial. They can record as many takes as they'd like. Once they are done, the video is sent to you, and you can incorporate that testimonial video on your website (assuming you get their permission, of course). 
Using the Dubb mobile app or Dubb web app, it is extremely simple to get testimonials from your clients. In your initial video asking for the testimonial, you can say something like, "Hey, this is _____ from _____ company. I am so excited that you have used our service. I am so glad it has increased your business. When you have a moment, I would love for you to hit the reply with video function below. And if you don't mind, send me a testimonial back. Let me know how our services have really helped you and your business and how it has been transformational. I really appreciate it."
While you can alter the details for your specific needs, that script above is basically everything you need to get started. As you can see, we keep it short and sweet. We want to spend less time bogging our viewers down with details and more time focusing on the video testimonials that they are going to provide for you. 
Once you have gathered one (or several) video testimonials, you can create a Showcase page on Dubb. This Showcase page can function as a collection of all of your video testimonials. This central hub is extremely powerful. Whether you just met a prospect or are trying to convert a prospect into a paying customer, your Dubb Showcase page can be a huge help. In the end, if you want a sales asset that converts, send your prospects a Dubb Showcase page filled with testimonials and some calls to action. The results may wow you.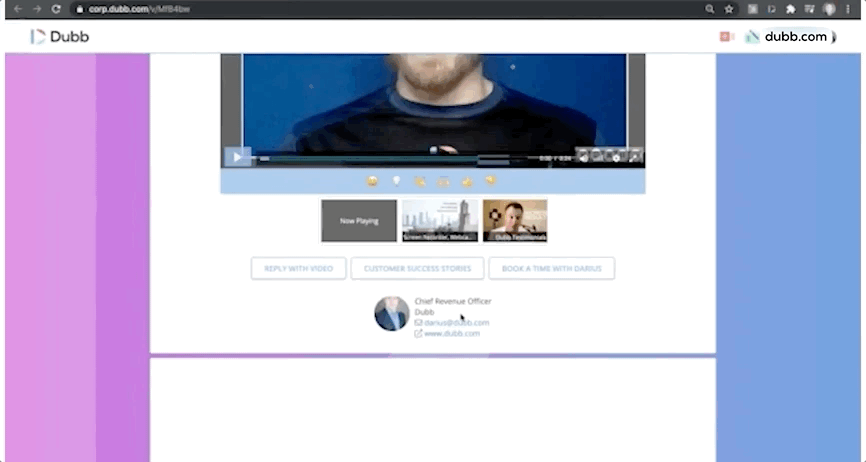 Go Out There and Generate Social Proof
At the end of the day, sales proof is a huge asset in sales. No matter what type of product or service you are selling, you are going to want to consistently generate social proof. It will help you build trust with any type of prospect and help you generate more sales. 
There is nothing more powerful than that. If you haven't yet deliberately tried to create social proof for your business, don't worry. Using the tips described above, you can get started today. And if you are already building social proof for your business? You can incorporate some of the strategies above into your already-existing work. No matter where you are in the process, you can build that valuable social proof and get much closer to your business goals. 
Over 60,000 people have signed up for Dubb. It means the world to us. So many of our thousands of customers around the world are seeing results by sending videos and using the Dubb sales operating system. If you would like to learn more about Dubb and how we can help you accomplish your business goals, click here. You can also click here to contact us and here to sign up for a 14-day trial of our premium plans. We look forward to hearing from you!