In today's day and age, it is easy to hear about the rise of video—particularly video email. This is for good reason. Video is a more engaging medium than text. By leveraging video content, you can fire up all of your viewers' senses. Video helps your audience understand, comprehend, and remember ideas and concepts that are explained in your video. In the best case scenario, it can even persuade them to buy your company's product or service.
Ultimately, however, many companies and organizations have a narrow view of the power of video. Video content isn't just for your social media pages or for your website. You and your organization should seriously consider leveraging video email.
Sending text-based email is yesterday's news. This is because video email is an extremely effective way to communicate.
This is true on several levels.
As referenced above, video email can increase the odds of your audience remembering your content and taking action. But beyond that, video email can help you save time. It can take a significant amount of time (perhaps hours) to draft an email. A major part of our day is reading, deleting, responding to, and tagging emails. By contrast, video can streamline the entire email process—all while obtaining better click-through rates and more user engagement.
Video email can be your secret weapon. But how do you leverage it?
We're here to help. At Dubb, we have developed the Dubb Chrome Extension and Dubb Outlook Add-In, which allows you to easily send video emails. Better yet, it is completely free to use. By creating compelling video content and leveraging the Dubb Chrome Extension or Dubb Outlook Add-In, you will be able to start sending video emails in seconds.
Before we begin, however, we'd like to provide a disclaimer. There is no real way to send a playable video directly inside of an email. For instance, Gmail takes YouTube links and (sometimes) displays a thumbnail in your email. From there, the user needs to navigate to a separate page to watch the video. However, to this point, no one has developed a way to watch a video directly inside the email message. At this point in time, the Dubb Chrome Extension and Dubb Outlook Add-In offer some of the best ways to send video email.
How to Send a Video Email Using Dubb
To send a video email using the Dubb Chrome Extension, you will need to follow several steps.
Step One: Download and Install the Relevant Dubb Extension
The first step is to download the relevant Dubb extension for your needs. This is the easiest step.
Let's start with the Dubb Chrome Extension. All you need to do is click here or go to the Chrome Web Store and search for Dubb.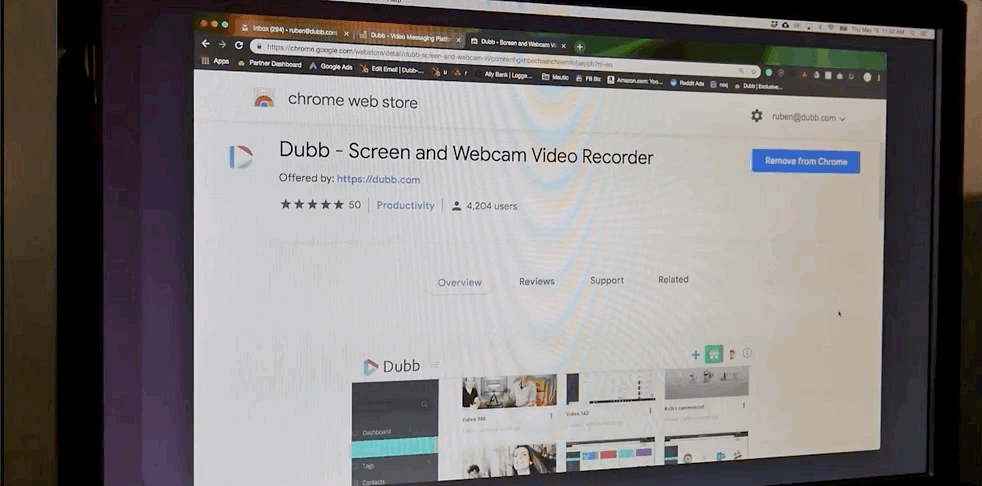 From there, simply click on the "Add to Chrome" button to install it to your browser.
As discussed above, you can also send video emails through Dubb's integration with Microsoft Outlook. To do so, you can click here or visit Microsoft's AppSource site and search for Dubb.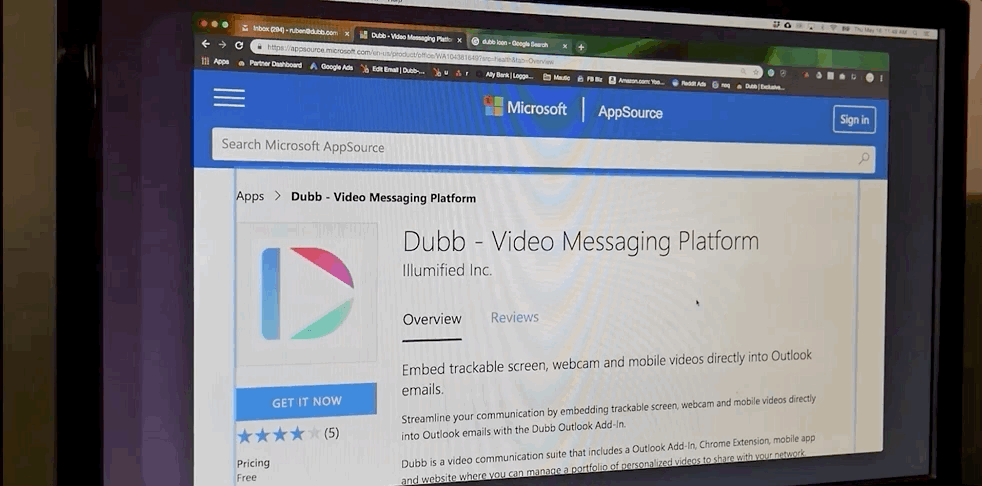 Installing these add-ons is easy. But should you have any questions or issues, you can always obtain support by clicking here.  
Step Two: Create Compelling Video Content
Next, you need to create compelling video content. Admittedly, this is easier said than done. But this is one of the great aspects of video.
There are essentially no rules. While this can be intimidating at first, it can be extremely liberating as you become more comfortable creating video content.
That said, there are several types of videos that are often sent through email. The first broad category centers around webcam video. Specifically, this is you (and perhaps your team) using a webcam on your laptop to record a selfie video. These types of videos are terrific for sales, business development, introductions to your product, service, or company, or even sending a simple "Happy Birthday" message to a particular customer. One key with webcam videos is to make them personal. Allow your viewers to see you, your reactions, and even the space where you work. By doing this, you start building trust and a genuine connection with your viewers—which will often lead to future sales.
Beyond the simple webcam video, you can also take advantage of screen recordings. Screen recordings are simple: they are essentially videos where you capture the activity on your screen. By opting for screen recordings, you can capture things like presentations, pitch decks, landing pages, competitive analyses, or even something as simple as a stick figure drawing. Rather than capturing a simple video of yourself, screen recordings allow you to leverage the visual element of storytelling to explain your product or service. Ultimately, screen recordings can be an extremely effective tool in your marketing portfolio.
The last broad category of video you can share in a video email is uploaded video. It can be pre-recorded or pre-produced video, either by your organization or by a third-party. Again, this video can be a sleek, expensive video or a simpler video that you and your team have created. Whatever video you wish to send, you can easily use Dubb's tools to send it to your contacts.
Step Three: Embed Your Video in an Email
Once you have downloaded your relevant Dubb tool and created your video, you will next need to embed it into an email. This will work on email platforms like Gmail, Microsoft Outlook, Mac Mail, and Yahoo Mail. It will also work with email automation systems like MailChimp, Constant Contact, Hubspot, and more.
Ultimately, you never want to attach a video to an email. This is a bad practice because video files are heavy. They can be large (perhaps even one gigabyte) and chances are the user's email system will block your message because it is too big.
With that said, it is extremely easy to embed a video using Dubb's extensions. As you can see in the example below, all you need to do is open up a new email and click on the Dubb icon.
From there, you will see that you can select and upload a video that you have already created.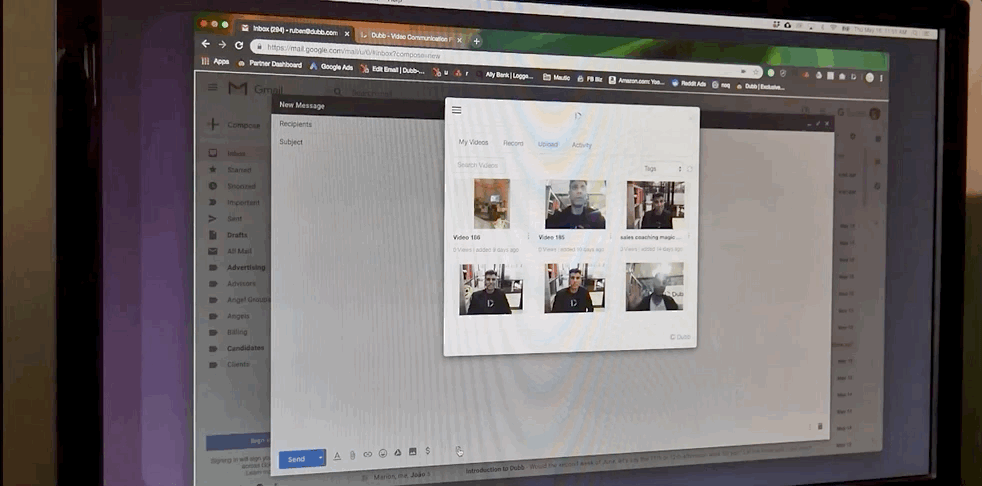 If you haven't yet created your video, the Dubb Chrome Extension makes it extremely easy to record yourself on your computer's webcam.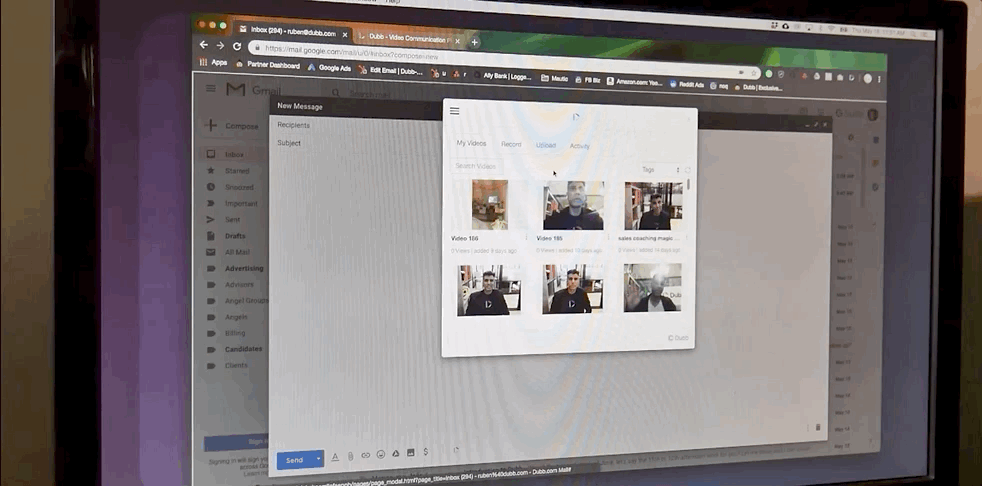 Simply click on the red button to start recording.
Finally, you can upload your pre-produced video.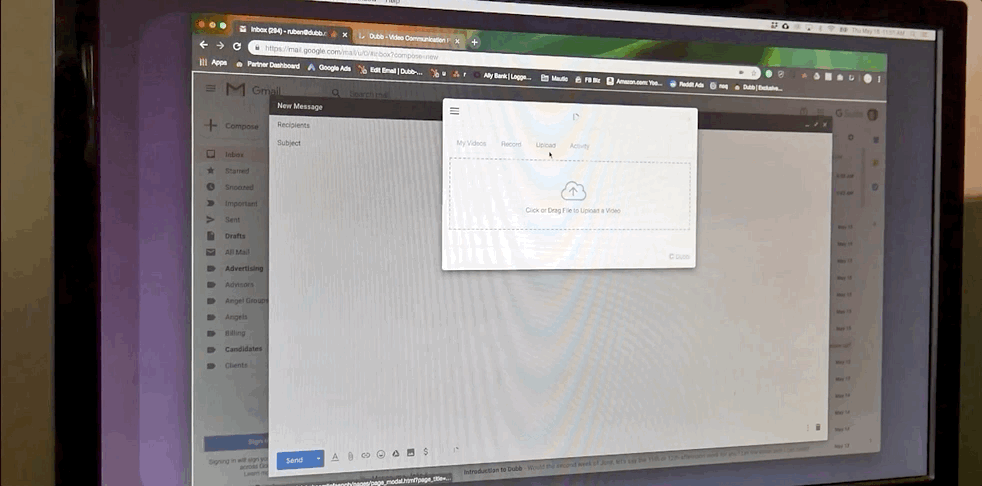 Whichever path you choose, select your video. From there, you will see several options that you can select to customize your video. For instance, you can easily include the recipient's email address at this step.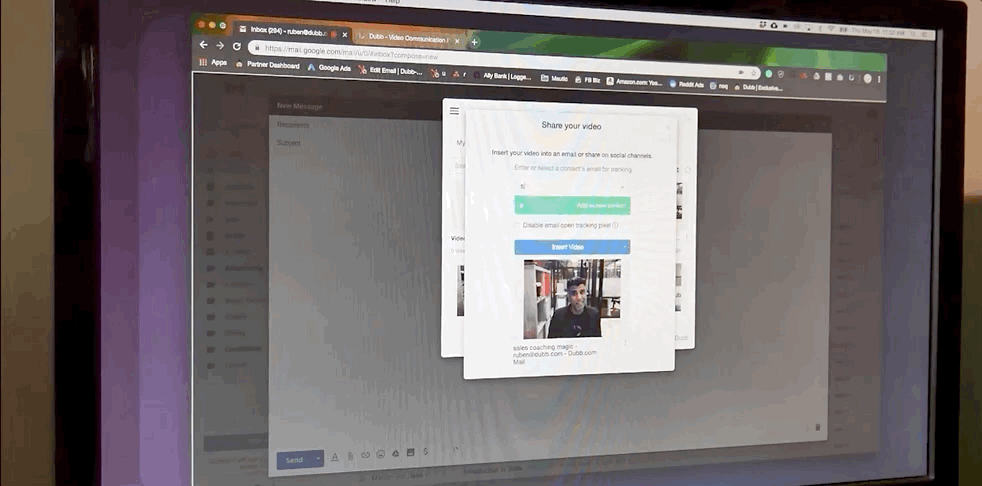 You can also add a quick, customized message to your recipient. This will be inserted at the top of the embedded video, as you can see below: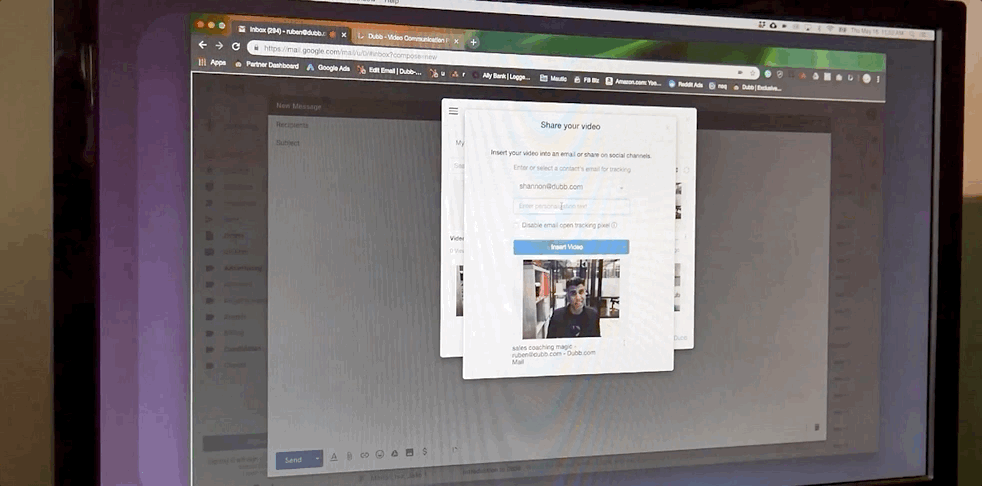 One of the cool things about the Dubb Chrome Extension is that it automatically generates an animated gif in each email. It shows the first few seconds of a certain part of the video, essentially providing users a teaser of what they will view.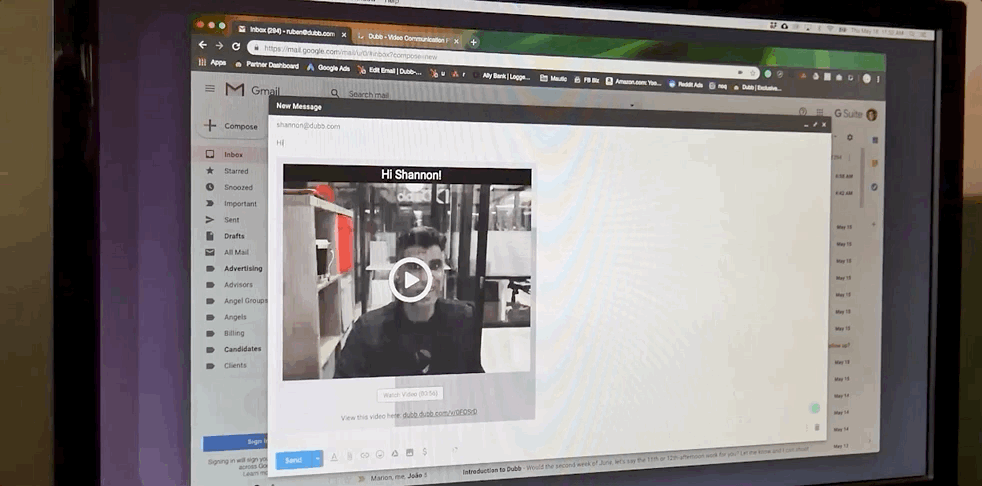 The gif also includes a "play" button, which is a clear signal that users should click the image to view more. It is also good practice to include both a link below the GIF and a call to action ("CTA") that invites the recipient to take some action after reading your message. Don't assume that your recipient will know what to do after reading your message. Make it extremely clear so that you don't lose a potential sale to a prospect who didn't know how to respond after receiving your message.
Step Four: Send the Email
This is the easiest part. Once you are satisfied with your video content and the body of your email, click send.
Step Five: Take Advantage of Analytics
By using Dubb, you are also able to leverage a wealth of data about how your video emails are performing. As you can see below, Dubb provides particular metrics like email click rates, CTA click rates, watch rates, reaction rates, and the average percentage of your video that has been watched.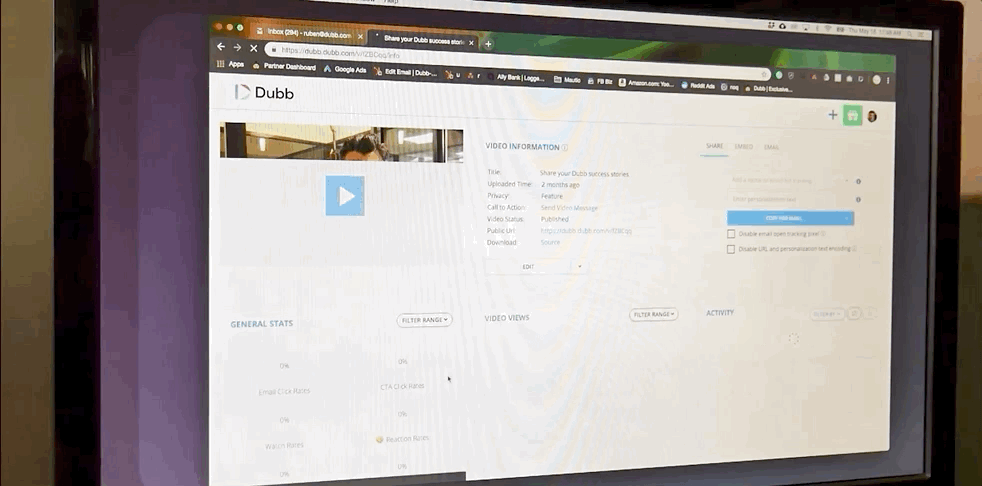 Ultimately, this data is extremely valuable. It will provide you with significant insights about how your videos and emails are performing, allowing you to iterate as necessary. For instance, you may discover that your audience wants to see more regular emails from you and your organization. If that's the case, you can take advantage of Dubb's multi-step drip sequences so that your audience can receive video emails on a regular, scheduled occurrence.
Take Action Today
Whatever your objective, video email can be one of your best friends. It can be your secret advantage to separate your organization from competitors. It can save you a significant amount of time and frustration when communicating with your leads. And finally, video email allows you to create a close connection with your audience.
Ultimately, figure out the right solution, the right of content you want to share, and embrace consistency. Don't give up. And consider using Dubb for your video email needs. While there may be some growing pains in the beginning, your work will undoubtedly pay off. We can't wait to see what you create!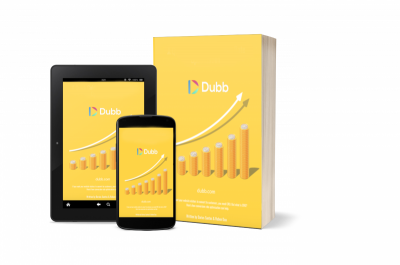 [eBook]  The Definitive Guide to Video Marketing
At Dubb, we have produced 1000's of videos and have made tons of mistakes. From our learnings, we have compiled a step-by-step guide for creating stellar marketing videos and an overall video marketing strategy. Whether you a scrappy startup or a more established business, watch this 5-minute video guide and then read the free eBook so you can dramatically increase the ROI of your video marketing.