Like you, all of us at Dubb have been trying to gather remote work tips and adapt to a dramatically changed world. Remote work has become the name of the game, yet some of us may still be struggling to adapt to this new reality. 
Therefore, in this post, I want to describe some of the best remote work tips that can help when you are working from home. Whether you rely on some or all of these remote work tips, I'm confident that you'll see a huge uptick in your productivity when working from home.
The Power of Routines and Task Manager Apps
Routine is key when working from home. While the temptation is there to sleep in and work when you see fit, developing a routine, and sticking with it will keep you productive. It is one of the remote work tips that pays off in spades every single day.
When setting up your routine, I recommend that you use a task manager app. My Dubb colleagues and I love using Asana, but there are plenty of other task manager apps that you can use. We have seen the most promise with Asana when we use it to determine inefficiencies in our business. Based on those inefficiencies that we identify, we create recurring tasks in Asana. 
The beauty of this is that we get to be proactive. Rather than constantly responding to the interruptions and stresses of the day, we get to work on the most important tasks and continue to grow our business. At Dubb, we try to follow the Pareto Principle in this respect. Essentially, my colleagues and I try to spend 80% of our time on our pre-planned and pre-set activities and 20% of our time on reactive activities. 
These reactive activities are not a net negative, however. Often, they fuel new content growth, like new tutorials, support articles, testimonial videos, and new types of assets that we can incorporate into the Dubb ecosystem. As we build up our feature set, we preemptively create learning materials. We also receive feedback, which we use to iterate and improve the Dubb product. 
The key through it all, though, is prioritization. For as efficient as we want to be on a given day, there are going to be interruptions and meetings that we can't avoid. Even though these may be mandatory, we can stick with our routine and prioritize those mission-critical tasks. Shifting the balance in this way can transform the way that you get things done at home.
Embrace a "Health First" Strategy
Working from home, there are plenty of distractions. It can be everything from your child asking for homework help to snacks in your pantry. 
Speaking from my experience, I follow a "health first" strategy. This basically means health for my body, spirit, business, family, and everything that is going on in life right now. Keeping health at the top of mind helps me maintain perspective in my personal and professional life.
I encourage you to similarly adopt a health first strategy. As a starting point, things like exercise and eating right can go a long way. Being stuck in our homes, it's all too tempting to exercise "another day" or constantly snack as we are working. Resist that temptation. Really try to stay disciplined, whether that is going for your daily walk or run or eating that healthy diet. These things may seem small in the grand scheme of things, but they will go a long way. 
But beyond these basics, also ensure that you are taking a health first approach in other areas of life. When interacting with clients, customers, or your colleagues, be empathetic and graceful. Step into their shoes and understand that all of us are going through a difficult time. By leading with health and grace, others will undoubtedly return the favor. 
Pay Attention to the Data
Another one of our favorite remote work tips centers on data. Data has become an essential part of business success in our digital-first world. Thankfully, there are plenty of free and paid tools out there that can offer a granular look at how your users or customers are behaving. 
I think that one of the biggest things that you can do is to start your business day with data. Head on over to Google Analytics and see how your users are acting. For example, our team at Dubb has many different triggers set up in Google Analytics. If someone signs up or subscribes, we receive an alert. We also pay close attention to things like the social coefficient, which tells us how many new members we are getting from our existing members. 
Much of this comes down to North Star metrics. For us at Dubb, we pay close attention to the social coefficient. We always go back to that metric because we are building a social product. We're building a product that people use and want to share with their friends and family. 
No matter what your North Star metric is, it's important to analyze that data and then use it in a creative way to solve problems. For example, you may see that your conversion rates aren't where you would like them to be. Clearly, something is broken. Using that data, however, you can determine a path forward. Thinking creatively, you can do things like create tutorial videos or YouTube videos to raise your conversion rate. You can even leverage chatbots or automation to apply a more personal touch at scale. 
The bottom line? Making it a daily habit to monitor analytics is a valuable remote work tip. Even if you and your colleagues aren't in the same physical office, you can all monitor your North Star metrics on a daily basis. Doing so will keep you on track and help your business accomplish its goals.
Work Hard to be Lazy
Another key remote work tip that I recommend is to work hard to be lazy. 
What does this mean exactly? 
The general idea is that you should try to figure out ways to automate things and create systems and processes that don't require your undivided attention. It's similar to the idea of passive income or creating a digital product, where you invest more time upfront and consistently reap the rewards in the future. Even though there is an initial investment, you will find that your work at home will be much more substantive and much less procedural. 
To take advantage of this remote work tip, ask yourself: "How can I have people self-serve?" Empower your users or customers with tools so that you and your team can take the backseat. Importantly, try to do this in a way that is empathetic and results in a delightful user experience. 
If you can pull this off, you'll notice that your life will get dramatically easier. Even better, your customers will have a great experience with your product or service. They don't need to wait around for one of your team members to respond to their questions. Instead, they can do much of the work themselves. Since people love instant gratification and the ability to quickly get things done, they are more likely to become recurring users or your product or service.
Leverage Dubb
While my team and I are biased, we believe that an excellent remote work tip is to take advantage of Dubb. 
There are plenty of awesome features within Dubb, ranging from our seamless desktop and mobile apps and a wealth of integrations with your favorite pieces of software. If you are looking for a tool that can help you capitalize on video sales and marketing, we're confident that we can help.
That being said, one of the best parts about Dubb is that it lets you leverage the power of asynchronous video—wherever you are. For as much we are all using Zoom while under lockdown, the simple fact is that Zoom isn't appropriate for every interaction. Moreover, getting on Zoom call after Zoom call can be extremely draining.
Asynchronous video can fix many of these problems. Not only can you avoid countless Zoom meetings when you are working from home, but you can communicate with your colleagues on your own schedule. Instead of finding time in your calendar to attend another long meeting, you can record and send off a quick video. Even better, the recipient can view and respond to your video on their own time.
All of this is extremely empowering. It can reduce stress and make you more productive when working from home. Moreover, your colleagues will be less stressed. Morale will increase and you'll be able to better serve your clients and customers. 
To take advantage of all of these features, we're proud to present Dubb For Remote. Dubb For Remote is a collection of our favorite remote work tools, letting you capitalize on video and sales marketing from the comfort of your own home. You can conduct your entire sales, marketing, and support efforts through a fully integrated asynchronous video platform. For instance, features that you can leverage include a wealth of integrations (like YouTube, Asana, and LinkedIn), Dubb's Chrome Extension, intuitive desktop and mobile apps, an auto-transcription feature, and more.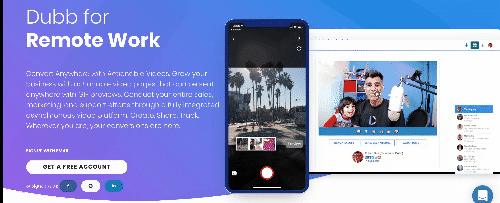 In the end, Dubb For Remote is an outstanding way to connect with your customers and employees while working from home. Yet it is only one aspect of the Dubb platform. To learn more about how we can help you with your sales and marketing goals, click here. 
Using Remote Work Tips in a Remote First World
The remote work tips above can help you and your colleagues be more productive and efficient in these uncertain times. Whether you are the CEO of your company or a member of your company's marketing or sales teams, I encourage you to start implementing these tips today. Doing so will help you and your colleagues accomplish your business goals—even while under lockdown or quarantine orders. 
Finally, if you are interested in learning more about Dubb, click here. You can also click here to register for a Dubb account.