Are you looking for real estate remote work tips in order to max out your productivity during this global pandemic? If so, we are here to help. At Dubb, we have gathered a list of helpful tips that can help real estate professionals continue to do great work—even while working from home. 
The World Has Changed
Simply put, the coronavirus has dramatically changed the way that we work and play. Most of us are stuck in our homes and are trying to maintain some senses of normalcy. 
As you likely recognize, this is easier said than done. Being in the real estate industry, you are most likely doing your work in the "real world," whether it is meeting potential clients or hosting an open house in your city. A worldwide pandemic and nationwide stay at home orders can be a real shock to our systems.
I'm proud to say that Dubb's roots are deeply tied to the real estate industry. In fact, my wife is a real estate agent. I saw her build a client list from the ground up. It isn't easy and the challenges that Covid-19 brings make it even more difficult. 
Ultimately, all of us have to recognize that we're now living in a world where digital tools and products have become much more useful than physical tools and products. They let us communicate with our colleagues and prospects no matter where we are. Moreover, many of these tools provide us with a wealth of analytics, allowing us to see how our clients and prospects are responding to our marketing and messaging. 
Whether you are a real estate agent or have some other role in the real estate industry, there are many opportunities to use digital technologies in your favor. Yes, it may not be in the same form. There may be a learning curve. Nonetheless, by implementing these real estate remote work tips, you will likely see some positive results as we continue to adjust to this new reality.
Embrace Digital and Visual Storytelling
This first real estate remote work tips centers on the power of digital and visual storytelling. If you truly commit to this power and learn from your mistakes, you will see positive results relatively quickly.  
In real estate, they often say that you start from your sphere of influence. That said, you sometimes don't want to do that. You may not want to bother your friends or relatives. Instead, you may think it's a better idea to start with complete and total strangers in the "real world." 
Regardless of your strategy, digital and visual storytelling can be a huge help—especially if we aren't able to get out of our homes. Specifically, video can be your "killer app" in finding new prospects. You can use video and digital storytelling to talk about your background, show off your knowledge of the real estate market, and build real, organic relationships with your prospects. And compared to sending off an email or text message, video lets you connect on a more human level. 
When telling real estate professionals to use video, however, the natural thought goes to equipment. It can be such a rabbit hole. It's natural to want to research and buy sophisticated microphones, stabilizers, cameras, and more. But at the end of the day, the storytelling is what matters. Your equipment is far less important. 
The good news? You can get started with just your cell phone. By emphasizing you, your story, and how you can provide value to your audience, your audience will be much more likely to positively respond. 
Leverage the Method Form of Content Creation
At this stage, you may be interested in capitalizing on video content in your real estate work. But actually coming up with content ideas may be a different story. Therefore, one of my real estate remote work tips forces you to take a deep look at yourself.  
When creating content, one method that I recommend is called the method form of content creation. There is method acting where you really feel something, and then there is method content creation, where you are essentially playing your business character. Yes, you should still be genuine. You shouldn't adopt a business character that is diametrically opposed to your demeanor and temperament. That said, your business character is just a genuine expression of who you are. It just means that you are more professional and that you are saying things in a certain way. 
Essentially, it is your virtual identity.
My Dubb colleagues and I believe that people as a whole will start feeling much more comfortable connecting with others in the virtual world. Even if you aren't yet comfortable, the best antidote is practice. Keep working on your business persona and always remember to provide value in every piece of content. Practice makes perfect here, so keep at it. 
Take Advantage of Dubb
So once you've created your business persona and have developed some content ideas, you are going to need to shoot and edit your videos. Like I said above, when you're getting started, your cell phone is often sufficient. But beyond that, I recommend that you check out Dubb. Dubb can provide you with all of the tools you need to make stellar videos and connect with your prospects or clients. 
As a starting point, Dubb has plenty of features that are specifically useful for those in the real estate business. For instance, we have a powerful mobile app that is very specifically designed for things like real estate. If you are able to go outside and tour properties, video and the Dubb mobile app are a perfect combination. You can give your audience a virtual tour of the property, describing each room and sharing your impressions on the property as a whole. At the end of your tour, all you need to do is press upload and splice your clips together. You can then include things like text, emojis, and other features on the screen. Alternatively, you can leave it simple. The choice is yours. 
When you are finished creating your videos, you can use Dubb's mobile app to send your video through email, text message, or through your favorite social networks. It will work the same way as it does with Dubb's desktop app. Through this, you can access things like nice animated gif previews and still thumbnails with links.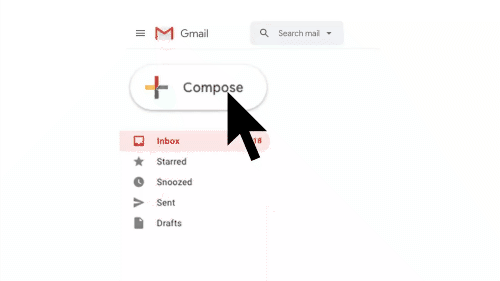 If you are working with Dubb on your desktop computer, you can also take advantage of the Dubb Chrome Extension. Free to install within the Chrome browser, the Dubb Chrome Extension makes it extremely easy to create screen recordings and other recordings within the Chrome browser. Along with this, your screen recordings can also contain a little webcam view in the corner of your screen, which lets your viewer see you as you are recording your screen.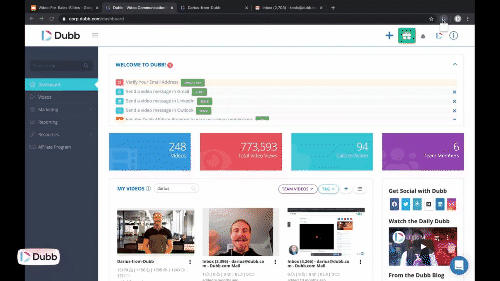 You can even annotate your screen. This is an especially useful feature if you are recording your screen to deliver a presentation.
If you'd rather not download the Dubb Chrome Extension, you can always record videos through the Dubb website. After clicking on the plus button, you can either take a video from YouTube, record one with your camera, or upload a pre-recorded video from your computer.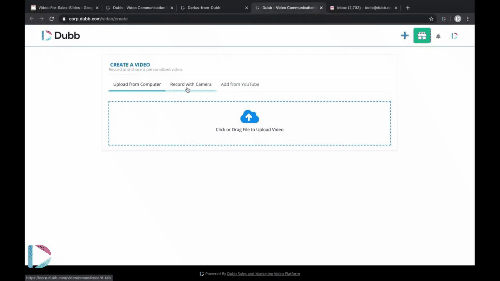 You can also leverage an extensive list of integrations (including popular apps and websites like Gmail, LinkedIn, or Asana), making your video creation and distribution process much easier. You can take videos from a library, record them through your preferred app or website, or upload pre-recorded videos to that app or website.  
Essentially, just about anywhere we are, you can use Dubb to create videos for prospects or clients. This is an extremely powerful point, as it allows you to consistently leverage the power of video marketing to grow your business.  
Customize Your Videos with Dubb
Along with making it easy to create your own real estate videos, you can use Dubb to add plenty of customization to your videos. 
Every video in your Dubb library has its own management page. On these management pages, you can do everything from modify the title descriptions, and tags for your video, add plenty of design elements to your video, and more. If you'd like to share and send your video, you can add personalization text to your videos and easily paste your video into any channel that you'd like. 
As just one example, it's seamless to copy and paste your video into an email. Doing this, you'll immediately see the animated gif that displays the first three seconds of your specific video. You'll also see the personalization text on top of the video itself.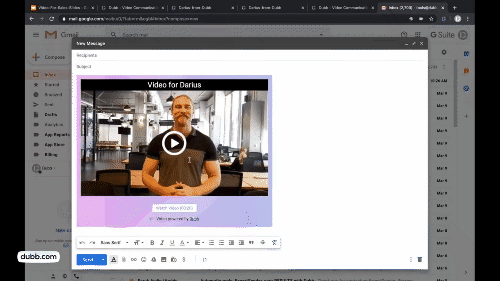 It is a great way to get your client or prospect engaged as they receive your video. In all likelihood, they will open it, allowing you to start building a close, human relationship with them. 
After you send your video to your target audience, Dubb also lets you leverage a wealth of analytics and data. For instance, if you sent your video through Dubb's LinkedIn integration, Gmail integration, text message, or Facebook, you can track your viewers' engagement. Specifically, you can see click-through-rates, how long viewers have watched your video, and more. 
Typically, you will want to use your videos to drive viewers to a specific landing page. On this video landing page, you can include things like your company or personal logo, watermark, custom URL, background, and more. 
Video landing pages can be great central hubs for your videos. Dubb lets you leverage exit-intent popups, which offer you one more chance to get your call-to-action ("CTA") in front of your viewers. Below your video, you'll also see Dubb's playlist features and CTAs, which can go a long way in moving your viewers down your marketing and sales funnels. 
Playlists naturally move viewers from one video to the next. They can be a great tool to offer a blended pitch to a particular client or prospect. By this, I mean that you can send a one-to-one personalized video to that client or prospect and include several well-produced videos that you have created for your broader audience. Your users don't need to click anything; instead, the video player simply segues from one video to the next. In the end, you get to combine both the personalized aspect of video marketing and the larger benefits of using video to speak with your audience as a whole.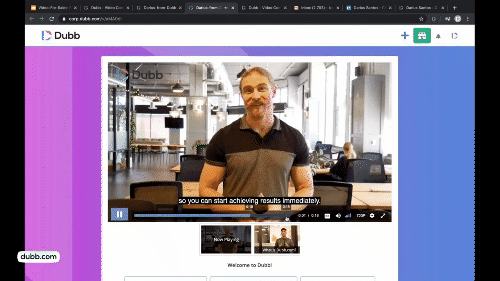 CTA buttons can also be extremely powerful because they can drive a very specific conversion. You can drive viewers toward things like making a specific purchase or booking a time on your calendar, where you can close the viewer on the phone. With integrations with calendar services like Acuity, Calendly, and Book Like A Boss, it is extremely easy to have your viewers book a slot on your calendar and connect. Your CTA can even be a form, attachment, a URL, or an option for a viewer to record a video testimonial.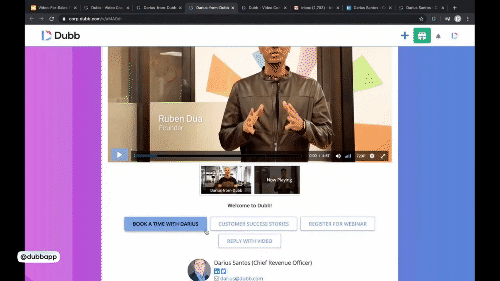 At Dubb, we have created full training videos for all of the features. Head on over to our blog to read those tutorials. Alternatively, if you have any specific questions and would like to reach out to our team, you can do so here. 
Leveraging These Real Estate Remote Work Tips Amidst a Global Pandemic
The real estate industry is essential to the health of our nation's economy. Yet Covid-19 has utterly transformed the way that work is done in real estate. That being said, those who can adapt to this new reality will be in a much better position to thrive. By following the real estate remote work tips described above, I am certain that you will see positive results. 
My colleagues and I strongly believe that Dubb can help you reach your sales and marketing goals. If you'd like to learn more about Dubb's features and how we can help you, go ahead and click here. You can also click here to register and become a Dubb user.