In the digital space today, competition is ever-increasing and chances are your prospects have several other options to choose from.
So it has become a necessity for businesses serious about growth to focus on building relationships with their customers and stay at the top of prospects' minds.
That's where a CRM comes in.
A CRM (Customer Relationship Management) is a tool that enables organizations to build and manage business relationships with customers. Since different businesses have unique needs, it's best to use tools that are tailored to fit your organization rather than use a one-size-fits-all approach to solving problems.
In this post, we'll go over some core features of a CRM and the common problems most users face — so you'll know what to look out for if you're ready to sign-up or switch to a new software.
Then we'll look at the key features of a popular sales-focused CRM, Pipedrive, and an alternative for those looking to take their marketing automation a step further.
Let's dive right in!

What are some important and core features of a CRM?
It's a proven fact that the better you understand your ideal customer, the easier it is to sell to them and provide a positive buying experience.
With the top level of competition between businesses today, customer experience and satisfaction can sometimes be the difference between a successful deal or a lost lead. 
Going the extra mile to connect with your prospects/existing buyers, personalizing their journey, and improving the efficiency of your sales workflow is a surefire way to boost revenue and conversion rates — as high as 300%.
The best CRM tools help you and your team improve productivity and drive sales. So depending on the stage you're in (your team size, revenue, targets, and your needs) you should look out for a CRM that has specific features that will help you achieve your goals.
While there are different features you should consider when choosing a CRM, but at its most basic, every CRM should include these core features;
The goal of a CRM is to help you better connect with your prospects and existing customers. That means every CRM should be able to track lead activity — from initial contact, follow-ups, down to purchase and beyond — and provide actionable insights/reports to help you make decisions to improve customer retention rates.
As recently as last year, a survey showed that 81% of CRM users are now accessing CRM software on mobile devices and the trend keeps growing. Ideally, it's best you choose a CRM that works on mobile, so you can get access to your CRM's complete functionality and data at all times. After all, it would be nice to check your dashboard for a quick update, access customer data, and important reports anywhere without the hassle of getting on your desktop computer.
Analytics and flexibility
Every CRM should be able to collect enough data to analyze and provide feedback to help you make positive business decisions. Because ultimately, data is only useful if you can learn from it and take action to better your business. Also, a good CRM should be flexible enough to allow you to integrate other tools and give you full control over how the data is being shared.
Simplicity and ease-of-use
This cannot be stressed enough.
A study showed that 72% of senior executives would trade more ease of use for less functionality. Nobody wants to pay for a piece of complicated software they can't get the most out of or even use — no matter how sophisticated it might be.
Look out for a CRM that is intuitive, easy to use, and most importantly, provide detailed reports clearly.
The problem with most CRMs and a better alternative
Like with all industries, there are a bunch of products in the CRM space with limitations. This isn't to say all the CRM software products out there are useless, but if you've tried your hands on a few, you'll notice some common issues.
Before we briefly go over some of these limitations, it's worth mentioning that different CRM systems work better for businesses at different stages of growth. So while some work best for small businesses, others have the features that bigger companies are better off using.
That being said, these are a few issues most CRM users complain about;
The most commonly reported problem CRM users face is the learning curve to understand the system they use. While it's easy for team members of some organizations to sail through smoothly, for others, it takes some time to get the hang of it and even longer to get used to it.
Difficulty with integrations and sharing data
Like most businesses, if your organization uses different software and services for different purposes, you'll need to hook those up to your CRM to make collaboration and data sharing easier. After having difficulty integrating some apps to their CRM, most organizations tend to switch to an all-in-one alternative that reduces the need to manage and deal with these several third-party apps.
Most CRMs differ in pricing plans depending on the features you need with most being quite pricey. According to a recent Hubspot survey, 54% of salespeople complained the biggest obstacle to obtaining CRM software is its cost — especially when the needed features attract higher fees.
It's not unexpected for customers to run into hiccups when they have difficulty getting the hang of a software. A common problem CRM users report is the hassle it takes to resolve issues with customer support.
The transition to a new CRM is smooth — you still get these features
If you're considering switching to a new CRM, you'll get all the same basic functionality of the Pipedrive CRM and even more from Dubb. And if you need more marketing tools but would like to stick to Pipedrive, no problem — Dubb can easily integrate with Pipedrive allowing you to send and track videos right through your Pipedrive dashboard. 
Here's how Dubb and Pipedrive are similar;
If you're already using Pipedrive, then you're familiar with leads and contacts which lets you import and manage your contacts. While leads are more specific to earlier deal cycles and are separated from contacts, in the Dubb dashboard, they're nested together under the connections tab. This makes tracking and reporting contact activities easier.
When you migrate to Dubb and access the deals tab, you'll notice that there isn't much of a difference from Pipedrive. On the Dubb dashboard, you can choose different options to display deals — through a list or board view — and even fully customize each field and stage.
Next up is the "Task" feature that lets you easily assign any task — whether it's a follow-up call or email to a prospect — automatically. All you have to do is set it up and let it run. Pipedrive already has this feature called "Activity", so you won't have any difficulty switching over because they're similar.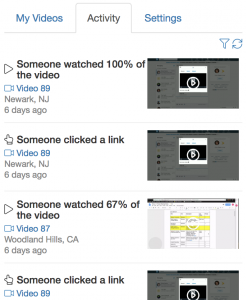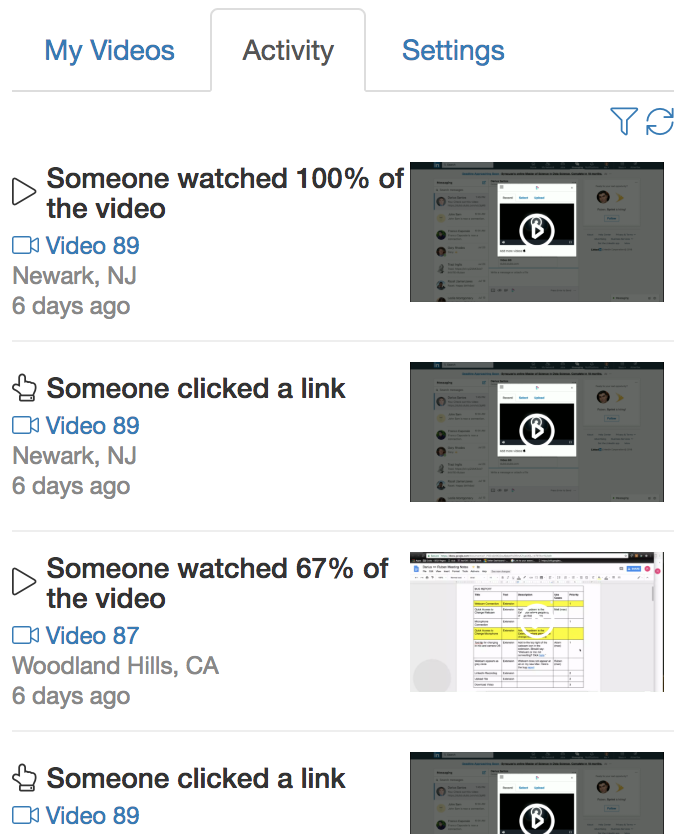 Just like Pipedrive, Dubb supports and allows you to easily connect your email provider (any one at all) and send out emails directly from the Dubb dashboard — these emails will show up in the sent folder of your email provider. If you're using Gmail, the smart BCC feature will keep a record on the contacts tab.
You can take your email campaign to a whole new level with Dubb's video messaging feature. When you personalize your 1-to-1 emails with a video, you'll stand out from the regular emails your prospect is bombarded with and notice an increased conversion rate.
You get more for less — here are the perks of using Dubb
If you're looking to take advantage of Pipedrive plus other powerful marketing and sales tools (like one-to-one video, live chat, and marketing automation) without spending thousands of dollars every month and dealing with the hassle of connecting loads of different pieces of software together, then you'll love Dubb.
CRM functionality plus video hosting
Despite not being exclusively a CRM software, Dubb gives you all the features of a CRM you get with Pipedrive and takes it a step further. You can easily record, customize, and host one-to-one videos for your marketing campaigns.
Even better, you can integrate these videos with no limitations to your CRM (if you aren't using Dubb and already have one) to boost conversion rates, engagement and connect better with your prospects.
Get a better bargain — more features at a lesser price
To get the basic features of CRM including group emailing, Pipedrive offers a  professional plan that costs $59/month. If you're looking to integrate videos into your marketing campaigns, you'll need to pay for that and deal with integrating the software.
On the other hand, Dubb offers the same features and even more — like marketing automation and video hosting — all for $40/month.
Basically, you're getting a better bargain with Dubb. Grab a free 7-day trial here.
Last notes and conclusion
Choosing the best CRM software for your business depends on what capabilities your team needs. While some are simple and provide the basic data small businesses need to connect with their customers, others give you everything you could want for everyone on your team, plus a host of marketing and support features.
At the end of the day, there are different solutions that can fit your budget and needs of your company.
If you're looking to get the basic CRM features of Pipedrive plus the video hosting to transform your marketing campaign and boost sales — at a lesser price — grab a free trial of Dubb today.