Believe it or not.
Adding a video to your email, social media post, or any part of your marketing campaign can boost engagement and conversion rates. In fact, viewers retain 95% of a message when they watch it in a video compared to 10% when reading it in text.
In this article, we'll be looking at a head-to-head comparison between a popular video communication and hosting platform, OneMob and Dubb — a solid OneMob competitor.
Let's start out with what they both have in common.
VIDEO CREATION TOOLS
Both OneMob and Dubb offer a wide range of options for creating and uploading videos. Here's a detailed analysis of the creation tools both platforms offer.
Chrome Extension
Instead of cycling between different apps, browser extensions help users access some of their favorite tools within the browser itself.
Dubb and OneMob have similar Chrome browser extensions that allow users to record their screen and webcam in one click. That's as far as the OneMob extension goes, but Dubb takes it a step further.
While OneMob limits users to record in only one mode for each session, Dubb's chrome extension is flexible and gives you more room. You can switch through your current tab, the entire screen, and webcam at any point.
Another feature that gives Dubb extension an edge is its annotation tool. While recording, you can easily highlight, underline, or circle certain things on your screen with a few clicks. This comes in handy when you need to point out specific details in your presentation and get your point across clearly and quickly.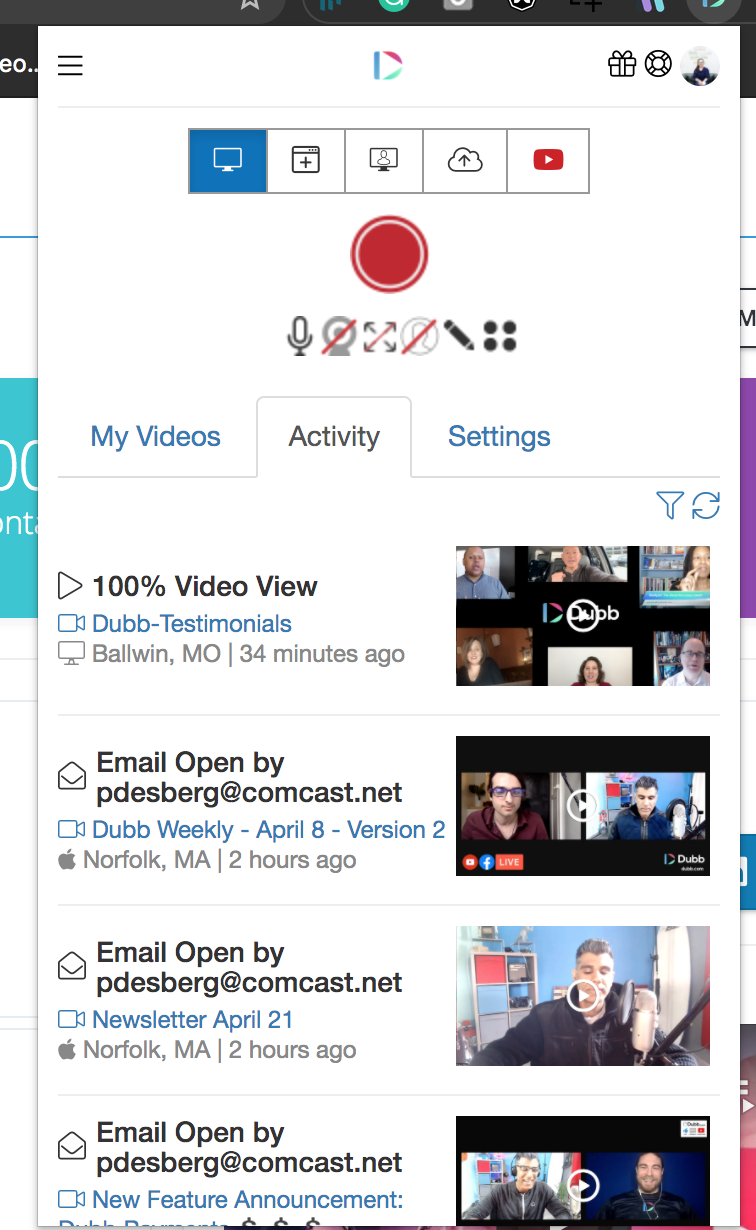 Another thing Dubb's chrome extension gives you is the ability to pause/resume video recordings and resize your webcam anytime during the recording session. This way you can deliver better presentations and direct your audience's attention to the screen or speaker when necessary.
This feature will eliminate the need for editing after recording, as you're doing it in real-time.
Although both platforms have a Chrome extension that makes it easy to create videos, they differ in some way and Dubb clearly takes the lead in functionality in this comparison.
Desktop and Mobile Apps
Both platforms have a set of desktop and mobile apps (available for IOS and Android) that lets users create and upload videos. 
Dubb's desktop app is especially useful when you are working from home or the office while the mobile app allows users to easily record, send, and track videos on-the-go. 
What makes it versatile and one step ahead of OneMob is its powerful editing features such as splicing multiple clips together, adding music, text overlay, and more.
Ultimately, Dubb users can use their mobile devices to create high-quality videos, upload them directly to the platform, and view the performance of their campaigns from the analytics area. 
Gmail and Outlook Add-Ons
At this time, OneMob doesn't have email add-ons, so users are limited to using the desktop app, mobile app, and chrome extension.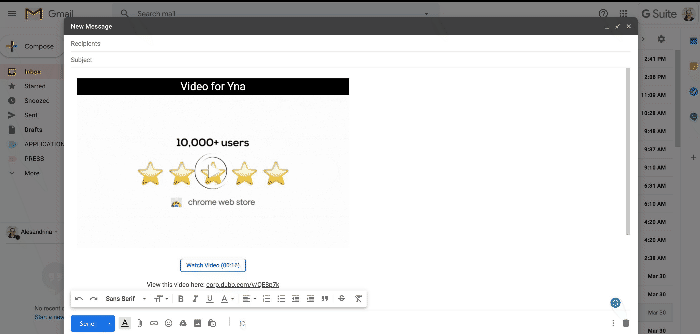 Dubb makes it possible to create and send videos directly from LinkedIn and your email service provider — either Gmail or Outlook — using the add-ons made for these channels. This comes in handy when you need to quickly access your library of videos, check activity, and it saves you time from cycling through different apps while working.
CUSTOMIZATION
So far we've seen how both platforms compare in the video creation department, with the OneMob competitor, Dubb, taking the lead.
A lot of organizations prefer customizing their assets to keep branding consistent across all channels. So it's important to have the option of tweaking certain elements to fit your brand.

Let's briefly go over how both platforms perform when it comes to flexibility and freedom of customization.
Video Modification
So let's start with customizing the actual videos. A feature both platforms have in common is the ability to add a watermark over videos, and the green screen which enables users to record videos with a virtual background. Also, with both OneMob and Dubb, you can add background music and text overlays on the screen.
If done correctly, the text can be personalized to add an extra touch of connection with the viewer which will boost engagement and response rates.
The Dubb mobile app lets you upload multiple clips, which can then be merged into one video. And for users who do not have their audio enabled, you can upload subtitles and closed captions in SRT format. If you don't have one already, no worries — Dubb will accurately generate the captions automatically.
Although both share similar features in this category, Dubb offers a lot more functionality.
Video Page Customization
Another aspect of customization that is worth comparing is the landing pages where the videos are hosted.
Both platforms offer similar editing flexibility, but a closer look would reveal the edge one has over the other.
OneMob makes the landing pages easy to edit such that the color scheme can be tweaked to match your brand. Dubb offers this same functionality as well and even takes it a step further.
While users are limited to one CTA button with OneMob, Dubb lets you add and customize multiple buttons for different purposes.
This gives your viewers the option to perform different actions — anything from collecting video replies, filling out forms, or even downloading files.
It doesn't stop there. Dubb makes engaging with viewers even easier by allowing you to integrate your calendar app and Facebook messenger. This way, your viewers can easily book a meeting or start a conversation without leaving the page.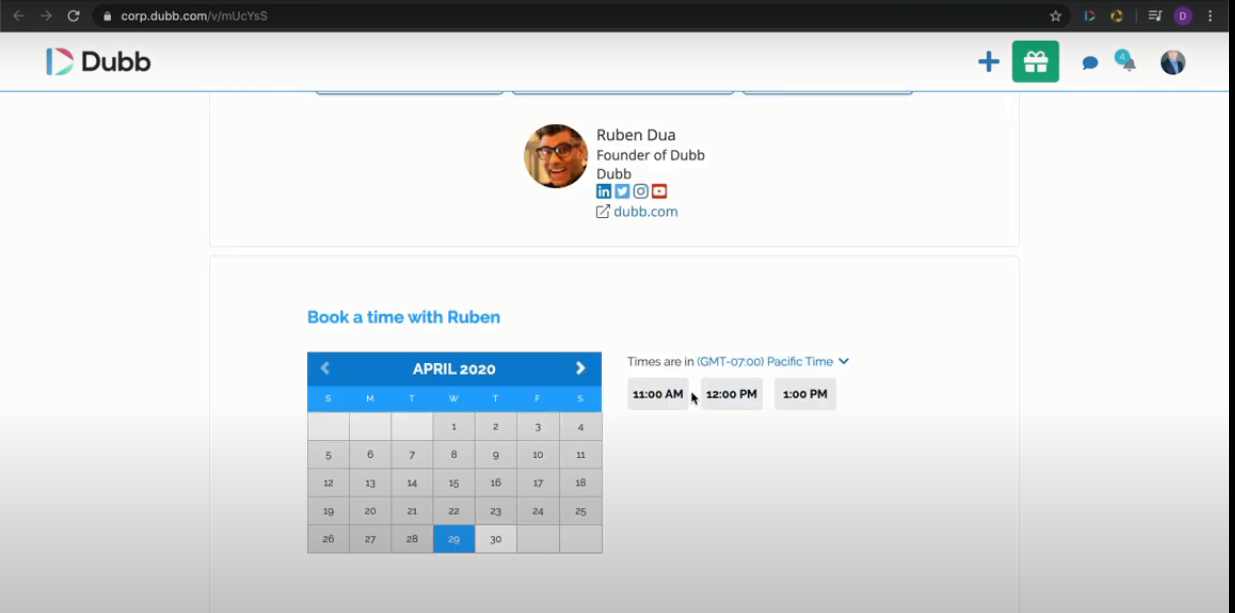 Another notable feature Dubb offers that is worth mentioning is the playlist tool. While OneMob lets users add extra assets on the landing pages, it isn't quite the same thing.
With Dubb's playlist feature, you can add multiple videos, splice them together, and enable auto-play such that each video in the sequence loads up automatically after the preceding one.
According to a recent study analyzing over 2 billion pop-ups, the average conversion rate across pop-ups is 3.09% and could go as high as 28%! This data shows that pop-ups aren't dead, and Dubb lets you easily implement one on your video pages to boost conversion rates.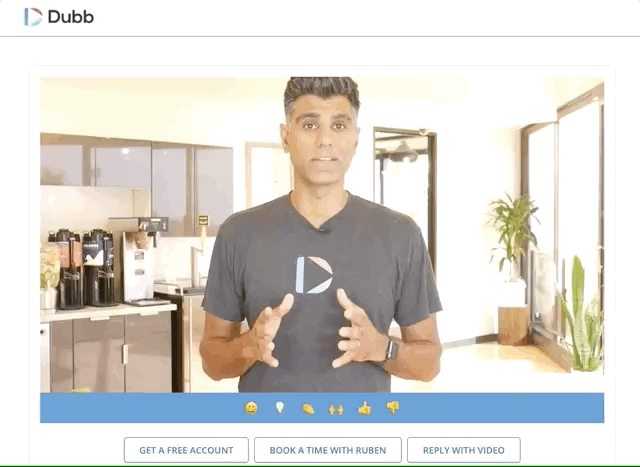 You can edit the CTA buttons to persuade viewers to take action before they exit.
All these extra features and functionalities give Dubb the lead in a head-to-head comparison.
VIDEO DISTRIBUTION
Creating videos is one thing, but sharing them effectively is a different ball game. 
You want to make sure your video reaches the right prospect, grabs their attention, passes your message clearly, and makes it easy to take action.
Just like OneMob, Dubb allows you to send individual and bulk emails and track performance. But a downside of OneMob will be the inability to use custom thumbnails to capture attention, which Dubb lets you do.
It's also worth mentioning that Dubb doesn't limit you to e-mails, you can also send out text messages via the dashboard.
With a suite of powerful marketing tools, Dubb takes distribution to a whole new level.
First on the list is an editable email template.  This can be formatted as needed and personalized with texts, links, and custom thumbnails. If used effectively, these elements will dramatically improve your response and click-through-rate.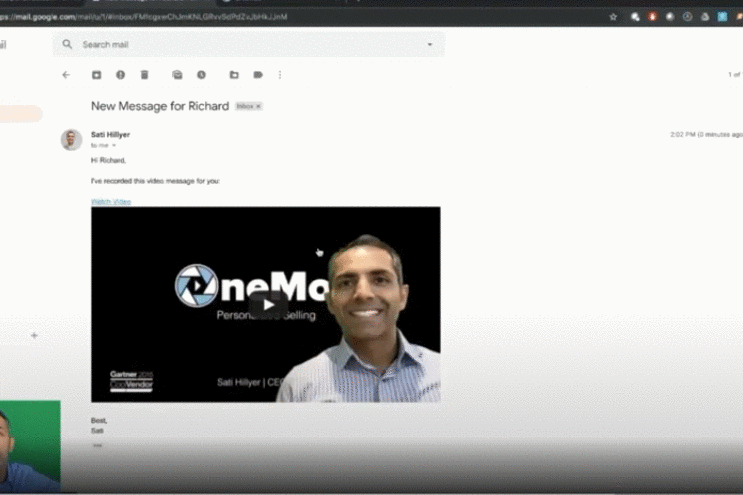 Dubb's set of marketing automation tools includes a built-in CRM where you can easily import and organize all your contacts. 
When combined with Dubb's automation, it's easy to build out a simple or complex sequence. You can include delays, if/then statements, and specific tags. Contacts can also be segmented based on their activity, so it delivers the right message to the right person.
This is a feature that is currently not available on OneMob.
Of course, there's no use running a campaign if you don't keep track of performance. As mentioned earlier, OneMob offers some level of tracking, but Dubb provides deeper analytics.
You'll get details like specific recipients who watched your video, the percentage viewed, and links users clicked on. Insights like these can help you identify which areas to focus on optimization.
"Before using Dubb, we had a hard time building trust with new prospects and then showcasing our offerings to more interested buyers. Dubb helps us both by allowing us to share personalized camera videos via email and screen walk-throughs using their Chrome Extension."

Small-Business Owner
PRICING
At this point, we've compared the features and benefits both platforms offer. Even though there's some level of similarity between OneMob and Dubb, there are major differences that put Dubb ahead in a side-by-side comparison.
Now let's see how they stack up in pricing. 
OneMob starts out at $5,000/year with a minimum requirement of 10 users, which translates to $41/user/month.
On the other hand, Dubb's comparable "Pro" plan offers the same features and more for $32/month. This pricing is almost 25% less than OneMob — without a minimum team requirement. Even better, Dubb's sales team offers the opportunity for discounts for bigger teams. 
What stands out is that OneMob does not offer a free trial of its software. So users who are sitting on the fence have to pay full price to get access. But with Dubb, you get a free trial to test-run the platform and see if it's a good fit for you. Your credit card isn't required, so there's no commitment on your part at all.
CONCLUSION
OneMob competitor, Dubb, offers all the functionalities that OneMob offers and more. You'll get more flexibility to create and customize your videos for better engagement. But it doesn't stop there.
Dubb's powerful automation and CRM tools will help you manage and segment your contacts. This way you automatically send the right message to the right audience to boost your conversion rates.
Then you get to use its advanced analytics tool to keep track of your performance and plug any leaking holes in your campaign.
So we've seen clearly that as a OneMob competitor, Dubb offers a lot more features and tools all in one place. And at a lesser price too.
If you'd like to test out Dubb's powerful tools to boost engagement and conversion rates on your campaign, start a no-commitment free trial here.