Are you searching for Drift Video competitors? If so, you have come to the right place. Drift Video is a tool that you can use to connect with an audience through video. That being said, it does not contain all of the features that you would look for in a video sales and marketing tool.
Even though I am clearly biased, I believe that Dubb is a key Drift Video competitor. In fact, I would go one step further and argue that Dubb offers a better experience—all for a more competitive price.
Therefore, in this post, I want to take a deep dive into why Dubb is a stellar Drift Video competitor. Whether you are just exploring the power of video or are looking for a different way to connect with your prospects or customers, you will be extremely happy by becoming a Dubb user.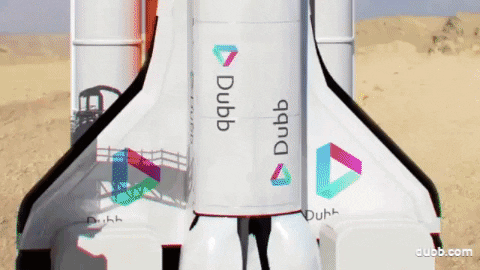 Looking at the Similarities
Like many Drift Video competitors, Dubb has some similarities with Drift Video. Some of these similarities are stark and others are subtle. Ultimately, by taking a look at these similarities, you can better evaluate the true differences between Drift Video and Dubb.
For starters, you can see that both Drift Video and Dubb were created for salespeople and marketers. Their target users were salespeople and marketers, and because of this, both platforms have developed outstanding tools to help these two groups accomplish their goals. These features let salespeople and marketers do everything from connecting with individual prospects to leveraging automation at scale. Whether you work for the sales or marketing departments or small or large companies, you will see that Drift Video and Dubb have tools for you. 
So let's get into some of those features. For instance, on both Drift Video and Dubb, you will find Google Chrome extensions. Google Chrome extensions may not seem like a big deal on the surface, but they can go a long way in making you more efficient and productive. Ultimately, these Chrome extensions make it extremely easy to make all kinds of video content from your desktop or laptop. You can do things like shoot a selfie video or record a screen-sharing video that provides a detailed walkthrough of your product or service. Both Chrome extensions let you record as many takes as you'd like, which can give you the confidence that you are recording the best possible video.
Going beyond the Chrome extensions, you will also find that Drift Video and Dubb have many different integrations. Integrations are powerful because they let you leverage the power of video sales and marketing on your favorite platforms. These platforms can include everything from your CRM and social media platforms to your email client. As just one example, if you are a Gmail or LinkedIn user, you can use Drift Video and Dubb's integrations on those platforms. This means that you can create and distribute your video content in a quicker period of time. In other words, you can capitalize on video sales and marketing in a much more efficient way. 
Unlike some of the other Drift Video competitors, Dubb and Drift Video let you capitalize on video landing pages. Video landing pages are powerful for so many reasons, but I think one of the most important reasons is that they are central hubs for all of your video content. For each piece of video content you produce, you have a place where a viewer (or viewers) can watch that video. That video action page can also include game-changing features like calls to action, which can lead your prospects down your sales funnels. Ultimately, video landing pages are a huge deal for both Dubb and Drift Video. No matter what you are trying to accomplish, you'll definitely want to take advantage of this feature.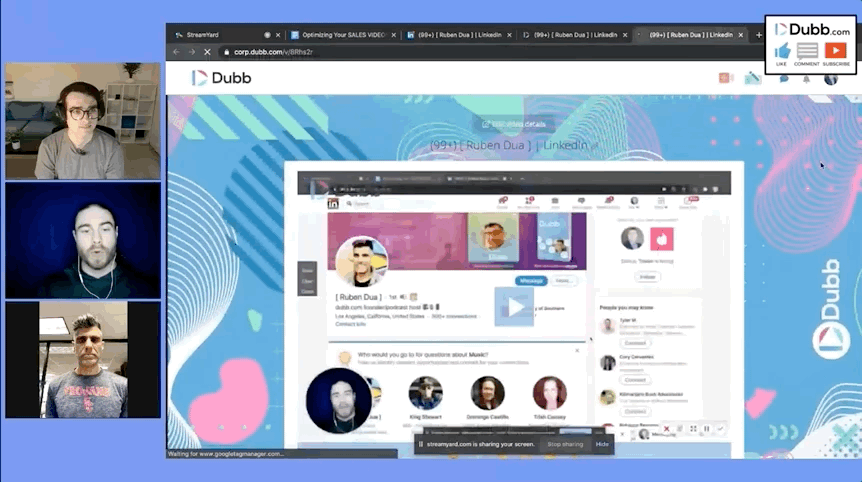 Next, Drift Video and Dubb also offer detailed data and analytics. This is basically table stakes for an effective video sales and marketing strategy. Without being able to see the performance of all of your videos, you are going to find it extremely difficult to create high-quality video content. The good news is that Dubb and Drift Video provide detailed information about all of your videos. By looking at the data and crunching the numbers, you will find that your video content becomes better and better.
Finally, Drift Video and Dubb present several different distribution options for your video content. After recording and editing a particular video, you can easily copy and paste that video to a wide array of other platforms. By doing this, you can seamlessly get your video content in front of your most important customers and prospects. All of that said, Drift Video competitors like Dubb have more stark differences in other areas compared to distribution.
Major Differences Between Drift Video Competitors Like Dubb
So as you can see, Drift Video competitors like Dubb have some key similarities. Things like Chrome extensions, video landing pages, and detailed data are important features for any video sales and marketing platform. When searching for a tool that lets you leverage the power of video sales and marketing, you will definitely want to make sure that your selected tool has these features. 
All of that said, when analyzing Drift Video and Dubb, you will notice that there are some major differences. These differences will likely play a significant role in your final decision. 
The Chrome Extensions
Let's start by taking a close look at Drift Video and Dubb's Chrome extensions. While both platforms have Chrome extensions, there are some key differences here.
For instance, looking at Drift Video's Chrome extension, there are several important features that you'll notice. For one thing, there are three different recording options. You can record your screen, your webcam, or your screen and your webcam. After a three-second countdown, your recording will begin. As you are recording, you also have the ability to pause your video, stop your video, restart your video, resize the webcam bubble, or move the webcam bubble.
Looking at Dubb's Chrome extension, however, you will see that there is a little more functionality. You can find Dubb's Chrome extension by clicking here. Like Drift Video, you can record your webcam, full screen, or a combination of both. Along with this, however, you can record your current tab or upload a video to the Dubb platform. Unlike Drift Video, you can start recording with your full-screen option. It is a great option—especially if you want to show off your personality before starting a screen recording. The good news is that in the middle of your video, you can always minimize that full-screen option and record both your webcam and screen. 
As I mentioned above, Dubb's Chrome extension also gives you an annotation tool. This annotation tool lets you easily draw on your screen, letting you easily highlight specific text or images. You can probably guess, but this is extremely helpful with screen recording videos. Whether you are walking a user through your product or are troubleshooting a particular use case, the annotation tool can be extremely handy.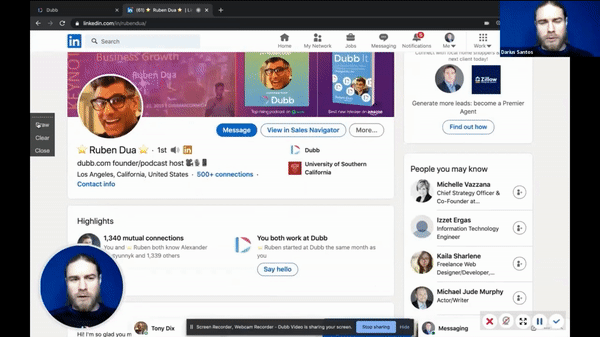 So in the end, both Drift Video and Dubb offer Chrome extensions. While the experience is pretty similar, there are some notable differences that you should recognize as you are making your selection. 
Integrations
From the Chrome extensions, let's now talk about integrations. Like I said above, integrations are important because they can make you more efficient and productive. Instead of needing to switch between different apps, you can use Drift Video and Dubb on your favorite platforms. 
When you are using Drift Video's Gmail integration, for example, you click on the small Drift Video icon to get started. Once you do that, you can access your Drift Video library or record an entirely new video within Gmail itself. However, if you want to insert a video into Gmail, you need to click on a copy button first. In other words, the insertion doesn't happen automatically. However, once you click on that copy button, you can go ahead and insert your video content into a particular Gmail message. Once you copy and paste your video, you will also notice that an animated GIF is automatically generated.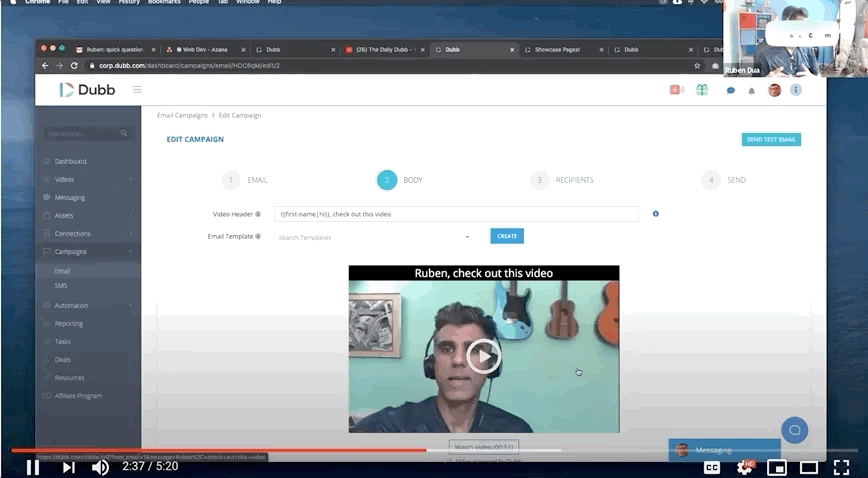 Now, let's look at Dubb's integrations. I think the core difference is that there is more functionality with these integrations. You can see this when looking at Dubb's Gmail integration, for instance. When you click on the little Dubb icon, you can search through your video library, use filters to sort through your videos by video types, and find a video by searching for its name. 
That's not all, however. With Dubb's Gmail integration, you don't need to copy and paste your video into a Gmail message. It is automatically inserted. Ultimately, this automatic insertion frees up a few more seconds of your time. If you are sending many videos through Gmail, those seconds can add up. 
Dubb's Gmail integration lets you leverage personalization text. Personalization text may not seem like a big deal on the surface, but it can be an extremely effective tool to build stronger relationships with your audience members. This personalization text feature lets you include your audience member's name and any other information that you may want to include. Once you have settled on the text itself, it is displayed above your video. Ultimately, it is a great way to entice your viewer to click on your video and watch your content. 
You can find a similar experience with Dubb's LinkedIn integration. Upon clicking the Dubb icon in LinkedIn, you can insert your video into LinkedIn and add any personalization text that you'd like. Once again, you don't need to copy and paste your video into your LinkedIn message. Instead, Dubb will do it automatically for you. 
As you can see, Dubb provides a little more functionality in the integrations arena. You can find a full list of Dubb integrations by clicking here. 
Receiving and Consuming Video Content
I think that one of the most distinct differences that make Dubb an outstanding Drift Video competitor is the experience for members of your audience. This is a big deal in the sales and marketing world. For as great as your video content may be, you need to offer a great and seamless experience to your viewers. Without doing so, you'll find it that much harder to reach your sales and marketing goals. 
To start off, let's look at Drift Video. Once you have created a Drift video and sent it to someone else, he or she will see a little GIF, which is a placeholder for the video that you have recorded. Upon clicking on that GIF, your audience member will be taken to a Drift video landing page. He or she will see your specific video on the left-hand side of the screen. On the right side, your viewer will see several Drift chat options. Those chat options let the viewer have real-time conversations with you or a colleague. By chatting with that viewer, you can lead him or her down your sales funnel. 
Now, let's take a look at Dubb. Like Drift Video, Dubb offers video landing pages. They are called Dubb Action Pages and there are some key differences with Drift's video landing pages. For starters, there are plenty of customization capabilities. If you sign up for a Dubb premium plan, you can customize everything from your logo and URL to the color scheme and font of your Dubb Action Pages. By making your Action Pages more branded for your viewers, you get to create a better and more immersive experience. You own your Dubb Action page and can make it as customized of an experience as you want. Doing so lets you leverage consistency across all of your videos, which can make your overall video content strategy seem much more professional.
Audience members reach particular Dubb Action Pages by clicking on the video's animated GIF. Compared to Drift Video, you will find that the animated GIF here has a play button and a timestamp. Including this information manages expectations and makes it more likely that the viewer will click on the GIF and watch your video. Don't forget that you can also add personalization text to make the animated GIF even more enticing for a particular viewer. 
Upon clicking on that GIF, members of your audience will see some key differences from Drift Video. For starters, Dubb has an extremely effective feature known as the playlist feature. The playlist feature lets you choose which videos will play after the initial video. It is similar to the autoplay feature that you see on YouTube, with one huge difference. YouTube doesn't let you select the next video while Dubb does. In other words, you have the power to suggest any type of video that will help you move that viewer down your sales funnel.
Along with the playlist feature, you will find a plethora of calls to action. As you likely already know, calls to action are tools that can help you move particular prospects down your sales funnels. To put it another way, calls to action can be your secret weapon as you march toward your sales goals. 
Dubb offers so many different kinds of calls to action. For instance, your call to action can be things like downloading a white paper or eBook, following a link to another website, directly scheduling a 10 or 15 minute call on your calendar, communicating with your company through Facebook Messenger, replying to your video with a video of their own, making a purchase, or something else. By using one or several calls to action, you can make a Dubb Action Page that converts.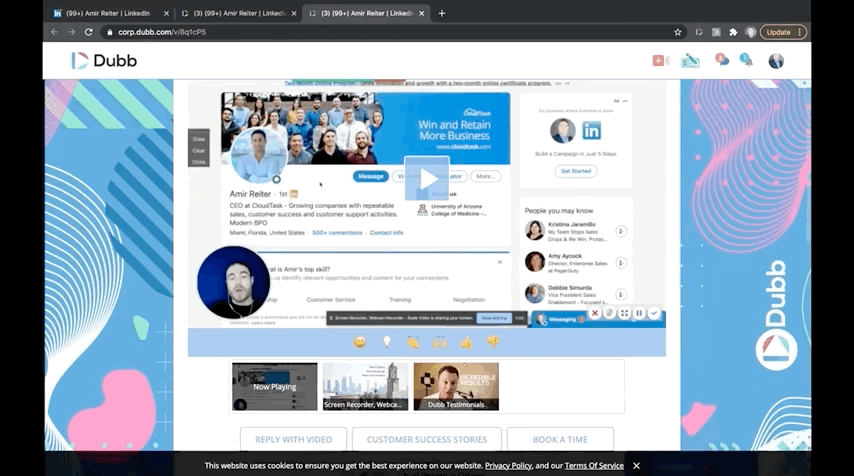 As if that weren't enough, Dubb lets you leverage and edit beautiful presets for your Dubb Action Pages. Depending on your overall objective, you can select a particular template and customize it for your own needs. When you are done, you can use that edited template for all of your new Dubb videos. It will be automatically used when you upload a video to the Dubb platform. 
Combined, all of these features make a huge difference. You will find that Dubb Action Pages provide more functionality and customization. Moreover, you'll get more conversions. What's not to like?
The Dubb Mobile App
Moving on from video landing pages, let's discuss the Dubb mobile app. You can find it for both Android devices and iOS devices. The Dubb mobile app is so powerful because you can record and edit high-quality content wherever you are. In other words, you don't need to be at your desk to create stellar videos for your audience. 
You can see the power of the Dubb mobile app right when you open it on your phone. The app makes it extremely easy to shoot any type of video content, whether it is a selfie video as you are walking down the street or a video interview with a satisfied customer. Once you are finished recording, you can easily edit your video. Some of the editing features include royalty-free music, text overlays, on-screen emojis, and more. In effect, you have a powerful editing studio right in your pocket. 
After you've made your edits, you can seamlessly upload your polished creation to Dubb. Whether you are uploading your video from the Dubb mobile app or using the Dubb Chrome extension, you automatically get a Dubb Action page. As a reminder, this Dubb Action Page is an awesome central hub for your specific video. By directing your viewers there, you can leverage all of the Action Page features and generate more sales.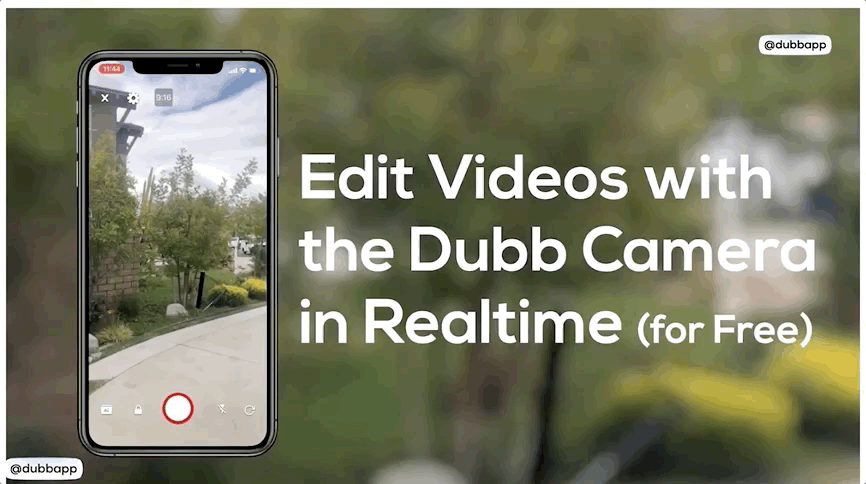 Distribution
Drift Video competitors provide distribution options for video content. That being said, I believe that Dubb's distribution options are second to none. 
Drift Video focuses on copy and paste distribution. To put it simply, using Drift Video, you need to copy and paste your video content into your audience communications. If you want to send a video via LinkedIn, for instance, you'll need to copy and paste that particular video in a LinkedIn message. 
With Dubb, however, you have a few more options. Yes, you can copy and paste your videos if you'd like. You can do so into any email platform, CRM, text message platform, social media platform, and more. However, you can also send bulk video emails and text messages to your audience. This can be extremely useful in a number of scenarios, whether you are trying to promote a new product or service or just want to check in with a few key prospects. 
Once your bulk video emails or text messages are sent out, you can quickly analyze how your videos are performing. You can even leverage your own third-party system to send and track bulk email campaigns. If you are a Salesforce or HubSpot user, for instance, you'll find a seamless integration here. 
In the end, there aren't as many differences on the distribution front compared to other fronts. However, if you want to move beyond simple copy and paste functionality, you should check out Dubb. 
Pricing
Finally, let's briefly discuss pricing. Drift Video competitors like Dubb offer different pricing tiers. In some situations, you'll need to speak with a company representative to get full pricing. In other situations, you can find the pricing directly on that company's website.
With Drift Video, you will need to interact with a chatbot to get your approximate pricing. That chatbot will ask you for details about your organization and what you need from the Drift Video platform. What we can see is that Drift Video offers several different tiers of plans.
In the free tier, for instance, you get a scaled-down version of Drift Video. Some of the features that you'll get include live chat, welcome messages, basic reporting, and help docs. The Premium plan is for small and medium-sized businesses. This includes everything in the free plan, along with custom chatbots, a dedicated customer service manager, and more. Drift's Advanced plan includes everything in the Premium plan. Also, you get workspaces and advanced lead routing. Finally, Drift Video's Enterprise plan is a custom solution for much larger businesses.
To view Dubb's complete pricing menu, go ahead and click here. There are two plan categories: "Sales, Marketing & Comms" and "Internal and Support." If you are a teacher or educator, you can leverage a completely separate plan which is free.
I recommend that you follow the link above to see all of the different pricing options. We take pride in offering the most features for the most competitive prices. For instance, in Dubb's Pro plan under the Sales, Marketing & Comms vertical, you get things like HD video, 10,000 contacts, calls to action, native forms, and more. This plan goes for $32 per month (if paid for one year in advance). If you are paying month-to-month, the plan is $40 per month.
You'll definitely want to view our pricing page to get a full lay of the land. The bottom line? We are proud to offer a plan for everyone. No matter your budget or organizational size, you will find an awesome plan that lets you leverage the power of video. 
Get Started Today
While there are plenty of Drift Video competitors out there, I believe that Dubb offers you the most features at the best possible prices. Our team is always adding more features to the platform. Our goal is to make it as easy as possible for you to use video to grow and scale your business. Whether you are a solopreneur that just started your business or are a sales leader that is analyzing Drift Video competitors, you can rely on Dubb to make your life easier.
To learn more about Dubb and how it can provide value to your company, click here. You can also click here for a free seven-day trial of our premium plans.