Are you looking for a Drift Video alternative? 
Drift Video is a tool that can be used to help salespeople and marketers accomplish their business goals. Having said that, Drift Video isn't the only tool in this area. Our team at Dubb is proud of our extensive suite of features and tools that can help salespeople and marketers get more done, build better relationships with prospects and clients, and generate more sales.
Because some prospective customers compare both Drift Video and Dubb, I think it's a worthwhile exercise to compare the two. Ultimately, if you are in the market for a Drift Video alternative, I highly recommend that you check out Dubb. Even though I may be biased, I believe that Dubb offers some killer features and tools that can accelerate your sales and marketing work.
A Drift Video Alternative: The Similarities Between Drift Video and Dubb
To see why Dubb is a great Drift Video alternative, we are going to look at some of the similarities and differences between both platforms. The best way to see the similarities and differences is to try out both platforms yourself. However, if you don't have time or want a quicker way of seeing these similarities and differences, you're in the right place.
To get started, let's take a close look at the similarities between Drift Video and Dubb. 
I think a great place to start is their overall missions. Both Drift Video and Dubb have an overarching focus on sales and marketing. Both build tools that can help salespeople and marketers use the power of video to accomplish their goals. Whether they want to build closer relationships with key prospects or build brand equity in their sector or industry, these platforms can help them with these goals.
If you were to look at other video creation, editing, and distribution tools, you would find it more difficult to find those that predominantly focus on sales and marketing. Those tools are focused on creating the most stunning videos that you can create. While these sorts of tools can add value, they may not offer everything you need in a sales or marketing context. For instance, you may not have the ability to send one-to-one videos or include calls to action at the bottom of your video content. They may not offer video landing pages, which can be the hub for every piece of video content that you have. The list goes on and on.
Ultimately, Dubb and Drift are catered to the sales and marketing crowd. That doesn't mean that you can't use these tools if you don't have a sales or marketing position. Having said this, whether you are an entry-level marketing professional or the VP of sales at your organization, you will see that Drift Video and Dubb are much more focused on the problems that you frequently face. 
So from a broad level, Drift Video and Dubb are focused on helping salespeople and marketers leverage the power of video. Along with this, Drift Video and Dubb have many different features that can help you accomplish your sales and marketing goals. One of the best ways to look at their feature sets is to go to their respective websites. However, looking at both platforms from a broad level, you can see that there are plenty of excellent creation, editing, and distribution features. 
For instance, both platforms offer Chrome extensions. Using those Chrome extensions, you can easily record any type of video content from your desktop or laptop. They allow for unlimited takes and make it easy to record a video of yourself, your screen, or both. Once you are finished recording, you can easily upload your videos to the Drift Video or Dubb platforms.
Along with Chrome extensions, you will find plenty of direct integrations. Integrations are crucial features because they let you use both Drift and Dubb inside your favorite platforms. For example, if you are using LinkedIn or Gmail and have downloaded the Dubb and/or Drift Video Chrome extensions, you will see little Dubb or Drift icons inside those platforms. By clicking on those buttons, you can easily access both Chrome extensions. 
Another key feature that you will find in Dubb and Drift Video is video landing pages. Why are video landing pages so powerful? Ultimately, I think it comes down to the fact that they can be a central hub for your video content. Video landing pages not only include the individual videos themselves, but they can include things like calls to action, additional videos as part of a playlist, and your specific contact information. With all of these features on one page, your viewers will be more engaged and more likely to travel down your sales funnels. The video landing pages are different, but both Dubb and Drift offer them to their users. 
From video landing pages, Dubb and Drift offer their users plenty of analytics and data. Without being able to measure the effectiveness of your video content, you will find it much more difficult to create more effective videos. With Dubb and Drift, you get to access lots of data about every individual video's performance. Even if you aren't obsessed with checking the granular data, it is there if you want to really analyze your video content.
Finally, Dubb and Drift have some similarities in terms of distribution. With both platforms, you can easily copy and paste your video into other platforms. If you want to quickly insert a video into a specific message, for instance, this copy and paste feature can make your life easier. Having said this, there are fewer similarities on the distribution front compared to the other broad areas that I discussed above.
Now, the Differences
As you can see, Dubb is a natural Drift Video alternative. There are plenty of similarities between the platforms, and those similarities can make life much easier for salespeople and marketers.
Having said this, there are some notable differences between Dubb and Drift Video. These differences will certainly impact your user experience and how you use both tools to accomplish your goals. 
Chrome Extensions
To start off, let's take a closer look at both the Dubb and Drift Video Chrome extensions. Like I mentioned above, these Chrome extensions can help you easily record and distribute your video content. Nonetheless, there are some differences.
When using Drift Video's Chrome extension, you can see that there are several important features. You can record your screen, record your webcam, or record your webcam plus your screen. You will start recording after a three-second countdown. As you are recording, you will see that there are some additional features. You will see a pause button, stop button, restart button, and an option to resize and move the webcam bubble. Unlike Dubb, however, there is no annotation feature here.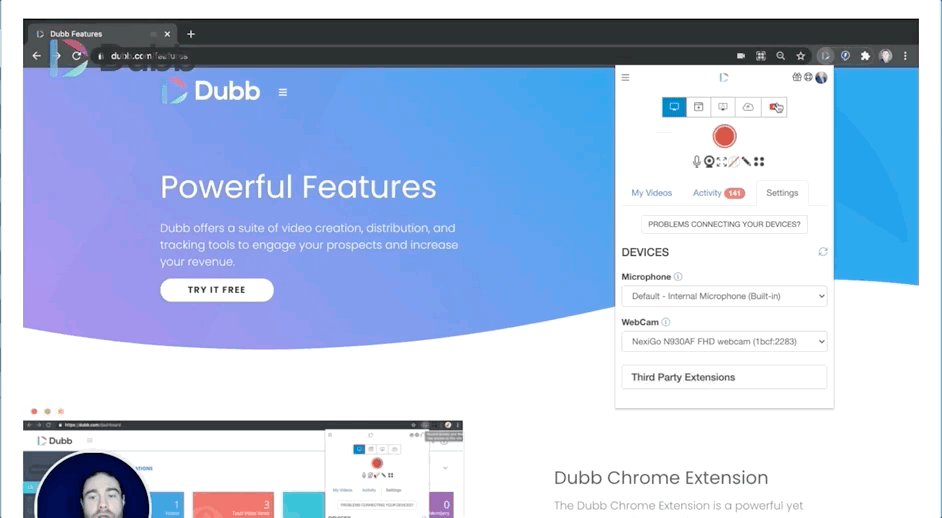 Now, let's look at Dubb. You will see that there are a few more options with the Dubb Chrome extension (which you can find by clicking here). As a starting point, you can record your full screen, webcam, your current tab, or easily upload a video to Dubb itself. By clicking on the big red button, you will also see a countdown before the recording begins. That being said, unlike Drift Video, Dubb gives you the ability to start your recording with a full-screen option. This is a great way to show off your face and your personality before you start sharing your screen. During the middle of the video, you can always minimize the full screen so that your face only takes up a certain segment of the screen. 
That's not all. With Dubb's Chrome extension, you can easily access an annotation tool. Using this annotation tool, you can easily draw on your screen and highlight certain parts of your screen. This is especially helpful when you are delivering presentations or delivering a walkthrough for a certain prospect or customer. You always have the option to annotate your screen—no matter the video that you are recording. 
In sum, both Drift Video and Dubb offer Chrome extensions. Nonetheless, Dubb offers a few more features that can be super helpful in the sales and marketing contexts. The best way to see is to try both of them out for yourself.
Some Differences with Integrations
From the Drift Video and Dubb Chrome extensions, let's now move on to some differences related to integrations. To reiterate what was discussed above, both Drift and Dubb offer many different integrations through their Chrome extensions. If you are using Gmail or LinkedIn, for example, you will see the Dubb and Drift icons when you're composing a message. 
When using Drift in Gmail, for instance, you will go ahead and click on the Drift icon. From there, you can access your Drift Video library or record a video directly in Gmail. When you want to insert a pre-recorded video into your Gmail message, you will need to click the copy button first. The insertion doesn't happen automatically. Once you click on that copy button, you can insert your video into the Gmail message. Pasting that video into Gmail will also generate an animated GIF, indicating to the recipient that he or she should click on the video.
Dubb's experience is a little different. Simply put, there is more functionality here. Once you click on the Dubb icon in your Gmail message, you can do many different things. You can search through your library, use some filters to sort through all of your videos by video types, and easily find a specific video by searching for its name.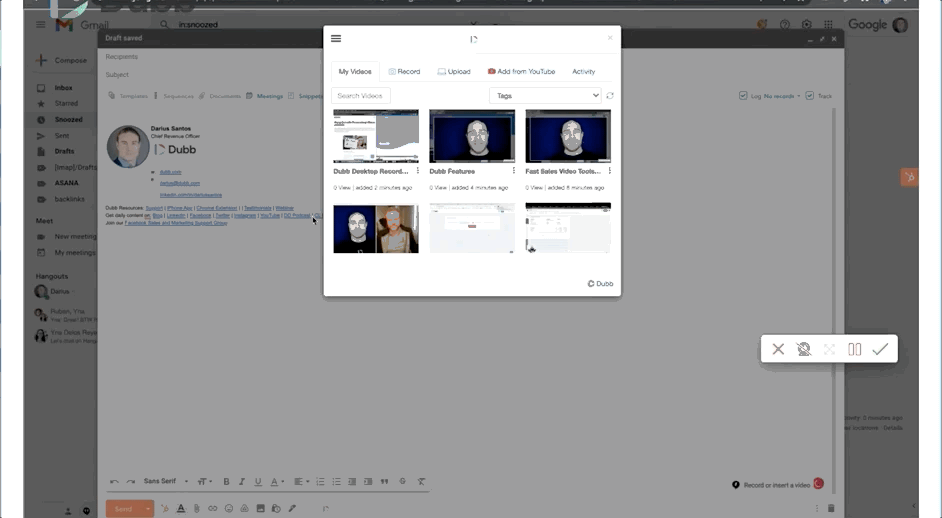 Along with this, Dubb lets you take advantage of personalization text. Personalization text is an extremely powerful feature, as it can help you build closer relationships with members of your audience. With personalization text, you can include your target's name and other information that you may find necessary. Once you have chosen that personalization text, you will see that it is displayed right above your video. Also, you don't need to copy and paste that video into your Gmail message. Instead of that, Dubb automatically inserts that video, saving you a few clicks and letting you focus on other important things. 
This functionality doesn't only exist on Gmail. You can find similar functionality on LinkedIn. Once you click on the Dubb icon in a LinkedIn message, you can easily insert your video in your LinkedIn message and add any personalization text as you see fit. To reiterate, you don't need to rely on a copy and paste feature to send your video through a LinkedIn message. Rather than that, you can simply let Dubb automatically insert the video into your message. Even though you are just skipping one step here, this automatic insertion feature can save you time and effort as you are completing your work. 
Receiving Videos
Direct integrations aren't the only thing that makes Dubb a fabulous Drift Video alternative. Dubb and Drift have plenty of differences for audience members that are consuming your video content. Because the recipient's experience is so crucial in video sales and marketing, you want to make sure that he or she is having the best possible experience when watching your videos.
To start with this section, let's take a quick look at Drift Video. With Drift, audience members will see a little GIF once they receive a Drift video. That GIF is a placeholder for the video that you have recorded. Once that audience member clicks on the GIF, he or she will be taken to a specific Drift video page. On that video page, that audience member will find the actual video on the left hand side and Drift chat options on the right hand side. Using those chat options, the user can communicate with you or one of your colleagues. These real-time conversations can help you move leads and prospects down your sales funnel. 
Like Drift Video, Dubb also offers its own video landing pages. That being said, there are some differences here. If you subscribe to one of Dubb's premium plans, you have the ability to customize your logo, URL, and color scheme on the video landing page. All of this means that you can make each of your video landing pages more branded for your viewers. It creates a more consistent message, which will prevent your viewer or prospect from being confused about your video or your organization.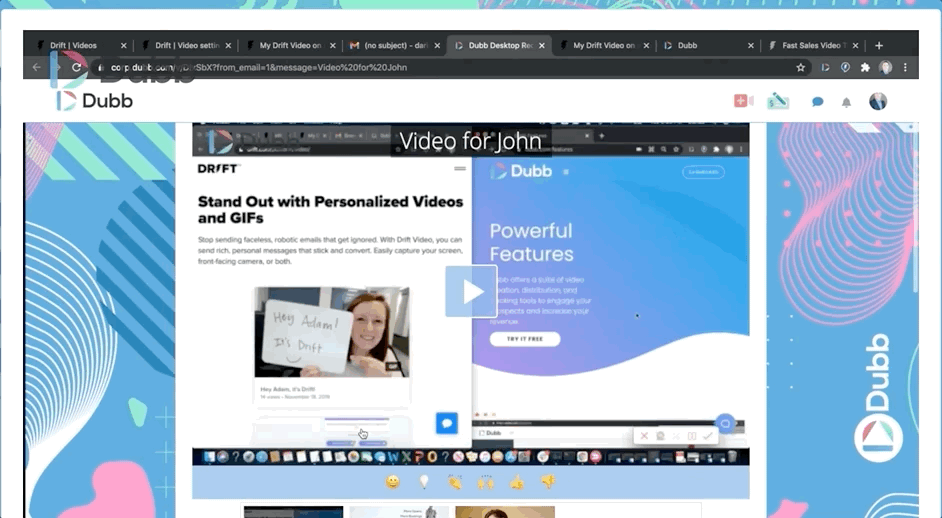 An audience member reaches your Dubb video landing page by clicking on the animated GIF in their Gmail or LinkedIn message. The GIF has a play button and a timestamp. Compared to Drift Video, your user can see personalization text at the top of the GIF. This will make it more likely for them to click on the GIF and get to your Dubb video action page. Even better, because you can add personalization text at the top of your videos, you can recycle certain video content and still make it personal. 
Once they click on that GIF and visit your Dubb landing page, your audience members will see certain differences from Drift. For one thing, there is Dubb's playlist feature. The playlist feature is powerful because it lets your viewers automatically see a preselected video after viewing your first video. It's somewhat like the autoplay feature on YouTube, yet you and your colleagues control what video (or videos) are next. This playlist feature can provide immense value to your organization, as your company can completely control the viewer's journey from start to finish.
Along with the playlist feature, Dubb offers plenty of calls to action. You probably have heard of calls to action before. Essentially, they are ways to lead your audience members down your sales or marketing funnels. Whether you want an audience member to make a purchase or simply learn more about your organization, calls to action can help you get the job done. 
On Dubb, you will find plenty of calls to action. They can be programmed essentially any way that you'd like. For instance, your call to action can be the viewer downloading an eBook or white paper, completing a form, scheduling a call on your calendar, communicating over Facebook Messenger, reply with a video of their own, or even making a purchase. Whatever you can imagine, you can include it as a call to action on your Dubb video page. 
To wrap it up, Dubb video landing pages also offer plenty of customization. You can leverage a template feature to include the same customizable elements on any Dubb video landing page. Multiple templates are also available, meaning that you can instantly and easily customize your landing page depending on your overall objective. With Drift, you are only getting a basic template, so you aren't able to leverage this type of optionality there. 
In the end, there are substantial differences when speaking about the video page experiences on both Drift Video and Dubb. Dubb offers more options and more customization, meaning that your video pages can be constructed exactly as you envision. You simply don't get the same functionality with Drift.
The Dubb Mobile App
Now, let's take a close look at the Dubb mobile app. I believe that the Dubb mobile app offers users an outstanding way to create stellar content when they are away from their desks. Whether you are in your car or are exploring the world around you, you can use the Dubb mobile app to create content that your audience will love. You can find the Dubb mobile app for both iOS and Android devices. 
When you open up the Dubb mobile app, you will find that it has an immense amount of power. As a starting point, you can easily shoot video content when you aren't on your desktop or laptop. The mobile app makes it so easy to capture really any type of video content, whether it is an impromptu interview with one of your prospects to some passing thoughts on your industry on your daily walk. The editing process is also seamless. You can leverage features like royalty-free music, on-screen emojis, text overlays, and more. 
Once you have finished with the recording process, you can easily edit your video and upload that edited video to Dubb. As a reminder, for every uploaded video, whether it is from the Dubb Chrome extension or the Dubb mobile app, you automatically get a Dubb video page. That Dubb video page can be your hub as you share that video with members of your audience. Whether you record your video content from your computer or while using the Dubb mobile app, you can confidently create great content for prospects, customers, and others. 
Distribution
To wrap up this comparison, let's talk about distribution. You may create the most stellar piece of video content, but without solid distribution capabilities, all of that hard work may be for naught.
Looking at Drift Video, we can see that Drift focuses on copy and paste distribution. Essentially, the software wants you to simply copy and paste your video content into the messages that you are sending to your audience. 
Distribution works slightly differently with Dubb. As a starting point, you certainly have the option of leveraging copy and paste functionality. You can copy and paste your video content into any type of system, including a CRM, email platform, social media platform, text message, and more. 
That being said, copy and paste isn't the only way to distribute your video content. You can use Dubb to distribute bulk video emails and bulk video text messages. Dubb lets you send one video to a very large audience, for instance. Once you have sent that video out, the technology lets you analyze how your audience is interacting with your video. Dubb and Drift Video's analytics features are relatively similar, however, Dubb's built-in sending features let you automatically access all of your data.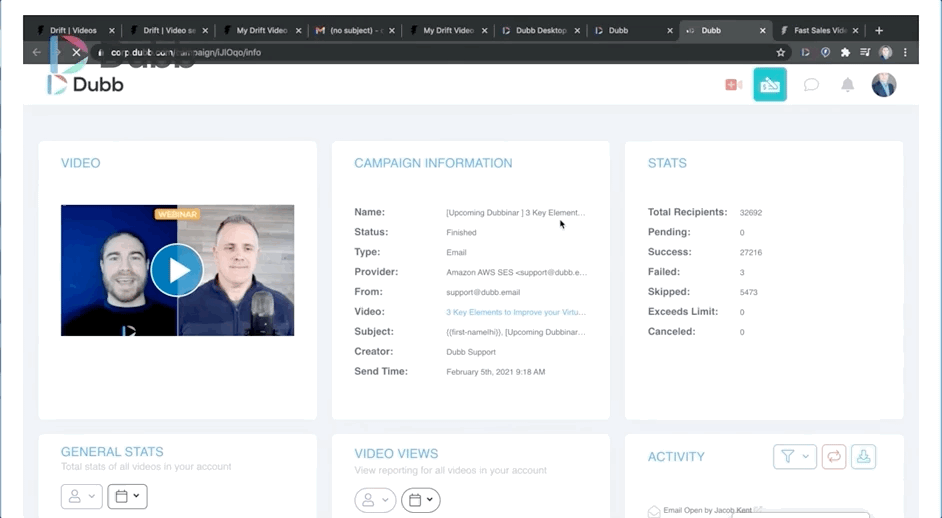 All of this is well and good. However, Dubb goes one step further and lets you leverage your own third-party system (like HubSpot or Salesforce) to send and track bulk email campaigns. It is yet another way that you can use Dubb in conjunction with the tools that you are already using.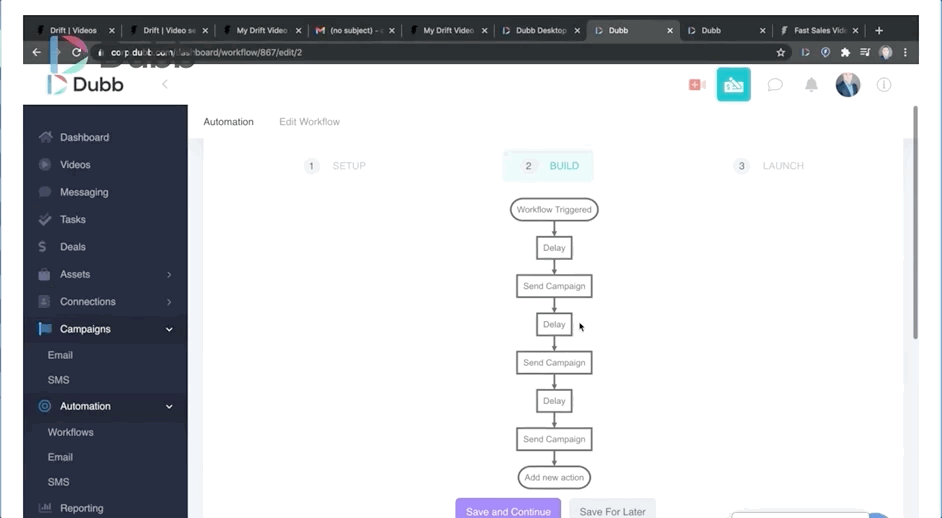 Moving Forward With Your Choice
So as you can see, there are some similarities between Drift Video and Dubb. However, if you are looking for a Drift Video alternative, Dubb can be a fantastic choice. From the Dubb mobile app and video landing pages to plenty of distribution options, you can use Dubb to accomplish all of your sales and marketing goals. 
Ultimately, I encourage you to give Dubb a try. You can sign up for a free seven-day trial of our premium plans by clicking here. To learn more about Dubb itself, click here. Finally, click here to contact us with any questions or comments.