In this recap of a Dubb Support video, we are going to address the question of how to use video to grow your recruiting business. Whether you are just starting your recruiting business or are looking for another way to grow and scale your business, you are going to find a significant amount of value here. If you want to view the video in its entirety, go ahead and click on the video above. I hope you enjoy the discussion!
Have you been wondering how to use video to grow your recruiting business? Have you also been searching for ways to make it much easier to accomplish your sales and marketing goals?
Being in the recruiting industry, you undoubtedly provide a significant amount of value to your clients, whether they are individuals looking for a new opportunity or companies looking for a new A-list hire. You and your colleagues are working hard to deliver the best possible value to your clients. At the same time, you need to spend time growing your own business. The recruiting sector is undoubtedly competitive, so it is absolutely critical to invest in your own business's growth.
One great way to do that is through the power of video. In this post, we are going to take a deep dive into how to use video to grow your recruiting business. We will discuss everything from the value of video in the recruiting space, how you can use Dubb to better connect with your prospects and clients, how you can leverage different types of videos for your specific needs, and more. At the end of this post, you will have some outstanding tips and strategies that you can use to accomplish your growth goals—whatever they are. 
Let's jump into it.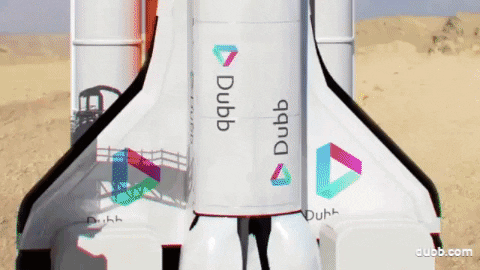 The Value of Video in Recruiting
To kick off this conversation on how to use video to grow your recruiting business, I want to spend some time discussing why video can help you accomplish your sales and marketing goals. Without understanding the why, it is much more difficult to follow through and actually implement these strategies. 
So what are some of these benefits of video in recruiting?
For starters, there is better communication with your audience. Your audience can include everyone from prospective clients to individuals or companies who may have just heard about your recruiting business. Video lets you deliver a more humanized message to that audience. Your audience can actually see and hear you talking about your recruiting business and the value that it can provide. This is much more effective than pitching your services solely through text. Along with this, video lets you build trust with your audience. Again, that trust comes from your audience members being able to physically see and hear you deliver your message. Because trust is such a crucial part of the recruiting business, video can help you quickly strengthen your relationships and turn interested prospects into clients. Video also leads to better communication because it is easier to remember. As humans, we have a natural propensity to favor images over straight text. Because of this, creating high-quality videos for your audience will make your business more memorable. This, naturally, increases your chances of bringing on more clients. 
Along with better communication with your audience, video offers very powerful methods of prospecting. While it may be a cliche phrase, video lets you break through the noise. In all of our lives, there is an increasing amount of pure noise. Whether we are scanning our social media feeds or are simply reading the newspaper, there's often too much noise and not enough signal. These days, it takes a lot to separate our businesses from the competition, and a great way to do so is by leveraging the power of video. We are going to discuss this in much greater detail, so stay tuned. 
Finally, video lets you create better content. Video lets you tell extremely compelling stories. Whether you are discussing the origins of your recruiting business or sharing a case study about how your work helped a client find their dream role, video helps you keep your audience on the edge of their seats. Not only can you create stellar content through video, but you have so many ways to customize your videos. 
These are just some of the many ways that video can help you reach your business goals. If I had to sum it up, however, video helps you generate strong relationships with any type of audience. Those strong relationships can lead to sales. Even if those sales don't occur right away, you are putting yourself in a fantastic position to convert interested prospects into paying clients. It may take some time, but as long as you continuously provide value in your videos, time is on your side. 
How You Can Use Dubb to Grow Your Business
Understanding why video is so important, let's take a deep dive into how to use video to grow your recruiting business. To do so, we are going to use Dubb. Dubb, if you haven't heard of it already, is an all-in-one solution that lets you create, customize, and distribute your videos. We offer a comprehensive suite of tools that helps recruiters like you reach your sales and marketing goals. 
If you haven't yet signed up for Dubb, you can do so by clicking here. If you are a new user, you can click on that link to sign up for a free 14-day premium trial of our paid plans. Once you have signed up (or have logged into your already-existing account), you will want to visit your Dubb dashboard.   
Creating Your Videos
In order to unlock the power of video for sales and marketing, you will obviously need to create some video content. Dubb makes it extremely easy to create stellar videos—wherever you are. To help you accomplish this task, you can use several different tools. 
The first is Dubb's mobile app. You can find the app for iOS and Android devices by clicking here. The Dubb mobile app offers so many different features and tools to help you record professional content wherever you are. For instance, you can use either your front or rear-facing camera to record, add emojis and music, splice together several disparate clips, and more. Even better, to get these impressive visuals, you don't need to use a professional video editor like iMovie. You can make all of these edits right from the Dubb mobile app. If you want to learn more about how to get the most out of the Dubb mobile app, you can do so by visiting the video tutorial center on your Dubb homepage. If you go to the Dubb dashboard, you can find it by clicking on the "i" button. Feel free to consult these videos as you need to.
The next way to create videos on Dubb is through the Dubb Chrome extension. You can download the Chrome extension by clicking here. Once you have downloaded it and opened Chrome, you will see a small Dubb icon on the top right part of your browser. Upon clicking on that icon, you will be able to quickly record your screen. If you want, you can also record yourself using your webcam and then include that webcam feed in a corner of your screen recording. After clicking on the record button, you will see a three-second countdown before your screen starts being recorded. As you are recording, Dubb also gives you access to an annotation tool, letting you make drawings, marks, or other annotations on your screen. This is especially helpful if you want to emphasize a particular point on your screen (for instance, if you want to point out where a potential client should sign a contract). Again, the Dubb Chrome extension lets you create dynamic videos without using a video editor.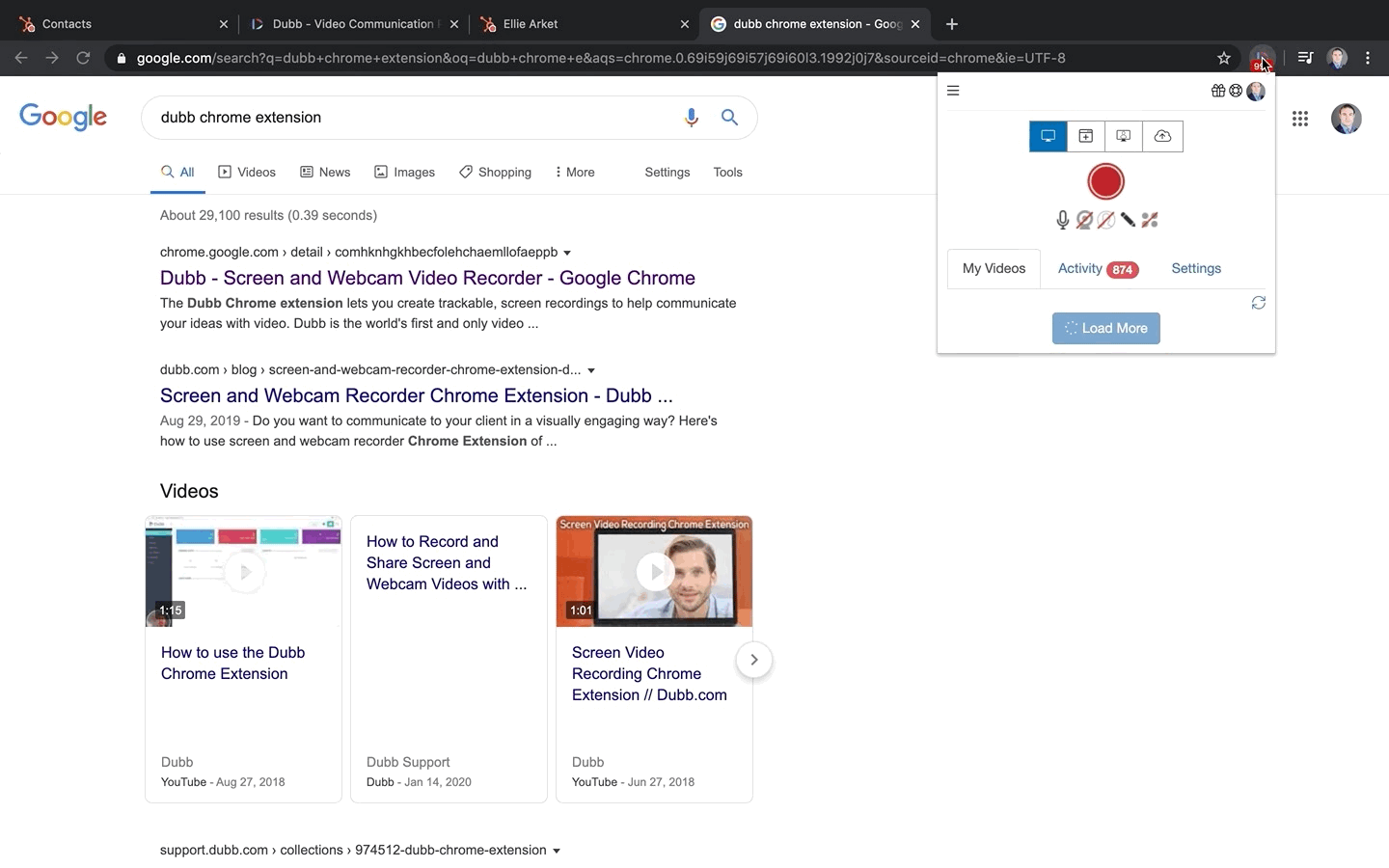 To better illustrate the power of screen recordings, let's go over a brief example. Say that you want to use a screen recording to better show off your skills and expertise. To do this, you can pull up a report on some hiring statistics in your area (or some other type of white paper or report). Then, you can use that report as your screen recording background and begin recording. From there, you can take it in any direction that you want. You can discuss some of the more granular aspects of the report or use the report as a jumping off point to discuss your own business. As referenced above, you can use Dubb's annotation tool to highlight or emphasize certain parts of your screen. Ultimately, by executing on this idea, you can leverage hard data and statistics (whether collected by you or someone else) and display your knowledge and expertise of the recruiting market. Then, once you have this video, you can post it wherever you'd like (including on social media channels like LinkedIn, your email lists, and more). 
From there, you can record video content through Dubb's website recorder. When you go to your Dubb dashboard, you will see a large plus button at the top part of your screen. By clicking on that button, you are taken to a separate page where you can upload a previously-recorded video from your computer, record a new video with your webcam, or add a video directly from YouTube. Once you select or record your video, you will receive a customized video landing page of your own (we will talk about this in a few moments, so stay tuned). 
The last place that you can record video content is through Dubb's integrations. We are proud to offer direct integrations with many of the most used tools and apps on the Internet today, including LinkedIn, Gmail, many different CRM systems, and more. To take advantage of this, you will need to install the Dubb Chrome extension. Once you do, however, you'll notice that you can record Dubb videos in so many different ways. For instance, if you open your Gmail account, you will see a little Dubb icon inside of the toolbar. When you click on that button, you'll see several things. You will see several different tabs, including your videos already uploaded to Dubb, the ability to record a new video or upload an already-existing video, the ability to add a video from YouTube, and some analytics about your videos. If you want to insert an already-existing video into an email, for example, you would just need to click on the video. Then, it would be dropped into your email (along with a three-second animated GIF from the video).
Customizing Your Videos
Now that we have talked about how you can create awesome sales and marketing videos with Dubb, let's talk about customization. This is a critical point in this discussion of how to use video to grow your recruiting business. 
When we are creating videos, it is often for a very specific reason. While the reason may differ depending on the prospect and your current needs at the time, generally speaking, the video is there to drive sales and conversions. 
Every video that you create and/or upload to Dubb has its own video landing page. On the video management portion of your Dubb homepage, you can let your customization desires run rampant as you customize your video landing page. You can add buttons and links, customize the way that the page looks, and more. One of my favorite features is the customizable call to action button. Because you are creating videos to find new clients, you will find that call to action buttons can be a massive help as you move a prospect down your sales funnel. On Dubb, you can leverage so many different calls to action, including the ability for a viewer to directly schedule a call on your calendar, the ability to communicate with your viewer through Facebook Messenger, the ability to send a video reply to your initial video, the ability to fill out a form or download an attachment, and more.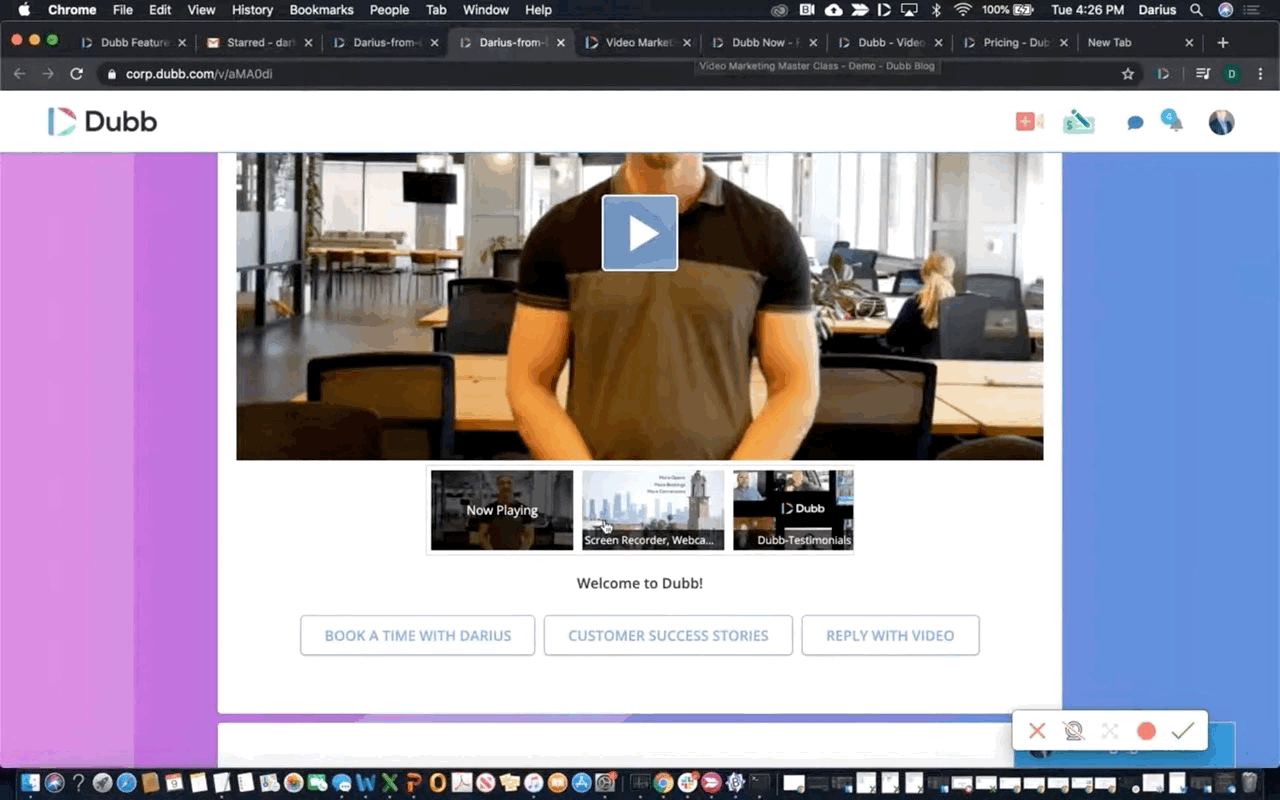 It's also important to notice what your video looks like when you are sharing. As a Dubb user, this is extremely easy to see. All you need to do is click on the "Share & Send" button and copy the link to your video. If you copy that link into an email, for instance, you will see that three-second animated GIF that I previously mentioned. You can also add personalization text, which makes it more likely that your viewer will click on the GIF and watch your video. You will also see a timestamp and Dubb branding (the Dubb branding is removed on paid accounts). 
You will see a similar experience when you are sending a video through a text message or social network like LinkedIn. However, your viewer won't see an animated GIF. Instead, they will see a still thumbnail preview of your video. 
Ultimately, when we are sending our videos through these channels, we want our thumbnails to be as interesting as possible. Think about it: if you have interesting thumbnails, you increase the likelihood of a potential viewer clicking on the thumbnail and watching the video. So how do you do this? One interesting way to do this is by creating a screen recording video with your viewer's LinkedIn page in the background. Then, you can say something like, "Hey, _____, I wanted to reach out to you to discuss a few things. I saw that we had a few mutual connections. The real reason I wanted to reach out to you, however, is because of X, Y, and Z." I'm sure that you can come up with a better way to do this, but the point still stands. However, creating this type of video with the prospect's LinkedIn profile page as the background can really make your video pop. Whether they are viewing a three-second animated GIF of the video or a still thumbnail, they will be much more likely to click on the link and watch the video. You tilt the odds even more in your favor by adding personalization text above the video itself. 
Once your viewer has clicked on the link, they will visit your Dubb video page. There, they can view the video in its entirety. They will also see the call to action buttons (some of which we discussed above). You can also customize the color schemes and include your brand logo. Really, you can use your Dubb video pages as central hubs to build stronger relationships with your viewers and get them closer to becoming clients of yours. Whether you are trying to build stronger relationships with employers and/or potential candidates, your Dubb video pages can help you get much closer to your goals. Better yet, you can customize your video landing pages once and have them appear the same way for all of your videos. This means that you can offer consistent branding to all of your viewers, which both saves you time and gives you the peace of mind that you are delivering the same viewer experience. 
One additional feature for video landing pages that I didn't mention is the playlist feature. This is a great way to combine short-form and long-form video content for your audience. One of the classic ways to do this is to record a very brief, extremely personalized video for the viewer. Then, once the viewer watches that video, a longer video will immediately begin to play. That video can be virtually anything. It can be a video describing your product or service, your company's origin story, or something else. Ultimately, you want to tack on a video that you think will provide value to the viewer. Typically, this longer video has more production value, so keep this in mind. You can even include a video testimonial or two, which is an outstanding way to build social proof and show the value that your recruiting business brings to the world. But in the end, by combining this hyper-personalized quick video with a longer, more generic video, you are putting yourself in a great position to build a strong relationship with the viewer. 
As a recruiter, you want to make people feel special. Using Dubb, you can do this through customized thumbnails, personalization text, relevant videos in a playlist, and more. By doing all of this, your viewer will think, "This person did their homework. They respect my time and I am interested in learning more from them." Make sure that you are customizing the experience based on whether you are targeting an employer or a candidate. By spending the time doing this, your customization work will really pay off. 
How to Distribute Your Video Content
The last thing we are going to discuss is distribution. Distribution is something that many content creators don't often think about, yet it is vital to achieving your sales and marketing goals. Just think about it: you may have created the best sales video imaginable. However, if your target audience isn't able to view that video, your time may have been better spent doing something else.
The good news is that with Dubb, distribution is extremely easy. We have already covered a few of the ways that you can share your videos. For instance, with Dubb's many integrations, you can send awesome Dubb videos through platforms like Gmail, Outlook, LinkedIn, plenty of CRM systems (like Salesforce), and more. To do this, all you need to do is go to your favorite platform, click on the Dubb icon, and you can proceed from there. As a reminder, to access the feature, you will need to download the Dubb Chrome extension. 
Also, you can take advantage of Dubb's universal copy and paste feature. It's extremely easy to use. All you need to do is go to one of your videos on your Dubb profile page. Then, you can press the blue "Share & Send" button. On this page, you can quickly add some personalization text and then click on the "Copy for Email" button. Once you do this, you can paste your video into virtually any channel you want, whether that is Apple Mail, AOL mail, text messages, Google Voice, CRM systems, and any social media channel. You can also copy and paste your video into other email tools like MailChimp. That said, when doing this, you won't get the same detailed analytics that you would if you were sending your videos through Dubb. 
As a Dubb user, you can also get detailed analytics for each of your campaigns. Let's go back to that screen recording video about recruiting trends in your market. Going further, let's assume that you want to see whether certain prospects actually watched this specific screen recording. You can easily do this on your Dubb dashboard. All you need to do is click on the "Marketing" tab, then "Campaigns," and then "Emails." Then, navigate to a specific campaign and click on the blue button underneath the "Actions" tab. On this campaign information page, you can see who has watched your video and how much of your video they watched. You can even see whether specific viewers have clicked on any of your call to action buttons. 
Finally, Dubb gives you the power to create automations (in other words, drip sequences). Automations are so powerful because they help you engage with your audience 24/7/365. Even while you are sleeping, your video content can be hard at work for you and your business. Using Dubb, you can create as simple or as complicated drip sequences as you want. 
For instance, you can create a drip sequence that automatically sends a series of emails once a prospect completes some form on your website. You can insert delays into that drip sequence and even add different branches depending on how a prospect responds to one of your earlier emails. And when you have a situation where a lead is non-responsive, you can create another type of automation that is more centered on nurturing and providing value. These are just some ways that you can use automations and drip sequences, so definitely feel free to experiment. You may come up with a killer automation sequence that helps you reach many of your sales and marketing goals. 
Getting the Most Out of Video
We started this discussion with the overarching question of how to use video to grow your recruiting business. This has taken us on a wide-ranging journey, where we discussed things like why video is so powerful, how you can use Dubb to create stunning videos, and how you can rely on Dubb to effectively distribute your video content to your target audience. As you can see, video is an extremely powerful tool for any type of recruiting business. Whether you are trying to convince a certain prospect to work with your business or simply want to build your brand equity, video can help you get the job done. 
Therefore, if you haven't yet used video for your business, I encourage you to get started today. Go to dubb.com, sign up for a free account, and start making selfie videos for your prospects. And if you are already making video content for your recruiting business? Don't hesitate to implement some of the tips and strategies discussed above. I think you'll be satisfied with the results.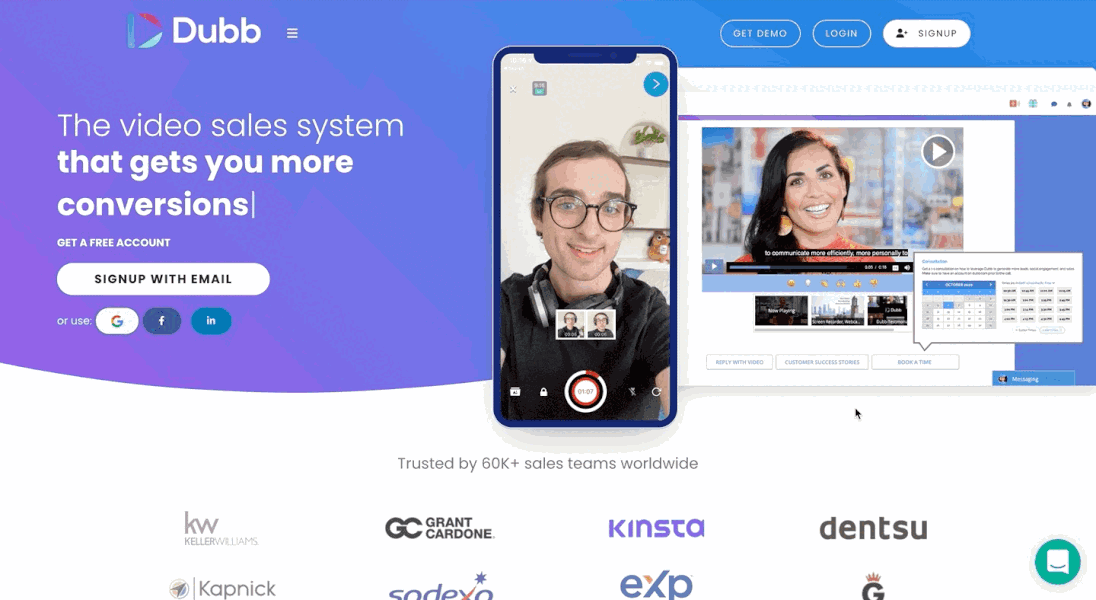 At Dubb, we love thinking about topics like how to use video to grow your recruiting business. If you have any questions about the topics discussed in this post, don't hesitate to contact our team. You can also click here to learn more about Dubb and click here for a free 14-day trial of our premium plans.