In this recap from a Dubb Support video, we are going to discuss how to use video for real estate sales. Here, you will learn how video is essential to real estate sales, how to make a great sales video, and how Dubb can help you with all of this work. Whether you just entered the real estate industry or are looking for a better way to convert your prospects, you can use the tips and tricks in this post to get the job done. If you want to view the video in its entirety, go ahead and click on the play button above.
Have you been wondering how to use video for real estate sales? If so, you have come to the right place. Real estate professionals like you can use the power of video to build stronger relationships with your prospects, build your personal brand, and generate more sales. In other words, investing in video content is one of the best ways that you can get closer to your sales and marketing goals.
At the same time, it can be somewhat confusing to get started. At Dubb, we understand this. In fact, Dubb's origin story is based in the real estate industry. Since then, it has grown to become a platform that can help all sales professionals and marketers grow their businesses. At the same time, however, we have a soft spot for professionals in the real estate industry. We're confident that you can get an immense amount of value from our platform.
To show that type of value, I want to take a deep dive into how to use video for real estate sales through Dubb. At the end of this post, you are going to get some great ideas on how you can use video and the Dubb platform to reach your sales goals. Let's jump into it!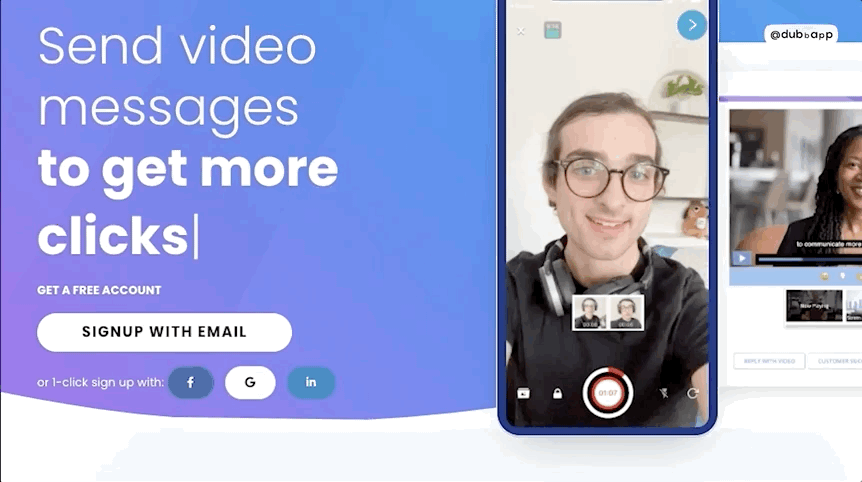 Why You Want to Use Video in Real Estate
Before speaking about some of the logistics of how to use video for real estate sales, it is helpful to truly understand why you would want to use video in the real estate industry. At Dubb, we are obsessed with video, so it's pretty obvious to us. That said, if you are thinking about using video for the first time, it may not be so clear.
For starters, video makes it easier for you to communicate with your prospects and clients. Just think about it: instead of needing to type out a lengthy email or SMS message, you can simply take out your smartphone, hit the record button, speak to the camera, and send that message off. It makes the outreach process that much easier. Not only that, but video means that you can get faster responses and build stronger relationships with your audience members. Whether you are communicating with a cold prospect or a current client who is looking at purchasing another home, video can make your life much easier.
From mere communication, video is a powerful lead conversion and lead generation device. Lead conversion videos and client communication videos are usually the most important things for real estate agents. Essentially, they are generating leads, getting in front of those leads, and then those leads become appointments. Through this process, these real estate agents are building trust and understanding with their leads. Moreover, they are distinguishing themselves from other real estate agents who may be heavily relying on older-school sales methods to generate appointments and conversions. 
Using video, you can generate more leads than old-school tactics like cold calling or paid advertisements. Basically, by creating high-quality videos and releasing them to the world, you can bring interested clients to you. Then, once you have added an interested prospect to your funnel or workflow, you can deliver even more personalized video content to them. By doing this, you are building stronger and stronger relationships, which makes it much more likely that you convert those prospects. In the end, by creating valuable video content for your audience, you are putting the odds on your side, whether the increased sales come now or in the future.
Video also lets you create more engaging emails and newsletters. As a real estate professional, you probably already recognize the power of reaching out to others through emails or newsletters. While you probably already rely on both of these methods of outreach, you can amplify their effect by including video. You will ultimately get more opens, responses, and replies by including video. Because humans are more naturally attracted to images, you are leveraging evolutionary traits to help deliver your message—whatever it is. 
Ultimately, when we are sending videos through newsletters, we are going to get much higher clickthrough rates. Your audience is going to be more enticed to actually open the email and watch the video, making it much more likely that they will reach out to your company and become a client. Above all else, however, you need to provide value. Instead of asking for business right off the bat, you need to show that you can add some real value to your audience's lives. By doing this, you are putting the odds on your side for a future sale. 
Finally, video helps you collect reviews and testimonials. This may be one of the more underrated features of video sales and marketing. Testimonials and reviews are important in every industry, but they are especially important in real estate. After all, you are not only selling a home or piece of property. You are selling yourself and you need to ensure that your clients trust you. One great way to display trust for new prospects is to collect and display testimonial videos. Testimonial videos let you take advantage of social proof. Essentially, you are borrowing credibility from your customers. Showing that others have purchased from you and that they were satisfied is a great way to build trust with new prospects. By collecting video testimonials and reviews, the effect is magnified, as your new prospects can actually see and hear your satisfied customers talk about their experiences.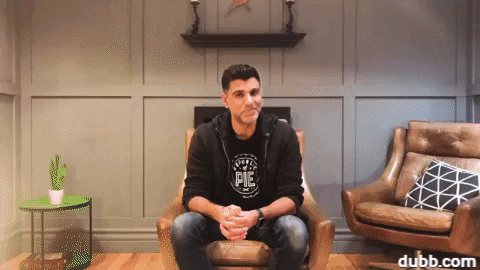 These are just some of the ways that video content can help real estate professionals like you. If you have already created videos for your business, you have likely seen some of these benefits. If you haven't, however, you will start to see these benefits very quickly. Once you see them, you will probably want to create even more content, which helps you build even stronger relationships with your prospects and customers. It truly is a win-win. 
How Dubb Can Help You Create Great Real Estate Videos
Considering the above, I now want to discuss how you can use Dubb to create terrific real estate videos. 
There are plenty of different benefits that Dubb offers versus other tools. One of the great things about Dubb is that it lets you create these videos in any way that you want. Wherever you are and whatever tools you are using, you will be able to create your videos extremely quickly.
What do I mean by this? Ultimately, within the Dubb universe, there are plenty of tools that you can use to create valuable, high-quality video content—no matter the audience that you are targeting. Let's jump into some of those tools right now.
The Dubb Mobile App
For starters, Dubb offers plenty of tools that can help you record when you want to record. We have a really powerful mobile app (which you can find for both iOS and Android by clicking here). There is plenty of functionality here. You can do everything from record beautiful sales videos in clips, edit them while you are on the go, and easily distribute those videos to your contacts. Further, using the app, you can start the video facing yourself, flip the camera around to show the properties that you are selling, add any music or text as necessary, and more. Better yet, you don't need an external video editor to add all of these features. They can all be done within the Dubb app itself.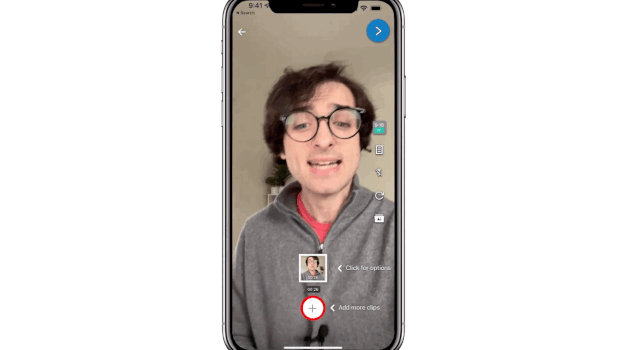 The Dubb Chrome Extension
Besides the Dubb mobile app, you can create videos by using the Dubb Chrome extension. You can download the Chrome extension by clicking here. Specifically, the Chrome extension is a great tool if you want to make screen recording videos. Screen recording videos are really helpful if, for instance, you want to quickly show off several properties in your portfolio. They are also helpful as you are negotiating laptops. Whatever the use case, you can record your desktop or laptop screen while having your face in one of the corners of the image. Beyond reaching out to prospects or customers, you can also use screen recording videos to communicate with your team. It is an extremely versatile tool. 
Better yet, it is extremely easy to use the Chrome extension. After downloading it, you will see a small Dubb icon appear on the top of your browser. Once you click on that, you will see a variety of options. You can turn your webcam feed on and off. You can just include your profile picture if you don't want a live video of your face to be on your screen recording. Then, once you click on the red record button, you can leverage even more features. For instance, you can take advantage of the annotation tool, which lets you virtually write on your screen. 
I just want to share one more use case with you. Let's say that you want to make your newsletters more engaging. You can do this through a screen recording video through the Dubb Chrome extension. You can pull up a report about real estate prices in your city or state and use that report as the background for your screen recording. Then, you can speak to the camera and say something like, "I have this valuable report that I wanted to share with you. Here it is and check it out." While you can certainly add more detail here, the point is that you can easily add value to your audience. As a real estate agent, what you have done is present insight into your local market. You can better educate your audience and show them that you have your finger on the pulse of what is actually happening. This type of video content positions you as a market leader and makes it more likely that you will convert prospects into paying clients.
Better yet, when you are creating videos like this, you can share them on social media. You show that you are in tune with the market, helping you shine in the eyes of leads just hearing about you. It's a way to both generate leads and nurture those leads. Not only are your current leads paying attention to you, but you are showcasing your knowledge to brand new leads. Essentially, you get this dual benefit by creating valuable video content and releasing it to the world. Pretty great, right? 
Leveraging Add-Ons and Integrations
Now, I want to discuss some add-ons to the tools that you are probably already using. Let's say that you are in Gmail or Outlook. Perhaps you are using one of your favorite CRM systems (like Salesforce). If you are a Dubb user, you may notice that there will be a small Dubb icon inside the interface. This makes it extremely easy to create any type of sales or marketing video. 
For instance, if you are in Gmail, you can click on the Dubb icon. From there, you will see a popup that includes things like videos you have already uploaded, the ability to record a video, the ability to upload a new video, and activity reporting. If you have a pre-recorded video (like buyers' agreements or a video showing someone how to navigate your website), you can easily upload it here. If you are recording a brand new video, you can also include personalization text at the top of your Dubb video, which adds a level of customization and makes it more likely that they will watch your video. 
Essentially, what you have here is nearly universal integration with the apps that you are already using. If, for some reason, we don't have a direct integration with the platform that you often use, the Dubb Chrome extension is always there to let you record your screen or record through your webcam. This gives you the flexibility to leverage the Dubb ecosystem on CRM tools that may not necessarily have an integration with our platform. Pretty cool, right?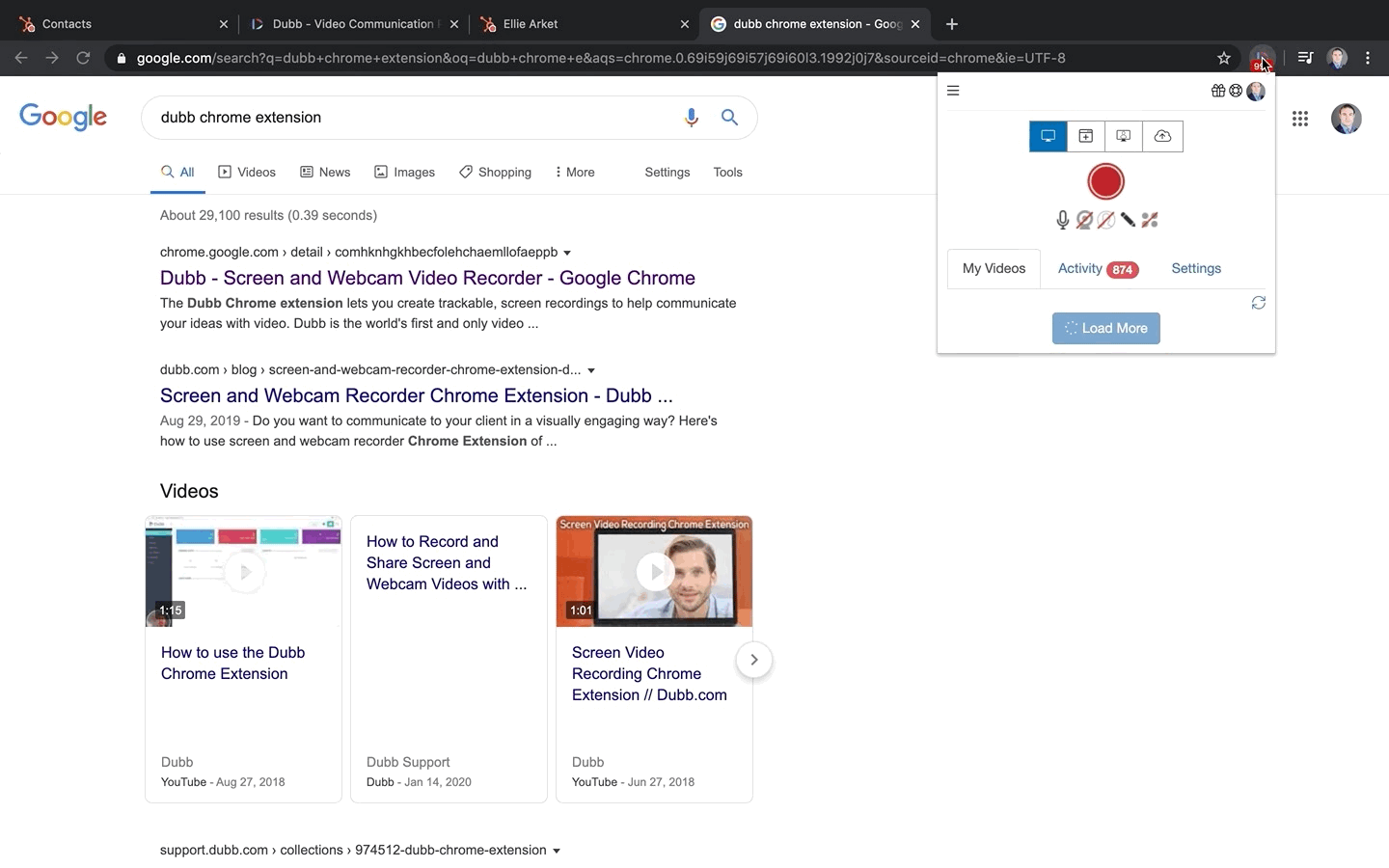 Customizing Your Videos
We already spent a good amount of this post talking about how you can create videos for your real estate business. Clearly, it is an important part of the question of how to use video for real estate sales. The great news is that using a tool like Dubb, it is extremely easy to get started. All you need to do is sign up for a Dubb account, download a few helpful tools (like the Dubb mobile app and Dubb Chrome extension) and start recording your videos.
Adding Some Basic Customization
From here, I want to speak about customizing your videos. But what does that mean, exactly?
For every video that you upload to Dubb, you automatically get a video management page. There are plenty of things that you can do on this video management page. 
For starters, you can click on the "Details" tab to edit some of the details of your specific video. You can do everything from edit the description and tags of the video to include call to action buttons or add videos as part of a playlist. 
Beyond the "Details" tab, you will find an "Analytics" tab. Here, you can get some basic analytics about that specific video, including the number of views, email click rates, call to action click rates, and even emoji reaction rates. 
Then, there is the "Editing tab." Here, you can actually edit the video itself. On this tab, you can trim the video, add subtitles, and customize the thumbnail of your video. As for the thumbnail, it can be from the video itself or you can create a customized thumbnail outside of Dubb and upload it to your video management page. It can be a PNG, JPG, or GIF file. 
You will also find the "Privacy" and "Video Replies" tabs. I'm not going to get into much more detail here, but essentially, you can customize the privacy settings for that particular video and see if you obtained any video replies. As mentioned above, video replies are especially helpful if you are trying to gather reviews and testimonials. Dubb makes it extremely easy to gather those testimonials through video replies and then display them on a testimonial page. 
Beyond all of these tabs, you will see a "Share & Send" button on your video management page. Once you click on that button, you will see even more customization features. One of our favorites is personalization text (which we talked about above). All you need to do is insert a brief line of text and it will show above a three-second animated GIF that you send to your prospect. While Dubb, by default, includes the first three seconds of your video as the animated GIF, you can choose any three-second clip within your video. In case the recipient has turned off images in their email, Dubb automatically includes a fallback button. Really, all of these features combined make for a powerful cocktail that entices your recipient to click on your video.  
What Happens When Your Recipient Clicks?
From these basic customization options, I want to move on and discuss what happens when one of your recipients actually clicks on your video. This is a crucial component surrounding this question of how to use video for real estate sales. When you send your video through an SMS message, email, social media, or a CRM system, you are obviously hoping for your recipient to click on and watch the video. When they do this, they will be taken to a video landing page.
Like your videos, you can completely customize your Dubb video landing pages. You can upload a custom URL, your own logo, a logo as a watermark, a custom background, a custom video player, and call to action buttons. Essentially, the entire video landing page can be customized. We recommend that you alter your video landing pages so that you can accomplish whatever goal it is that you're targeting. 
In the real estate industry, for instance, there are buyers and sellers. You may also be trying to build your real estate team. There are many different applications and scenarios here, so we encourage you to customize your video landing pages depending on the role. As just one example, we have many real estate agents that purchase online advertisements on platforms like Zillow or Facebook. Since they are paying for those leads, it is critical to convert them. What these real estate agents want are the best opportunities to convert those leads. Because of this, our real estate agents will create a sales video that will be automatically distributed through Dubb. The video is the very first touch point for their leads. Therefore, as soon as a lead fills out a contact form from their advertisement, the lead is automatically getting a video sent to them. The video can be sent via text message, email, or even both. The real estate agents in these videos basically say, "Thank you so much for completing the form. We would love to help you buy or sell your property."
Importantly, these real estate agents would create one video for buyers and another for sellers, ensuring that the video remains as customized and targeted as possible. As a real estate agent, you should offer a clear value proposition and a solid argument as to why a specific lead should work with you versus your competitors. 
Below the video, your leads and prospects will also see several buttons. These are the call to action buttons that I referenced above. Dubb gives you the power to customize these buttons so that they can do virtually anything you want. For instance, some of the calls to action that you can use include the ability for your lead to communicate with your company through Facebook Messenger, register for a webinar, download a white paper or eBook, and more. You can also have a call to action button redirect to any URL or link. So if you are creating a video for a buyer or seller, you may want to include different call to action buttons below your video. It just depends on what you want to accomplish and Dubb makes it really easy to do so. Below the call to action buttons, you can include and configure a calendar. Whether you use a calendar service like Acuity, Calendly, or something else, you can easily display your calendar and when you are free for a consultation. 
Ultimately, realtors on Dubb love using these call to action buttons. If you haven't yet used call to action buttons in your outreach efforts, I highly recommend that you do so. Even if you have already tried call to action buttons, I suggest that you keep at it and leverage the customization that you get with Dubb. I think you'll be pleased with the results. 
How to Distribute Your Videos
This discussion of how to use video for real estate sales isn't complete without talking about distribution. After all, you may create the best possible sales video, but if it isn't getting in front of your ideal audience, all of that hard work will be for naught.
Dubb actually offers a number of ways to distribute your sales and marketing videos. For starters, we offer bulk-sending functionality. To do this, you can log in to your Dubb homepage. From there, you will need to click on the "Marketing" tab, then "Campaigns," and then "Emails." You can then click on the "+ New" button on the top right of the screen to start the process. Once you have sent out your bulk email, you will see a list of your campaigns on this "Emails" page. 
Dubb also gives you the power to get granular information on each bulk email campaign. Once you click on the campaign, you can see different types of stats and data, including email clickthrough rates, watch rates, and more. Moreover, you can see who specifically has opened your email. This is especially powerful if you have been trying to convince a specific lead or prospect to work with you. With these insights in mind, you can better tailor your message, thereby increasing your chances of making a sale. 
Dubb's analytics let you go even further. You can filter your data based on metrics like call to action clicks. This makes it even easier to identify your warmer prospects. For example, if you distributed a newsletter on local real estate prices, you can include a call to action button below your video that says something like "See how much my home is worth." After doing that, you can go to your campaign homepage and see who specifically clicked on that call to action button. From there, you can follow up with those prospects and say, "Hi, I noticed that you wanted to see the value of your home. I'd love to come by for a listing appointment and see what your home is worth." This is just one idea, but it shows how you can leverage Dubb's powerful analytics tools to better engage with a large audience. 
But back to distribution. Dubb also lets you take advantage of automations. You can easily build out email sequences that are automatically distributed to certain individuals or prospects. You can make these sequences as simple or as complicated as you'd like. For instance, you can create a sequence with four separate emails and delays between those emails. This email sequence could be used if, for example, a lead becomes non-responsive. At Dubb, we recommend that you try to call, text, or do some manual follow-up when you first generate a lead. However, after some point in time, you may want to rely on automated follow ups when you are engaging with non-responsive leads. To be clear, you can build these automation sequences on Dubb or you can include videos into automations that you have already built in your CRM. 
Finally, there are plenty of one-to-one distribution tools that you can leverage. We spoke about some of them above. You can use the copy and paste function by clicking on the "Share & Send" button. By doing that, you can send your sales or marketing video through basically any channel. At Dubb, we have plenty of integrations with other popular platforms, which makes your job significantly easier. However, even without a direct integration, you can rely on this copy and paste method to get your videos in front of your prospects.
At Dubb, we also offer a direct send option. As long as you have connected to an email provider, you can send your video directly from the Dubb platform. Upon selecting this option, you can customize the subject line, add personalization text to the top of your video, and more. 
Go Forth and Start Sending Sales and Marketing Videos
At the start of this post, we raised this question of how to use video for real estate sales. It is a crucial question, as video can be a true game-changer for you and your real estate business. As you have seen throughout this post, getting started with video is pretty straightforward. Using a tool like Dubb, you can record beautiful sales videos, engage with your prospects through Dubb video landing pages, create helpful automations, and more. Whether you are just getting started with video or want to take your video work to the next level, you can use Dubb to get the job done. 
We went through a lot in this video. If you have any specific questions about how to use any of the tools or features above, you can go to the tutorial section on Dubb's website. Over the years, we have created tutorials on virtually every element of the Dubb ecosystem. Feel free to check it out!
At Dubb, we love talking about this topic of how to use video for real estate sales. If you have any further questions about topics or ideas discussed in this post, feel free to contact us. You can also click here to learn more about Dubb and click here for a free 14-day trial of our premium plans.