Wondering how to use TikTok to generate leads and sales? You have certainly come to the right place.
In this blog post, we are going to take a deep dive into how to use TikTok to generate leads and sales. There's no need to worry if you don't have much experience with TikTok. I am going to share some of my favorite tips and tricks that can help you find customers on this game-changing platform. 
The Next Great Social Media Platform
In both 2020 and 2021, you couldn't go for long without hearing about some viral or funny video on TikTok. Created by the Chinese tech company ByteDance, TikTok has become one of the world's largest (and most important) social networks. According to data from Datareportal, TikTok had around 800 million active users throughout the world in 2020. 41% of TikTok users are between 16 and 24-years-old. Overall, TikTok users spend around 52 minutes per day on the app.
The statistics are eye-opening. While some people may still think of TikTok as a fun and goofy app for singing and dancing, it is much more than that. TikTok is one of the most valuable and viable social networks to build a brand, show off your personality, generate leads and signups, and increase your sales conversion rate. In other words, TikTok is a game-changing platform that you can use to grow and scale your business.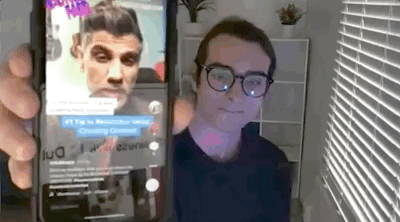 Dispelling Some Misconceptions About TikTok
All of this being said, there are a few misconceptions about TikTok that are important to dispel from the beginning. 
One of the most prominent myths is that TikTok is only for a younger audience and it's only for dancing. Granted, that may have been how TikTok started out. Even now, it's easy to hear about or see viral TikTok videos that involve dancing or are catered to a younger audience. 
That being said, TikTok is about so much more. 
Now, it has become one of the most interesting and cool social networks on the Internet today. Today, TikTok's target audience is not younger users. It is all-inclusive. There are people from age 13 to 113 on the platform, so keep this in mind when you are evaluating the platform from a business perspective. The most popular social platforms start with younger users at first, so keep this in mind when you are analyzing the TikTok opportunity. 
Another thing to keep in mind is that the TikTok ecosystem and algorithm are extremely intelligent. It does the targeting for you. The algorithm hooks people, which makes it such a popular product.  
Better yet, it can help you target your ideal user. There are so many different users on the platform. You can find salespeople, real estate agents, insurance salespeople, individuals in the mortgage industry, attorneys, and more. Assuming that those individuals are looking at content that interests them and have expressed interest in that content, they are going to see even more of that content. 
One of the objections to using TikTok may go along these lines. "The platform looks really interesting, but we are not really going after younger users, solopreneurs, or small businesses. Instead, we are going further upstream. We are trying to get larger corporations to become customers."
This concern isn't irrelevant. That being said, the great thing is that early adopters of technology go to places like TikTok, Clubhouse, and Instagram Reels. At its core, it is an upstream strategy. By getting hundreds (if not thousands) of people to communicate certain technologies or offerings to management, that technology becomes extremely valuable. Instead of chasing CEOs and trying to get past closed doors, you can go to thousands of folks that are telling their bosses "this is what we need to buy." 
Leverage The Opportunity
If you haven't yet experienced TikTok for yourself, I recommend that you complete around 30 test posts. See what kind of traction that you get. I think that you'll be pleasantly surprised. The first level of TikTok views is somewhere between 100-300 people. TikTok will get your video out there, and if that video resonates with your audience, you might get much more engagement than you expect. 
You have to start somewhere. Often, this means starting small and engaging with your small number of followers. However, the potential for massive growth is there. While there is no guarantee of this happening, you have a real shot—so long as you create high-quality and engaging content. 
But to reiterate, one of the best parts about TikTok is that you are naturally creating content with a tailwind. On many other social networks, you need to do the marketing yourself. Nowadays, even for main feed posts on Instagram (and YouTube videos to a certain extent), you will need to promote your content if you aren't in a certain SEO category. TikTok essentially democratizes discovery. Everyone can get noticed. 
In effect, all of these social networks are innovating. Instagram Reels, for instance, is a direct competitor to TikTok. Everyone is trying to get users' mindshare and the competition is only getting more intense. At Dubb, we have targeted TikTok and Instagram Reels as hyper-growth opportunities. These are the places where you can have 10 followers and get hundreds (if not thousands or hundreds of thousands) of views. If your content is fun, engaging, and edutaining, the potential for even millions of views is there. 
So go take some risks. Put your content on both TikTok and Instagram Reels (we will release a video in Instagram Reels later). Ultimately, you can bank on these social networks' algorithms to help you get noticed. They definitely won't do all of the work, but they can certainly help you and your business. 
Using the Dubb Mobile App to Create and Upload TikTok Videos
If you want to incorporate TikTok into your business, you are going to need to create a lot of content. The app is designed for you to constantly create short-form content and then upload it to the platform.
For many creators and businesses, however, this can seem intimidating. Who has time to constantly create and edit this type of content? Ultimately, I think that you can still create awesome edutaining content even if you have a busy schedule.
Because of this, I want to share a workflow for creators who don't want to put the time into editing their TikTok content. This may be because you don't have time to do it or you'd rather spend your free time doing something else. Sometimes it takes five, ten, or twenty minutes to edit your video content, so think about whether you want to spend this time editing your videos. This includes everything from choosing your music, selecting emojis to place on the screen, and getting the tight trims so your video looks flawless. 
To free up some of your hard-earned time, you can use the Dubb mobile app (iOS and Android versions are available) to record a video of multiple quick clips. From there, you can pass on those recorded clips to a colleague so that he or she can make the appropriate edits to your fantastic TikTok video.
Recording TikTok Videos with Dubb
Dubb's mobile app makes it extremely easy to record TikTok videos. For the sake of example, let's say that you want to record one video with several clips. The great news is that on the Dubb mobile app, you can leverage a whole host of features that makes it easy to create this type of video. One of the newest features is Dubb's teleprompter feature. This means that you can easily add your outline to the teleprompter, making it much easier to record dramatically fewer takes.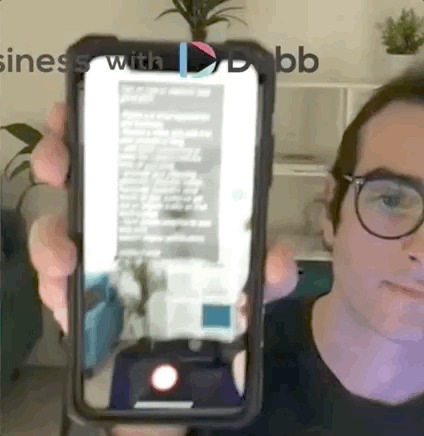 For instance, when making your TikTok videos, you can include an intro, two bullet points, and then a call to action. These are four distinct clips that your colleague can easily rearrange and edit after you've finished recording. While this is a very basic template, feel free to experiment. As with every social media platform, experimentation often leads to the best results.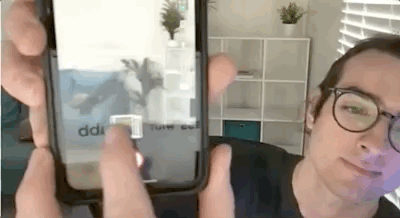 Typically, the intro involves a hook. The hook can pique your viewer's attention and have him or her stick around to learn more. It's an extremely important part of your video, so put some thought into it before recording it. 
After that hook is the first bullet point, which can be the "why." Essentially, it explains why the viewer should care about the topic that you're discussing in the video. Like the hook, the why is a huge part of keeping your viewer's attention. If they don't understand why they should care, you'll find that your TikTok video will be much less effective. 
Your next clip can then be a "how to." Here, you are putting your argument or thesis into action. You are showing your viewer how he or she can implement the insights or ideas that you have been discussing. These actionable tips can create real value, as they can immediately get to work and improve their lives. 
Then, you're going to record a call to action. You don't need to be ultra salesy here. Instead, focus on being value-focused and educational. Taking this approach, rather than the profit-first approach, can help you make better and more effective TikTok videos. 
Making these types of videos will take around two minutes. If you need to move some clips around, you can easily do it within the Dubb mobile app. 
After recording your clips on the Dubb mobile app, you can click the next button. Dubb will merge the clips. The good news is that it takes about two seconds. From there, you can click the upload button, which will then upload your combined video to your Dubb account.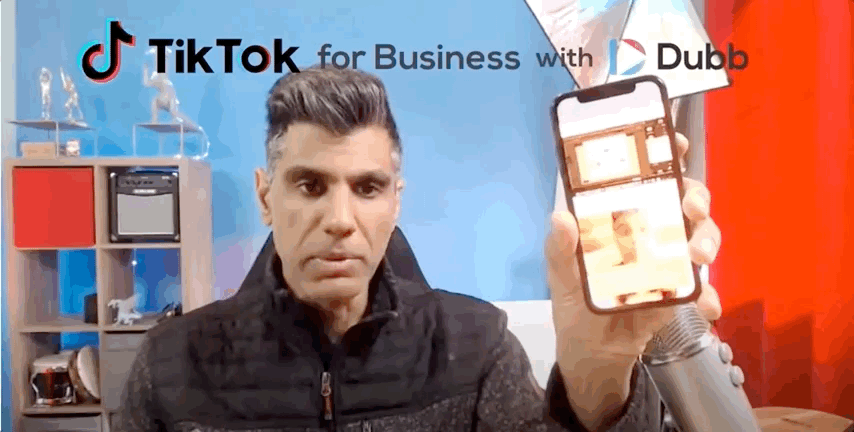 Editing Your TikTok Recordings
At this point, however, you may have other things to do in your life. You may be busy with meetings or other important tasks. You may not have time to add music in the Dubb mobile app or add emojis to your combined video.
Because of this, you may think about handing off this raw video to a colleague. Embracing delegation can free up time on your schedule so that you can work on other vital tasks. 
Before you do that, however, a key point. You need to add a title and description to your video. If you don't add the title and description, your editor isn't going to know what's going on. Moreover, they won't know what to say if you want text added to the video itself. In the end, it is going to make life difficult for both you and your editor. The good news is that this won't take you that long. In about 60 seconds, you can create a good title and description that can guide your editor during the editing process. 
Once you have added a title and description, your editor can do so many different things. Keep in mind that this is a process that is based on efficiency. You are bringing an editor on board so that you can more efficiently create your TikTok content. If you eventually discover that this process is adding more work to your plate, you'll need to make some changes—fast.
So once you record your TikTok clips using the Dubb mobile app, your editor can make the necessary trims and edits to make your video TikTok ready. At Dubb, we use a tool called Kapwing. Kapwing offers robust editing features. It is built for social media and social media managers. For instance, with one click of the button, you can crop your video, add text to the video, and even add a progress bar to your video. The progress bar is a cool social media feature, as it tells your audience where they are in your video.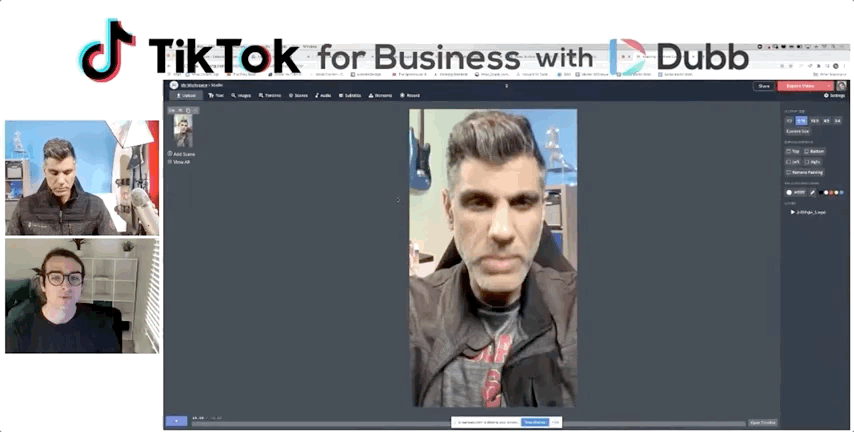 Along with Kapwing, you can use a tool like Veed.io. It's very similar to Kapwing in that it makes it extremely easy to edit your TikTok videos. Invideo.io is another great alternative. And lest we forget, the Dubb mobile app also offers you plenty of editing features. For instance, Dubb's captioning tool lets you automatically generate captions (for a very low fee). While you can rely on many common editing features within the Dubb mobile app itself, there are other options that you can leverage. These other options can be compelling if you have a large team editing your TikTok content. 
This leads to an important point. At Dubb, all of our features are built for salespeople and marketers. They're built for people that are trying to get results out of their businesses. No matter the business that you are in, you can use Dubb to accelerate your business. That being said, the features that we offer are tailored for sales and marketing. When you want to do something in the social media space, that is when you should use tools like Kapwing.com. 
Ultimately, using these tools is a great way to produce high quantities of high-quality TikTok videos. Using the Dubb mobile app, I can make five or six TikTok videos per day. Once I am finished recording, I can send these links to my awesome social media team, which takes it from there. All it takes is one button to download the video from the Dubb landing page and to get started editing the video. It's all about efficiency and saving time. 
One final point on editing. As you can guess, you don't need a team to do all of the above. If you are on a budget or are a solopreneur, nothing is stopping you from following these steps yourself. You can even make these edits in TikTok yourself. All of that said, delegating these tasks to an editor can both give you more time and make your videos more engaging. 
Other Important Points to Keep in Mind
When thinking about how to use TikTok to generate leads and sales, there are some other critical things to keep in mind.
Arguably one of the most important is adding text through native tools. To be clear, it may be easier to add text to your TikTok videos by using tools like the Dubb mobile app, Kapwing, or Adobe Premiere. When you do this, you are burning the text into your videos. This can work, but there is some significant value in using the text tools in real-time editing apps like TikTok or Instagram Reels. 
That significant value? SEO. 
So if someone types in keywords that your TikTok video discusses, your TikTok video may actually appear in the organic search results. The rumor is that TikTok is literally scanning your videos with machine learning. The company may be analyzing what's in your videos and then indexing them using that data. Therefore, it makes sense that if you use TikTok's native text tools, its machine learning software can more easily scan your videos and digitize your text. There are also rumors that TikTok is adding metadata in all of your videos, and that the metadata is affected by the text that you have. We can't be certain, but there is a good argument that you should use TikTok's editing tools to insert text. It will allow your video to become more searchable and more discoverable.  
Moreover, when you are using TikTok's text tools, you may be saving yourself some time. The developers at TikTok have designed a great app. While it may take some adjustment, you'll find that you can make a lot of adjustments and edits right in the app itself. 
Beyond adding text through TikTok's native tools, a great way to streamline the editing process is to add a tag in your Dubb account. The tag can be anything that you want. However, it should be something easily identifiable and helpful as you are searching through your TikTok videos. So when you are creating a new TikTok video on your mobile app, you can select the relevant tag after you have created the video. That video is then automatically organized on your Dubb dashboard. Ultimately, tagging makes it easier for you or your editors to stay organized and create awesome content.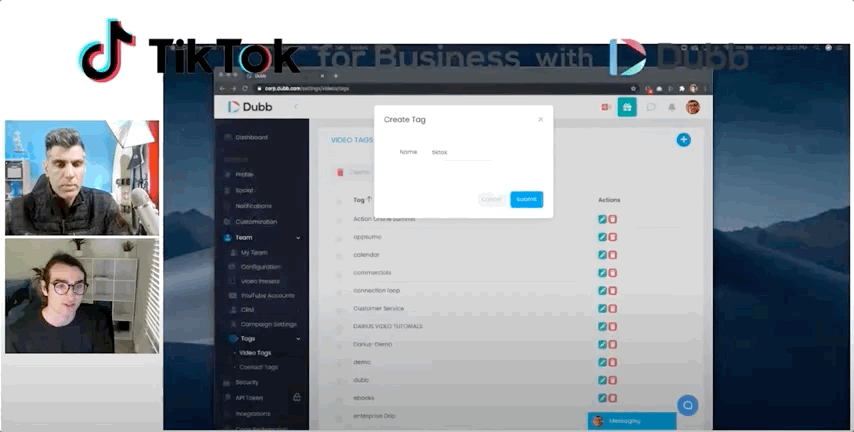 Take Advantage of This Great Social Platform
Whether you just started or your business or are looking to take your social media work to the next level, I highly encourage you to check out TikTok. The platform is only getting stronger. In all likelihood, your competitors are (or soon will be) making content specifically for this platform.  
Ultimately, I hope this post has helped you better understand how to use TikTok to generate leads and sales. As you have seen, you can use Dubb to create a raw video. That video can then get passed to an editor, who can really make your TikTok video shine. Whether you use a tool like Kapwing or complete your editing directly in the TikTok app, you can create awesome TikTok videos for your followers and fans. 
If you would like to further discuss the power of TikTok (and share what you are creating), check out community.dubb.com. We always love learning about social media platforms like TikTok, so don't hesitate to reach out!