Have you been looking for a deep dive into how to use Instagram Reels to grow your business? If so, I'm really glad that you are here. In this article, I want to take some time to explore some of the best ways that you can leverage Instagram Reels at your business. 
Whether you are a solopreneur or work in the marketing department of a much larger company, the following tactics and strategies can help you get the most out of this outstanding platform. They can help you with everything from generating more leads to creating more brand lift for your business.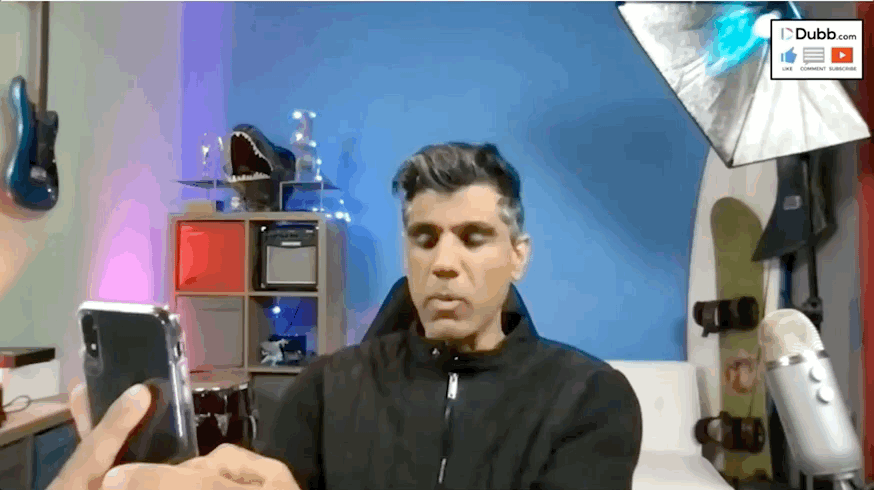 The Power of Instagram Reels
Instagram Reels is one of the most exciting products on the Internet today. Instagram Reels, as you likely know, is owned by Instagram, which is ultimately owned by Facebook. Facebook launched Instagram Reels in August 2020. 
It's pretty well understood at this point that Instagram Reels was launched in response to the dramatic rise of TikTok. TikTok has become one of the most popular social networks on our planet today. Looking at some recent statistics, we can see that TikTok has more than one billion monthly active users. TikTok users spend around 52 minutes per day on the platform and they open the app around eight times per day.
TikTok's rise has been one of the most jaw-dropping stories in the past few years. Ultimately, Facebook saw all of this user growth and recognized that it needed to create a TikTok competitor of its own.
Enter Instagram Reels. Upon opening Instagram Reels, you will see that it is very similar to TikTok. At their core, both Instagram Reels and TikTok let you record and share videos that are set to music. If you have vaguely heard of Instagram Reels or TikTok, you have likely seen viral videos of individuals dancing to certain viral tracks. Reels is basically a version of TikTok within Instagram. It's safe to say that Facebook borrowed heavily from TikTok to create Instagram Reels. 
That being said, there are some key differences between Instagram Reels and TikTok. For instance, TikTok lets users record videos of up to 60 seconds. On Instagram Reels, you'll only have 30 seconds. Both platforms also offer different editing features. The best way to see the differences is to try both tools yourself. 
Ultimately, this battle between TikTok and Instagram Reels is great for us, the consumers. Both platforms need us so badly. As creators, we put in the time, make ourselves vulnerable, share our stories, and put ourselves out there to connect with people. Sometimes we do it to entertain them. Other times we do it to educate them. And at other times, we try to do both. Without us, their platforms wouldn't scale, as they wouldn't have many places to put their valuable advertisements. In other words, we need them and they need us.
Embrace the Reach of Instagram Reels
Overall, Instagram Reels has massive potential to get you a completely new audience. I believe that for Instagram, Facebook, Twitter, and even YouTube, your audience is primarily your already-existing audience. In other words, the people viewing your content on these platforms have already heard of your company, product, or service.
Now, if you are following best practices when completing your social media work, that can change. You increase your odds if you know how to tell a story and work with your audiences and the algorithms, you can expand that audience. Instagram Reels is a fantastic place to do that. Instagram Reels has the reach that lets you discover new audience members that can become paying customers of your business. 
It's important to keep this point in mind. Yes, you want to create content that pleases your current audience. You want to create valuable content that solves some type of problem in your audience's lives, whether it's related to your product or service, sheer boredom, or something else. That said, don't forget that platforms like TikTok and Instagram Reels broadcast your content to others. While it's really tough to create content for an audience that may be unknown to you, try your best to offer some sort of value. It's virtually impossible to deliberately create viral content, but you'll give yourself a chance if you focus on creating the most valuable content possible. 
Create a Workflow to Create Your Instagram Reels Content
So beyond leveraging Instagram Reels' reach, it is also critical to create a workflow to consistently release your Instagram Reels content. This may be somewhat underrated throughout the process, but it can really go a long way in helping you get the most out of this platform. It is one of the key answers to the question of how to use Instagram Reels to grow your business. 
Workflows help you nail down your content calendar, record video productively and efficiently, select when to record videos yourself or when to outsource your recording and editing, and get into the continual cadence of putting your content out there. 
To help describe how you can create a workflow to help you grow your business through Instagram Reels, my colleague Shannon Leonard shared some helpful advice. No matter the size of your team, you can take some of these tips and generate an outstanding Instagram Reels workflow.
Keep in mind, however, that there is no one or "wrong" way to do it. At Dubb, we create all types of content daily. Consequently, we have developed a great Instagram Reels workflow that works for us. I think you can definitely borrow some of our policies and procedures to more easily create great Instagram Reels content, but if you disagree with a certain element, don't hesitate to make your own changes. We are all learning about how to get the most out of Instagram Reels, so drop us a line if you think of a better or more effective workflow. 
To start off, we have an idea for Instagram Reels content. Without an idea, we obviously cannot get started. Compared to some other creators, however, we immediately hit the record button. Once we have the idea, we are pretty eager into getting that idea on film. At the same time, we like to write as we record. If that means, taking a few takes, that's fine. 
Instagram is changing its interface all the time. That said, you can create a Reel by swiping right on your home feed. There are also various post buttons around Instagram now. If you find a little plus icon, you'll then be able to post to Instagram Reels. 
We use real-time editing apps to put everything together. Real-time editing may seem sophisticated or complicated, but in all likelihood, you are already using a real-time editing app on your phone. For example, Instagram Reels has a great camera that is built into the Instagram platform. It lets you edit the video that you're recording—all in real-time. It's similar to the Instagram Stories camera (if you use Stories, you'll know exactly what I'm talking about). So with Instagram Reels, you can record clips in real-time, and then if you're writing the script in real-time, you can easily go back and re-record a particular clip. 
When you're finished with your video, you can make any edits that you want. Text effects, for instance, can be a great choice. While TikTok and Instagram Reels offer you plenty of advantages in terms of audio, you want to have big, bold text to interest people in your video. But then for Instagram Reels and TikTok, you can expect the audio to be on. 
Once you upload your Reel, it will be pushed out to people organically and dynamically. This is what TikTok pioneered through its hyper-advanced algorithm. Both TikTok and Instagram Reels push out your content to people that are brand new. They may have never met you or your business before, but they may be in your demographic. If you think about it, it's almost like paid advertising without paying for it. It benefits both you and the platform. For the platform, it is getting viewers some great content. And for you and your company, you're getting your content out to more people. It's giving you your 15 minutes of fame. 
But along with this, there's a key distribution point to make here. What's interesting is that Instagram Reels are not shown on the Instagram desktop version right now (unless you post to the main feed). You have the opportunity to post your Reel to your main Instagram feed or to keep it private to the Reels feed. 
Why would you want to keep them private? For one thing, it can be a great idea if your Reels are experimental. Maybe you want to try a new type of video and want to see how a particular audience reacts to that. At the same time, you may not want to clutter your Instagram grid. Brands and businesses love customizing and carefully tending to their main Instagram feed, so the Reels feed can be a great way to create Reels content and preserve the aesthetic of your main feed. 
At Dubb, we have seen plenty of interesting things when creating Instagram Reels. We've seen engagement that we've never seen before. This includes everything from individual comments on our content to new audience members learning about Dubb. Because Dubb is another platform that lets users easily create video content, we have seen Reels users find immense value on our platform. While we are more business-oriented and focus on the sales and marketing verticals, we have still seen lots of positive feedback from our Reels audience. 
Mind the Different Types of Content
When creating content for Instagram Reels, it's important to recognize that there are three types of content. The first is completely ephemeral content. The second is evergreen content, which is search-optimized content that continuously stays relevant. And then there is this third type of content which is a blend between them. 
Often, on TikTok or Instagram Reels, you may publish a video, and that video will then get seen for a few days. It often goes away if it doesn't have any type of viral effect. That will likely happen most of the time. That's why these platforms are continually encouraging creators like us to keep making content. 
This is much different than the posts on your main Instagram feed. If you think about it, your main feed is like a library. It's a portfolio of your photos and videos. They can coincide with colors or other themes that you're trying to represent.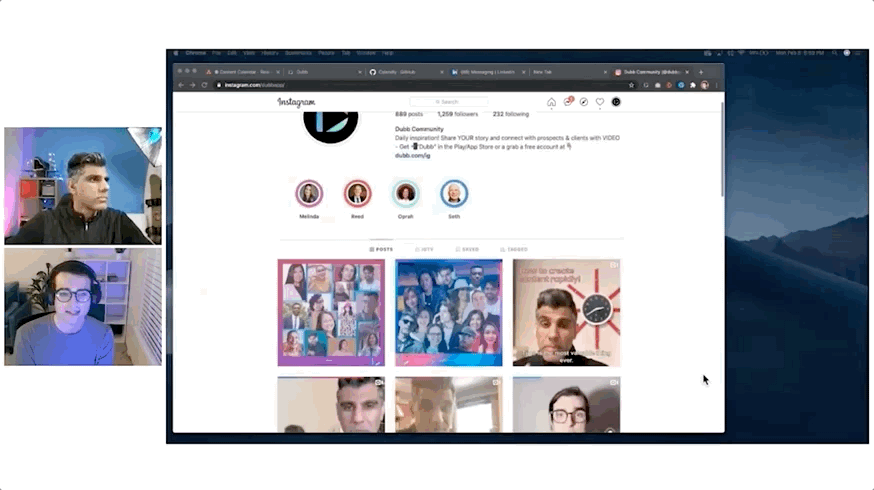 I want to reiterate this point because it is so important. Reels and Stories are great places to experiment and put out fresh types of content. These types of content may be somewhat different than what you've done in the past, but there's less pressure in that the content won't stick around for a while. It'll be completely gone on Stories or done with visibility on Reels. 
Experimenting and A/B testing your different types of content is really important here. See what your audience likes and doesn't like. For the types of content that they do like, don't be afraid to double down. It will get you closer to delivering what your audience really wants. Who knows? Your next video may be the one that goes completely viral. 
Think About Creating or Delegating Your Content
This is another important point that is especially crucial if you work at a larger organization or if you are a leader or CEO of your company. 
As the founder and CEO of Dubb, I sometimes find it difficult to complete videos, It is hard to get from the beginning all the way to the end. It comes down to distractions. Either I get distracted or something in my environment distracts me. Because of that, I'm not able to devote my full attention to everything that a video entails. This may include everything from copywriting to editing and beyond.
What I can do really well is record the core, raw content. I can come up with stories and things like how-to guides or tutorials. I'm not always perfect. I'll flub lines and make mistakes. But what I've figured out is that if I deliver a raw, core video, then I can delegate it to a brilliant editor. It's so neat to see what can come to life from our multiple editors on staff. 
So to delegate my Instagram Reels content, this is what I do. I grab the Dubb mobile app (which you can find for either iOS or Android devices) and just create bursts of content. 
For instance, if I wanted to create a video about how to create an Instagram Reel in two minutes, I would start with a short introduction to the topic. Then I record several clips that describe the process (for instance, recording your video content, editing tips, getting a copywriter involved, and getting your Reel ready for publishing). As you can see from this Reel on how we make Reels, the Dubb team takes on a large part of these tasks. They do everything from adding text overlays and other awesome edits to posting our Reels to Instagram and monitoring the analytics. 
Granted, you don't have to rely on a team to complete all of these tasks. In some situations, I may pick up some of these tasks instead of delegating them. However, recognize that it will take more time. Sometimes the tradeoff is worth it and sometimes it isn't. You'll need to make that judgment call. 
If you do outsource or delegate your content, there are some more things to keep in mind. 
If you are looking for a video editor and don't have one on your full-time team, there are plenty of editing services out there. We like Video Husky, but feel free to work with the service that makes the most sense for you. If you don't have the budget to hire a part-time or full-time editor, you can rely on one of these all-you-can-eat editing services. However, do your own research so that you are selecting the best video editor for your needs.  
Next, don't hesitate to create an editing timeline. At Dubb, we use Adobe Premiere for our timeline. While you have to pay for Adobe's monthly subscription to access this feature, anyone can jump in and use this great piece of software. Even though it may sound complex, go ahead and try to edit a video in it. Adobe provides some great documentation to help guide you. You can also go to YouTube and find some helpful guides there. If you don't have time to do any of this, don't hesitate to delegate this task to a team member or freelancer.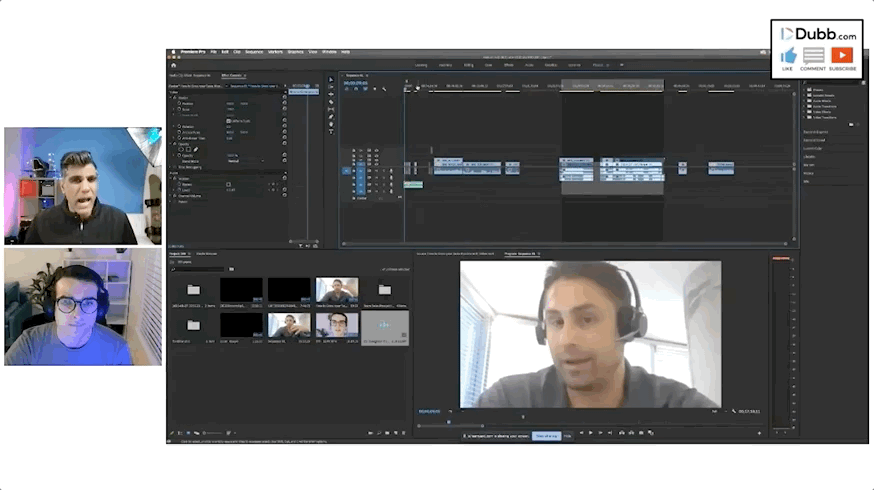 If you aren't interested in Premiere, there are so many other services that can help you edit videos. At Dubb, we also like to use Kapwing. We also use our own platform. We can record a video using the Dubb mobile app and then leverage the trimming features on the web interface to make an outstanding video. Using Dubb, we can specify which parts we want to trim out or even eliminate pauses in the speech. Because we like to keep our Reels and TikTok videos fast-paced, we tend to use the latter feature quite often. 
From there, make sure to use a project management tool. At Dubb, we like using Asana. Again, however, find the project management tool that works best for you. Organization is extremely important—especially when we're talking about Reels and social media posting. Having a content calendar is really helpful to ensure that you are posting when and where you want. Many of these tools have free plans. Even if you have to pay, however, the benefits that you'll get from them will likely outweigh the financial costs.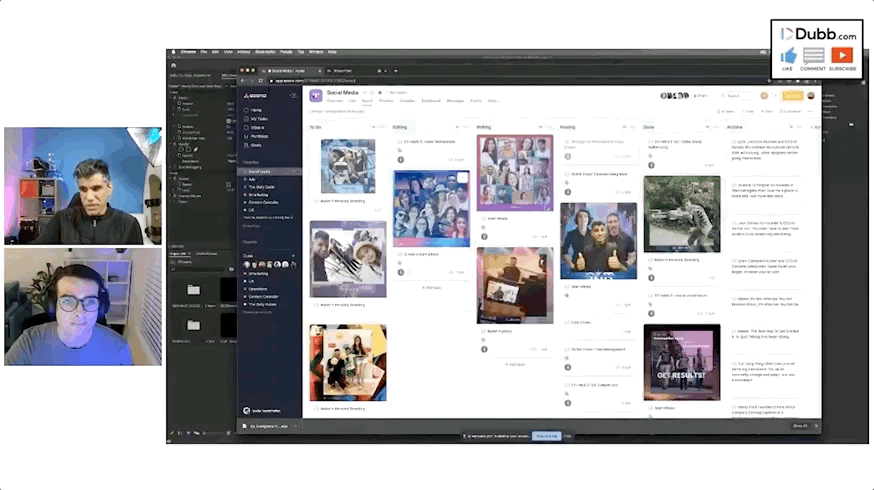 Finally, don't hesitate to repurpose content. At Dubb, we call this the Waterfall Method, and this is certainly applicable when making Instagram Reels. The core of the Waterfall Method is recording a longer piece of content. From there, you can take certain slices of that content and distribute it to other places. For instance, if we're recording a two-hour YouTube video, we can take certain parts of that longer video and make an Instagram Reel. Our editing team does an amazing job with this, so feel free to delegate this type of task to your editors as well.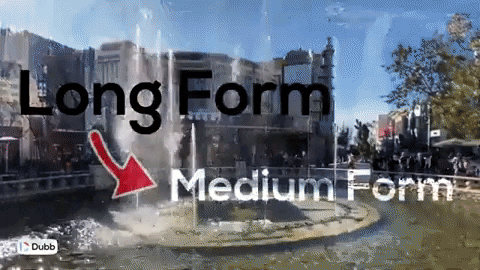 Start Making Reels Today
Instagram Reels is great for so many reasons. It incentivizes you to create content and find new members of your audience. In a business sense, it can be a game-changer in identifying new prospects and generating more sales. 
Therefore, I hope this has answered the question of how to use Instagram Reels to grow your business. I encourage you to try the platform out. Review the tips and strategies above and don't hesitate to implement them. If you have a team, see if you can delegate some of the content creation tasks to them. By being proactive and learning from your mistakes, you'll get a ton of value from this platform. 
If you have any questions about anything discussed here, feel free to let us know. We also encourage you to check out Dubb. If you are interested in trying out our software, click here to access a free seven-day trial of our premium plans.