In this post, I'm going to guide you through how to maximize the Dubb Constant Contact integration to meet your marketing goals. With this integration, you can send out video messages that increase your conversions, click-through rates, and replies out of your Constant Contact account.
About Constant Contact and Dubb
Constant Contact is an excellent yet easy-to-use tool that allows small businesses to create email marketing campaigns that amplify their brand and grow their audiences faster.
The platform holds a best-in-class delivery rate of 97% so you can trust that you'll remain connected with your prospects and clients.
If this is your first time hearing about Dubb, what you need to know is that it's a platform that capitalizes on the power of video to help drive businesses — large or small — forward.
How Dubb Integrates with Constant Contact: An In-Depth Tutorial
To start creating an email in Constant Contact, navigate to the Campaigns tab.
If you're familiar with the system, you probably already know there are several ways you can create emails and email templates inside Constant Contact. You can either start from scratch, use your own HTML, import a PDF, or choose from one of their many templates.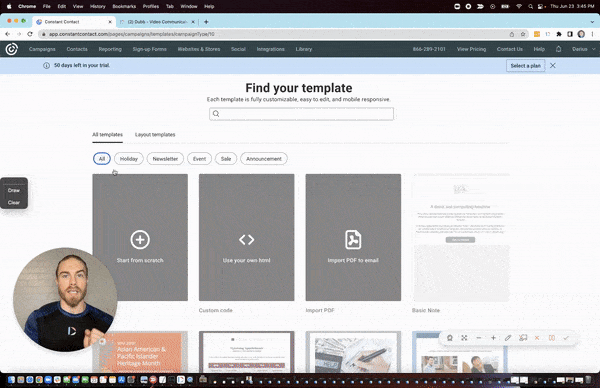 For this tutorial, we're going to make use of one of their templates.
Once you're in the email composition interface, you're going to want to drag and drop an image block. Now, you might be wondering, why use an image block if what we're trying to send is a video? This is a crucial step. Because believe it or not, the block for a video is going to behave differently. Consequently, it's not ideal for what we're actually looking to build.
After putting your image block in place, the next step is to upload an image. This is going to showcase your video with a GIF preview right inside the body of the email template.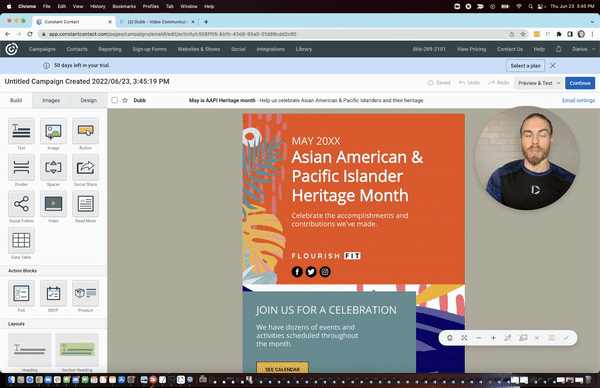 Go to your Dubb video library and find the video you want to send. Once it's pulled up, click Share & Send. You'll notice a dropdown right beside "Copy for Email." Click on that, and then select Download GIF. Upon clicking this, Dubb automatically generates a 3-second animated GIF preview of your video. Right-click on it, and then select Save Image as to download it to your local file library.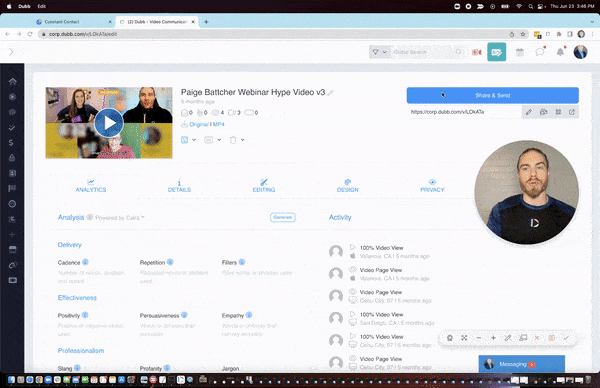 Why use GIFs, you ask? Simply because they warrant a higher click-through rate than still images, links, and other possible forms of content that you may find in an email. You practically only have two seconds to grab your audience's attention before they move on to the next message, or worse, delete yours. And so we use GIFs by default for maximum engagement.
Next, go ahead and download the GIF. Then come back to Constant Contact. Click on the image placeholder, select Replace, and then the Upload option. Upload the GIF you just saved and click Done. After this, you may select the GIF and finally Insert it into the email.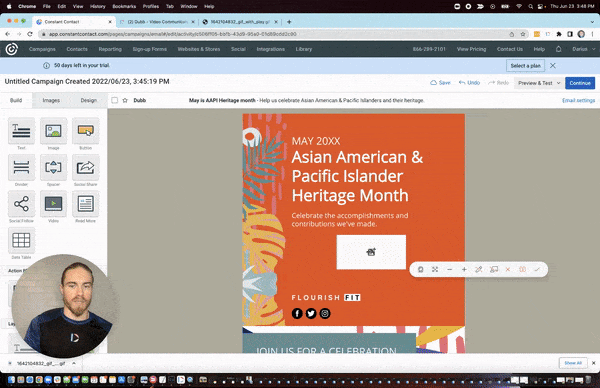 Note that you can change the size of the image as you see fit by using the expand tool.
As soon as you're happy with the size of your video in your email template, move on to the last step. Inside of Dubb, come back to the same place you retrieved the GIF. Open the Share & Send window once more, and click on Advanced Options.
Expand the "Optimize for" dropdown. Choose the Constant Contact option. Click on the "Copy for Email" dropdown, and select Copy URL. In the backend, Dubb completely optimizes this URL specifically for the Constant Contact platform.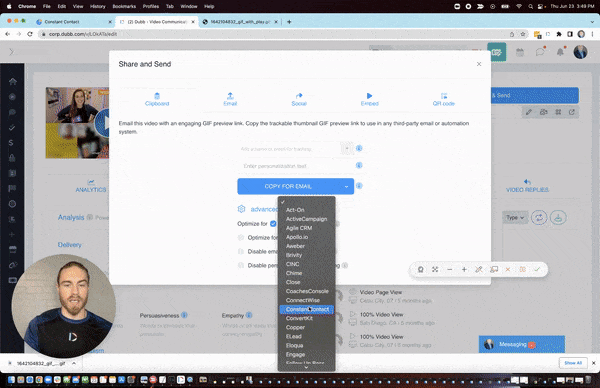 Go back into Constant Contact and then add a link (the optimized video URL) to the image by selecting the Web Page option. And that's it. That's all it takes to insert a video into the body of your Constant Contact emails.
Unlocking the Synergy Between the Two Platforms
There's a certain magic in accomplishing your video marketing objectives by combining the two platforms. Let me expound on what happens when you share a link and image that redirects to a Dubb video inside of your Constant Contact emails.
When your recipients click the play button, they'll be taken to a fully customized video landing page. This landing page is generated automatically, containing all of your best-performing assets — your logo, colors, background image, and calls to action.
Let's compare Dubb to other similar platforms.
There's no doubt that YouTube is a great video-sharing platform. However, it's not the most ideal for sharing video emails. When you upload to YouTube, your prospects will be subjected to ads and content from other brands which will likely be pulling their focus away from yours. You want their full attention, but that is something you cannot achieve with YouTube.
Vimeo is another known video hosting service. The downside is that it doesn't have the landing page capabilities needed for branding and customization. When you upload to Vimeo, it's essentially just the video on a simple, unbranded page.
With Dubb, you'll get optimized landing pages which people can directly take action from.
Speaking of action, did you know that you can also add fully-customizable calls to action right below your video? These calls to action can be virtually anything you want your contacts to do. It's a great way to guide them on their next step once they've shown interest by watching your video. From buttons for downloading attachments to replying with their own video, you can set them up however you want, whatever your needs.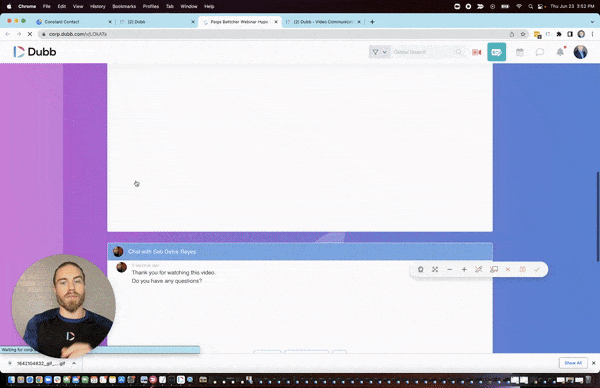 Another great feature is granular tracking and analytics. Every time you share a Dubb video through your Constant Contact account, you're able to track every bit of engagement down to the finest detail. 
You can get real-time activity reporting on who has viewed your video, what percentage they watched, which buttons they clicked, and practically any piece of information associated with your video. This way, you'll know exactly how much of your message they're engaging with. You can then try iterating to improve your messaging based on their action or inaction.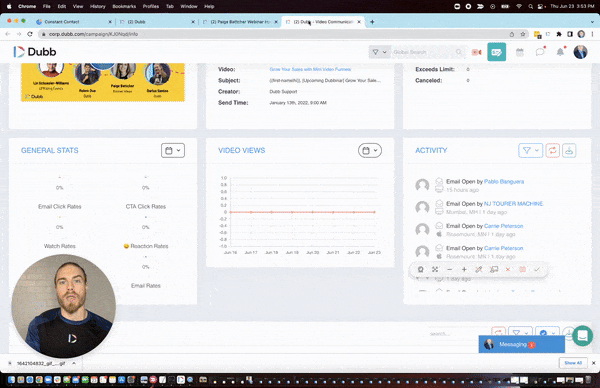 Wrapping It Up
There you have it. This is what the integration looks like. It's as simple as inserting an image and link into your Constant Contact email template.
Still on the fence about using video? I'll leave you with some awesome data. If you want to see a dramatic increase in your bookings, conversion rates, and ultimately sales, start sending out video emails to your prospects and clients. Attaching a video in an email alone has been proven to lead to a 200-300% increase in click-through rates. Moreover, studies have shown that 73% of customers are more inclined to purchase after watching a video.
If you'd like to know more about what Dubb can do for you, sign up for a free trial. I also encourage you to reach out to us! We would love to talk about how you can increase your sales and marketing efforts, whether using video, Constant Contact, or any other number of systems.