Have you been thinking about how to send a video email newsletter in 10 minutes? Moreover, are you hoping for that newsletter to educate your subscribers, get people interested in your company, and generate more sales? 
If any of the above apply to you, I want to help. In this article, you will learn more about how to send a video email newsletter in 10 minutes. At the end of this post, you will have gathered some key tips and insights on creating and distributing your own video email newsletter. 
The Power of Video Email Newsletters
When communicating with prospects, customers, or other members of your audience, you have a wide variety of tools at your disposal. You can do everything from communicating with your audience through a social media text post or send a video through a tool like Dubb.  
Of course, the text is going to be central to any marketing campaign that you launch. As much as all of us at Dubb love video, text is unavoidable. A video email newsletter, for instance, is going to contain at least some text. For instance, you may need to give a quick introduction to the video that you're sharing or give some additional context that you forgot to mention in your video. 
Ultimately, pairing up a really well-written newsletter with a video that is linked right from that newsletter can be extremely powerful. You can get more engagement and it brings more focus to what you want to write about. Your video email newsletter can include everything from general updates about your products or services to glowing testimonials from recent customers. The choice is yours.
That being said, the video itself is going to be the thing that drives most of your conversions. Video itself is powerful for so many reasons. Most prominently, it leverages our natural attraction to visuals and storytelling. Compared to other communication styles (like text), video reaches us on a primal level. It is extremely engaging and holds our attention for much longer periods of time. 
Along with this, video emails build trust and empathy between your company and your subscribers. While text can feel cold and impersonal, video can feel warm and more inclusive. Your subscribers are not only hearing your voice, but they are looking at your appearance and your body language. On a subconscious level, your subscribers are feeling more comfortable with you. You are less like a stranger and more like a trusted friend. This substantially increases your chances of making both an initial sale and subsequent sales.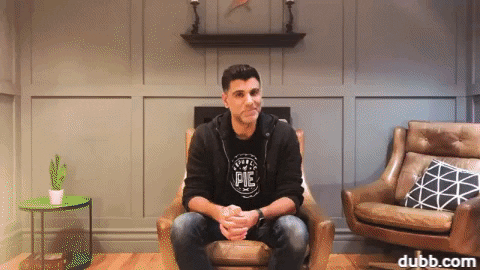 Even if you haven't yet created video content for your business, you'll certainly want to consider it when creating and distributing your email newsletter. While you can't put an actual video inside of an email, using a tool like Dubb, you can include an animated GIF and a link to a video landing page. By doing this, you can entice subscribers to view your video on a personalized video landing page that you can totally control. You can see an example of the animated GIF in the GIF below.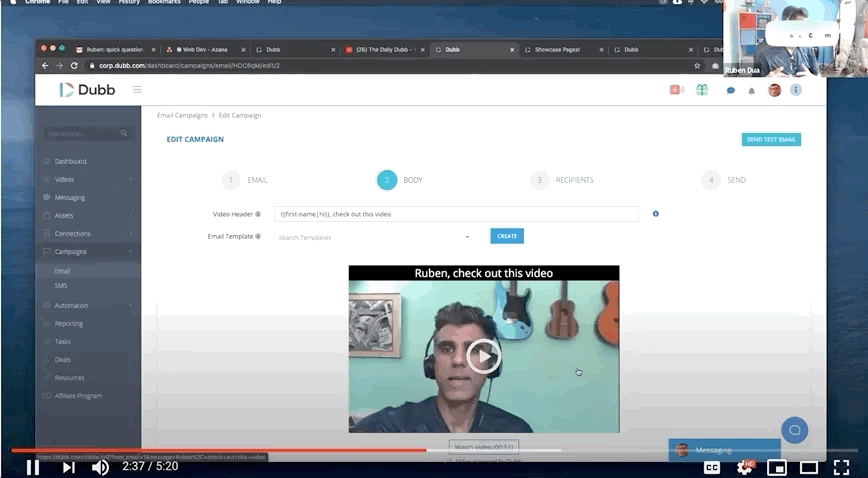 Creating a Video Email Newsletter in 10 Minutes
Understanding all of these benefits of video email newsletters, let's get into some of the details. For many entrepreneurs and business owners, starting a video email newsletter may sound like a great idea, but they simply don't have the bandwidth to do it. After all, being an entrepreneur or business owner creates extreme time constraints. All too often, there are unexpected fires that need to be quickly extinguished. 
Traditionally, when you are creating an email newsletter for the first time, you quickly recognize that there are many different moving parts. There's everything from the copy that you need to write, the graphics that you need on your email newsletter, and the landing page that has to be developed. 
The good news is that we have created a way for entrepreneurs like you to create a video email newsletter in 10 minutes. 10 minutes is all you need to create an awesome video email newsletter that you can distribute to your audience. 
Ultimately, video solves many of the problems that you would encounter with a traditional email newsletter. And by "video," I mean an authentic video. To get the most out of your video email newsletters, you want to be authentic and real in front of the camera. You can even shoot a no-edit video and distribute it to your email list. Whatever it is, stay authentic.
With these basics out of the way, let's get into some of the details. To create a video email newsletter in 10 minutes, you're going to want to take the following steps.
Step One: Download the Dubb Mobile App
To create our video email newsletter, we are going to use Dubb. If you haven't already, you're going to want to download the Dubb mobile app. If you have an Apple device, you can click here. If you have an Android device, you can click here. From there, you'll want to follow the normal procedures of downloading an app onto your phone.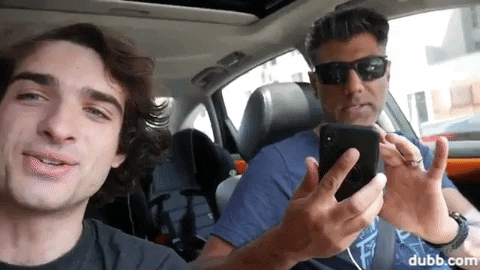 Step Two: Record Your Video
Using the Dubb mobile app, you can go ahead and record your video for your newsletter. As for the content of your video, it can be virtually anything. Like I suggested above, it can be a brief update of your product or service or a video testimonial. It can also be things like exciting company announcements or even introductions to new team members that you have hired. These are just some ideas, and I'm sure that you have some outstanding ideas of your own.
Whatever you decide to record, the good news is that video provides you with 100% of your communication capability. You can easily build trust and get your message across in both a visual way and in a way that people can easily understand. Take advantage of this fact as you record your video. 
Finally, the best part of Dubb's mobile app is that you can record your video anywhere. While you may naturally think to record your video in your office or at your desk, I encourage you to record out in the world. Go ahead and shoot a quick video when you're on a walk or even when you're driving to work. There are few (if any) rules here, so don't be afraid to get creative here. 
Step Three: Upload Your Video
After you are satisfied with your raw footage, you're going to want to upload your video to Dubb. You will be using both the Dubb mobile app and Dubb's campaign manager. 
To start, you are going to need to create a Dubb account. This is extremely easy to do. Simply go to our website and sign up for free. Once you have signed up, you can access your complete dashboard. 
After creating your account, you can upload your newly-created video. Once the upload process is complete, you will see that Dubb automatically creates a video landing page for you. In other words, you don't need to do anything to get a video landing page for all of your Dubb videos.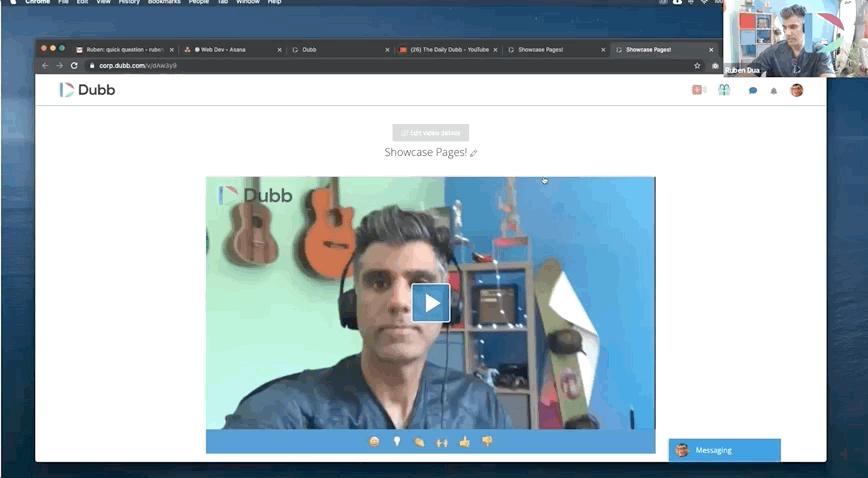 As you can see above, this video landing page is extremely beneficial in several different ways. Yes, it has your standard features like a title, several calls-to-action ("CTAs"), and then a social footer. 
Obviously, your video title is important, as it is one of the first things that your subscribers will see. 
Your CTAs are arguably the most important. If you haven't yet heard of a CTA, it is essentially a way to direct your subscribers, readers, viewers, or users further down your marketing funnel. The goal is to move your prospect closer toward a certain objective that you have (like that prospect purchasing your product or service). 
Using a tool like Dubb, you can program your CTA to be virtually anything. They make your videos actionable. For instance, your CTA can be having your subscriber download a white paper or eBook that you've drafted. It can also be something like scheduling a call with your team or leaving a video reply to your initial video. Whatever the case may be, Dubb makes it extremely easy to develop and leverage custom CTAs. You can customize all of those CTAs on the details page.
Finally, there is the social footer. The social footer is an easy way for your subscribers to see your social media presence. Along with including a professional headshot, you can append links to your social media pages. There is also space to include a link to your website. 
Ultimately, there are plenty of customizations that you can make here. In sum, don't hesitate to spend some time editing your video landing page. While you may naturally spend more time focused on the content of your videos, your video landing page can be the ultimate catalyst that turns an email subscriber into a paying customer.
Step Four: Create Your Campaign
Once you have shot your video and optimized your video landing page, you have arrived at an important step. That is creating your email campaign based on your video. 
To start off, anytime that you have an email campaign, you have to make sure that you set it up properly. On Dubb, this means that you have to get to the broadcaster provider page. To get there, simply click on your settings account, click on team, and then campaign settings.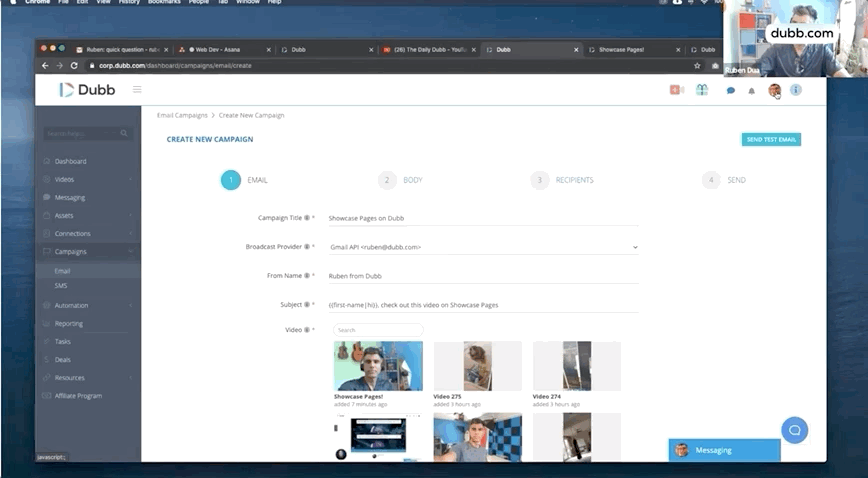 From there, click on the blue button that says "Add New Configuration." To add a new configuration, click on email, providers, and, for instance, Gmail. From there, all you need to do is click "Connect with Gmail," add a cc or bcc, and then click save. You can add different email providers or even use SMS if you'd like.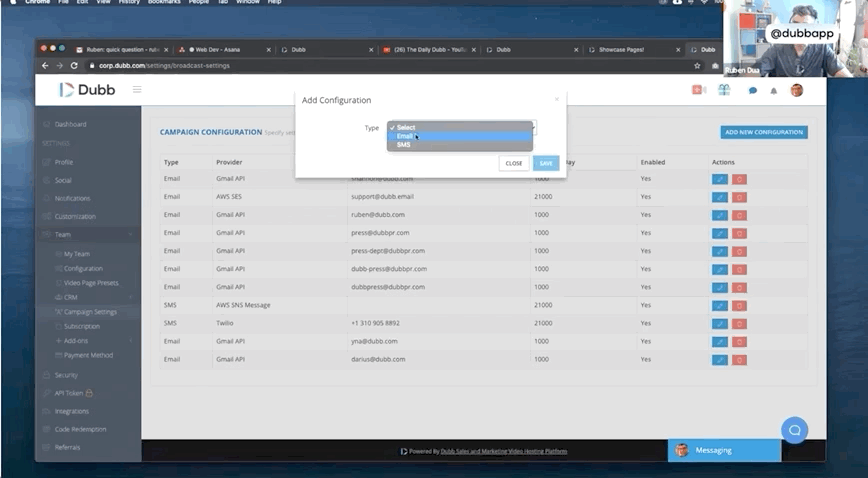 If you have any questions about setting up your campaign, don't hesitate to contact us. 
Along with this initial setup, there are several important things to consider when creating your campaign. Some of them are related to Dubb specifically and some of them are just first principles for sending an email newsletter in a general sense.
First (and perhaps most importantly), make sure that your subscribers are not being tricked or misled. The last thing you want is for your subscriber to feel tricked into reading your email. What do I mean by "tricked"? Essentially, I mean that you as the email newsletter creator do not follow through on the subject line. For instance, if your email subject line says "Here are the top three secrets to email marketing," you better make sure that those three secrets are included in your video. If you don't deliver on your promise in the body of your email, you will definitely turn off your subscribers. In fact, some of them may unsubscribe on the spot. Keep this in mind—both when you are creating your actual video and when you are drafting your email subject lines.
Speaking of subject lines, it is helpful to add personalization. By putting the recipient's first name in the subject line of your video email newsletters, you'll dramatically increase your open rates. Your subscribers will feel like your organization truly cares about them. It is a small detail, but it makes a big difference. Better yet, you can use a tool like Dubb to quickly implement personalization text on a large scale. No matter the size of your email list, you'll be able to add personalization text to your subject lines.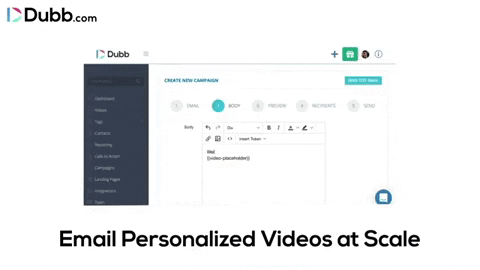 With subject lines, it is also helpful to include the word "video" in them. Think about putting something like "[Video]" or [New Video]" at the beginning of your email subject lines. You'd be surprised at how this term will increase your open rates. People love watching videos, and if your audience has subscribed to one of your email lists, they will most likely be interested in watching video content from you. Therefore, don't hesitate to take advantage of this easy-to-implement tip.
In your campaigns, it's also critical to think about the way that you are communicating with your text. Like I said, even though you are sending a video email newsletter, you're going to need to include at least some text in your newsletter. When drafting that text, make sure that your communication is intentional. Step into your subscribers' shoes and keep their perspective in mind. Think about what the subscriber needs to feel in order to get value from your email video newsletter. Doing this, you'll once again increase your chances of getting higher open rates and more subscribers. 
For instance, one helpful tip for the bodies of your emails is to include a quick blurb about the video content. You can even include a few bullet points to tease out some of the value that subscribers will get from watching your video. After those bullet points, you can say something like "If you want more information, go watch the video." It doesn't have to be too formal or wordy. Instead, it is just another way to create value—just in case some of your subscribers don't end up watching the video.
Once you are settled with all of your email copy, you are going to want to select the video that you have created. Doing this on Dubb, you will see that an animated GIF is automatically created. This animated GIF is the closest thing that we can get to having the actual video itself embedded in the body of our emails. To reiterate what I said above, this animated GIF is a great signal to subscribers. Instead of having them click on a foreign and unfamiliar hyperlink, they can actually see that you have created a valuable video for them. They are more likely to click it and thereby visit your video landing page. 
Step Five: Sending Your Video Email Newsletter
Using Dubb, there are two ways to send your video email newsletter. The first way is to paste your emails directly in this form. The second way is to create a saved list. 
Pasting your emails directly in this form is essentially straightforward. Simply go to the email that you want to send to a list, and then copy and paste the video email you created. You can do this in email services like Gmail or other email marketing software (like Mailchimp).
Creating a saved list is also extremely easy to do. It only takes a few minutes. All you need to do is import your contacts into Dubb, tag them, and then save them as a list. Once you have your email list uploaded to Dubb, all you need to do is click the "Save And Continue" button.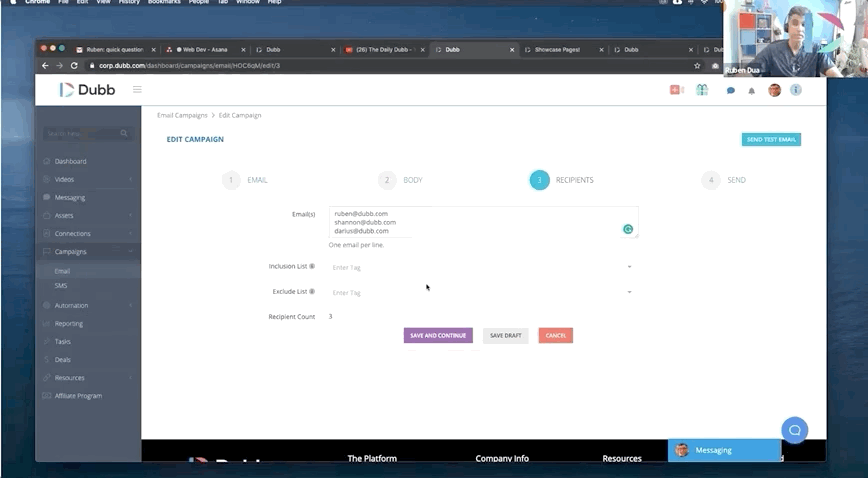 From there, you can either send your video email newsletter now or you can schedule it to be sent at some point in the future. If you are less sensitive to your newsletter's date and time submission, you are free to do it once it is complete. However, if you have a certain day and time that you want your video email newsletter to go out, you are free to select that distribution time.
Step Six: Keep Experimenting and Testing
While you can use Dubb to create a video email newsletter in only 10 minutes, your work is only beginning. One of the most effective things that you can do is keep testing and experimenting. 
One of our favorite tools at Dubb is A/B tests. If you haven't yet used A/B tests, they are ways to quickly see how your users or subscribers respond to one of two options. With a big enough sample size (and enough A/B tests), you can get to the bottom of what your subscribers are looking for. 
In the context of video email newsletters, A/B tests are great for things like testing your email subject lines. You can launch a simple experiment where you change the wording or syntax in your next email newsletter. Upon running that experiment, you will see which subject line converts more. From there, you can use that data to help you create even more effective subject lines in the future. 
A/B tests aren't just for email subject lines. You'll want to test your video content and even your personalization text. Get in the habit of running tests on your current and future video email newsletters. Putting in the work now can help you create even more effective video email newsletter campaigns in the future. 
Along with A/B tests, don't hesitate to leverage surveys. You can use surveys to see what people think about the content that you are releasing. Listening to that kind of feedback, you can get a better sense of what people are thinking. 
With surveys, however, there is a key caveat. Sometimes respondents to your surveys don't want to tell you what they're thinking. They may not want to offend you or they may be nervous about sharing their true opinion. Just keep this in mind as you are releasing surveys. The best solution is often using A/B tests and surveys to better gauge your subscribers' opinions. 
Ultimately, this final step comes down to a constant feedback loop. That feedback loop is about listening and refining. You listen to your subscribers or audience, generate video content for them, send your video email newsletters, and then refining your video content. It is kind of a never-ending loop.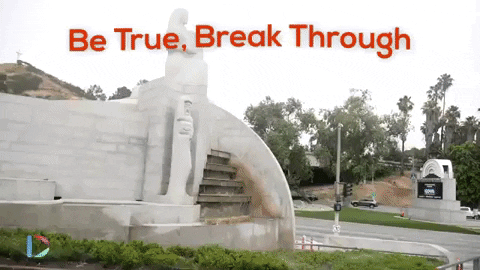 The Excitement of Video Email Newsletters
One of the best things about video email newsletters is that people get excited about them. Mentioning your new newsletter creates buzz because people, including members of your audience, love watching videos. Whether you are looking for a great addition to your marketing work or want to find a new way to engage with members of your email list, I hope you have seen how video email newsletters can offer immense value.
Moreover, following the tips and insights discussed above, you can create awesome video email newsletters in only 10 minutes. While it may take some time in the beginning, you and your team will get better and better. Before you know it, you will be quickly churning out awesome video email newsletters that your subscribers love.
What is amazing about this entire process is that all of these steps used to take such a long time. Along with this, they required close collaboration between many team members. There were a lot of meetings and back-and-forth before the email was actually sent out. 
Now, however, this process is much easier thanks to simple forms and tabs offered by Dubb. Users like you can leverage a graphical interface to send your video email newsletters. Yet just because the interface is extremely intuitive doesn't mean that there is sophistication here. There is a high level of customization that you can rely on. 
If you would like to learn more about how Dubb can help you with your video email newsletters, click here. You can also get in touch with us if you have support questions or any other questions about video email newsletters. To do so, click here.