Have you been wondering how to make an instant video website? If so, you are definitely onto something. Instant video websites can provide so many benefits to your business. While video marketing in and of itself is extremely powerful, pairing it up with instant video websites can accelerate your video marketing work.
With all of that being said, many creators and businesses don't take advantage of instant video websites. From the apparent lack of time to confusion about how to actually create instant video websites, many of their benefits are left on the table. 
While this is unfortunate, you and your business can have a more positive outcome. In this post, I want to take a deep dive into instant video websites and how your business can take advantage of them. 
The great news? Using a tool like Dubb, you can instantly create video websites and use them to generate more sales. Let's go explore how these tools can help you accelerate your business.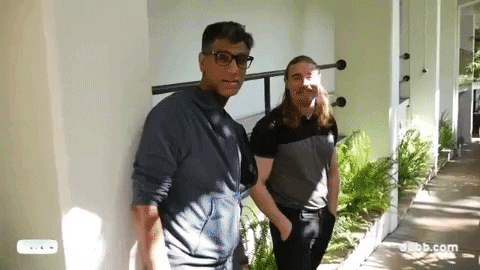 The Power of Custom Websites
Whether you are a solopreneur or have a management role at a much larger tech company, it is absolutely critical to build real, authentic relationships with your audience. From the coldest of prospects to the most loyal customers, relationships are the things that play a large part in your success or failure.
There are obviously different ways to go about this. In the pre-Covid-19 world, it would be about sitting down with prospects and customers in a face-to-face setting. From trade shows to visiting key prospects' offices, building those relationships took a significant amount of facetime.
Because of this, many businesses were already switching to a digital approach to starting and building those relationships. In the digital realm, there are many ways to do this, ranging from starting up a compelling company newsletter to connecting with your audience through a daily vlog. 
Part of this digital toolkit was, and still is, to create custom websites. Custom websites are great ways to show prospects and customers that you truly care about them. They not only show that you inherently recognize the problems that they are facing, but that you took the time to address them on your website. Essentially, it shows that your company isn't a faceless monolith. Instead, it is composed of people that want to help prospects and customers improve their lives. 
Better yet, you can create custom websites for a whole host of reasons. Maybe you are building the website to show off some of your work. Perhaps you want a certain website to sell a product to a particular group of prospects. Or maybe you are trying to evangelize your product to a large or small collection of people. Whatever the case may be, custom websites can help you get the job done. 
The benefits of custom websites are clearly there. Along with this, there is a whole genre of services that let you build custom websites with no-code interfaces. These tools can be useful, but they still take a significant amount of time and effort. While you can certainly create beautiful custom websites, you are going to need to find time to do it. Often, you don't want to do so, but you want to get all of those benefits from custom websites.
Perhaps this is why we are seeing a trend where fewer people are taking advantage of things like personal websites. Instead, more people are just using social media. They are linking to things like their Twitter pages or Instagram profiles. While this may work, there are still times where you'll have a specific use case that can't be solved by social media. This can include things like having a prospect complete a form or complete some other customized experience. These use cases certainly arise, yet the time constraints of creating a custom website may make many businesses think twice. 
The Benefits of Instant Video Websites
Fortunately, you don't have to make this hard choice. You can leverage all of the benefits of custom websites by leveraging instant video websites. These websites are helpful for so many reasons, but one of the most prominent is that they are instantly generated. This is a huge benefit that solves the most acute pain point for many organizations. Because they are instantly generated, you and your colleagues can spend less time creating websites. With that time saved, you can do everything from creating even more video content to spending more time on critical internal matters. The choice is yours. 
Along with their instantaneous nature is the fact that instant video websites are video-based. This means that you can easily switch out a particular video to fit whatever goal that you're trying to achieve. You get that custom feel that you are seeking and can easily send that feeling to your target audience. No matter what you are trying to accomplish with your video marketing work, instant video websites can get you much closer to that goal.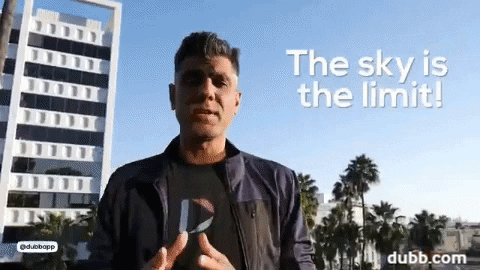 Finally, instant video websites give you the ability to provide that personal touch and human element to your video content. While you can certainly offer custom content in the videos themselves, a custom video website singles out your audience. It shows that you and your colleagues have thought long and hard about what your audience wants, expects, and needs.   
Using Dubb Action Pages
At Dubb, we take pride in creating all sorts of tools and features for our users. Dubb action pages are just one of those tools that can help our users leverage the power of video marketing and better connect with their audiences. 
We have been laser-focused on making Dubb action pages extremely easy to use. To get started, all you need to do is upload a video or paste in a link to a YouTube video. If you don't yet have your video, you can record a video using Dubb's creation tools for desktop and mobile. Upon uploading your video to our platform, you will get an instant video website. It is as easy as that. 
Once you have your instant video website, you can do many different things. To start, you can select a preset that you can customize. Once you have settled on your preset, you can add your preferred buttons and calls to action ("CTAs") to your page. 
As you likely know, CTAs are extremely useful tools in directing your audience to some sort of action. Using a tool like Dubb, you can create all sorts of CTAs, including scheduling a call with your team, booking a slot on your calendar, communicating via Facebook Messenger, recording a video testimonial in response to your video, complete an interactive form, purchase a product, and more. Better yet, these CTAs are directly below your video, so you can ensure that your audience will see them. You can see these CTA buttons in the GIF below: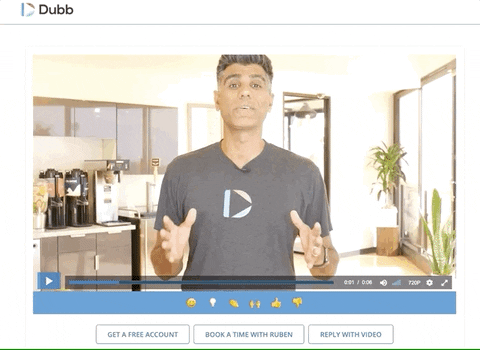 These are just some of the many features that you can get with Dubb action pages. To try them out for yourself, we invite you to participate in a 14-day free trial of Dubb. Click here to get started. 
Instant Video Websites Drive Action
Ultimately, we think that instant video websites are extremely powerful. They provide a customized experience that also feels personal. Whether you call them instant video websites, landing pages, video funnels, or Dubb action pages, they are websites that are intended to drive action.
But compared to those alternatives that I discussed above, instant video websites are so powerful when they are automatically generated. Once you upload the video, record the video, or paste the YouTube link into Dubb, you automatically get a video website that you can customize according to your own needs. This is powerful and is a very easy way to quickly make websites to do whatever you want. 
Really, you don't necessarily need a full website builder to get these benefits. Instead, you just need a service that can deploy a video and create a customizable website around it. As you can imagine, this saves you so much development time. And in reality, you don't need a full-blown website to accomplish your discrete goals. An instant video website will often get the job done. As is the case with many things in business and entrepreneurship, good is better than perfect. 
Getting Started with Instant Video Websites
Video is increasingly at the center of what websites really are. This is true even looking at social media websites. More often than not, video is going to be central to those websites. It has become the focal point of our online interactions, and it isn't going away anytime soon. If you haven't yet jumped on the video train, I highly encourage you to do so.
Moreover, people just want to get to what's important. We want the highlights and most vital information before the not-as-relevant information. Our days have become increasingly busy, so we want things done more so quickly so we can spend valuable time on the things that we want.
Because of this, you are well-served to invest in video and instant video websites. Video is a great way to communicate whatever you want in an extremely efficient way. Whether you are trying to sign on new customers for your service or simply want to schedule a call with some brand new prospects, instant video websites can be a great choice. 
To learn more about how you can use Dubb to create instant video websites, feel free to click here. You can also click here to contact us and click here to sign up for a free 14-day trial of Dubb. Our entire team looks forward to hearing from you!