The modern inbox is noisier than ever. With the proliferation of emails, texts, and other ways to communicate, it's becoming increasingly difficult to get your emails noticed in a world of countless messages. Everyone's trying to get everyone's attention, and plain text emails are simply not enough to make you stand out in the crowd. Although plain text emails have worked in the past, competition has grown, and sticking to this traditional way of emailing is no longer going to cut it.
We were taught from a young age that we shouldn't trust people we don't know, and we've applied that same stranger danger principle to receiving emails. Especially with the increasing pervasiveness of spam and fraud, people are growing more and more distrustful of emails they receive from people outside their contact list.
The good news is that there's a way to overcome this issue—embedding videos in the body of your emails. By adding eye-catching videos to the emails you send, you're increasing the chances of your message being opened by your recipients, and not deleted before they've even had the chance to open it. In a sea of plain text messages, an email with a video attached has great potential to be opened and interacted with.
Now, including videos in your emails has proven to be an effective way to break through walls of suspicion, but you might encounter a couple of setbacks in the process.
Is It Possible to Embed Videos in Outlook Emails?
The answer isn't exactly a "yes," nor is it a definite "no."
You see, not all email clients allow sharing of videos that play directly within the body of an email. Outlook, in particular, does not support embedding videos in emails—at least, not anymore—primarily for security reasons. They discontinued support for video in email messages to prevent the spread of malware. Along with this, the platform is also not HTML5 compatible.
In case you're unfamiliar with the term, HTML5 is a video element that has widely replaced the older (and now discontinued) Adobe Flash Player plugin. The HTML5 video element allows the browser to pull and load a video from a specific source or different platform, which means that a recipient could play a video directly from their email client—that is, as long as it has HTML5 capabilities.
Apart from Outlook, most email service providers, including Gmail and Yahoo, are not HTML5 enabled. But all hope isn't lost, because this still leaves us with two other ways of sharing videos in Outlook emails.
Sending a Video in Outlook as an Attachment
The first method would be to send the video as an attachment, which seems like a fairly simple solution. However, Outlook has a 20-megabyte (MB) limitation on file sizes. This is an extremely small file size—a one-minute video that's in 720p at 30 frames per second is approximately 60 MB. If you attempt to send a video file that exceeds the 20 MB limit, you might receive an error message and Outlook might ask you to upload the file to your OneDrive cloud instead.
Even if your file doesn't exceed the size limit, your recipient still needs to download the file. This might not seem like a problem, but it has its downsides. This method can prove futile, considering we are inclined to not download attachments from people we don't recognize. It's also risky on your part because having an attachment in your email increases the likelihood that your message will not reach your recipient and instead end up in their spam or junk folders.
So we've established that embedding videos using HTML5 isn't going to work, and neither is sending video files as attachments.
One of the ideal ways to embed videos in your Outlook email messages would be to use software such as Dubb.
Dubb is a video communication platform that enables you to record and host actionable, trackable videos using your smartphone, laptop, or desktop computer. It also lets you share videos in emails with the click of a button.
How to Insert a Video into an Outlook Email using Dubb
Step 1: Install the Dubb Outlook add-in
To begin, you'll need to download the Dubb Outlook add-in from the Microsoft Store. For a more detailed walkthrough on how to install the add-in, check out this support article. Keep in mind, however, that if you're using a corporate Outlook account, you may need to ask for permission first in order to install it.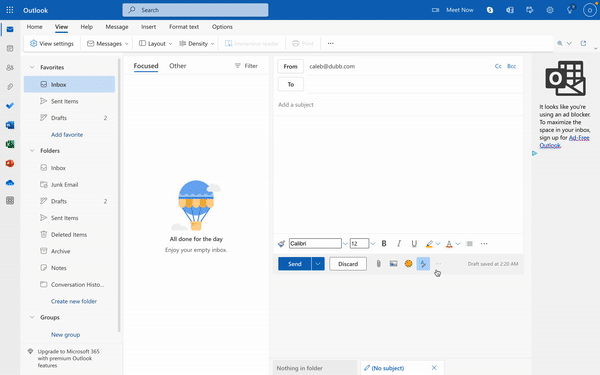 Step 2: Log in to your Dubb account from the add-in
Once installation is done, click on the New mail button to start creating a new message. You can access the Dubb add-in by clicking the three-dot menu on the email toolbar. I suggest pinning the Dubb Outlook add-in to your toolbar so that it's easily visible whenever you're composing a message. To do this, navigate to the Settings panel, go to Customize actions under Mail, tick the box that corresponds to Dubb, and finally click Save.
After pinning the add-in, proceed to log in to your Dubb account by clicking the Dubb icon. Next, click on the Dubb Outlook add-in, which will give you access to your entire library of videos.
Step 3: Insert your Dubb video into the body of your email
No matter the duration or size of your Dubb videos, you can instantly insert them into the body of the email. Just click on whichever video you wish to send. You will then be prompted to decide whether you wish to add the contact's email address for activity reporting. If you choose to perform this action, Dubb will track every bit of engagement that your video receives for you. This means you'll know if your contact clicks on your video message, whether they watch the video, how much of it they actually watched, and various other data such as click rates.
This Share your video prompt also allows you the opportunity to add personalization text to your video email. A simple "Hi [first name]!" would go a long way. It lets your recipients know that the message is made just for them—that would make for a great first impression.
Once you click on Insert Video, Dubb will automatically generate an animated GIF preview of the first three seconds of your video. This makes for a much more engaging experience for the recipient, compared to seeing a plain image thumbnail.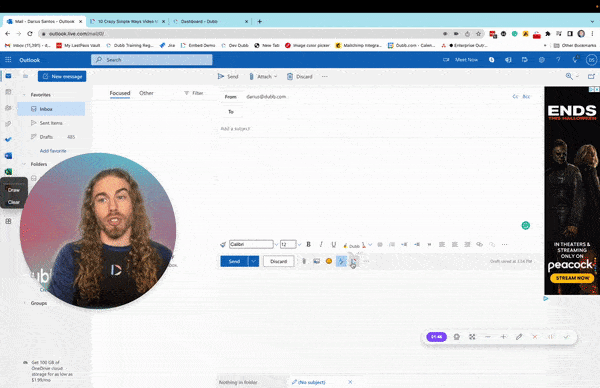 Adding videos to your emails using Dubb doesn't give you any error messages on attachment size limitation. It won't require your contacts to download anything either. All they need to do is click on your video and they'll be redirected to your video landing page. Pro tip: you can fully customize your Dubb video landing page so that it's complete with your logo, call to action (CTA) buttons, and everything else that has to do with your branding.
The Platform for Your Video Email Marketing Needs
Using Dubb is one of the best and most secure ways to share videos through Outlook, especially for business purposes, such as developing your business, prospecting, winning new business, or marketing. If you'd like to test it out, consider signing up for a free trial—no credit card required.
For queries, please don't hesitate to contact us at support@dubb.com or visit support.dubb.com.