In this post, I want to provide an in-depth guide on how to create, host, and market an online summit with Dubb. Whether you are spearheading an online summit soon or simply want to know more about how to leverage online summits in your own work, this article is for you. 
Connecting in a World of Lockdowns and Quarantines
Covid-19 has utterly transformed the way that we work and connect with others. Instead of collaborating with others in the office, many of us are diving headfirst into the work from home movement. Using high-quality digital tools (like Dubb For Remote Work), we can continue to connect with our customers and accomplish our sales and marketing goals. 
But beyond this, one of the many discouraging things about Covid-19 is that it has stopped us from meeting others at conferences, events, or summits. Online summits can be an extremely powerful way to connect with peers, prospects, and fascinating individuals from around the world. No matter your industry or sector, summits let you meet fascinating people, promote your business, and even bring on new clients. 
Because of the strange times that we are currently experiencing, I thought it would be a great opportunity to explore online summits. To explore the logistics of creating, hosting, and marketing online summits, I was happy to speak with Rubens Vieira, who provided a quick tutorial on how to use Dubb and Hey Summit. 
Some Basics on the Online Summit
Starting from a 10,000 foot view, an online summit is an event or conference that takes place in the virtual world. These online summits occur at a specific time and anyone with a laptop host and attend these events. 
As you can guess, online summits have become totally relevant in our current environment. Even if there were outstanding summits still being held around the world, most (if not all) of us are refusing to get on airplanes. Instead, we are hunkered down in our homes—even if mandatory state lockdowns are being lifted. With increasingly powerful digital technologies, however, we are still able to connect with others from the comfort of our homes or apartments. 
Ultimately, online summits are so powerful because we can hear from and interact with thought leaders and interesting personalities in a virtual space. With in-person summits, physical barriers mean that some speakers or attendees aren't able to participate. They can't catch a flight to the summit site or face last-minute work emergencies that keep them at the office. These barriers prevent speakers and participants from taking advantage of these great learning and networking opportunities.
With online summits, however, these logistical barriers essentially disappear. Online summits are a great way to network with fascinating people around the world. You don't need to get on a flight and spend thousands of dollars to arrive at the conference site. Instead, whether you are a speaker or attendee, you can virtually gather in one specific place at a specific time. 
After having a face-to-face conversation with a peer on Zoom or other video chat software, you can immediately go to LinkedIn, Twitter, Facebook, or other social networks to connect. This is valuable not only for your personal brand and your company's brand, but for the informational and educational opportunities. Long-term relationships can be built—even if you aren't physically in the same room. 
There are many pros. That said, the biggest con centers on one word: time. It takes a significant amount of time to plan and host an online summit. Not only that, but there is plenty of work both during and after the summit. You may be facilitating a panel, so you'll need to do your research and prepare some thoughtful questions. After the summit, you'll definitely want to distribute clips of your content (as I'll discuss below). All of this takes time, and if you don't have a team to help you with these tasks, it is going to be a long slog. 
Because of this, some people decide to start a podcast or YouTube channel instead of hosting an online summit. They create weekly content, which can be in the form of things like interviews, live videos, or demonstration videos. Doing this, however, creators don't get that larger branding benefit for their companies. They aren't able to capitalize on those elements of scarcity and community that make online summits so exciting. 
In the end, however, online summits are a phenomenal way to stimulate the whole ecosystem and convey important content. Accepting the required time commitment, you can absolutely leverage all of these benefits of online summits. 
The Value of Evergreen Content
An online summit can help you learn about new trends and connect with others in your industry. The benefits don't stop there, however. One of the more underrated, yet valuable parts about online summits is that video content from that summit is evergreen.
Unfortunately, a good number of online summit organizers forget about this fact. They are inadvertently tossing away excellent content that can be repeatedly leveraged in the future. Whether they are using Dubb or some other tool to host their online summit, these recorded videos can be repurposed and used as additional content.
As just one example, let's say that you hosted an online summit for restaurant and bar owners. Along with the general networking opportunities within this online summit, you were able to schedule a Michelin Star chef to deliver a keynote. You also organized several panels with well-known restaurant and bar owners, accountants, and attorneys. 
All of this content provides value to those attending your online summit, but it can also be spliced and reused on your website and social networks. You could use them as marketing, brand, or sales assets. You could even use a platform like Dubb to take that video you embedded on your online summit page and share it with others.
Bottom line? Don't just use your videos in your online summit. They don't have to be single-use pieces of content. Instead, take advantage of this chance to repurpose your content. You'll be glad that you did, as it makes it easier to market your company, build your brand, and connect with those who did and did not attend your online summit.
What is Required to Host an Online Summit?
From understanding these benefits of online summits, you may not be curious about how to actually host an online summit. 
While there are several different tools that you can use, we at Dubb are recommending Hey Summit. Along with being a stellar piece of software, Hey Summit has a nice native integration with Dubb. This makes it extremely easy to take a pre-recorded video or video that you can compile and then store, host, or embed it through an online summit page. 
To take advantage of this, you'll need both a Dubb account and a Hey Summit account. You'll also need a list of speakers. The simple fact is that all online summits require content, so you must get people that are willing to come forth and provide content. 
To do this, we at Dubb recommend that you create a spreadsheet or some other document. In this document, you can create a list of all potential speakers in your network. Go ahead and be expansive here, as this is just a starting point. From there, you can then start to compile a list of topics.
Arguably the toughest part is the outreach. The simple fact is that people are busy. Even if your target is interested in participating, he or she may be unresponsive or may be too busy to attend. What I always recommend is to continue following up. Don't be afraid to stay persistent. It also helps to present your prospective speakers with topic ideas. If those topic ideas don't work, keep at it. There's a fine line between being persistent and annoying, but I believe that persistence is key to get awesome speakers for your online summit. 
Once your target speakers commit to your online summit, all they need to do is just pre-record a masterclass, demonstration, video recorded from their phone, or even a presentation that they deliver on PowerPoint or Google Slides. To record these videos, I recommend either the Dubb Desktop Recorder or Dubb Chrome Extension. 
When doing so, I also recommend people to use the play/pause feature. If they don't, what may happen is that they may see some lag or pauses in their videos. For instance, if they're going through slides or cycling through tabs in their browser, there is going to be that inadvertent lag that occurs. By streamlining the content and pausing between those transitions, your speakers can create stellar presentations for your online summit attendees. Also, if your speaker is recording with Dubb, make sure to tell them to click the "allow video download" feature on the video input info page. 
Once your speaker is finished recording, they can send you the link to your video, allowing you to easily download it. If your speaker does not use Dubb to record their video, you can use cloud-based tools like Google Drive, Dropbox, or WeTransfer to receive the video. After receiving that video, feel free to get that video uploaded into your Dubb account. 
A Quick Demo of Hey Summit
Now, I want to share a quick demo of Hey Summit. Once you have all of your videos compiled, you'll need to get them uploaded to your Dubb account.
Looking at Rubens's screen, you can see that using Dubb with Hey Summit is extremely easy. On your Hey Summit page, all you need to do is click on the blue button with the hamburger icon and then click "Video Settings."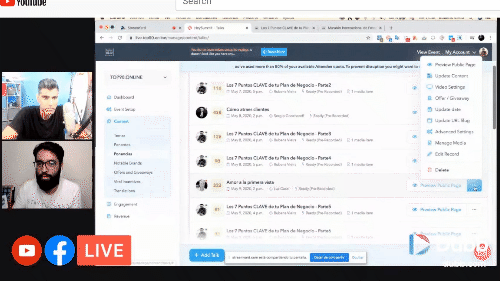 From there, you can click on the "Pre-Recorded" option. You'll see the Dubb logo (which you'll want to click) and then paste your pre-recorded video ID or URL into the module.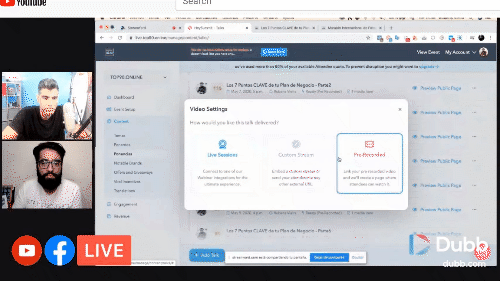 Then, all you'll need to do is click save and you'll be good to go. 
After completing this process, you'll notice that your video will be embedded on your Hey Summit page. So with Dubb and Hey Summit, you can leverage a two-click integration that can make it extremely easy to host your online summit. 
The Power of Online Summits
Living through a global pandemic doesn't mean that you shouldn't be able to connect with others online. Ultimately, I believe that online summits are an outstanding way to connect with others, learn valuable insights about your sector or industry, and build your personal and company's brand. While there is certainly a time commitment, I'm certain that you will find the rewards to be worthwhile.
Last (but not least), if you are looking for ways to make it easier to create, host, and market your online summit, I recommend that you check out Dubb and Hey Summit. You can also click here for a 14-day free trial of Dubb's premium plans.