There are plenty of small and large businesses alike that are searching for a great sales video hosting platform. 
This is for good reason. 
It goes without saying, but sales is the lifeblood of any organization. Without repeat business from current customers and a constant influx of warm prospects, any business is facing steep odds. 
Yet while sales are so critical for any company, there are plenty of ways of generating those sales. Video content is one of the most effective ways of doing so. Relying on video, you can tell compelling stories and better connect with your prospects and customers, thereby increasing your chances of growing and scaling your business. 
It is for these reasons that several software companies have developed sales video hosting platforms. These platforms can both host their clients' video content and offer tools that can easily distribute and analyze their video content. Dubb is one of those platforms, yet others in the marketplace offer their own sales video hosting platforms.
In this post, I want to analyze and compare Dubb's sales video hosting platform with some of our competitors. While I may be biased, I believe that Dubb offers the most relevant features at the most affordable prices. Whether you are looking for a new way to sell to your prospects or aren't satisfied with your current sales video hosting platform, Dubb can be a key asset in achieving your growth and business goals.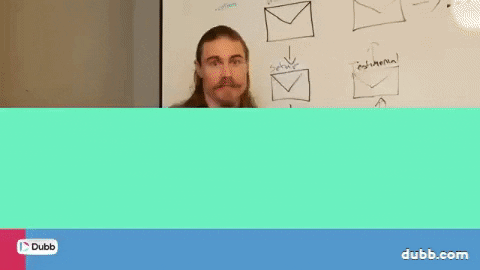 How Sales Video Hosting Platforms Provide Value
Before exploring some of the differences between Dubb and other sales video hosting platforms, it is helpful to take a few moments to discuss why a sales video hosting platform is important in the first place. After all, you likely have a whole host of additional software that makes up your entire technology stack. Before deciding which sales video hosting platform you want, you must understand why a sales video hosting platform is a great idea in the first place.
Simply put, a sales video hosting platform can help you get more sales. The secret sauce is leveraging the power of video to connect with your prospects and current customers.
Video is powerful in so many ways, but I would argue that there are two important ingredients. The first ingredient is the visual nature of media. We are so used to reading text messages or drafting lengthy emails. It's simply a part of life. But having said that, text isn't the most engaging platform. Video is so special because it taps into our inherent bias for visuals. Whether we are watching a video on Instagram or are eagerly consuming a YouTube video from our favorite influencer, we find it easier to engage with video content.
Along with this inherent bias for visuals is the fact that video makes it easy to tell stories. Like visuals, we are wired for stories. Ever since the earliest humans gathered around the campfire, we have become infatuated with others' stories of success, fear, joy, and love. These stories give life meaning. And by hearing others' experiences, we can apply the profound insights and lessons to our own lives. 
Storytelling is made for video. Even if you are sitting at your desk, you can tell elaborate stories about your experiences, insights, or general impressions. If you are on-the-go, you can make even more engaging stories. As you can see in our YouTube channel (called the Daily Dubb), we talk about sales and marketing topics in many different places. From Dubb headquarters to the Hollywood Walk of Fame, we take pride in sharing our expertise in some seriously cool places. By shooting valuable pieces of content for your audience, you can build extremely close connections. You can build a tribe of loyal, passionate, and dedicated viewers. In all likelihood, some of those viewers are going to become paying customers for your business. Even if they don't, they may spread the word about your video content, thereby increasing your tribe and increasing your overall sales. 
So by offering these twin benefits of visual and storytelling, video can be your business's killer app. So how does a sales video hosting platform fit in? 
Basically, you can think of a sales video hosting platform as the mission control for all of your video content. It is a tool that can help you create, host, distribute, and analyze all of your video content. 
As you can guess, this is extremely powerful in a sales environment. From introducing your company to new prospects to shooting a quick video to bring a warm prospect across the finish line, your sales video hosting platform can help you accomplish your goals. You can easily distribute your sales videos at scale and you can quickly monitor which videos are and are not working. 
Even better? Your personalized "mission control" is working for you 24/7. It consists of robots and machines that are always working per your instructions. You can certainly alter the instructions as you see fit. The key, however, is that through a sales video hosting platform, you can be building strong relationships with your prospects and customers—even when you are sleeping.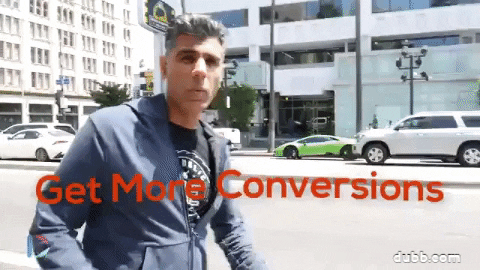 Comparing Dubb with Other Sales Video Hosting Platforms
With this background information in mind, let's talk about specific types of sales video hosting platforms that you can select. Obviously, I am going to talk about Dubb, but there are several other popular players in this space. They include Vidyard, BombBomb, and Covideo. It helps to first discuss some of the essential things you should search for in a hosting platform and the similarities between all four of these platforms. From there, we will talk about instances where Dubb shines above the rest of its competitors.
Essentials and Similarities Between the Platforms
When choosing a sales video hosting platform, there are several essentials that you should be targeting. One of those is a mobile app. Having a native mobile app for your sales video hosting platform provides a wealth of benefits. For one thing, you can quickly create and upload videos on-the-go. If you want to connect with a key prospect when you are away from your desk, your sales video hosting platform's mobile app should help you accomplish this task. While the feature set and interface may vary depending on the sales video hosting platform, this basic ability to shoot and upload videos is a must. All four of these platforms offer a mobile app for their users. 
From there, your sales video hosting platform should let you easily edit and customize your video content. These platforms understand that your company is much different than other companies. There are even significant differences between your company and its competitors. Because of this, these sales video hosting platforms let you edit all kinds of things with your videos. You should be able to do everything from trimming videos, adding watermarks, including personalized text overlay, and even including background music. Like the mobile app, Dubb, BombBomb, Vidyard, and Covideo offer various levels of video customization.
You should also look for a sales video hosting platform that has plenty of integrations. For as much value as these hosting platforms can provide, you are undoubtedly working with other pieces of software at work. This includes everything from your email client to your CRM. The most popular sales video hosting platforms understand this. They provide plenty of integrations that can make you more productive. From integrations with Gmail to Salesforce, these hosting platforms work where you work. All four of these sales video hosting platforms offer different types of integrations. 
When creating video content, you want it to be actionable. When your target consumes your video, you want him or her to take some type of action. In the sales and marketing world, the call to action is the device that takes your viewer from point A to point B. Hosting platforms should not only let you leverage calls to action, but they should offer a whole host of them. Whether you are trying to get your viewer to schedule a call on your calendar or download one of your eBooks. All four platforms, to varying degrees, make your videos actionable. 
Distribution and embedding are other key features of all four of these sales video hosting platforms. Creating a solid video for a prospect (or prospects) isn't enough. You need to make sure that your targets are seeing your video content. However, you need to distribute your videos in a time-efficient way. If you are creating content for large groups of people, your sales video hosting platform must be able to let you distribute and embed your videos at scale. 
Finally, a sales video hosting platform should be affordable. Companies that offer sales video hosting platforms certainly need to make money to operate. But having said this, it shouldn't break the bank to become a user of a video hosting platform. There should be affordable rates that offer a win-win for both the user and the company. All four companies have different types of rates, but for the most part, they are extremely competitive in the overall marketplace. 
These are just some of the essential features that you should be looking for when choosing a sales video hosting platform. They aren't the only features. But having said that, you want to keep these features in mind when you are deciding between different types of hosting platforms.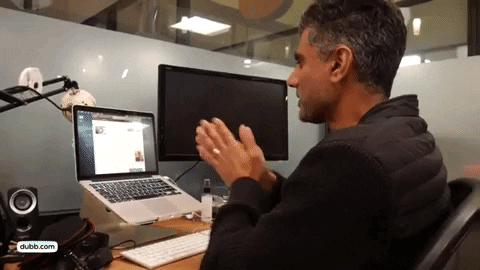 Where Dubb Sets Itself Apart
When people first hear about Dubb, I frequently say that it was born out of love. My wife was in real estate and was having trouble connecting with prospects. Dubb was initially created for the real estate market, but it has expanded to help salespeople and marketers in all sorts of industries.
At its core, Dubb is a sales video hosting platform that is focused on its users. The entire Dubb team and I want to help our clients generate more sales and accomplish their business goals. Because of this mission, I believe that Dubb is an outstanding sales video hosting platform for a number of reasons.
The Dubb Mobile App
To start, let's return to mobile apps. Like Vidyard, BombBomb, and Covideo, Dubb has a mobile app. You can find it for iOS by clicking here and Android by clicking here. Like the other four mobile apps, Dubb's mobile app lets you quickly create and upload videos—whether you are at home, at the office, or on-the-go. 
Nonetheless, our mobile app offers some additional features. For one thing, our mobile app lets users have more freedom to customize their video content. We provide our users with powerful editing features, including things like adding music, splicing multiple clips together, adding emojis to your videos, and more. Another awesome feature on the Dubb app is that you can cycle between the front and back cameras while recording. While you can access some of these same editing features on the three hosting platforms' desktop apps, you will be hard-pressed to find them on their mobile apps. 
Leveraging these features on the Dubb app, you'll be able to quickly record and edit all types of engaging video content. Instead of recording that video and then having to make all kinds of edits on your desktop, you can get the job done while you are away from the office. Pretty cool, right?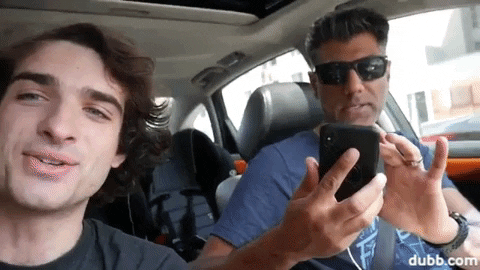 Additional Video Customization
From Dubb's impressive mobile app, let's talk about more customization. 
Yes, you can do a whole host of edits and customizing work on the app. But when you are actually sitting at your desk in the office, you can do all kinds of things. One of the features that make Dubb stand apart is the ability to add caption files (SRT files) to your videos. If you have already generated an SRT file (through YouTube or some other platform), you can easily add it to your Dubb videos. If you haven't, however, Dubb can automatically generate subtitles or closed captions for you. Vidyard offers a similar feature, but you can only access it under Vidyard's so-called "team" plan. 
Another cool video customization feature in Dubb is the ability to upload multiple clips and merge them into one video. This can be an essential feature if you are recording a longer type of video. For example, you may be at a cool location near your office and want to shoot a 10 to 15-minute video for some of your warmer prospects. Shooting a 10 to 15-minute video straight through is difficult. It almost never occurs. Instead, you will likely shoot several different clips and hope to stitch them together. Using Dubb, you can easily do so. 
These are just some of the options that you have when customizing your already-made videos. Truth be told, Dubb, BombBomb, Vidyard, and Covideo almost share all of the same video modification features. All four platforms have a robust editing suite that can help you transform your raw video footage into engaging video content for your audience.
Dubb's Huge Amount of Integrations
As I referenced above, integrations are a huge part of any sales video hosting platform. They can make you more efficient and make it much easier to share data across different types of software. 
Dubb, Vidyard, and BombBomb are similar in that they have plenty of integrations with different types of sales software. For instance, you can find integrations with Slack, Salesforce, HubSpot, and more. But that being said, Dubb has many other integrations that can make your life easier. 
Dubb has more integrations with sales-specific platforms like Pipedrive, Getresponse, and others. We also have integrations with some of the more "mainstream" pieces of software, including LinkedIn. With our LinkedIn integration, you and your team can easily send videos from your company's LinkedIn page. With LinkedIn becoming such an important platform for small and large businesses alike, having the ability to send a video directly from the platform is an excellent feature. You can use this integration to better connect with your LinkedIn followers, find new prospects, and generate more sales. 
Ultimately, our team continues to add all sorts of integrations every day. You can find a full list of Dubb integrations by clicking here. Go ahead and try out our integrations today!
Actionable Videos
I think that one of the most notable ways that Dubb distinguishes itself is by making all of its videos actionable. Whenever you upload a video to Dubb, you automatically get a Dubb action page. You can see an example of a Dubb action page in the gif below.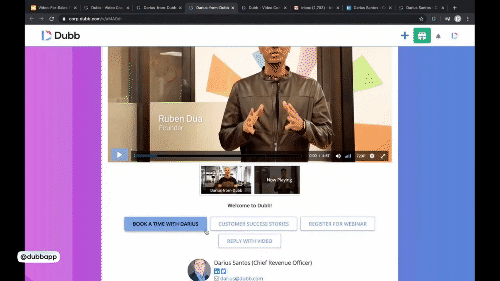 Dubb action pages are special for so many reasons. They are customizable, meaning that you can include your company's branding on every Dubb action page. If you don't know where to start, you can access our robust library of pre-designed templates. From there, simply select your desired template, edit the template according to your own preferences, and then make that template the default for all of your Dubb action videos. Better yet, you don't need any technical or coding skills to get started. If you'd like, you can also import your custom HTML and CSS code to design your custom template.
On Dubb's action pages, you can leverage a long list of tools to better engage with your prospects and customers. One of the best opportunities lies in the vast number of potential calls to action. Wherever your viewer is in your sales funnel, you will find a call to action that can move him or her down that funnel. The vast number of calls to action on the Dubb platform include directly scheduling a call on your calendar, downloading an eBook or white paper, communicating via Facebook Messenger, reply to your video with their own video, and even making a purchase. You can see some of Dubb's calls to action in the following gif: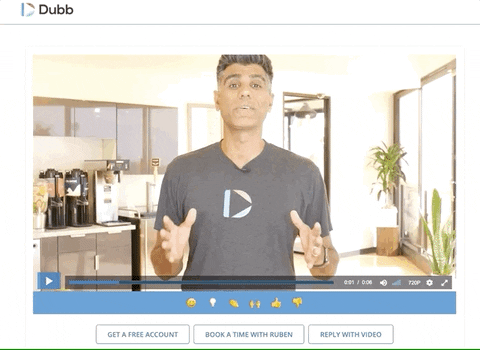 Dubb also offers a playlist feature, which lets you stack different types of video content together. As just one example, you can shoot an extremely quick, 30-second video for a prospect that you met at a networking event. After the prospect views that custom video, he or she can then automatically consume a more polished video discussing your product or service. Combining different types of videos in this way can lead to some fascinating (and profitable) results. 
Finally, Dubb offers an exit-intent popup feature. You have likely encountered an exit-intent popup when visiting one of your favorite websites. While they can be somewhat annoying, they can go a long way in helping you capture prospects that you may have lost. By offering some sort of incentive or gift in exchange for the prospect's email address, you may be able to find a key prospect that generates recurring sales for your business. 
Embedding and Distribution
As for video distribution and embedding, Dubb offers a little more flexibility compared to BombBomb, Vidyard, and Covideo. Specifically, by using Dubb as your sales video hosting platform, you get to leverage two different ways of embedding your sales videos. Those options are the regular mode and the widget mode.  
The regular mode lets you set your desired position of the video. You also have the option of adding call to action buttons, keeping the sound on, and auto-playing the video when your user first sees it. This "regular mode" of embedding is similar to the mode offered by Covideo. It is a good way to place your video in your desired locations and have the flexibility to make your videos engaging and actionable. 
Along with regular mode, there is the widget mode. Your video becomes dynamic rather than static, meaning that your viewer is going to consume your sales video in an aesthetically pleasing way. When put into practice, the video followers the viewer as they scroll down a particular webpage. By doing this, your viewer can explore the rest of the webpage without losing that viewer's attention. This is a feature that ultimately gives Dubb an edge over competitors like BombBomb and Covideo.
As for distribution, Dubb and BombBomb both have built-in distribution capacities. Dubb and BombBomb let users send both individual and bulk emails while also tracking the performance of those emails and sales videos. There is even a built-in CRM within Dubb that lets Dubb users import and organize all of their sales contacts. 
That said, one of the key advantages of Dubb (compared to BombBomb) is that you aren't strictly limited in sending your emails through Dubb's server. You can surely do so. If you choose not to, however, you can integrate your email client with Dubb. Some of the more common email clients are Gmail, Microsoft Outlook, and AWS, but we support others. Ultimately, Dubb lets users connect their SMTP provider to the Dubb platform, thereby letting users send their sales videos from that email service through Dubb. 
Better yet, with Dubb, there are no daily email sending limits. Whether you are sending sales videos to a small group of prospects or a huge audience of new prospects, you can do so on our platform. You can even send out text messages through Dubb's dashboard. The choice is yours.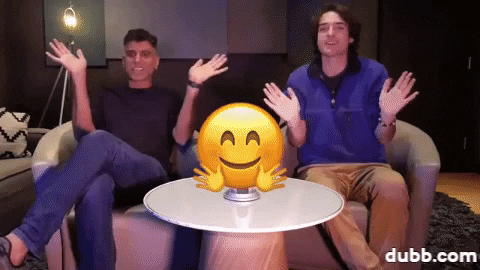 Pricing
Last (but not least), we have arrived at pricing. You will certainly want to look at Dubb, Covideo, BombBomb, and Vidyard's pricing pages to get the most up-to-date information. Depending on when you are reading this post, some (or all) of these four platforms may have changed their prices.
With that caveat out of the way, I believe that Dubb offers the most "bang for your buck." From the powerful features enabled by its free tier to the great service that you get from Dubb's "Pro Plan," there is something for everyone here.
You can check out Dubb's full pricing plans by clicking here. If you are comparing Dubb's Pro plan to equivalent plans at BombBomb, Covideo, and Vidyard, you would discover that Dubb's Pro plan is 30% less than BombBomb, 40% less than Covideo, and 10 times less than Vidyard. Not only that, but you can access many other features that are entirely absent or somewhat absent on these other platforms.
If you are on the fence with these platforms, Dubb, Covideo, and BombBomb offer free starter plans. But as you complete your diligence, I recommend that you seriously consider Dubb. You will both save cash and get the tools you need to accelerate your sales growth. 
Choosing a Sales Video Hosting Platform
As you can see, there are plenty of things that you should consider when selecting a sales video hosting platform. I encourage you to take your time when doing so. This is a big decision, so you want to make sure that you are selecting the best platform to accomplish your goals. 
Selecting the right platform, however, will reinvigorate your sales department. Leveraging the power of video, you can build brand equity, connect with prospects and current customers, and generate more sales. It's certainly an investment, but it is an investment that can pay off in spades. 
If you are interested in learning more about Dubb, click here. You can also register for a free 14-day trial of Dubb by clicking here.