In this recap from a Dubb support episode, we take a deep dive into how coaches and consultants use video to grow with Dubb. Whether you are a brand new coach or want to take your consulting business to the next level, there are plenty of tips and tricks here to accomplish your goals. If you want to view the video in its entirety, go ahead and click on the play button above.
Coaches and consultants provide immense value to the world. Whether you are trying to help a business become more profitable or help an individual reach their personal goals, you offer a crucial service to all of your clients. At the same time, you aren't running a charity. You are running a business, and because of this, you need to constantly think of ways to both retain customers and find new customers. 
Granted, there are plenty of different ways that you can find business. Having said that, I strongly believe that video can be a true game-changer for your business. Whether you are trying to build stronger relationships with your current clients, identify new prospects, or convert those prospects into paying clients, video can serve you well.
Because of this, I want to spend some time discussing how coaches and consultants use video to grow. As part of this discussion, we are going to talk about Dubb and the features that you can use to accomplish your growth goals. While I may be biased, Dubb is a fantastic tool to help you unlock everything that video has to offer. You'll see for yourself in the following paragraphs.
One final note: because we are going to be talking about Dubb so much, it is helpful for you to have an account. If you are already a Dubb user, great. We are extremely happy to have you. If you haven't yet signed up for Dubb, you can do so by clicking here. Being a first-time user, you also get access to a free 14-day trial of our premium plans, so don't hesitate to jump at this opportunity.  
What Video Gives You
Before we talk about how coaches and consultants use video to grow, I think it is helpful to spend some time focusing on why video is so powerful. While there are plenty of reasons why you will want to use video, I think the power comes from several areas.
First, video lets you communicate in a much more powerful manner. Video lets you leverage more personalization, faster trust-building, and better comprehension of you, your product, and how you can improve their lives.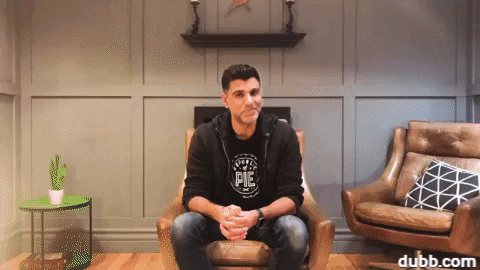 The next thing that video offers you are powerful methods of prospecting. Video lets you break through the noise. No matter how busy your audience members are, you have a better chance of standing out by creating a high-quality video and sharing it with them. While other coaches and consultants in your space may be lost in the deluge of text-based communication, you can differentiate yourself by broadcasting your messages through video. 
Video is a tool that helps you better nurture your prospects. This means that if you have a lead that you want to convert, you can more effectively do so with video. Whether you are trying to share more about your coaching or consulting business or trying to convince a warm prospect to say "yes," video makes it easier to increase your conversion rates. 
Finally, video lets you create better content. It helps you bolster your reputation and authority in your chosen segment. Whether you are providing coaching services to new entrepreneurs or consulting services for much larger companies, video can help you create engaging and valuable content. The idea here is that we want to create content that is not only easy to make, but that leads to the results that you want (like enhanced authority in your sector and more organic engagement). 
These are just some of the many ways that video can be extremely powerful for coaches and consultants. The great news? You don't need to be an expert filmmaker, editor, or producer to get all of these advantages from video. By using a tool like Dubb, anyone can create stellar video content and distribute that content to their chosen audiences. 
How Coaches and Consultants Use Video to Grow: A Tutorial
Considering the above, I want to talk about how coaches and consultants use video to grow with Dubb. 
Dubb is really an all-in-one solution to help you leverage the power of video. It is a video creation, customization, and distribution platform. Coaches and consultants are using all of these features to use video to crush their business goals and build extremely strong relationships with their audiences. 
Granted, this is a Dubb-centric tutorial. I believe that Dubb offers everything that you need to grow and scale your business through the power of video. Having said this, even if you don't choose to use Dubb, you can use some of the tips and strategies below to reach your sales and marketing goals. 
Like I said above, it is massively beneficial if you have a Dubb account. Then, you can easily follow along with this tutorial. 
Creating Your Videos
The first aspect of how coaches and consultants use video to grow centers on content creation. This is the most obvious step to leveraging everything that video has to offer. Without a piece of valuable video content, you won't be getting very far. With Dubb, however, you have so many tools at your disposal to create the content that you have always dreamed about. Better yet, it is extremely easy to make these videos. To reiterate, you don't need professional training in filmmaking, lighting, or set design. In most cases, you can simply just pull out your cell phone or laptop, hit the record button, and start speaking to the camera. 
The first tool that you'll find within the Dubb ecosystem is the Dubb mobile app. You can download the mobile app for iOS and Android devices by clicking here. Everyone has a camera in their pocket, but by using the Dubb mobile app, you can supercharge your content creation work.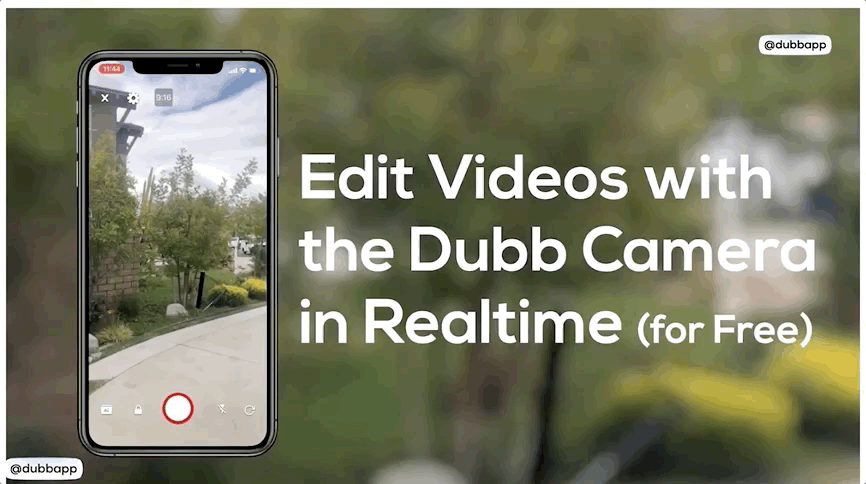 The mobile app has some very unique recording functionality. For instance, you can start your video by having the camera face yourself. Instead of needing to awkwardly press a button to flip your camera around, you can start the video the way that you actually want. You can even flip the camera around while you are in the middle of recording. Beyond that, the Dubb mobile app lets you include other clips that you may have previously shot. You can also splice all of your clips together in real time. This means that you don't need to use a video editor like iMovie. The Dubb mobile app even lets you include music, text, or even emojis on the screen. Once you are done recording and editing, the Dubb mobile app makes it extremely easy to distribute your videos via email, social media, text messages, and more. 
The next content creation tool that I want to discuss is the Dubb Chrome extension. You can find the Chrome extension by clicking here. Once you have downloaded the Chrome extension, you will notice a small Dubb icon on the top right of your Chrome browser. Once you click on that, you will see several types of recording options.
The Dubb Chrome extension lets you record your webcam, the entirety of your screen, or a combination of both your screen and your webcam. For this final option, you will notice that a live video of your webcam feed appears in the bottom left corner of your screen. If you don't want to include a live image of your face, you can include a still profile picture. 
Screen recordings are so powerful because they offer another way to explain a concept or idea. Say, for example, you are trying to explain the key terms in a contract with your potential clients. Instead of having to verbally articulate these terms or copy and paste language from the concept itself, you can create a quick screen recording video. Your prospect can actually see the contract and what it is that you are talking about. The difference may seem slight, but it is a great way to communicate your message and avoid wasted time. 
When you are creating a screen recording with the Dubb Chrome extension, you will want to take advantage of the annotation feature. The annotation feature lets you draw on your screen. After choosing your preferred color, you can circle, underline, or mark up your screen however you'd like. This is really helpful if you are giving a presentation or if you are trying to emphasize a certain point on a document or slide deck. 
Ultimately, the Dubb Chrome extension lets you create dynamic videos. You can record your screen, switch to a full-sized video of your webcam, and switch back to your screen. Or you can simply record your screen with no webcam feed or still image on your screen. Whatever you prefer, you can see it through with the Dubb Chrome extension. 
Finally, Dubb lets you record video content in the tools that you are already using. Let's assume that you and your team communicate with others through Gmail. The great news is that Dubb has an integration with Gmail. This means that you can create and share Dubb videos within Gmail itself. You can access your library of already-recorded videos and even add videos from your computer or YouTube. You'll also see that you can look at some quick activity reporting to see how your videos are performing. 
These integrations may not seem like much on the surface, but they go a long way in helping you save time. Rather than switching back and forth between different applications, you can create awesome video content with the tools and platforms that you are already using. Gmail isn't the only tool that has an integration with Dubb. You will find integrations with many of the most popular platforms on the Internet today, including Outlook, LinkedIn, Salesforce, Calendly, and more. Rest assured that if you are looking for an integration with a platform that you often use, you will probably find it. 
Customizing Your Videos
Now that we have talked about actually creating your video content, let's take a deeper dive into video customization. It is a critical component of how coaches and consultants use video to grow. 
There may be times when you want to send the raw video to a prospect or audience member. However, what if you want to use your video to lead a certain prospect down one of your sales funnels? At the beginning of this post, we were talking about how video offers powerful methods of prospecting, whether it comes from personalization or by better engaging a specific lead. So when we are reaching out to someone (whether it is through email, text, or social media), we want to take advantage of these things so that we have the highest chance of breaking through. 
If you have already recorded a Dubb video, I encourage you to go to your Dubb dashboard and click on the video. Once you have done that, you can see that there is a blue "Share & Send" button. Once you click on that button, you can see the option to add personalization text. Personalization text is a quick and easy way to give a personal shout-out to the specific recipient of the video. For instance, you can type something like "Video for Ruben" and the text will appear directly on top of your video. 
Granted, the appearance will slightly change depending on how you are sending your video. If you are sending your video via email, for instance, you will see your personalization text on top of a three-second animated GIF. Dubb automatically creates a GIF from the first three seconds of your video. This is another effective way of intriguing your audience members and making it more likely that they will click on the GIF and watch your video. Ultimately, you want your thumbnails to be as intriguing and personal as possible. 
As a coach or consultant, your business can be slightly different depending on your workflow. If, for example, we are talking about prospecting, we are focused on prospecting high-value leads. We aren't chasing down individual coaching clients as much (at least in terms of the prospecting space). If we are really trying to break through with somebody, it may be for larger companies and larger groups at a time. If that is the case, this is where the customization of previews really comes into play. 
Let's take this one step further and assume that we want to prospect a high-value individual. What we can do is go to LinkedIn and pull up their profile page. Once you have done that, you can click on the Dubb Chrome extension and record your screen. When you are doing this, you may want to say something like, "Hey there. I just wanted to reach out about a couple of things. I noticed that we had some mutual connections and I thought it would be great if we connected. Based on X, I thought that I could help out with several things." 
This is a very generic script and I'm sure that you can do better than this. The point, however, is that you are showing that you actually did some personalized research. Instead of sending the same type of generic sales video to each of your prospects, you can stand out through this type of screen recording. You can show your viewer that you completed some initial diligence, actually took the time to pull up their LinkedIn page, and recognized that you have some things in common. Once you are finished, you can easily share that screen recording through social media, text messages, or email. 
Now, just think about it: what kind of video do you think is going to get more conversions? Is it going to be a generic video that just includes your face speaking to the camera? Or is it going to be something that is more tailored to them? Whether it is their LinkedIn page, website, or something else, they are much more likely to be attracted to the latter video. I'm not saying that the former video style doesn't work. It has worked in the past and you can get some solid leads and conversions this way. At the same time, making your videos much more personalized for the specific viewer is a great way to build a real relationship and get a conversion. This is what I mean by the first level of customization. By customizing the previews of your videos, you are already putting the odds on your side. 
Now, when we are making content at scale, this type of personalization may not really be an option. For instance, this may be the case if we are sending the same video to multiple people, sending that video to a large list, or sending a video through an automation that we've already built. Then, we will need to settle on some type of balance here. We can't create custom thumbnails for each individual. However, what we can do is create interesting thumbnails that tie into our sectors or industries. These thumbnails can have some relevance to our audience and entice them to click on the video itself. There are many different strategies and nuances here. They go beyond the scope of this article. 
The bottom line? We want to optimize our thumbnails for our target audiences. Dubb lets you do this through things like personalization text and adding completely customizable thumbnail graphics. You can even customize the link itself. If you are sending your videos through social media, you can see that the preview will be a little bit different. In LinkedIn, you will see both the listed URL and a still thumbnail of your video. There won't be an animated GIF here, but you can still add personalization text in the URL itself. This is just an example of what you can do with Dubb, so I encourage you to use all of the personalization tools that we offer.
Dubb Video Pages
Ultimately, this is the first half of customizing your videos. The second half focuses on the back end. When you send your videos through email, text message, or social media, you obviously want your recipients to click on the preview, whether it is a still image or an animated GIF. Once your recipients click on this, however, they will be directed to a Dubb video page. 
Dubb video pages are extremely powerful. You can think of them as the central hub for your specific video. Whether you are creating a specific sales video for a prospect or a much more generic video about your coaching business, Dubb automatically gives you a video landing page for your video. This is even true if you created the video outside the Dubb ecosystem. Once you upload that video to Dubb, Dubb will give you a video landing page for that specific video. 
If you sign up for a paid Dubb account, you get even more customization options here. What you can do is customize your Dubb video landing pages with your coaching or consulting company's brandings. This includes things like your logo, brand colors, and more. The idea here is that we want to customize these video landing pages just like we did to our video thumbnails. Again, the reason for doing this is that it gives you a better chance of converting more prospects into paying clients.
So what do I mean by this? When we are creating video content, it is for a very specific purpose. At times, it is to educate. Other times, it is to inform your audience about something. Usually, however, you are creating video content to drive a specific conversion. This is really where the assets on a Dubb video landing page provide substantial value. 
The first thing I want to highlight is the design elements on your pages. Again, this is to ensure that your video landing pages are cohesive with your branding and marketing. Consistency is important in terms of your firm's reputation. If you are presenting a disorganized video landing page, it can be confusing, which can lead to lost sales and conversions. The great news is that with Dubb, you can leverage templates to ensure that your video landing pages are consistent. Once you create a template and include all of the design elements that you want, you can be absolutely sure that your video landing pages look the way you want them to look. Essentially, you can set it and forget it. 
Once you have settled on your design elements, I want you to focus on the playlist feature. On your video landing page, you will have your video prominently displayed at the top part of the screen. Below that, however, you can include a series of videos as part of a playlist. This can be really powerful, especially when you are creating custom videos. When you are trying to break through with an important prospect, the playlist feature may mean the difference between success and failure. 
One of the best ways to leverage the playlist feature is to include a customized video first and then add on a more generic, yet comprehensive video about your coaching or consulting business. Your first customized video could start with something like, "Hey, I wanted to reach out to you because I think my coaching business can really add value to your business." You can include a little more personalization to that video, and once you have done that, you can display a longer video about your coaching business. That video can be everything from a narrated exploration of your coaching business's origin story or a collection of testimonial videos from satisfied clients. If you want, you can even add both of these videos (or more) to your playlist. For coaches or consultants, your services may be complex. You may offer different types of packages, so you may want to include an explanatory video as part of the playlist. 
Whatever you choose, the transitions are automatic and keep your viewer engaged. Ultimately, the playlist feature is a great way to build a strong relationship with your viewer and use some of your already-existing videos to get that viewer much closer to the purchasing finish line. By combining both hyper-personalized videos and longer videos as part of a playlist, you are really getting the best of both worlds. 
From the playlist feature, I now want to talk about call to action buttons. If you haven't yet heard of a call to action, it is essentially a way to help your audience do something specific. It is basically a way to lead your audience from point A to point B. If you don't have a specific action in mind, I recommend that you go to the drawing board and think hard about why you are creating this specific video. In the sales context, you naturally want your viewers to purchase your product or service, but it isn't instantaneous. You will need to nurture your audience and calls to action can help you do this.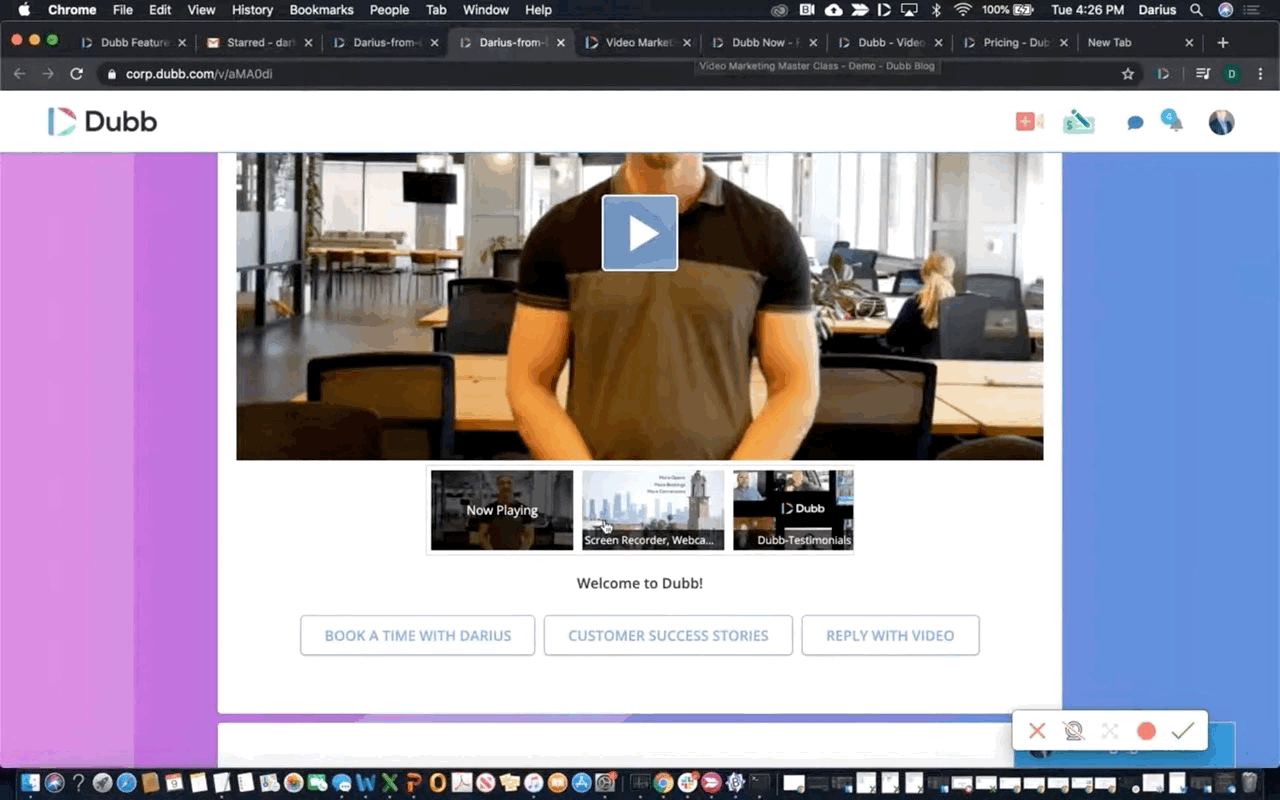 So what kinds of calls to action can you leverage on the Dubb platform? While there are plenty of options, some of our favorites include the following:
Directly book a call on your calendar

: This call to action is really powerful for audience members who are at the bottom of your sales funnel. They have heard about your coaching or consulting business and theta re ready to convert. After watching your video, the prospect can scroll down, see the available times on your calendar (or a colleague's calendar), and book a time to speak with you. Dubb offers integrations with many of the most popular calendar booking services (like Calendly, Acuity, and Book Like a Boss), so you can easily hook up your calendar and start seamlessly booking calls.
Download a white paper or eBook

: You may have already created some fantastic resources that further explain the value that your coaching or consulting business provides. If this is the case, what you can do is create a call to action button that links to these resources. Unlike booking a call on your calendar, this call to action is powerful when you are communicating with a viewer who is just hearing about your consulting or coaching business. 
Review customer success stories

: Because you are working so closely with your clients, you probably have some fantastic customer success stories. These success stories can speak to you, the service you provide, and how your services improved your customers' lives. Once you have gathered these success stories, you can link to them through a call to action button. This is a great call to action for those viewers who are in the middle of your sales funnels. It is especially powerful in the coaching or consulting space, as prospective clients want to know whether (and how) you are improving other people's lives. 
Reply with video

: This is one of our favorite call to action buttons. Replying with video provides plenty of benefits to your viewers. For one thing, it makes it much easier for them to react to your videos. Instead of typing out a lengthy email, they can simply click on this call to action button and quickly deliver their feedback. Along with ease of use, the reply with video call to action is a great way to gather video testimonials. These video testimonials can make for great customer success stories, and by displaying them all on a showcase page, you can build massive social proof for your business. Your viewers don't even need to sign up for anything. They can simply click on the button and start recording their video testimonial. In the end, if you are contemplating different call to action buttons, I recommend this one. You won't regret it.
Follow a link

: Sometimes, you may just want your viewer to finish watching your video and click on a link. That link can be to your about page, a page that lists your services, or even a purchase page. Whatever you choose, you can include a link to that page through a call to action button. 
Call to action buttons are essential tools. If you are seeking to display social proof with your audience, you can do so. If you want your viewer to make a purchase after watching your video, you can do so as well. When you are doing this, however, make sure your call to action buttons are relevant to your viewers. Yes, you can include multiple buttons, but you don't want to include options that they probably aren't going to click on. In the beginning, use your best judgment. From there, you can then look at the data and decide whether or not to include certain call to action buttons in your future videos. It is an iterative process, but one that is well worth your time. 
Distribution, Automations, and Analytics
To this point, we have spoken about creating your videos and customizing your videos. These are really important steps to leveraging the power of video and generating more sales for your coaching or consulting business. That said, we aren't done yet. I want to spend the remainder of this post speaking about three critical tools that you get with Dubb: distribution, automations, and analytics. 
Distribution
Let's start by talking about distribution. Distribution may not be the first thing that comes to mind when you are using video to get more sales. When thinking about how coaches and consultants use video to grow, it is all too easy to think about the awesome videos that you are going to create. While that may be the more exciting part about video, it is only one side of the coin. The other side of the coin is distribution. A great distribution strategy will help you accomplish your video sales and marketing goals. A poor strategy, however, can lead to frustration and wasted time.
As you can guess, Dubb offers you plenty of ways to distribute and share your video content. We already covered some of the ways above. One of those tactics is to take advantage of integrations. As a reminder, by becoming a Dubb user, you get free integrations with a whole host of tools and platforms. This includes Gmail, Outlook, LinkedIn, Salesforce, and more. If you are using any of these tools, you can easily and quickly create and share your Dubb videos. All you need to do is click on the Dubb button, select the existing video you want to share, and share your video on your chosen platform. 
That is a great way of sharing your videos one-to-one. In other words, if you have a particular coaching lead or prospect that you want to nurture, you can use Dubb integrations to seamlessly distribute that video. You will also want to take advantage of Dubb's universal copy and paste method. All you have to do is go to your Dubb dashboard and select a video. From there, click on the blue "Share & Send" button. You can then press the blue "Copy for Email" button and paste your videos in virtually any place that you want. This is the method you will want to use if Dubb doesn't have a direct integration with your chosen tool or platform. 
As a Dubb user, you also have the ability to send your videos through text messages. You can do so by using this copy and paste method. If you have some type of desktop application (like a CRM or Google Voice), you can also send text messages from your desktop. Otherwise, you'll want to take out your mobile device and send texts as you regularly would (except you will be including videos with links and previews in those text messages). 
Broadcasts and Automations
As you can see, Dubb gives you plenty of ways to distribute your videos one-to-one. That being said, let's now move on to talk about broadcasts and automations. In other words, you can use Dubb to send one video to an entire list of people. This can be tens of thousands of people if you'd like. 
One of the best ways to do this is through automations. Essentially, what you are doing here is creating workflows or sequences of emails that contain certain videos. With Dubb, you can make your workflows as simple or as complex as you'd like. Your workflow can have two video emails with a pause in between or it can use conditional logic and be much more complicated. 
For instance, you can use if/then statements that direct the audience member depending on whether they watched a certain video or not. If they did, they will see another set of videos or emails. If they did not watch that video, they will get an entirely different experience. With Dubb, you can also add pauses so that your viewers aren't inundated with emails. After waiting for a few days, your automated workflow can send a follow-up email to remind them to view your content.
Basically, we have created software that lets you leverage the power of machines. Whether you are out at a sales meeting or spending time with your friends and family, your automated workflows are working hard for you. They are even when working when you are sleeping or celebrating holidays. Even if you don't think of yourself as a technical person, I highly encourage you to create an automation. Once you get started, you'll see how easy (and powerful) they are.
Analytics
I want to conclude this section by talking about data and analytics. One of the best things about creating digital content and releasing it to the world is that you get to see how your audience members react to your video. It isn't like taking out an advertisement in your local newspaper. By creating videos and sending them across the Internet, you can see what is and what isn't resonating with your viewers. Then, with that data, you can make more videos that resonate even further with your audience. It creates a flywheel effect and the end result is better performing videos and more conversions. 
At Dubb, we recognize the power of data and arm our users with analytics that can help them accomplish their business goals. This is true for both one-to-one videos and one-to-many videos. 
Let's start with one-to-one videos. If you have a video that you are sending to an individual prospect, you will want to see whether they opened your video or not. Dubb gives you this data, along with other types of data. For instance, you can see how much of the video they watched. You can see whether they clicked on any of your call to action buttons. You can even see if they left an emoji reaction to your video. Dubb makes it easy to see this data on your Dubb dashboard. Once you have analyzed it, you can better tailor your messaging (and future videos) to your prospect. 
When you are sending a video to a large list, you can get this type of granular data. Arguably, however, the data and analytics that are provided are even more valuable in this type of scenario. Once you have distributed your video and are getting views, you can easily see how your video is performing. And if you are interested, you can go one level deeper and see how individual prospects and viewers reacted to that video. Like above, you can see the percentage of the video that they watched, the call to action button that they clicked, and more.
I'm sure you can see how powerful this is. If you have an email list of tens of thousands of prospects, you can distribute one video to that list and get a wealth of data. If you choose, you can even create separate email lists based on how individual prospects responded to your video. There are so many different opportunities here, and with the data that you get with Dubb, you can accelerate your sales and marketing work.  
Using Video to Grow Your Coaching and Consulting Business
We started this conversation by raising the question of how coaches and consultants use video to grow. You may have just started thinking about using video for the first time or you may have wanted a way to get even more value from your video creation efforts. No matter your initial reasons, I hope you can see how video can be a massive force for your coaching business. From finding new prospects to converting an interested prospect into a paying customer, video can make your job substantially easier.
So at this point, I encourage you to take some small steps. If you haven't done so already, go ahead and open a Dubb account. Create a quick selfie video for one of your prospects and use Dubb's copy and paste functionality to send it through email. Then, see how your prospect reacts to your video. These are small things you can do today, and once you get started, I'm sure that you will keep going. 
To wrap up this discussion, I'd like to briefly mention that our team at Dubb has created plenty of tutorial videos. These tutorial videos can answer any granular questions that you have about getting the most out of Dubb. If you want to search through these tutorial videos, you will first need to go to your Dubb dashboard. From there, you can press the "i" button on the top right part of your screen.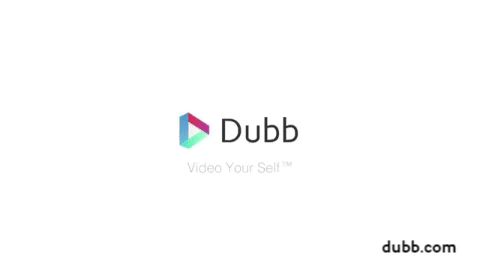 At Dubb, we love discussing and thinking about topics like how coaches and consultants use video to grow. If you want to further discuss the topic with us (or if you have any questions), feel free to get in touch by clicking here. You can also click here to learn more about Dubb and click here to sign up for a free 14-day trial of our premium plans.