Have you read about Google's new Core Web Vitals that will be implemented next year? And if you have, are you wondering how you can leverage these new Core Web Vitals to grow your business? Ultimately, the new Core Web Vitals are going to make a significant difference in your future search engine optimization ("SEO") ranking. Whether you are a solopreneur or work for a larger startup that relies on SEO to find new customers, it is critical to understand what is encompassed within Google's new Core Web Vitals.
In this post, I want to take a deep dive into Core Web Vitals. Specifically, we will discuss what they are and why you should pay attention to them in your SEO work. Even if you aren't a technical person or aren't interested in the nuances of SEO, it is important to understand some of the basics as we speed toward the new Core Web Vitals.
Some Background Leading Up to the Change
In late April of this year, Google announced that it will be launching a new algorithm update in 2021. The new measurement is based on Core Web Vitals.
But first, some background. Over the last 20 years, Google has constantly changed and updated its algorithms to rate SEO. It has done this hundreds (if not thousands) of times. While few people know how these algorithms are precisely being altered, you can rest assured that Google is constantly tweaking the way that search results are presented to users. 
The overall objective? Google is trying to provide the best possible search results for its users. No matter what users are searching for, Google wants the most helpful, relevant, and functional websites to appear first. While things like keywords and the content on the webpage are certainly relevant to that webpage's rankings, the Google algorithm also considers webpages' technical performance. By technical performance, I mean things like website speed, whether it is optimized for mobile, whether the webpage has sitemaps, and more. Ultimately, all of these elements are part of technical SEO, and it is definitely one of the more underrated aspects within SEO itself. 
Again, the purpose of technical SEO is relatively straightforward. Google does not want to refer its users to websites that are slow, broken, or poorly designed. If this happened, Google users would be frustrated, making them more likely to start using another search engine. Google clearly doesn't want this to happen, so it designs its algorithm to prioritize search results of websites that are technically sound. It makes intuitive sense. 
With that in mind, let's move on to Core Web Vitals. If you haven't yet heard of Core Web Vitals, they are essentially ways of measuring the user experience of a website. To put it another way, they are specific factors or variables that Google considers important in the user's overall experience. By reviewing your website against its Core Web Vitals, Google punishes or rewards your website in the search rankings.
The good news is that Google provides some guidance on how you can improve your website and better conform to Google's Core Web Vitals. The unfortunate news for many businesses, however, is that they are not adhering to Core Web Vitals. In fact, one survey showed that less than half of the websites surveyed were able to pass the Core Web Vitals test. They did not achieve all of the benchmarks, meaning that their websites were leaving improvements on the table. Because they weren't making improvements per Google's recommendations, this meant that they weren't maximizing their chances of appearing as the top ranking for their chosen keywords.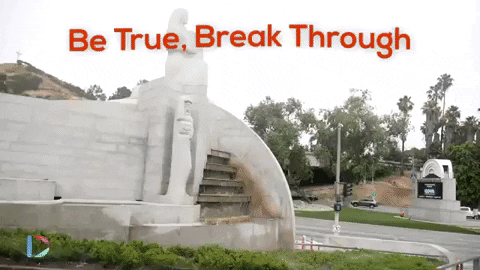 The new Core Web Vitals are explained by Google in a very scientific way. You can click here to see Google's explanation of the new Core Web Vitals. You should be warned that this website has lots of jargon. It is very technically oriented. After reading through it, however, it basically means that every website is getting a core vitals ranking. The three ratings that you can get are good, needs improvement, or poor. That rating determines how your website is going to be evaluated. 
So what metrics is Google using to evaluate whether your website is good, needs improvement, or poor? It is looking at three aspects of the user experience: loading, interactivity, and visual stability. As you can see in the image below, Google is analyzing the following metrics and their thresholds: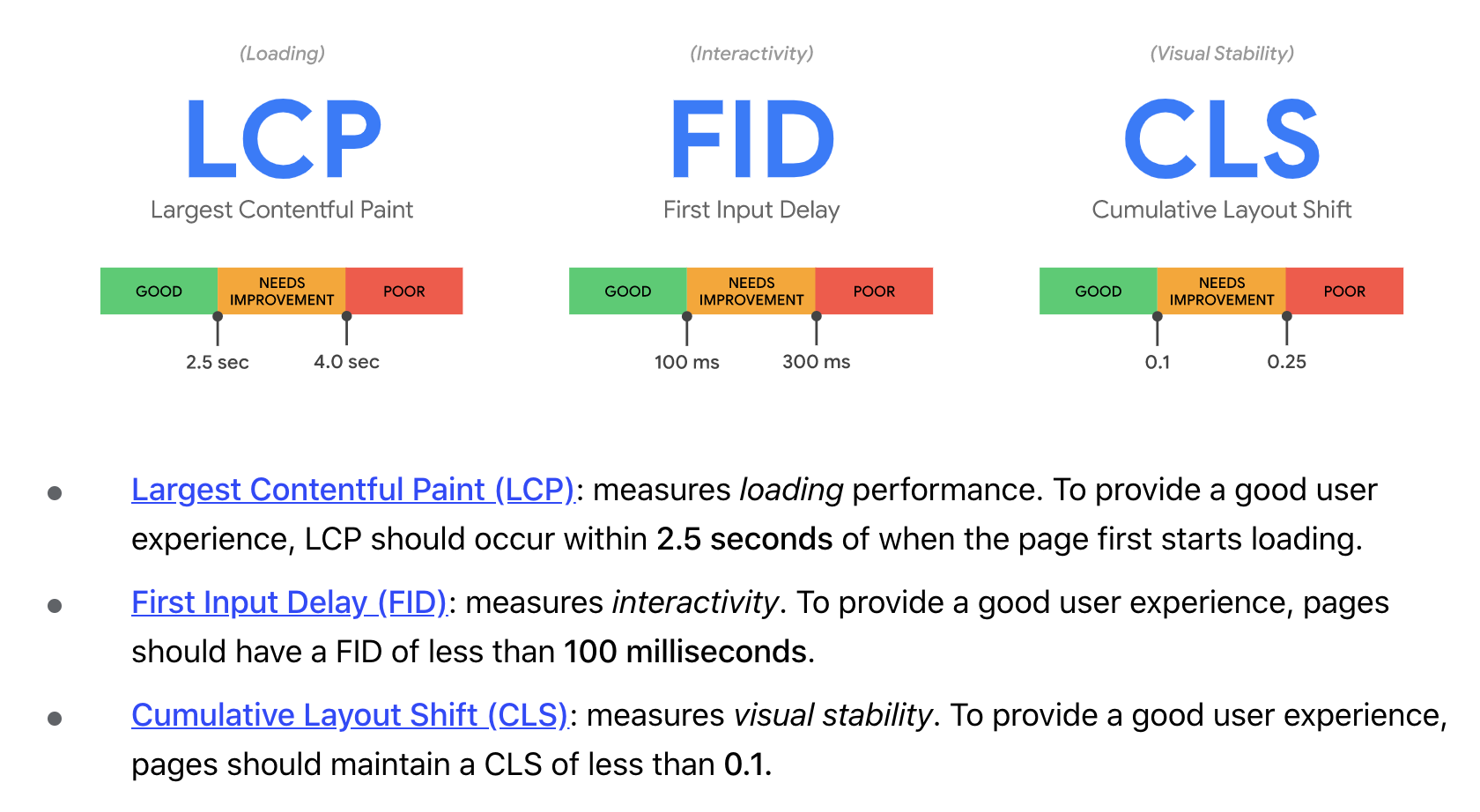 Really, Google is going in-depth and focusing on load time speeds. It is trying to get to the core of how the user is experiencing the website. For instance, it is asking questions like "Does the website feel fast?" and "Does the website feel functional?" Google is tracking these things now and the company is tracking them in a new way. 
If you would like to dig into the specifics of Google's new Core Web Vitals, I encourage you to read the entire blog post. While the scientific and technical aspects of it aren't as important, the blog post goes more into depth about what the search engine will be looking for.  
The most important thing? Make sure your website is fast and that the perceived load time is very quick. The user needs to feel like the website is snappy and immediately accessible. While it is being tracked in a complex way, Google is, and will continue to be, focused on those key metrics. This represents the new Core Web Vitals that will be released next year, so it's vital to pay attention to them. 
The Impact of Google's New Core Web Vitals
It is going to be really interesting to see how Google's new Core Web Vitals impact search rankings across the Internet. While the exact impact is still unknown, content creators aren't standing still. The content creators who are thinking about the new Core Web Vitals and are preparing for the change are the ones that will ultimately succeed.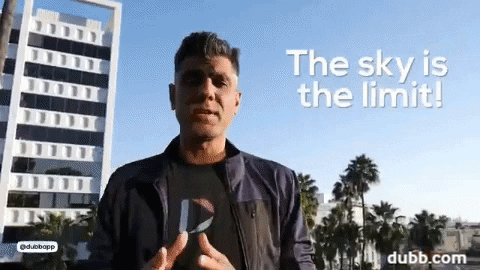 Ultimately, Google's new Core Web Vitals will change the way that rankings are done. As I said, things like long load times, for instance, are going to play a larger role in your overall SEO. The specific term relating to load time is load integrity, which calculates the load speed and the perceived load time of a website. Load integrity is a huge factor, so you and your colleagues will want to ensure that your website conforms with Google's new requirements. 
It's safe to say that some websites are going to experience massive decreases in their visibility. This is because those websites won't fit some of the requirements as outlined by Google. On the other hand, other smaller creators are going to see an increase in their SEO. They are going to do this by focusing on things like mobile optimization and offering even more value in their content.    
Everything looks different when the world is filtered. This is true whether you are using a filter on a photo that you just took or the filters you use to find news content on social media platforms. Google is following this path in that it is switching the filter on your search results. Of course, Google has been known to do this all the time. It is very public about the fact that it changes its algorithm all the time. 
Because of this, it is in your best interest to achieve these new benchmarks outlined by Google. If it can meet these new Core Web Vitals, Google will add a fast website label in search results. 
Some Additional Tips For Maximizing SEO
Beyond this change in Core Web Vitals, any content creator needs to consider several different things when working on SEO and blog writing. 
The first thing is really simple. Every website should take advantage of Google Analytics. You can think of Google Analytics as the portal into Google's brain. To Google, the metrics that we are viewing are also metrics that show that our content is relevant. These are well-known metrics that you may use as a KPI. 
They include things like bounce rates and average time on site. Things like authentic inbound links are also extremely valuable, as they show that our content is extremely valuable. Including a video at the top of your page and ensuring that your website is optimized for mobile are critical factors that Google will certainly monitor. You'll even want to track things like how your website looks on different devices. 
Next, think long and hard about the user experience of your website. This goes beyond the numbers that you are seeing in Google Analytics. Here, you will want to step into your users' shoes and experience your website through fresh eyes. Ask yourself: "Will the user want to share this type of content? Is the user having a good experience?"
Answering these questions is relevant for any type of website that has content on it. This includes everything from your homepage and blog to particular content pages on your website. It pays to do a pretty complex audit of the typical experience for both new and existing users to your site. While it may take some right now, putting in the work will help you strengthen your SEO and increase your conversion rates.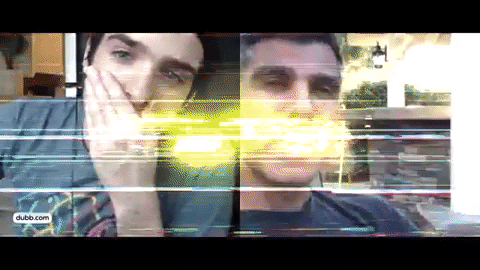 Finally, I encourage you to experiment. Even though Google provides some helpful insights and tips on how to strengthen your SEO, the actual act of doing so is in your hands. Because of this, think about experimenting with different parts of your website. For instance, if you feel like a certain webpage is receiving a higher bounce rate than you would expect, feel free to play with the design or copy. Think about getting to the point quickly or moving a video to the top of that specific webpage. 
While experimentation may feel laborious, it is absolutely worth it. The good news is that there is plenty of data out there that can help you get closer to what your users really want. 
Using Dubb, for example, you get access to a dashboard for all of your videos. That dashboard includes detailed analytics, helping you better understand which videos are resonating with your audience. With that data in hand, you can make new videos that are more likely to speak to your audience. And if those videos speak to your audience? You will be more likely to increase your conversion rates and generate more sales. 
The bottom line? Don't be afraid to experiment with your website. Yes, you will certainly want to follow the recommendations and tips as part of the new Core Web Vitals. That is a given and will go a long way in helping you rise in the search rankings. That being said, work with your development team and try different things with your website. You may be surprised at how far that experimentation goes.
Embracing the New Core Web Vitals
Google's new Core Web Vitals are just the latest in the overall search engine experience. Even though Google users may not know that this change is occurring, business owners and entrepreneurs like you need to pay close attention to this change. 
As Google says, website owners don't necessarily "need to be performance gurus" to understand the quality of the experience that they are delivering to users. Instead, all you need to do is follow the new Core Web Vitals to deliver the best experience to users. And if you do follow these new Core Web Vitals? Not only will your users appreciate the better experience, but Google will reward you with higher search rankings.
In the end, I encourage you to follow Google's new Core Web Vitals. If you or a team member can understand and implement these new recommendations, all the better. However, if you aren't able to understand or follow the new Core Web Vitals, seriously consider getting some technical assistance. As a starting point, you can find technical assistance on freelance platforms like Fiverr or Upwork, but you don't have to limit yourself to these platforms. While getting this technical help isn't free, the benefits will likely exceed the costs.
At Dubb, we have been thinking about Google's new Core Web Vitals and how it will affect all types of businesses. If you would like to discuss anything in this blog post and how this new change from Google will potentially affect your business, get in touch! We would be happy to hear from you.