At Dubb, we have studied and analyzed some of the worst and best video commercials in marketing history. We do this not only to guide us in our own video marketing efforts (Dubb is an all-in-one video solution), but also to provide advice to our clients as they leverage video marketing in their own businesses.
Because of this, we are happy to share our list of the top ten best video commercials ever created. This list isn't ranked in order of preference, and it is not by the number of views. Rather, it is our subjective collection of the best product commercials out there.
Best Video Commercials: Our Top Ten
1. Dollar Shave Club
When you think of viral video marketing, your mind likely wanders to this video. It is a classic, flagship video from 2012 that played a large part in building brand awareness for Dollar Shave Club, a young startup that delivers razors and personal grooming products by mail.
The video, which you can see here, shows Dollar Shave Club's founder Michael Dubin explaining Dollar Shave Club but in his own humorous style. He takes viewers through a makeshift factory floor, talking about Dollar Shave Club's high-quality razors and low cost while hanging with a costumed bear and joining a factory floor dance party.
This video commercial is an excellent example of the evolution of the infomercial. It set the standard for viral advertisements in the modern YouTube age. But beyond that, this video commercial put Dollar Shave Club on the map. Unilever ultimately acquired the company for $1 billion. This video commercial has become somewhat cliched (we often hear people saying, "Oh, we need a Dollar Shave Club-style video"). But that said, this video is a classic and has a deserved spot on our list.
2. Hulu
This next commercial involves one of the world's most famous actors: Alec Baldwin. In the ad—which you can view here—Baldwin talks about television "softening" and "rotting" our brains which aliens (like him) will gobble up. The aliens apparently work for Hulu, whose slogan at the end of the video is "An evil plot to destroy the world. Enjoy."
The commercial aired during the fourth quarter of Super Bowl XLIII. It is interesting to us because it really leans into this idea of television rotting your brain. In fact, it's almost like an anti-commercial. In other words, it offers a contrarian approach to what you would expect. In a traditional commercial, we expect to hear about all of the positive benefits of a company's product or service. Hulu inverts this idea, focusing on why television is the worst choice for you, but it does this in a very meta and self-reflexive way.
3. Squatty Potty
This commercial, produced by the Harmon Brothers, illustrates how a high-quality commercial can lead to viral success. The commercial (which you can find here) has 36 million views to date. In a fun and humorous way involving unicorns, it describes how viewers likely have poor toilet posture and how the Squatty Potty can lead to a better bathroom experience. From the hair and makeup to the animation, flow, and writing, this hits on all of the requirements of a great commercial. And you can tell, even if you are not a professional marketer. This was not a cheap commercial to make (it likely cost hundreds of thousands of dollars).
The creators also leveraged many effective video marketing techniques in the commercial. Squatty Potty included an extremely obvious call to action (a simple URL) that viewers could follow to purchase or learn more about the product. They didn't assume that viewers would click on the video description and click on the link there. Rather, they wanted viewers to see the URL, click on it, and make your purchase on that website. Along with this call to action, the company offered significant social proof, stating that over 2,000 Amazon users gave the Squatty Potty five stars. They even showed the reviews in the video, which lends even more credence to the effectiveness of the product.
4. Apple's HomePod Ad
Apple releases some of the best video marketing content out there, but this video is a step above the rest. The ad for Apple's HomePod (which you can see here) was directed by Spike Jonze, who has also directed prominent films like Being John Malkovich. In the ad, we see a stressed-out woman arrive home and begin an elaborate dance routine to the music provided by her HomePod device.
It's a great example of an experiential ad that doesn't necessarily focus on the product or its features. It is more about the vibe and cinematography, and everything we see on screen was done with practical sets. They had physical sets they would move to stretch and warp around the protagonist. The visual impact of this amazing set that they built is clear. It also, however, speaks to the product they are selling, as HomePod listening to music and having experiential moments. In other words, it is visually showing what is like when we listen to a song.
Ultimately, this is a great example of a commercial that builds up a brand. The viewer doesn't need to be hit over the head with HomePod's features. Instead, Apple is building up its brand equity, how its users feel, and connecting the brand to that feeling. It makes you want to learn about the product more than if Apple simply listed off all of HomePod's features.
5. TOMS Shoes
TOMS Shoes' Shoes for Tomorrow ad (which you can find here) is an extremely effective commercial because it is so emotional. The company explicitly shows children receiving TOMS shoes. The commercial takes the viewer on the journey, showing the philanthropic benefit of viewers' purchase of TOMS products.
This commercial, ultimately, shows the power of video. While TOMS's marketing often describes its widely-known "One for One" model, it doesn't capture the true impact in the same way that video can. This commercial truly leverages the strengths of video marketing, showing TOMS actually delivering on its mission and promise.
6. North
We find this commercial to be a great, clean product video that successfully explains a startup's project. North is a startup that is designing custom glasses called Focals, which have a holographic display that only users can see. North spends the majority of the video focusing on the glasses themselves while a voiceover explains the overall value proposition.
This is a classic startup video that obtained significant press coverage. It is a sleekly designed video that has hip music, great ad copy, and nice cinematography. All of those combined elements qualifies this video on our list of best video commercials.
7. The Beard Club
This commercial (titled "Growing Wild!") was almost in response to Dollar Shave Club's viral ad. In the video, the founder of The Beard Club explains the power of beards and how his company sells products that can freshen up any man's beard.
Ultimately, it seems like the video is a hybrid of both the Dollar Shave Club ad and an Old Spice ad. That said, one of its most unique features is its laser-like focus on a certain subset of viewers. To the viewer, it seems like the company isn't afraid of insulting or offending anyone. This is because The Beard Club is speaking directly to its target audience. They aren't here to please everyone. If a viewer isn't in their target audience, they're probably not interested. It's a great example of how a focus on your audience can lead to an excellent commercial.
8. Apple's "Liam" Ad
We had to include two Apple ads since they are brilliant video marketers. In this ad, Apple gives viewers a behind-the-scenes look at one robot that deconstructs your iPhone. It shows the robot (named "Liam") taking apart iPhones so that Apple can use specific parts for other purposes.
The simple message is "Give your iPhone to us so we can recycle it." However, they turn that boring task into an intriguing video showing how a robot (that they actually designed) can accomplish this task. Along with this, Apple taps into this feeling of watching something that is oddly satisfying. It is extremely fun to watch.
9. Sony
This is one of the most creative commercials on the list. Here, viewers see different colors of bright paint bombs exploding on and around buildings. Here, Sony is promoting the vibrant color of the Bravia, its new LCD television.
Sony isn't explicitly focusing on the product here. Rather, they created a visually stunning commercial that is highly shareable. People want to watch this sort of commercial rather than a basic commercial explaining the features of television. Sony's bet paid off, as this was a massively viral video in 2006. The lesson? Make sure you're creating videos that people actually want to watch and share.
10. "Share the Air" Presentation
This is one of our favorite pitch videos on the internet. It shows a woman named Rachel Sequoia pitching a venture capital fundraising club in Silicon Valley. Specifically, her idea is taking air from some of the most exotic places and selling it to others.
What we loved about this video is that it reminds us not to take ourselves too seriously. It's important to laugh and make fun of ourselves. Often, in the day-to-day grind of work, it is easy to forget this simple truth. This video is also an example of how production may not necessarily matter. If you are just capturing something that's entertaining to watch, it can create a great video.
The Cream of the Crop
These ten videos are terrific examples of some of the best video commercials out there. There is something that you can take from every video, whether that is having a laser-like focus on your audience to not taking yourself too seriously. By learning from these great videos and implementing the lessons in your own projects, you will surely create high-quality video content that your viewers will love. And if you would like further tips and advice on making the best video content possible, don't hesitate to contact us at Dubb!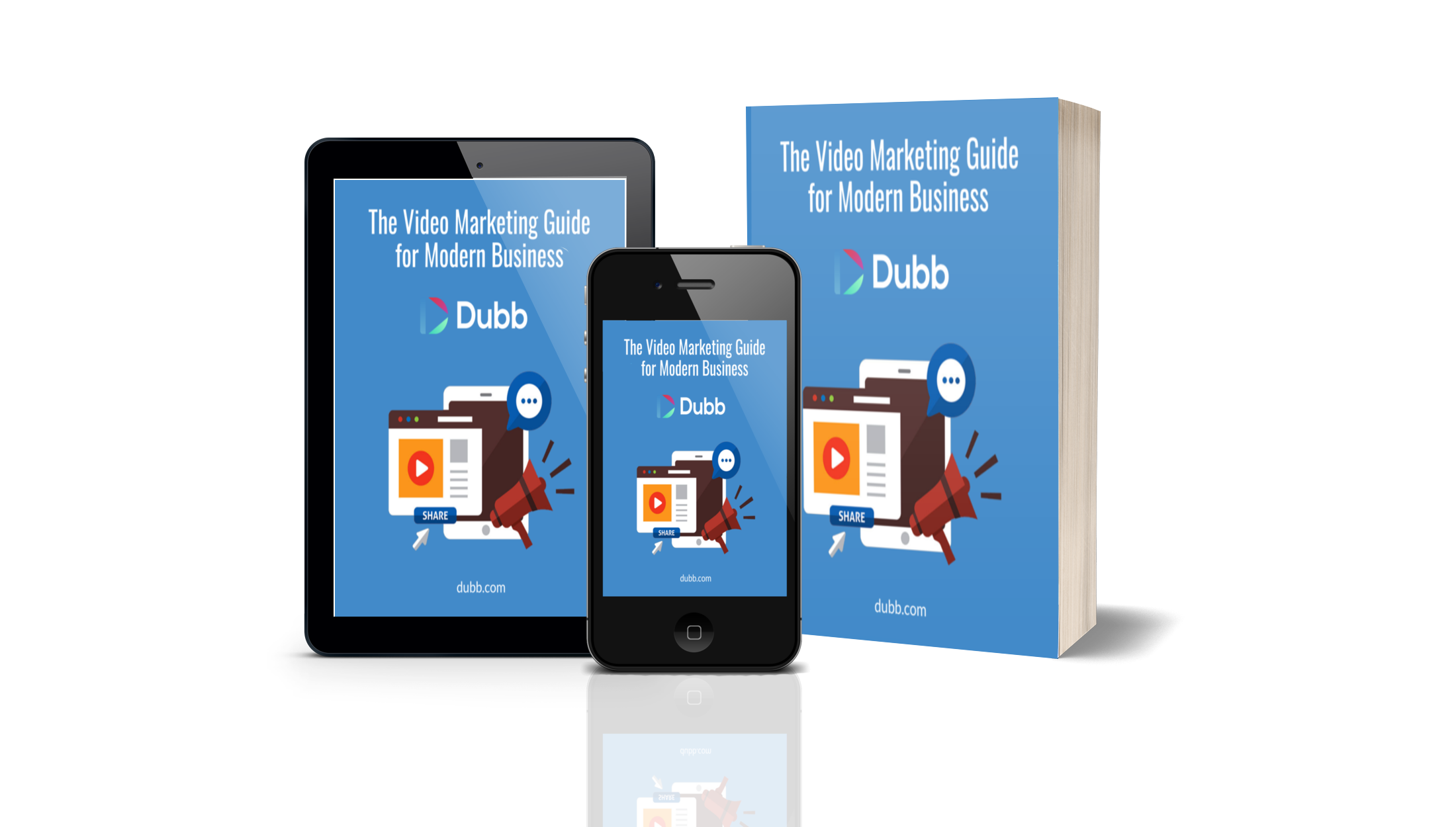 [eBook] The Video Marketing Guide for Modern Business
Dubb is a video communication platform that lets users send personalized, trackable videos. The Dubb platform simplifies video sharing with a Chrome Extension, Outlook Add-In, mobile app and website that allow users to share and track screen and camera videos. Dubb offers a free 14-day trial with no credit required.