Have you been wondering what the differences are between Drift Video vs. the Dubb video platform? Both Drift and Dubb offer great tools to help salespeople and marketers convert new prospects and accomplish their business goals. That being said, each platform has some differences. 
Because of this, I think that it is valuable to spend some time digging into both platforms. The platform that you actually choose may depend on your organization and your particular preferences. You will want to do some independent research of your own. That being said, I strongly believe that Dubb is the better choice for many different businesses and organizations. Granted, I am biased. However, by taking a close look at Drift Video vs. the Dubb video platform, I think you will see why Dubb shines the brightest. 
First, the Similarities
Before we get into the differences between Drift Video vs. the Dubb video platform, however, I think it's useful to look at some of the similarities. Those similarities can help us better understand the contrasts between both platforms.
To start, Dubb and Drift have similar focuses on sales and marketing. According to Drift, its mission is to "accelerate deal cycles with engaging sales video tools." As for Dubb, we are laser-focused on helping salespeople and marketers use the power of video to accomplish their goals. 
I think that a focus on sales and marketing is extremely important. There are many content creation and distribution tools out there that can help you make stunning videos. There's nothing inherently wrong with this. However, if you are looking to leverage those videos in a sales and marketing context, you may find that those tools fall short. They may not let you send one-to-one videos and may not give you the detailed analytics that you need to engage with your audience. They may not even include calls to action, which are essential tools in moving prospects down your sales and marketing funnels. Dubb and Drift aren't like that. Sales and marketing are at the core of both companies, meaning that you'll find it much easier to use these tools in your day-to-day work.
Along with similar missions, Dubb and Drift are feature-rich. They offer plenty of creation, editing, and distribution features that can really help you with your video sales and marketing work. For instance, both Dubb and Drift offer Chrome extensions. These extensions make it much easier to record new video content from your desktop or laptop. Once you have finished recording your video, you can easily upload your videos to the Drift or Dubb platforms. 
You will also find many different direct integrations when looking at Drift video vs. the Dubb video platform. When downloading the respective Chrome extensions, you can see that both Drift and Dubb give you a button inside LinkedIn and Gmail. Upon clicking the Drift or Dubb button, you'll get easy access to Drift and Dubb's Chrome extensions.  
Dubb and Drift also offer video landing pages. Video landing pages are great homes for all of your video content. Whether you are shooting a one-to-one video or a video for a very large audience, a video landing page keeps your audience focused. Not only can they easily view your Drift or Dubb video content, but they can engage with your company in many different ways. Both platforms let you instantly chat with viewers, letting you have real-time conversations with interested individuals. Ultimately, video landing pages are a great way to build relationships with your prospects and increase your chances of making a sale. 
Both Dubb and Drift offer plenty of analytics and data to their users. For instance, once you have sent out a video to any type of audience, you can use both platforms to get lots of data about that video's performance. You can see things like particular audience members that have watched the video, how long they watched the video for, and more. 
Finally, there are some similarities in terms of distribution. Both Drift Video and Dubb let you copy and paste videos in other places. This can be a useful tool, especially if you want to quickly insert a video into a particular message. That being said, there are fewer similarities in distribution compared to other elements discussed above. 
Drift Video vs. Dubb Video Platform: The Differences
From those similarities, let's talk about some of the differences of Drift Video vs. the Dubb video platform. 
Comparing the Chrome Extensions
One of the differences centers on the Chrome extension. When you click on Drift's Chrome extension, you will see that you have the ability to record your screen, your webcam, or your webcam plus your screen. After a three-second countdown, you are recording. Once you are recording, you can see that there is a pause option, a stop button, and a restart button. You can also resize the webcam bubble and move the bubble around your screen. There isn't an annotation tool, however. 
With Dubb, the main difference is that its Chrome extension has a few more options. When you open Dubb's Chrome extension, you can see that you can do many different things. For example, you can record your full screen, your webcam, your current tab, and easily upload a video to Dubb. Once you click on the big red record button, you will also see a countdown. But unlike Drift video, you can start a video with the full-screen option. If you'd like, you can always minimize the full screen so that your face takes up only a portion of the screen.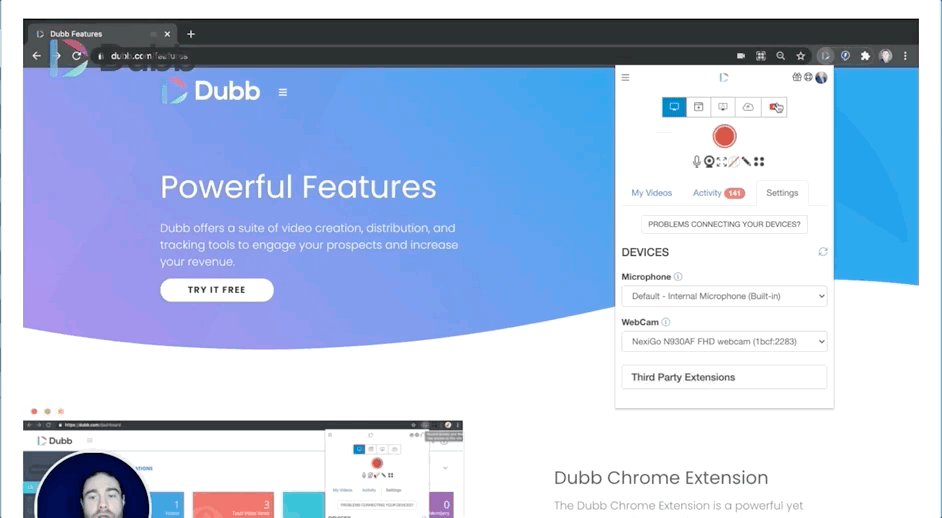 Along with this, Dubb's Chrome extension offers a powerful annotation tool. Using the annotation tool, you can emphasize certain parts of your screen. You can draw, underline, or even circle text that you want to highlight during a presentation. This can be a really powerful tool when you are sharing your screen in a business context. Whether you are speaking with a warm prospect or a new audience of potential customers, the annotation tools can be a great tool in your back pocket. 
So while the Chrome extensions are almost the same, Dubb offers a few more features that can be really helpful in the business context. Both Chrome extensions are free, so go ahead and try them out yourself!
Looking at Integrations
Now, let's return to the direct integrations on Drift and Dubb. Like I mentioned above, Drift and Dubb offer direct integrations in both Chrome extensions. That being said, there is a slight difference between Drift and Dubb in this area. 
As a reminder, you can find Drift and Dubb buttons inside LinkedIn and Gmail. Using Drift's integration in Gmail, for example, you can click on the Drift button to access your library or record a video directly from there. When inserting a pre-recorded video, you actually need to click the copy button first. Once you do that, you can paste the video into your Gmail message. Pasting the video into the body of the email, you will see that an animated GIF is included. 
When using Dubb's direct integrations, however, you will notice that there is a little more functionality. Clicking on the Dubb button in Gmail, you can search through your video library, use filters to sort your videos by certain video types, and find a specific video by easily searching for its name. Also, when you are inserting your chosen video, you can incorporate personalization text. Whether you want to include the viewer's first name or something else, you can quickly insert that personalization text above the video. Once you are finished, you don't need to copy and paste the video into your email. Instead, Dubb does it automatically for you.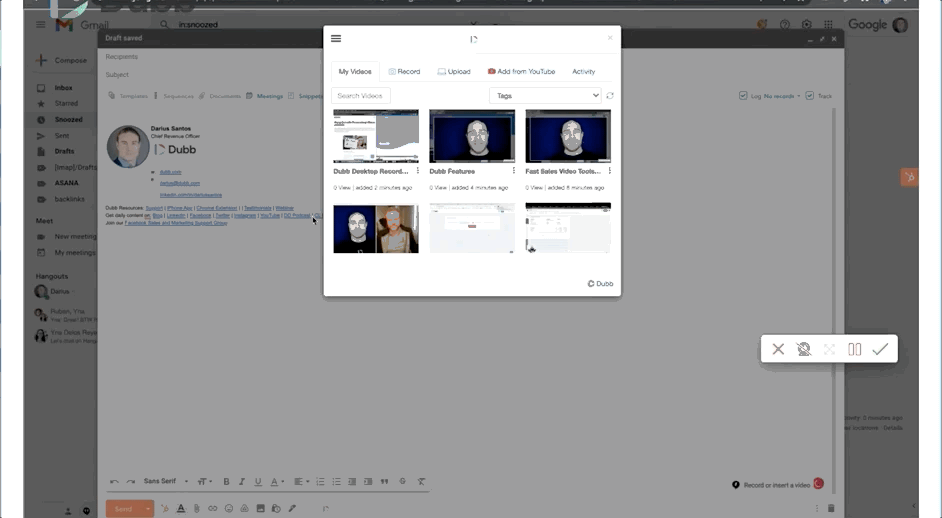 You can also find this same functionality on Dubb's LinkedIn plugin. When you click on the Dubb icon, you can directly insert a video into a LinkedIn message and add personalization text as necessary. You don't need to copy and insert; instead, Dubb automatically inserts the video into your message. While it may not seem like the biggest thing in the world, this feature can help you save time and ensure that you are sending the right video to the right recipient. 
User Experience When Receiving Messages
Next, let's look at Drift Video vs. the Dubb video platform when it comes to the recipient's experience. At this point, you have used Drift or Dubb to record a video and then send that video through LinkedIn or Gmail. 
When audience members receive a Drift video, they will see a little GIF in their message. Once they click on that GIF, they will be taken to a Drift video page. On the video page, they will see the actual video on the left and the Drift chat options on the right. If you aren't yet familiar, Drift has an instant chat feature, where you can have real-time conversations with your leads and prospects. 
Like I mentioned above, Dubb also offers video landing pages. If you become a member of one of Dubb's premium plans, you can customize your logo, URL, and the color scheme. That makes your video pages more branded, which enhances the overall user experience.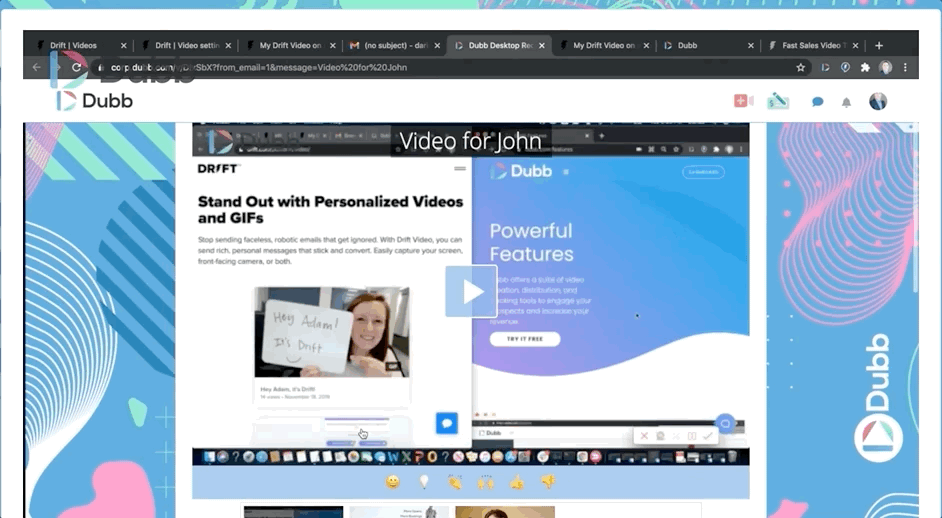 An audience member gets to the Dubb landing page by clicking on the GIF in their Gmail or LinkedIn message. You can see that the GIF has a play button and a timestamp. The difference here, however, is that there is personalization text at the top of the GIF. By doing this, you can make recycled videos look more personal for members of your audience. 
The main difference between Drift and Dubb here, however, is when we actually visit Dubb's video landing page. Here, you can see that there are quite a few differences. The first is the playlist feature. When one of your videos ends, Dubb can automatically play the next video in your queue. It's like the autoplay feature on YouTube. This playlist feature can be a huge benefit, as you can completely control the viewer's journey after he or she watches your first video. 
The other huge piece on Dubb landing pages is the call to action feature. As you likely know, calls to action are outstanding ways to lead audiences down your sales or marketing funnels. Call to action buttons on Dubb can be programmed any way that you'd like. For instance, using Dubb, you can have a viewer immediately book a time in your calendar, make a phone call, send a text message to you or a colleague, download an attachment, fill out a form, or even reply with a video of their own.  
Finally, let's talk about customization. With Dubb video landing pages, you get to use the same customizable elements on every video that you create with Dubb. Multiple templates are available, so you can instantly customize your video pages using those templates. On Drift, however, you're only getting a basic template.
As you can see, there is a substantial difference with video page experiences. While both Drift and Dubb will give you video pages for your videos, Dubb offers more options and more customization. 
The Dubb Mobile App
It's also important to note that Dubb has its own mobile app. You can find it for both iOS and Android devices. 
The Dubb mobile app is powerful for so many reasons. For one thing, you can easily shoot video content when you are on-the-go. Whether you want to record a quick one-to-one video for a specific prospect or want to share your thoughts when you are on your morning walk, the Dubb mobile app makes it easy to capture any type of video content. After you have finished recording your video, Dubb makes it seamless to edit the raw footage. You can do things like splice clips together, add text overlays, on-screen emojis, royalty-free music, and more.  
Once you are done recording and editing, you can easily upload your finished product to Dubb. By doing that, you will automatically get a Dubb landing page, which you can customize according to your needs. Combining both the Dubb mobile app and Dubb landing pages, you can easily create engaging, stellar content that can be used to accomplish your sales and marketing goals. 
Distributing Your Video Content
Now, let's talk about Drift Video vs. the Dubb video platform in terms of distribution. Drift focuses on copy and paste distribution. The software wants you to copy and paste your videos into the messages that you're sending.
With Dubb, however, distribution works slightly differently. You do have the option of copying and pasting your video into any system, including CRMs, email, social media platforms, text messages, and more. However, you can also use Dubb to send out bulk video emails and bulk video text messages. For instance, you can send one video to a large list of people. Once you have done that, you can rely on Dubb to view a wealth of analytics about that video's performance. Like I said above, both Dubb and Drift's analytics features are relatively similar. That said, Dubb's built-in sending features let you automatically access that data.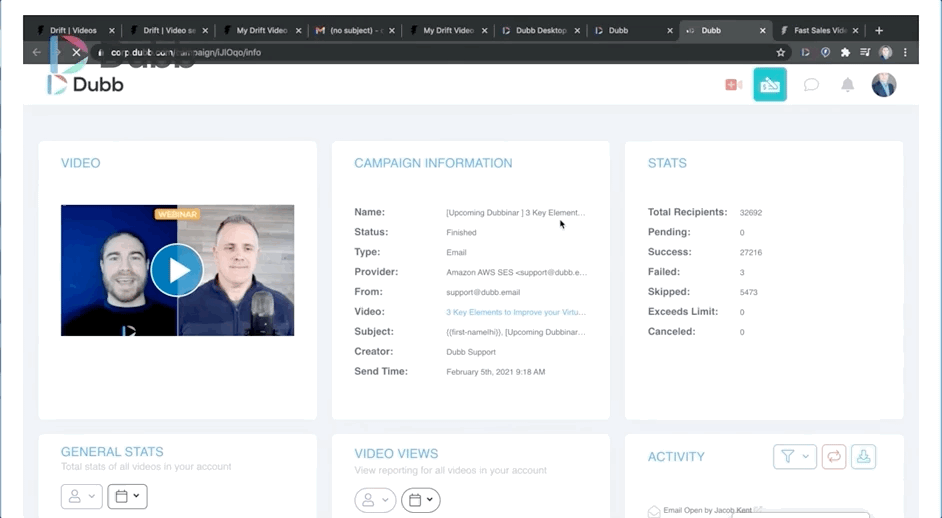 Ultimately, whether you use Dubb's built-in bulk email sending feature or Dubb's automated sending feature (where you can build simple or complicated workflows), you'll find that video distribution is powerful and efficient with Dubb. That's not all, however. You can use your own third-party system (like Salesforce, HubSpot, or something else) to send and track bulk email campaigns.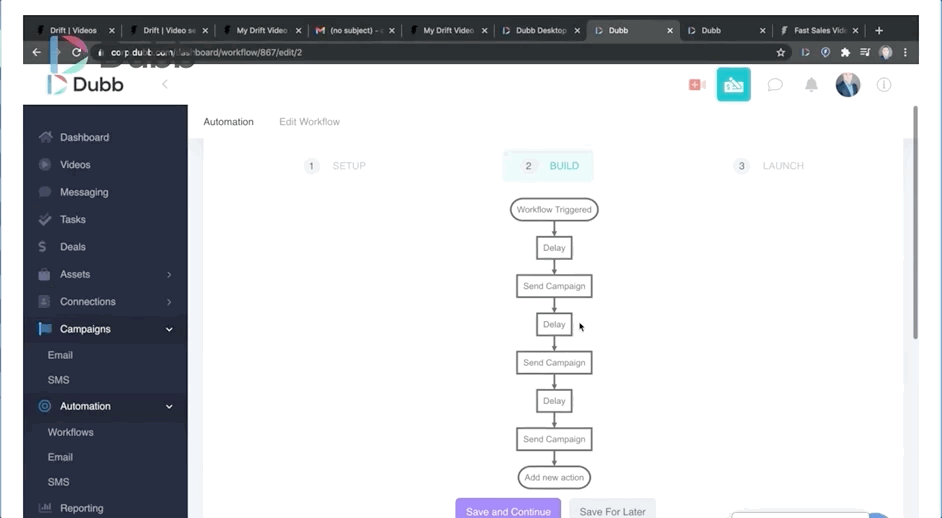 In the end, Dubb provides you with many different ways of getting your video content in front of your audiences. Whether you want to run a sales video in front of one particular prospect or want to display your video to a much larger audience, Dubb makes it extremely easy to do so. 
Making Your Choice
As you can see, this debate of Drift Video vs. the Dubb video platform encompasses many different factors. On the surface, there are some key similarities. From the Drift and Dubb Chrome extensions to the presence of video landing pages, there are several overlapping features on both platforms.
All of that said, when you look at the details, it appears that Dubb comes out on top. Whether you are looking at creation, customization of video landing pages, distribution, or something else, Dubb offers more bang for your buck. 
Dubb has an edge in each of these fields. From solopreneurs to medium-sized and larger businesses, Dubb can offer a wealth of value to your sales and marketing work. To learn more about Dubb and how it can help your business, click here. You can also click here to access a free seven-day trial of our premium tier. As always, if you have any questions, don't hesitate to contact us.