In this webinar, you should expect to walk away with a simple, yet the tactical approach to leverage video marketing for any sized company.
This webinar is co-hosted by Nina Froriep, a video marketing expert, Ruben Dua, the Founder of Dubb, and Darius Santos, the Chief Revenue Officer of Dubb.
Every brand needs a video marketing strategy. If you don't have one, then you're most likely falling behind.
Video used to be just a small component of the communication and advertising systems of businesses. But today, that's no longer the case. Video now plays a central role in every sales and marketing framework.
It's not too hard to recognize why video is so effective in marketing.
From an advertising perspective, the primary reason is that consumers want to see what you offer in action. They prefer to be shown, not to be merely told.
Through the lens of being an entrepreneur, video is an integral part of developing a personal brand. It's the most accurate medium in communicating reliability and authenticity. Why should you need to display these? Because people are looking to do business with people. A faceless company brand could never gain the trust that a real person ever could. Setting up a strong personal brand is all about positively impacting your audience by connecting with them on a human level. The best way to do just that is through video.
If we're talking engagement, you should not be thinking about emails or cold calls; there's not much value in reaching out to prospects with monotonous emails or unsolicited phone calls. The pitching approach to selling is not as useful as it used to be. Thanks to the internet making information readily accessible, people have the power of choice. In order to connect, you have to have value. A conversational video is much more compelling and offers greater value to your clients. Viewers can see your emotions, expressions, and can sense your sincerity. Not to mention, it provides abundant possibilities and even better opportunities than traditional outreach methods can.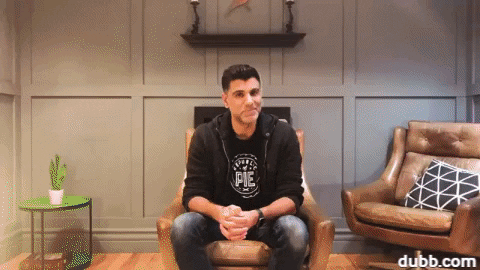 Besides, even if you don't bother much with building a personal brand or providing value, video is still the best way to make sure that you're surpassing any potential communication barrier in the process of informing and educating.
Video helps retain information better than text or any other medium. Even the most complicated concepts can be easily digested when delivered through the form of video. With video, you're not leaving anything up to the imagination. You can clearly state your message without the danger of being misinterpreted.
Furthermore, using video as a primary medium makes your information readily accessible since everyone now carries a mobile device wherever.
See, video shows and tells. 
But while it's simple to recognize the power that video holds, understanding how it works, getting started, and making the most out of it is often challenging. New media like video may have always been an integral ingredient to business growth for some, but for many, it's an entirely new environment that's quite difficult to navigate.
Even if you own a business that's already doing video, you probably know how it's like to sometimes feel stuck and clueless about what to do next. Or maybe you just recently started doing video but are already questioning the quality and effectiveness of your methods. The point is, it's still possible to encounter roadblocks, regardless of how early in the stages you are or how far along you've come into the video marketing journey.
Whether you be a long-time video buff or an aspiring video marketing guru, the key to successfully leveraging video to its maximum capabilities is simplifying the process.
With the goal to demystify the intricate world of video marketing, we conducted a masterclass with Nina Froriep, co-hosted by Dubb's chief revenue officer Darius Santos and Dubb's CEO and founder Ruben Dua.
Nina is a video marketing genius. She is the owner and chief marketing officer at Clock Wise Productions, Inc., a video production firm established to enable mission-driven entrepreneurs to grow with consistent and practical video content. Having been in the film and video production industry for more than two decades, Nina knows nearly everything there is to know about video.
Five Steps of Video Marketing
Nina's purpose for the webinar was to walk us through the simplified steps to video marketing, which is as follows: strategy, storytelling, shooting, editing, and distribution. Let's discuss each step and find out how to leverage Dubb in accomplishing them.
First Step: Strategy
Strategy doesn't only have to do with the video production process; the most important thing to consider in formulating yours is where you want to direct your marketing efforts. Without a strategy, you could be wasting your time and energy shooting in all directions without a clear sense of your intentions.
In a nutshell, strategy means determining why you're doing what you're doing and whom you're doing it for.
Find Your Niche and Work on It
When defining your audience, it's best not to be too general. For example, it's not enough to decide on an age group. You have to establish your niche in the market. Who are the particular people you want to market to? Where can you find them? Once you're confident of where you stand and when your audience is, you can easily develop ways to present your brand to them.
Try Focusing on One Platform
Nina, for one, is actively engaged with her community on LinkedIn. She believes in the reward of doing one specific platform well. Every other social networking platform she's on, she considers equivalent in function to calling cards. They are only a means for people to notice and recognize her, then finally connect and interact with her on LinkedIn.
Working on one platform doesn't only help make it easier for prospects to connect with Nina; it also informs what her shooting and editing process will look like by determining the format for every content she will produce. By doing this, everything she does in the process gears toward optimizing the platform.
Access Dubb's Features from Anywhere
Dubb is an all-in-one video communication platform that provides you the ability to create, distribute, and track actionable videos that drive engagement and increase revenue.
Aside from being a complete one-stop-shop for all of your video production needs, Dubb is also readily accessible from nearly every social platform you could be using. We meet you right where you are.
With the Dubb Chrome Extension tool, you have access to Dubb's video recording features regardless of which website you're currently on. All you have to do is click on the extension icon, and Dubb will provide you with several recording options to choose from.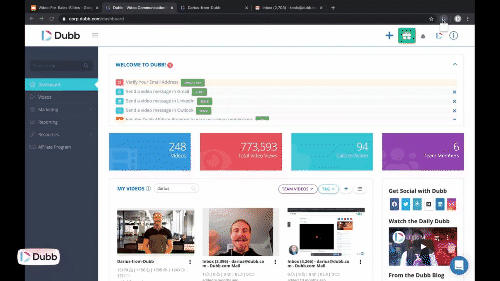 You can:
Record your entire screen with your webcam video and audio feed and annotate to enhance the experience;

Capture only a specific tab opened;

Shoot a webcam video of just yourself;

Upload pre-recorded and pre-produced videos from your local file library;

Or include in your message a video that's already on YouTube.
Those are a lot of choices. And it's only the beginning.
When we said you could access Dubb anywhere, we meant anywhere. Dubb has a mobile app with even more advanced functionality for producing your videos.
With the mobile app, you also have the option to either shoot videos from scratch or upload video files that you already have from your file library. No matter which method you choose, you can easily edit your videos directly from your phone and splice clips together, add text and emojis, and even include a music track. What's more, you don't have to send it to your computer for neither the editing process nor the distribution process. You're able to do those straight from your smartphone.
But before you shoot anything, carefully study the next step after discovering your strategy: storytelling.
Step Two: Storytelling
Create a Content Calendar
During the storytelling stage, you have to decide how to tell your story best—this entails constructing your content calendar. 
Coming out of being a filmmaker, Nina had people who worked with her, and she simply had to manage her crew for the most part. Upon getting into content marketing and working for herself, she didn't have much of a structure. Initially, her content creation methods were experimental, and the only way she knew what to do next was to find out which of her materials stuck.
Over time, she learned the importance of purposefully assembling a content calendar. For instance, if she were to designate the start of a video challenge or any other event on a specific date, she would allot days for posting supporting content from a few weeks earlier than said date. These posts would mainly consist of content that generates exposure and interest in the future main event. 
Consistency is Key
Nina has always believed that consistency is key. 
The solution to consistent posting is to plan out your schedule. Being consistent in posting and engaging on your platform helps boost return on investment by giving your audience an idea of what it's like to work with you. 
Now, creating a content calendar is not only about generating engagement. It's essentially the same as having a daily agenda planned out—it helps you manage your goals and stay laser-focused.
Moreover, if you haven't gotten yourself into a rhythm or routine of posting yet, having a content calendar provides you with at least a structure. To give an example, try starting a small-scale series or project that you will produce and post in spurts so that you could get more fluent with your content.
You will also find that the more you are online and the more you engage with people who engage with you, the more you will be inspired, and the more you will develop fresh content ideas.
Include Calls to Action
Nina argues that one of your topmost priorities in putting up video content must be to include calls to action.
In essence, calls to action are verbal call-outs that you state in your video to prompt your viewers to not just be passive viewers but to participate in your business as valued clients; it could involve encouraging them to sign up for your service, get in touch with you, or spread the news about your offers.
A call to action may seem salesy—which they hardly ever are—but you can always design them in the form of asking questions.
You're probably creating videos to engage people with you and to lead them to purchase your products or services eventually. Calls to action are essentially devices that make it easier for clients to engage in conversation with you without feeling obligated to buy from you immediately. Because much of the time, they are not ready to purchase anything from you; they first want to see what you're all about and what it's like to be working with you.
Nina herself has come across multiple occasions where people who have been in her orbit for months availed her services only much later on. How? Nina was always present in engaging and asking questions. If she hadn't done anything to take part in conversations and provide value by investing her time in people, she believes that nothing would have ever happened.
So, don't hold back from devising a list of calls to action. Remember, engaging with people is never salesy. It's just having conversations and being human.
But spoken calls to action are not always enough on their own. You must provide a way for them to actually take action and come along for the journey. Call-to-action ("CTA") buttons serve that exact purpose. Verbal call-outs are equally as crucial as CTA buttons; you can't have one without the other.
With Dubb, you can create any form of CTA button you wish to make. They can be set up to become buttons for clients to schedule an appointment with you, reply to your video message with their own, register for an upcoming event, and just about anything you can come up with.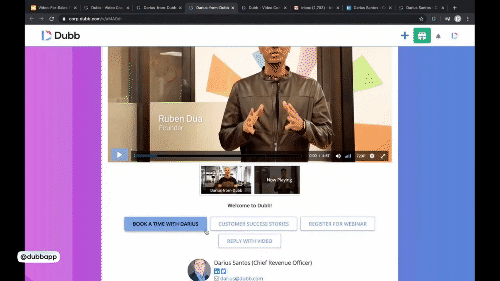 These fully customizable CTA buttons allow for more conversations, opportunities, and conversions to be made directly from your message. While it's right for your goal to be to engage, educate, and inform, it's equally important to motivate your prospects to take action.
Take Control of Imposter Syndrome
The hesitation in incorporating calls to action because you're afraid of sounding salesy might come from a case of imposter syndrome.
But, you see, if you're confident in your service and what you're doing, then you'd know that every bit of information you're presenting to your clients is ultimately going to provide them great value.
There are certain levels of being salesy to talking about your product, but if you genuinely believe in your purpose, there shouldn't be any question about it; because you know that you're helping both your clients and yourself. It's an absolute win-win situation.
Step Three: Shooting
Be Your True Self
Another thing on imposter syndrome: if you're trying to be consistent with doing video, you won't be able to keep it up if you are not being your honest self. Nina learned this quite the hard way.
The first time she had to be in front of a camera, she went above and beyond to make herself look professional that it only caused her to go into a panic.
While there's nothing necessarily wrong with wanting to feel and look professional, you also want to be authentic in embodying your brand. You want to be the same person who answers phone calls, who comes onto video calls, and the same person that prospects see upon meeting you for the first time.
Keep it Simple
Keep your video production process simple. A common belief held by most about video marketing is that video requires very grand production.
Nina had attempted firsthand spacing out her living room with lights, cameras, a teleprompter, and other high-end equipment in hopes of creating the most professional-looking video. But she eventually realized that she didn't need any of it. 
She then switched to recording on her smartphone using a tripod, sitting on her desk, in front of her office wall. Not only did it make her life much simpler, but it also generated appreciation from people who saw her videos. Her being genuine came across effortlessly and resonated with people.
In Nina's words, "Don't try to be a version of yourself that you cannot sustain." Being your true self is the only way you could continue putting out video consistently without driving yourself insane.
To get into more detail about the shooting process, Nina enumerates three things that people often get wrong so that you can get them right:
#1: Lighting
In searching for your recording environment, your office would probably work just fine. The light you have in there is most likely enough. 
And if you really sense the need for extra lighting, Nina recommends letting the light source hit you not directly from in front of you, but ideally from both sides offset at a 45-degree angle, at least.
#2: Framing
When recording her videos, Nina always ensures that the top of her head collides slightly with the top frame. This way, she can leave more room at the bottom for closed captioning.
You might be wondering, are closed captions really that necessary?
They most definitely are. No less than 80% of consumers are more inclined to watch an entire video when captions are available. Also, at least 50% find captions useful because they tend to watch videos without sound. Closed captions help your viewers follow along with what you're saying, especially when watching in places or situations where it's impossible to turn up the audio. It's a good thing Dubb has the power to generate closed captions automatically.
More about framing, Nina prefers to position herself slightly off-center. Not only does it leave space to add her logo, graphics, texts, and other visuals, it also resembles the natural space that you would normally have when talking to someone in person, compared to placing yourself in the frame dead-center. More importantly, make sure that you place your camera at about the same height as your eyes. This way, you're not talking down or talking up at people.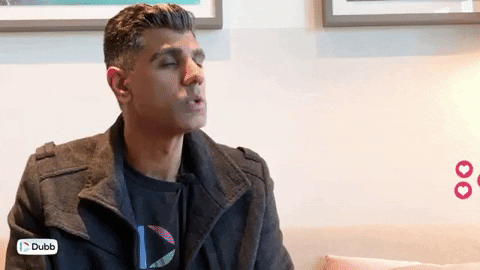 One last thing, Nina discourages wearing clothing that could affect the overall recording quality of the video. For example, she never wears white in a video because it takes away from the closed captions. In addition to that, cameras may have a hard time registering your facial features when there's a stark contrast with something else in the background.
#3: Script
Another limiting belief that most people have about video is that there has to be a perfectly-written script to get your words from.
Reading from a script isn't wrong, but if it's getting you too hung up because you're not used to remembering lines upon lines of text, then you shouldn't be wasting your time doing it.
Besides, viewers could see if you're reading from a cheat sheet. And even if they don't see it, it's also subconscious. See, reading from scripts interrupts the intimacy and connection between you and your viewers. Most people watch videos with their devices right at the palm of their hands—they could instantly see your eyes bouncing off from your camera to your teleprompter.
You don't have to read from any cheat sheet. There's always the choice to shoot an unscripted message in short clips and then edit them all together. As Nina puts it, she would rather have herself flub than be stilted and prompted.
Utilize Dubb to Record Videos with Maximum Ease
If you've recently bought high-end video equipment, there still might be time to send them back. The only tools you need are a smartphone, a computer, possibly a tripod, and a proper location with decent lighting.
Again, you can access tons of video recording features from both the Dubb Chrome Extension tool and the Dubb mobile app. Dubb is essentially ten different software programs combined.
Step Four: Editing
Edit Video Content on Dubb for Efficiency
Once you have completed shooting your video, proceed with editing them either straight from the Dubb video editing page or the Dubb mobile app.
The mobile app offers real-time editing, which gives you the power to record multiple clips, splice and rearrange them together, add music, overlay filters, insert text and emojis, and more.
From the desktop editing page, you can add tags, include customized CTA buttons, determine privacy settings, and set which frames will be the start and end of your video.
Whichever method you apply, Dubb helps you trim and combine all of your assets into a cohesive whole.
Should you choose to outsource video production and editing, you'll still be able to upload the final video output onto Dubb for custom packaging and widespread distribution.
Step Five: Distribution
After you have finished formulating a marketing strategy, telling your story, recording your message, and editing your assets, it's finally time to wrap up and publish. Before anything, know this: distribution doesn't only mean hosting and posting; it's also a strategy.
Customize Video Landing Pages for Consistent Branding
In sending out your videos, it's crucial to ensure that your viewers will be able to focus solely on your brand. It's like how different stores have their own distinguished packaging that lets people know where specific products come from.
Upon uploading your videos, Dubb automatically takes care of wrapping them up consistently with your brand elements. You can include your logo, colors, watermarks, and a custom background image that best suits the message. By customizing your video pages, you're getting rid of competition and setting your brand apart from any other business.
Organize Your Video Playlist for Uninterrupted Content Consumption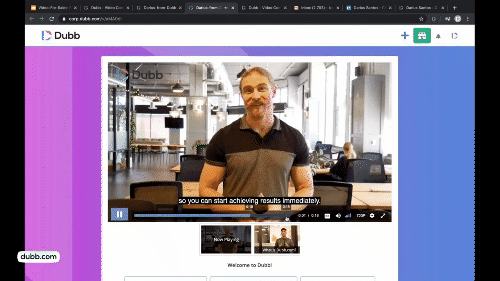 Dubb's video playlist feature is particularly handy for keeping your viewers engaged with your material. Once they click play on the first video, they no longer need to manually play the succeeding ones. Each video seamlessly plays one after the other, without the viewer having to open separate links for separate video pages.
Create Customized Call-to-Action Buttons for Higher Engagement and Conversion Rates
Going back to the call-to-action concept, remember to make the most out of Dubb's customizable CTAs feature.
Modify your CTAs according to your business' needs. Not only do they help address your needs, but CTAs are also excellent tools for preemptively attending to your clients' needs. But don't go overboard with it; putting in too many choices might lead to them experiencing analysis paralysis. 
Build Multiple Video Page Presets for Personalization
If you're managing different business roles, you might find the video presets more than helpful. 
Dubb allows you the ability to build custom video presets for different use cases. Are you looking to communicate a message to a specific audience? You can personalize the whole experience by dedicating a video page that uses a template uniquely made for them.
Everything from the logo to the background image can be changed when constructing presets. The base videos included in the playlist can remain the same if you prefer, but are collectively presented in a different fashion to serve a specific purpose.
In sending your videos through email or social media platforms, it matters how they look. When sent, Dubb videos appear not just as links or still thumbnails. Instead, an animated GIF preview of each video's first three seconds is displayed. This helps make the email sending experience much more engaging than the standard written text. Your contacts are also far more likely to click on your email once they see a video that has something to do with them.
In addition, Dubb lets you type in personalization text before sharing your videos with your clients. If you're repurposing a pre-recorded (but still conversational) video for different people, the personalized text makes it seem unique for the recipients still.
Share-and-Send via Direct Integration
After packaging your videos with your branding elements, the final thing left to do is decide how and where to send them out.
Whatever channel you're using, whether Gmail, Outlook, Mailchimp, Salesforce, HubSpot, LinkedIn, or even Facebook, you name it—we can meet you exactly where you are. With just a few clicks, you can send your videos straight from any major email or CRM platform that Dubb has direct integration with. As for LinkedIn integration, you have access to your video library, Dubb's recording tool, and the rest of Dubb's many features—straight from LinkedIn.
And even if the messaging tool you're using doesn't have direct integration with Dubb, it's still possible to distribute your videos by use of the universal copy-and-paste method. Take note, however, that the preview will largely depend on the platform. If the platform allows animated GIF previews, pasting the link will automatically display it. If, for instance, you're sending via SMS text messaging, the link will appear.
Send Out Videos in Bulk Campaigns or Automation
You can send out bulk campaigns and automation directly from Dubb. These features are not limited to email, but they are also for SMS text messaging.
Campaigns allow you to send sequential messages to a long list of contacts without much effort. Messages sent in bulk campaigns work best for following up with leads and prospects.
Automation involves sending out dynamic messages that depend on the rules you set up. Dubb only requires you to build a workflow upfront. Once the workflow is triggered, Dubb will send the video messages on your behalf. You can incorporate conditional statements into the workflow to branch the message trail out into various directions. Where the workflow will go is entirely dependent on how your recipients will respond.
Track Your Engagement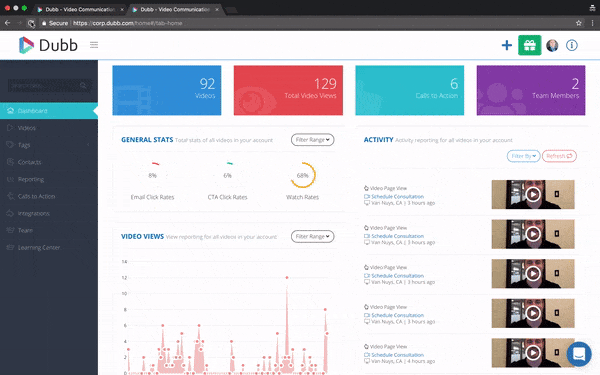 Compared to other video platforms, Dubb provides you with the most granular tracking and analytics data. These data inform you of how much engagement your videos are getting. You can instantly see who among your contacts clicked on and watched your videos, their watch rates, CTA click rates, call rates, and so much more.
These are not your regular surface-level analytics. Dubb offers the most detailed intelligence you need to discover better marketing opportunities.
Video Marketing: Demystified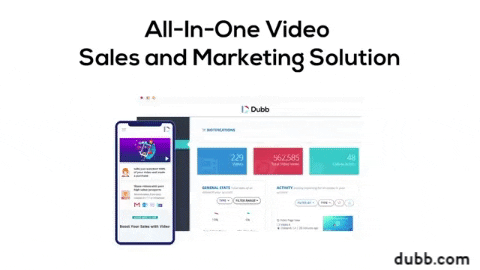 Here at Dubb, we want to help video marketers like you streamline communication, establish trust, and drive sales. We believe that our platform can be your next trusted partner in growing your brand and building connections.
We hope this webinar addressed the questions you might have had about the world of video marketing. 
It's about time you join in on the video revolution. Sign up for a Dubb account today and start producing high-value content that converts.