Regardless of the size or sector of your business, you must pay close attention to your content marketing cycle. Developing valuable content can not only build positive brand equity but can lead to an influx of warm leads.
Therefore, we at Dubb are happy to present you with everything you need to know about creating a killer content marketing cycle. Our goal is to help you spend less time in production while you are still making awesome, high-quality content. It may take some time to implement our strategies and suggestions. But, we are confident that they can optimize your content marketing—all while saving you a significant amount of time.
Content Marketing Cycle: The Basics
To start, it is helpful to actually define the content marketing cycle. The content marketing cycle itself can be thought of as the entire marketing process from initial contact to nurturing ongoing customer relationships. Every step is important, whether you are working to identify your audience (specifically gatekeepers), or you are trying to guide a prospect over the finish line to complete a sale.
There are different types of content, but one of the main distinctions is between ephemeral and evergreen content. Ephemeral content is simply that—ephemeral. It is often an image, video, or text that appears for a distinct amount of time before it disappears. On social media, for instance, ephemeral content drips down a user's feed. They consume it, see it, and never see it again.
While ephemeral content will disappear, evergreen content can stand the test of time. It is content that is constantly relevant. Evergreen content (which can be slides, video, emails, or something else) can pick up the slack and maintain your presence on a wide range of channels, whether that is YouTube, your blog, or even a guest post on other blogs. Whenever you are communicating, you are presented with an opportunity to transform your conversation into evergreen content. This type of content can be extremely valuable—regardless of your business.
Ultimately, you need to determine a way to take your content and distribute it across your channels. If you are creating value or solving a problem through high-quality content, your audience will find it. They will recognize the value that you are providing. And, best-case scenario, they are sold by your expertise and knowledge that they become a new customer.
The Value of Repurposing Content
But having said that, one of the most time-consuming tasks can be the content creation process itself. At Dubb, we have designed tools to make it extremely easy to leverage video content in your marketing portfolio. However, especially if you work at a small business, you may be scrambling with so many other tasks that creating high-quality, valuable content falls to the bottom of your to-do list.
Luckily, there is a way that you can work less, generate more content, and get more sales.
While it sounds too good to be true, all it requires is taking organic activities and conversations that are happening in your business and repurposing them into valuable, educational, and recyclable content. Even better, you can create both ephemeral and evergreen content through this strategy.
How do you do this?
We recommend that you create this content based off of frequently asked questions and your sales calls. For example, whenever anyone signs up for a consultation with Dubb, we begin by asking if we can record the call for our own purposes. It's critical to get their verbal consent before recording. Once you do, however, you can analyze the call later, seeing what worked, what didn't work, what provided value, and what questions were asked.
Based off of frequently asked questions in your phone calls, emails, chat support, or social channels, you repurpose your answers to those questions. By doing this, you can create ephemeral and evergreen content from live conversations that you are actually having.
This is an important point. It's easy to forget that by having a one-to-one conversation, your work can be repurposed. You are actually creating valuable content that you can share with others—so long as you obtain the consent from the person on the other side of your conversation. In fact, you can create a video that you can share on any or all of your platforms.
The beauty is that once you create content and release it out into the world, it is working for you 24/7.
So don't forget: when creating a piece of content, don't just use it in one place. That content can be parsed out. By doing this, you are working less, but are getting more value.
Cloning Yourself
Video is an extremely powerful medium for a number of reasons, but one of its main strengths is that it allows you to clone yourself. This simply isn't the case with other communication tools.
For example, at Dubb, we were having significant success with our sales calls. Once we were able to speak to a lead about their needs and interest in the Dubb platform, we dramatically increased the chances of making a sale. By contrast, it was more difficult to make sales if we didn't have this personal connection—even if a lead consumed one of our ebooks or other valuable pieces of content.
So ultimately, we were searching for a way to scale these personal conversations so that we could achieve the same amount of success, but with a larger group of people. We discovered, however, that we could replicate this effect through video. In other words, it was just a matter of capturing these conversations on video and distributing these videos to enough channels.
The Start of Our Social Journey
We started to post relevant content to many of our channels, like LinkedIn, YouTube, and Instagram. It was based on the realization that we could extend a personal, human relationship while providing significant value at scale. In effect, we could take the valuable parts of a conversation we had with leads or customers, make it into a video, and put it everywhere for people to see.
For many business owners, the dream is a completely automated company, where customers make a purchase without any human touchpoints. In reality, however, those customers likely won't stick around because they are lacking that human connection. When they have a complaint or when they are struggling to use your product, they won't know who to contact. Because of this, they are more likely to drop off and become former customers.
Leveraging Organic Conversations
On the other hand, by leveraging the organic conversations that you are having with customers, you can build a genuine connection with different audiences and groups. At Dubb, for example, we have gathered success stories of our work with e-commerce, real estate, and SAAS platforms. In our conversations with our clients, we ask them about what they're doing with video and how Dubb has helped them with their business. These are organic conversations where we solicit honest feedback, which we later repurpose into a video that we share on different platforms.
When a lead or other potential customer in those verticals views these success stories, he or she starts asking questions. They ask:
"Why can't I do that myself?"
"What's stopping me from achieving a similar result?"
"How can I leverage this tool to succeed in my business?"
By leveraging your organic conversations with customers, you can create content that directly speaks to your leads. Not only is it more effective, but it saves you time. Through video, you are able to clone yourself and gather valuable testimonials. And it can support your credibility in the eyes of leads or prospects.
Depth, Not Breadth
One common error that we see in the content marketing cycle is that businesses try to target every single audience or vertical. This is true whether they are large, medium, or small businesses.
Instead, the real opportunity is in carving out specific niches. This is your core audience. From that, you can scale up and identify new verticals or markets to tackle.
Keep this in mind when the cameras are rolling and you are creating content. Consider creating several different variations of content for different target audiences. By doing this, you can maximize your output. You are only shooting content in one afternoon, for instance, but you are obtaining five different pieces of video that can appeal to different target audiences. Ultimately, when creating content, you must consider the ways that you can parse the content so that you can leverage it on as many platforms as possible.
The bottom line? Take the organic conversations that you are already having with customers and repurpose them. Identify your target niche and prioritize depth over breadth. Don't forget to create valuable and educational content, whether it is ephemeral or evergreen.
By doing this, you can optimize your content marketing cycle and save valuable time in the process. There's nothing to lose, so we encourage you to get started.
For more valuable content, don't hesitate to subscribe to our YouTube channel. Stay tuned for more exciting content!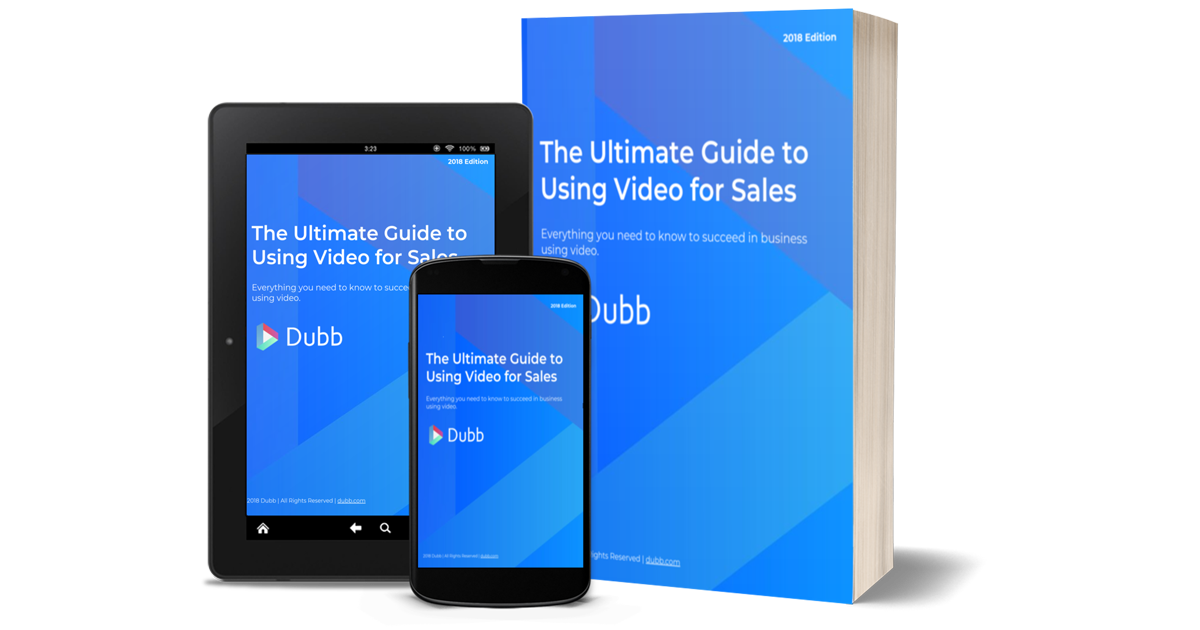 [eBook] Ultimate Guide to Using Video for Sales
Dubb is a video communication platform that lets users send personalized, trackable videos. The Dubb platform simplifies video sharing with a Chrome Extension, Outlook Add-In, mobile app and website that allow users to share and track screen and camera videos. Dubb offers a free 14-day trial with no credit required.