Thanks to technology, tasks that used to be time-consuming, expensive, or just not possible can now be carried out efficiently.
But before buying a new business tool or software though, there are a lot of factors to take into consideration — things like its features and benefits, alternatives, the price of the software, as well as user reviews to hear what other users of the product have to say. And most importantly, if the software is a good fit for your business.
In this post, we'll look at Bonjoro pricing plans and we'll compare them with Dubb's pricing plans as well — since they're both popular video marketing and hosting software and offer similar functionality.

According to their current pricing page, Bonjoro pricing is split into four packages. There's a free plan and the basic plan — both of which are ideal for individuals — and there's also the Pro and Grrrowth plan that is tailored to fit businesses. With that being said, let's go over the price points and features offered in all four plans.
Entry Packages for Individuals
Bonjoro Pricing — Free Plan
A quick look at the Bonjoro pricing page shows that they offer a free plan that is ideal for newbies with basic needs for videos. While this may sound like a good idea for solopreneurs just starting to include videos in their marketing efforts, the free plan has limited features that businesses would need for marketing and sales.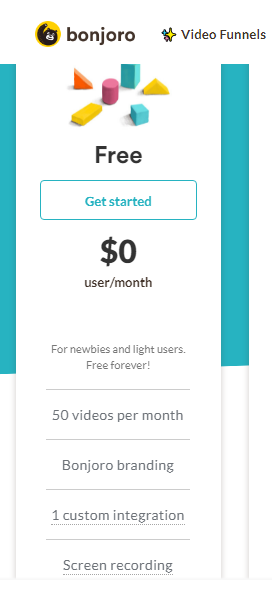 At this time, Bonjoro only offers the following features on the free plan;
Users are limited to recording and sharing only 50 videos per month. Most businesses will typically need to record a lot more than that, but individuals on the other hand might not exhaust that quota.
It's important for organizations to keep branding assets consistent across all channels. So having the flexibility to tweak certain elements to fit your brand is something to look out for. Another limitation of the free plan is that the Bonjoro branding cannot be removed from the videos.
One custom integration/funnel
Bonjoro allows users on the free plan to integrate with a few other tools and create just one funnel. Most businesses will definitely need more than one funnel so this will be a huge limitation. 
Asides from uploading videos and recording with their webcams, there's an option for Bonjoro users on the free plan to record and share their screens as well.
That being said, individuals that are just looking to send basic video messages would do just fine with the free plan, but professionals and businesses that are serious about marketing need features that are missing from this plan. Things like flexible call-to-action buttons, branding options, workflows, and a whole lot more.
Bonjoro Pricing — Basic Plan
Bonjoro offers a low-priced plan that costs $15/month which is targeted at Solo users who need a little more customization.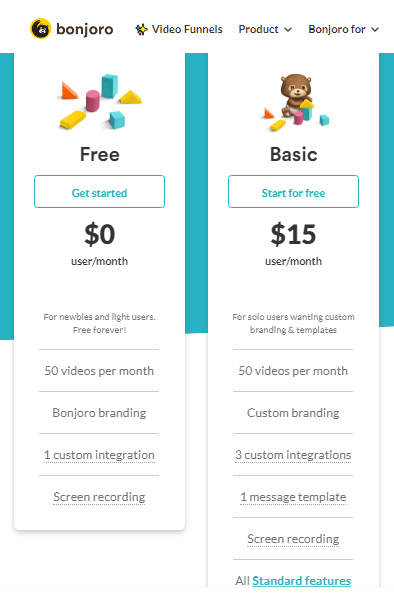 This basic plan isn't very different from the free plan, users are still limited to 50 videos per month and have access to the screen recorder tool. What sets them apart is the addition of a few features;
Users on the basic plan can replace some of the Bonjoro branding assets with their personal assets, but it's worth noting that the Bonjoro logo cannot be removed while on this plan.
Rather than being limited to just one custom funnel, users on the basic plan can create up to three different custom funnels.
Bonjoro offers users on the basic plan just one message template. This allows you to save specific kinds of preferences — like messages, CTA buttons, style, and more — for a specific kind of scenario. That way, it's easy to apply the template rather than create everything from scratch.
Most businesses will definitely need to produce different kinds of videos — product videos, welcome/intro videos, demo videos, follow-ups, and a lot more. This level of video is a lot so a single template will be a huge limitation and not ideal for businesses.
Dubb Pricing — Free Plan
At zero cost, Dubb's free plan users will get all the video creation tools, hosting, as well as the full tech suite and customization options. But there will be some limitations for businesses as it is geared towards individuals with minor video marketing needs.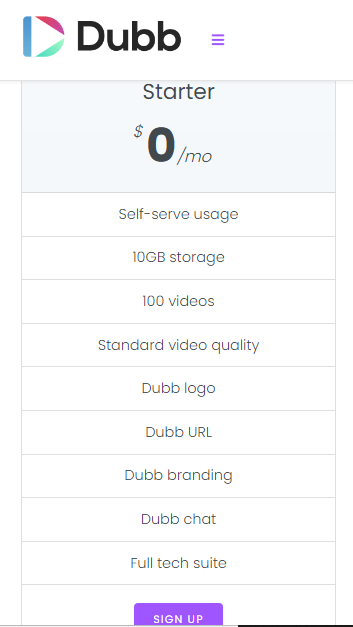 With Dubb free trial you get to test-run the platform and see if it's a good fit for you. Your credit card isn't required, so there's no commitment on your part at all.
So far, we've seen that while Dubb and Bonjoro offer a free and a low-priced entry plan at $15/month, these plans aren't a good fit for businesses. Since most organizations will be running marketing campaigns at scale, let's focus on the plan that offers businesses the tools they need to support their marketing effort and get a good ROI.
Pricing Plans for Businesses
Moving on from the low-priced plans, Bonjoro and Dubb offer two other pricing plans for businesses that come with advanced tools and more flexibility.
As mentioned earlier, most businesses looking to implement videos in their communication and marketing efforts are going to need a lot more than a few videos. So it doesn't make sense to be limited to only a handful of templates and settings.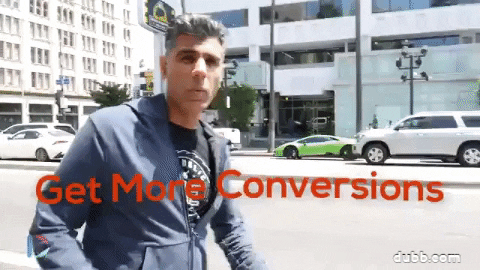 That being said, let's go over some of the pricing plans that are better tailored to fit businesses.

What both platforms include in the business plans
Before we jump into the different plans both platforms offer, here's what you have access to regardless of which one you choose.
Creation Tools
Both Bonjoro and Dubb offer users a suite of tools for creating and sharing videos. There's a Chrome browser extension that allows you to record their screen and webcam in one click. And they also include desktop and mobile apps (available for IOS and Android) that let users create and upload videos on the go.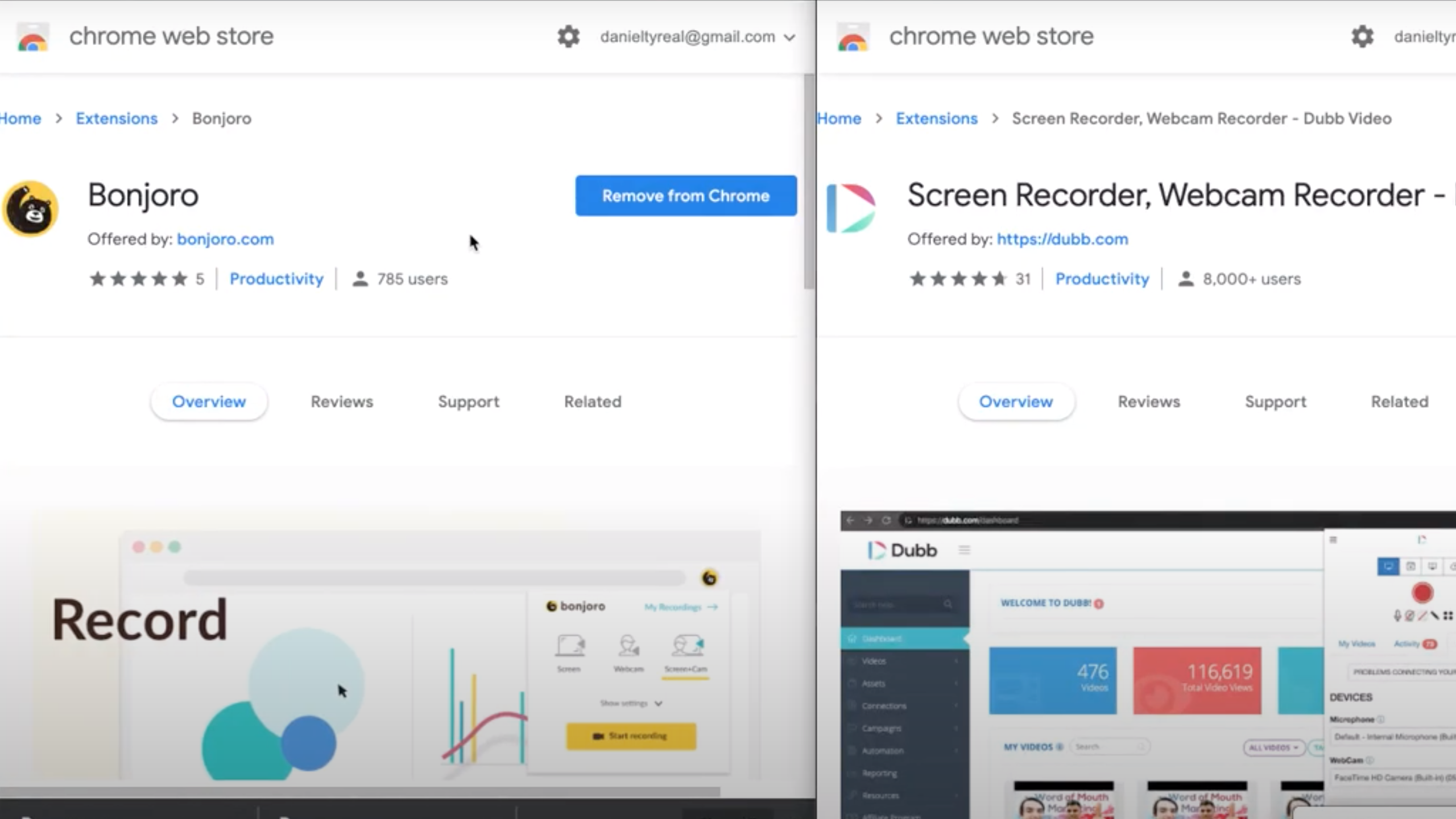 Hosting and Customization Tools
Bonjoro and Dubb allow users to create an unlimited number of landing pages to host videos and other assets.
On the customization side of things, Bonjoro users can change the background color and image, add their logo to match their brand, add links to the CTA buttons as well. 
Dubb on the other hand makes creating and customizing landing pages easy with several pre-built templates. You can edit the landing pages to match your brand by adding custom logos and tweaking other assets (including color schemes, positions, and sizes) without any coding skills.
Having seen the common features both platforms offer, let's see what sets them apart and the features that are included in each plan;
Bonjoro Pricing — Pro Plan
The "Pro Plan" is a Bonjoro pricing plan that is made for businesses and individuals with small teams running multiple campaigns. Since this is a low-priced business package, you should expect some limitations. Before we talk about how this plan compares with Dubb's equivalent, let's go over what is included in the package.
Features Included in the Pro Plan
Some of the limitations on the Basic plan is removed in the Pro plan and there are a few features included like;
This allows organizations to craft campaigns for different teams, or different jobs, such as onboarding, and retention. Each campaign contains different workflows, templates, and results.
Bonjoro users on the Pro plan will get a major upgrade from the 50 videos per month limit to an unlimited number of videos.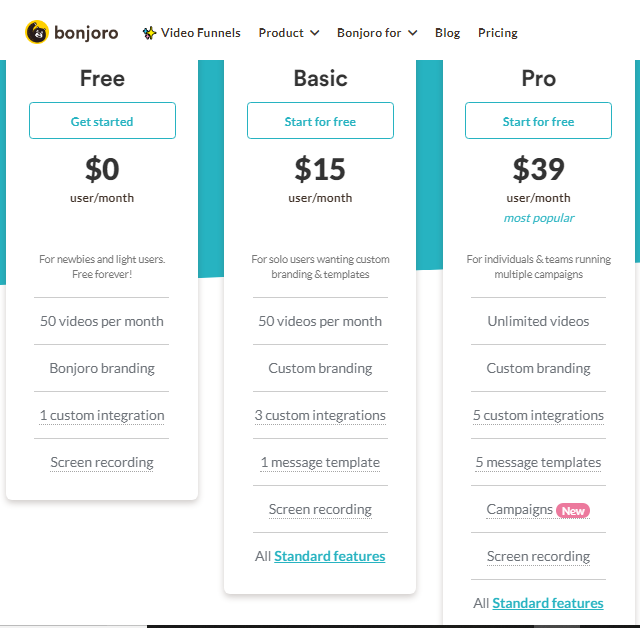 Rather than being limited to just one custom funnel, users on the basic plan can create up to five different custom funnels.
Bonjoro offers users on the basic plan just one message template. This allows you to save specific kinds of preferences — like messages, CTA buttons, style, and more — for a specific kind of scenario. That way, it's easy to apply the template rather than create everything from scratch.

Bonjoro analytics tracks and shows open rates, clicks, replies, and if the video was watched. It's worth mentioning that tracking and reporting with Bonjoro are limited to emails sent from Bonjoro's server — there won't be reporting for campaigns involving third-party apps.
Priority support, Funnel training, Filmer accounts, Team inboxes, and Data exports
Dubb's Comparable Entry Plan
Dubb on the other hand has a comparable entry plan that offers the same features that Bonjoro's entry plan offers plus more — all at a lower price.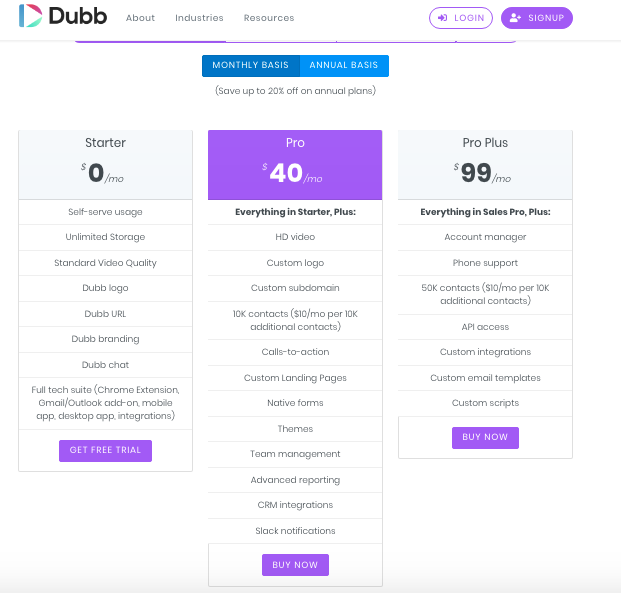 Dubb's Pro Plan costs $32/month or $384/year and is the equivalent of Bonjoro's Pro Plan. You'll get all the tools you need — like Chrome extension, desktop/mobile apps, and Gmail/Outlook add-ons — to quickly create and share videos.
What Dubb Pro Users Get
Dubb users that are subscribed to the Pro plan will be able to record and host an unlimited number of videos in HD!
Dubb lets you customize single or multiple CTA buttons for different purposes. This gives your viewers the option to perform different actions — anything from collecting video replies, filling out forms, or even downloading files.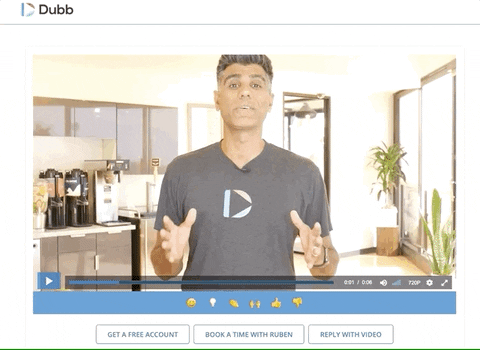 Another way Dubb's versatile CTA buttons can be used is by adding them to exit-intent pop-ups. You can customizable the buttons on the pop-up that will persuade viewers to take action on your video pages. When done correctly, pop-ups have been proven to be effective, as they can bump up conversion rates as high as 28%.
A feature Dubb offers that is worth mentioning is the playlist tool. With the playlist feature, you can add multiple videos, splice them together, and enable auto-play such that each video in the sequence loads up automatically after the preceding one.
With Dubb, you can see key metrics, regardless of the CRM where the video is sent from. Things like specific recipients that watched your video, the percentage viewed, and links users clicked on — even on campaigns and third-party tools (which isn't possible on Bonjoro). Insights like these can help you identify which areas to focus on improvement.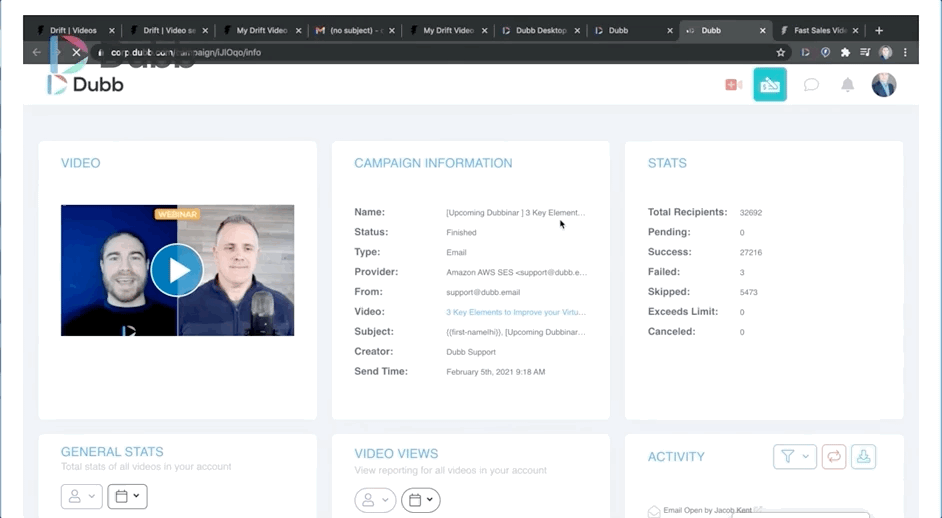 Dubb makes engaging with viewers even easier by allowing you to integrate your calendar app and Facebook messenger. This way, your viewers can easily book a meeting or start a conversation without leaving the page.
When managing video campaigns, the sales team of most businesses would need to work with their CRM software and share data easily. Dubb includes a built-in CRM for managing contacts in its Pro plan, that way users do not have to pay extra for third-party software.
Integrations with your CRM and other tools, Slack notifications, Themes, and Custom Subdomain.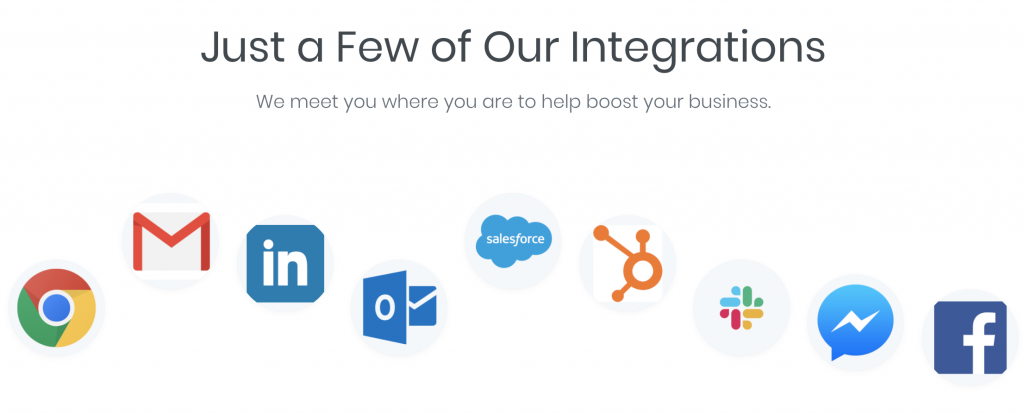 In summary, users on the Bonjoro Pro plan will get unlimited videos, email templates, scripts, as well as video/landing page customization, video distribution, and basic tracking at the price of $39/user/month or $396 if paid annually. Other features like team sharing, admin management, email, and chat support will also be included.
So all in all, Dubb's $40/month Pro plan offers everything you get with Bonjoro's $39/month Pro Plan and even more. You'll get custom CTAs, calendar integration, playlists, as well as advanced tracking and embedding options.
Large Businesses and Enterprise Packages
Bonjoro Pricing — Grrrowth Plan
Bonjoro offers a higher-priced plan for businesses that $79/user/month for the first user and then $20 per additional user. This plan is ideal for businesses using video at scale and with larger team size.

When compared side-by-side, there isn't much of a difference between the Grrrowth plan and the Pro plan except for the addition of a few features and more flexibility, as well as premium support for users.
Unlike the Pro plan that has a cap of only 5 custom integrations and 5 message templates, users that are subscribed to the Grrrowth plan will get up to 25.
Another feature that is exclusive to the Grrrowth plan is Rollups. This allows users to send a broadcast video to a group of contacts. Just bulk-select which contacts you want to "roll-up", then record them a personal video.

In addition to getting consulting sessions, organizations on this plan will also be able to remove the "Powered by Bonjoro" badge from the video landing pages. This allows them to keep branding consistent across all channels.
Dubb Pricing — Pro Plus
Dubb's plan that stacks up against Bonjoro's Grrrowth plan is the Pro Plus plan which costs $80/month. In addition to the robust features on the Pro Plan, you'll get several essential features like;
Automation

Up to 50K contacts ($10/mo per 10K additional contacts)

API access

Custom integrations

Editable email templates

Custom scripts
At this time, Bonjoro does not have a proper CRM built-in. This means Bonjoro users will have to pay for third-party marketing automation and CRM software like HubSpot, ConvertKit, or Pipedrive to manage campaigns and leads.
On the other hand, Dubb provides a powerful marketing automation tool that makes it easy to build sequences for sending individual and bulk emails/text messages. You can include delays, if/then statements, and specific tags. You can also segment contacts based on their activity, so it triggers and delivers the right message to the right person at the right time.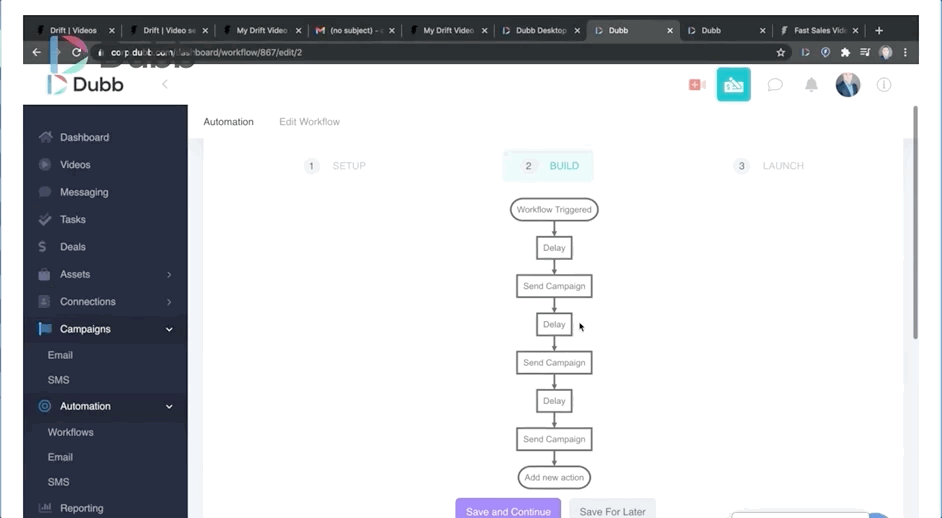 You'll also get access to editable email templates that you can format and personalize with texts, links, and custom thumbnails. If used effectively, these elements will dramatically improve your response and click-through rate. This level of automation is not available on Bonjoro.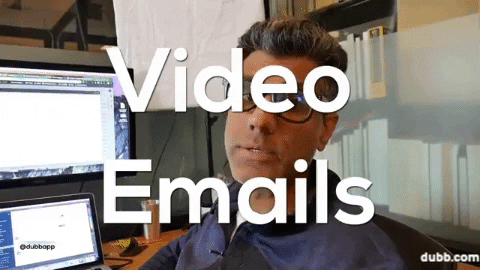 Finally, Dubb users on both the Pro and the Pro Plus plan can collect video replies or testimonials directly from the landing page without the audience even having to install Dubb.
Conclusion
Bonjoro pricing is divided primarily into four categories — the free and basic plans made for individuals, while the pro and grrrowth plan is designed for businesses.
The basic plan for individuals starts out at $15/month or $150/year. Even though there are video creation tools and hosting included, this plan has a lot of limitations that would get in the way of running a successful campaign on a large scale. Key features like multiple email templates, automation, the ability to send bulk emails, and customize landing pages are things Bonjoro basic users will miss out on.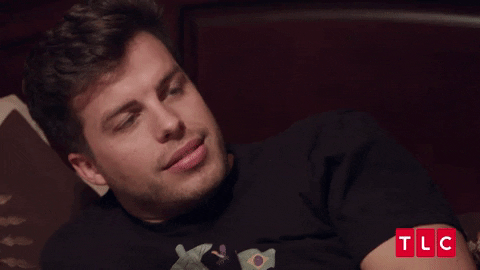 For business use, we recommend you choose a plan that has all the important features. Your organization will most likely need things like a shared team folder, customizable video pages, and branding, as well as bulk sending.
That being said, Bonjoro offers two plans for businesses — the "Pro" plan that costs $39/user/month (billed annually at $396/year) which is made for individuals and teams running multiple campaigns. The second "Grrrowth" plan costs $79/month (billed annually at $792/year) and is more focused on users and teams using video at scale. There isn't much of a difference between these two Bonjoro pricing plans. What sets them apart is the number of email templates and workflows and the ability to send bulk emails.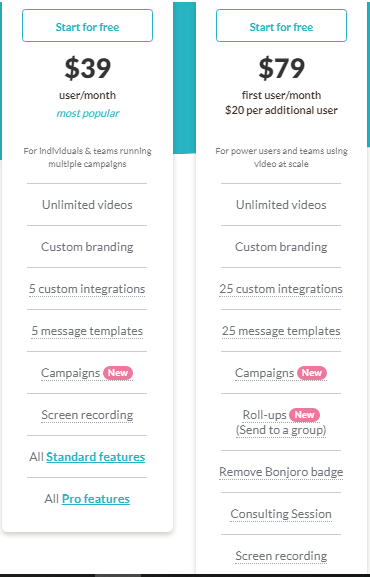 They do not have an in-built CRM and complex automation like Dubb's $80/month Pro Plus Plan. This means users who need robust automation will have to pay for a third-party tool and integrate with Bonjoro. 
Dubb's equivalent of Bonjoro's pro plan has all these important features and more. It includes fully customizable landing pages and CTA buttons — and costs only $40/month. If you're already using a stand-alone marketing automation software can opt for this plan to save cost, as Dubb will easily integrate with the tools you're using.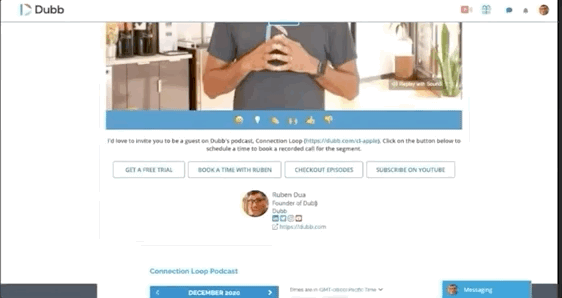 If you're sitting on the fence and you'd like to test-run the platform to see if it's a good fit for you, no worries. Bonjoro and Dubb offer free plans so you don't have to pay full price to get access to both platforms. You can grab a free trial with zero commitment on your part. You won't need to provide your credit card details.