In this article, we'll be looking at a head-to-head comparison between a popular video communication and hosting platform, Bonjoro and Dubb — a solid Bonjoro competitor.
Even though there are key differences, Bonjoro and Dubb are fairly similar in some way and have a suite of tools that perform almost the same functions. Let's see how they stack up when it comes to video creation tools, editing, video sharing, freedom of customization, and tracking abilities.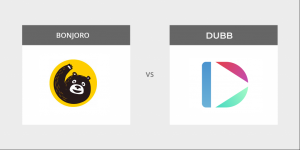 Let's start out with what they both have in common.
Video creation tools
Chrome Extension
Instead of cycling between different apps, browser extensions help users save time by accessing some of their favorite tools within the browser itself.
Both Dubb and Bonjoro have Chrome browser extensions with similar features that allow users to easily create and share videos. With the browser extension, you can record videos in different modes and even carry out some real-time editing.
The webcam-only mode works best for recording presentations with a focus on the speaker, while the screen-sharing option is better suited for demonstrations. This mode allows you to select an area of the screen you wish to record — either the entire screen or a specific tab. And if you would prefer to show the speaker in the videos, it's possible to record with both the webcam and the screen at the same time.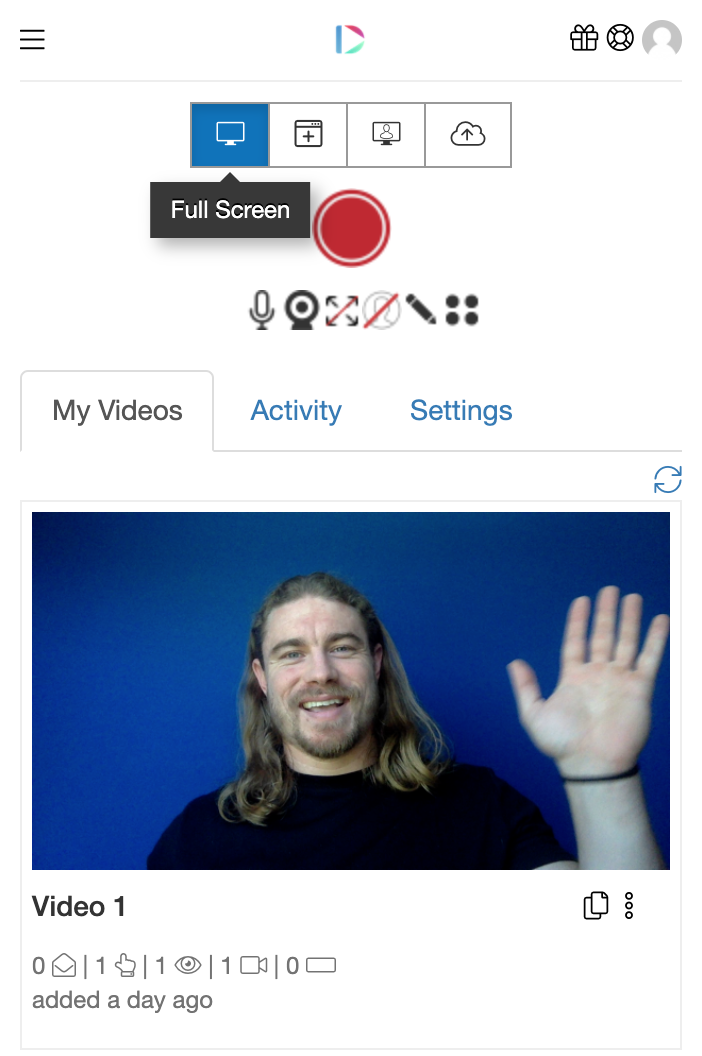 That's as far as Bonjoro's browser extension goes, users are limited to recording videos using one of the three modes, but Dubb takes it a step further. Asides recording capabilities, Dubb has a suite of useful tools included in its browser extension;
Pause and Resume Option
An important feature that Dubb's chrome extension has is the ability to pause and resume video recordings anytime during the recording session. This way you can deliver better presentations and save time as this feature will eliminate the need for editing after recording. With this tool, cutting out unwanted parts of the video is done in real-time.
Virtual Background
There are times when you may be in a busy environment and need to quickly create videos. 
Virtual background is a powerful real-time editing feature that allows you to feel comfortable in your setting without having to worry about your background as a distraction. 
You can blur out your background or use custom images in place of your actual background. Simply select any realistic background or scenery from the template and start recording. This is a fast and easy way to add personality and personalization to your videos with zero additional time or equipment.
Annotation Tool
Another useful feature that Dubb includes in its browser extension is the annotation tool. While recording, you can easily highlight, underline, or circle certain things on your screen with a few clicks. This comes in handy when you need to point out specific details in your presentation and get your point across clearly and quickly.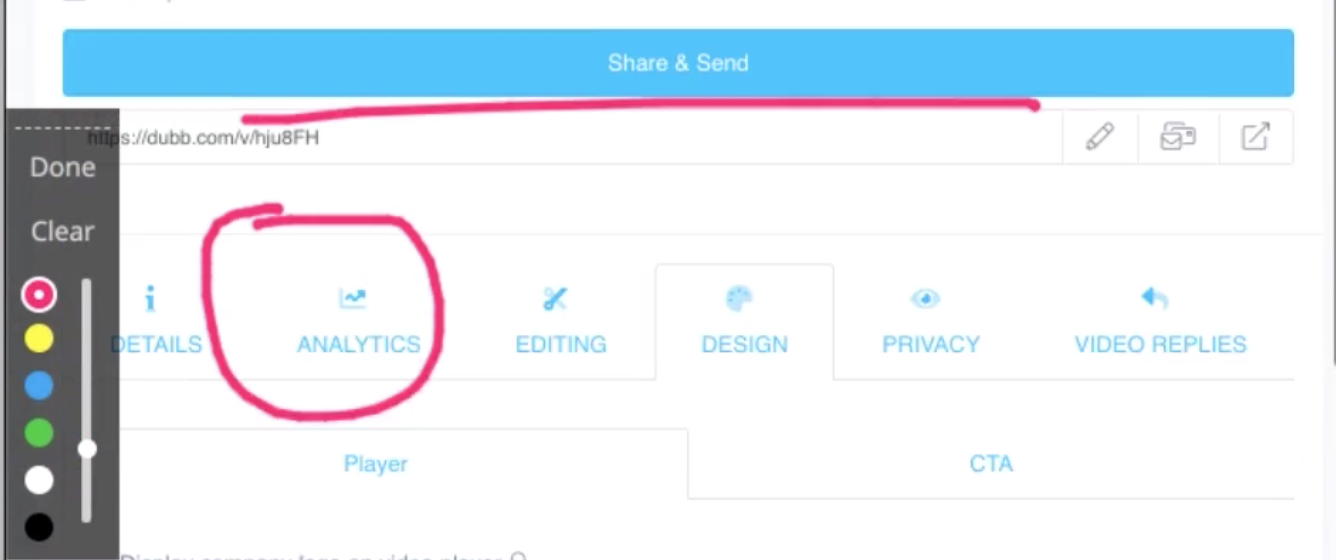 Resize Webcam
While Bonjoro limits users to record in only one mode for each session, Dubb's chrome extension is flexible and gives you more room — you can resize the webcam at any point during the recording session to change focus between the presenter and the screen. 
Although both platforms have a Chrome extension that makes it easy to create videos, they differ in functionality and Dubb clearly has an edge in this comparison.
Gmail Add-On
Bonjoro does not have a Gmail add-on at this time so users are limited to recording with only the chrome extension and mobile app.

On the other hand, Dubb has a Gmail add-on that allows you to create and send videos directly from Gmail. This comes in handy when you need to quickly access your library of videos, check activity and it saves you time from cycling through different apps while working.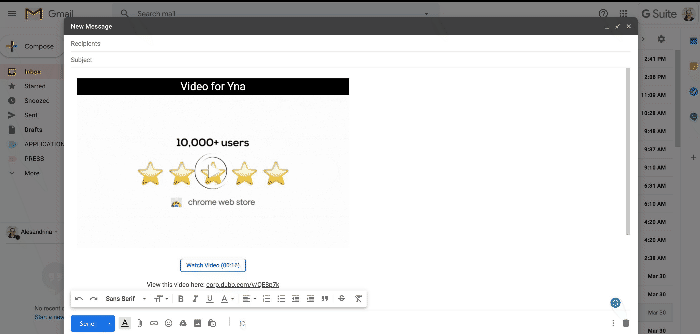 With the Gmail add-on, you can send one-to-one videos with a specific contact or run campaigns where you send videos in bulk to multiple recipients. There's also an activity tab on the add-on where you can keep track of the performance of your campaigns. Dubb's advanced analytics will display the time a video was watched, how much of the video was watched and other useful performance data.
Mobile Apps
Both platforms offer mobile apps (available for IOS and Android) that let users create and upload videos. 
Bonjoro and Dubb's mobile apps are useful when you're working away from the office and lets you easily record and send videos on-the-go. You'll also get access to basic tracking data where you will be notified when the recipient watches the video.
Besides the basic recording and sharing functionality, Dubb's mobile app offers more freedom to customize the videos — without having to access a desktop PC.
What makes Dubb's app versatile and one step ahead of Bonjoro's is its powerful editing features such as splicing multiple clips together, adding music, text overlay, emojis, and a lot more. Another difference between the mobile apps of both platforms worth mentioning is that with Dubb, you can cycle between the front and back camera while recording — similar to the modes in the chrome extension.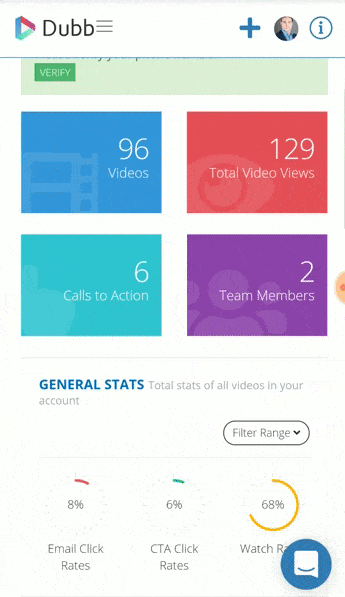 Dubb users can create and edit high-quality videos, share or upload them directly to the platform, and view the performance of their campaigns from the analytics area — all with their mobile devices.
Desktop Apps
Bonjoro competitor, Dubb, has a desktop app that is useful when you are working from home or the office. The desktop app lets you easily record directly from your screen to your Dubb dashboard, where you can take full control of the video-sharing and tracking process.
As mentioned earlier, users are limited to the chrome extension and mobile app as there's no Bonjoro desktop app available at this time.
Flexibility to Customize
It's important for organizations to keep branding assets consistent across all channels.
So having the flexibility to tweak certain elements to fit your brand is something to look out for when searching for a Bonjoro competitor. In this category, we'll have a look at how both platforms compare when it comes to video editing,  landing pages customization, and email formatting.
Video Modification
Let's start with the freedom to customize the actual videos.
A quick look at the video editing side of things, and we'll see that Bonjoro and Dubb are clearly different. Bonjoro does not have any video editing capabilities, so users will have to re-record videos if they make mistakes while creating the video. The other option would be to pre-record and edit the video using a third-party video editing tool. 
Dubb on the other hand gives you freedom for some basic video editing. You can trim videos, add watermarks, your logo as well as background music over videos. Dubb users can also automatically generate subtitles/closed captions or upload SRT caption files.
So Dubb clearly has the edge when comparing the video editing capabilities of both platforms. Let's see how they stack up in terms of freedom of customizing the landing pages.
Landing page Customization
Bonjoro Video Page Customization
Bonjoro allows users to upload and host videos on landing pages that can somewhat be customized. At the basic level, users can change the background color and image, add their logo to match their brand, add links to the CTA buttons as well. 
Asides from the basic color scheme and brand assets modification, not a lot can be done in terms of customizing the landing pages. 
Dubb Video Page Customization
Bonjoro competitor, Dubb, makes creating landing pages easy with several pre-built templates. After selecting the desired template, you can edit the landing pages to match your brand by adding custom logos and tweaking other assets (including color schemes, positions, and sizes) without any coding skills. Tech-savvy users will have the option to import their own custom HTML and CSS code though.
It doesn't stop there. Dubb makes engaging with viewers even easier by allowing you to integrate your calendar app and Facebook messenger. This way, your viewers can easily book a meeting or start a conversation without leaving the page.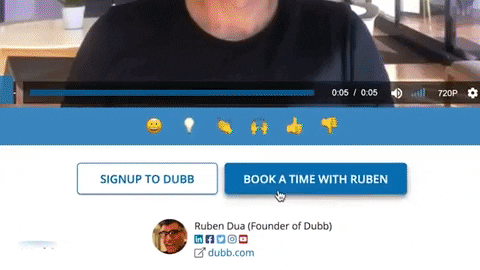 Dubb lets you customize single or multiple CTA buttons for different purposes. This gives your viewers the option to perform different actions — anything from collecting video replies, filling out forms, or even downloading files.
Another way Dubb's versatile CTA buttons can be used is by adding them to exit-intent pop-ups. You can customizable the buttons on the pop-up that will persuade viewers to take action on your video pages. When done correctly, pop-ups have been proven to be effective, as they can boost conversion rates as high as 28%.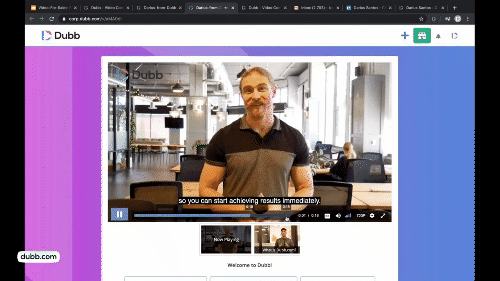 Video Playlist
A notable feature Dubb offers that is worth mentioning is the playlist tool. With Dubb's playlist feature, you can add multiple videos, splice them together, and enable auto-play such that each video in the sequence loads up automatically after the preceding one.
Video Presets
Dubb's Video Page Preset feature allows users to instantly apply a predetermined set of Calls-To-Actions, Video Playlist, Background, Color Scheme, and more, to a video page.
You can select a particular template and customize it for your own needs. When you are done, you can use that edited template for all of your new Dubb videos. It will be automatically used when you upload a video to the Dubb platform.
Real-time feedback from AI (CAIRA)
Caira™ is a real-time feedback assistant to help improve your delivery, clarity, empathy, professionalism, positivity, and persuasiveness.
Caira™ goes to work immediately after you record and upload videos to Dubb. Once its analysis is complete, Dubb users can easily see granular communication data on aspects like cadence, repetition, filler words, positivity, persuasiveness, empathy, and more. You can even get feedback on any potential slang, profanity, or jargon.
Using that data, you can both become more aware of how you speak and figure out ways to make necessary improvements. From eliminating filler words to incorporating more positive language, Caira™ can help you communicate more clearly.
Email Formatting
Both Bonjoro and Dubb offer customizable email templates (with the option of importing external templates) to make sharing videos effective. These templates can be formatted as needed using simple drag-and-drop controls and personalized with texts, links, and custom thumbnails.
When sending Bonjoro videos via email, an animated preview will be generated (you'll get the option to select your desired thumbnail) with a link that leads to the landing page. In order to better simulate a video playing in the email and grab attention, it's best to use GIFs as the thumbnail image. Bonjoro users will have to upgrade to the growth plan to get access to this feature.
Dubb also has a similar format for sending videos via email. After recording, you'll be able to select the desired thumbnail, which will appear larger than Bonjoro's. And the option of using a GIF image is available to every user regardless of the plan they're on. There's also a time-stamp shown below the thumbnail that gives the viewer an idea how long the video is.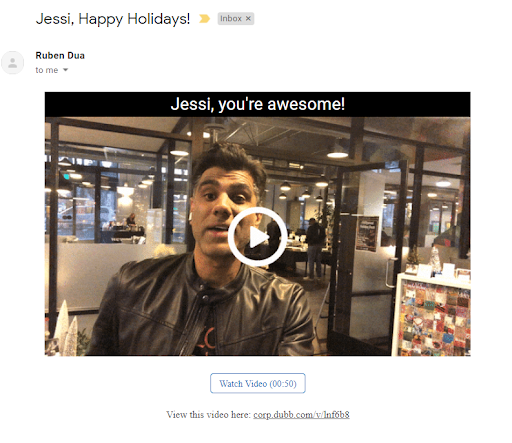 A very useful feature that Dubb offers is the ability to add personalized text over the preview thumbnail. Including the viewer's name in the thumbnail of the video is a proven way to boost click-through rates and gives the viewer the feeling that the video is made specifically for them.
Video Sharing
You want to make sure your video grabs your viewer's attention, passes your message clearly, and makes it easy to take action. Let's see how both platforms compare when it comes to distributing videos.
Bonjoro is geared to work with third-party marketing automation tools while Dubb is designed to be an all-in-one solution — and would be a good fit for small and medium businesses that do not have huge marketing budgets.
Just like Bonjoro, Dubb allows you to send both individual and bulk emails and track performance as well. And to take it a step further, there's a built-in CRM where you can easily import and organize all your contacts. 
What sets Bonjoro apart from Dubb is the "Task List" feature. This button allows you to assign tasks to new leads and contacts.
What Else Gives Dubb An Edge?
One of the key differences between Dubb and Bonjoro is that users are not limited to sending emails through Dubb's server.
You can integrate your email client — either Gmail, Microsoft Outlook, AWS, or whichever one you're currently using. Dubb lets you connect any SMTP provider to the platform, and then you can send out your videos from that email service through Dubb.
Team Management
A major focus of Dubb is allowing users to collaborate effectively with their team. Your Dubb dashboard has a team management tab where you can add team members, assign roles, and track progress and activity. You'll get everything you need to run successful campaigns in one place.
CEOs and other C-level executives of a company are often very busy. So it's difficult to capture their attention and schedule appointments. Dubb's Calify.me solves the problem of losing your high-quality leads due to the back and forth of finding a matching schedule.
Calify.me is a booking and scheduling engine that lets anyone manage their calendars through a public booking link. Sales leaders use Calify.me to manage their calendars and book events with prospects and customers.
These are unique feature sets that differentiate Dubb from other players in the video hosting/marketing space.
Video Page Templates
You most likely record and share videos regularly for different purposes. Whether it's for outreach, booking meetings, or onboarding clients…
You need to include the right look and feel in your video pages to fit your goal — but it typically takes a great deal of time to customize a web page.
Dubb Video Templates allow you to save time and apply saved settings to videos in one click. You can now launch a video landing page with the right elements in seconds — without doing it every time!
Video Email Signature
Your signature is a quick way to make a great impression, look professional, and give your readers the information they need to contact you. Unlike other video communication tools, with Dubb, you can include your signature in your video emails.
All you have to do is add your signature in your Dubb account and you're good to go. It will automatically appear in future emails. It's easy and takes only a few seconds to set up!
Showcases
Dubb showcase feature allows you to embed a playlist of videos on your website.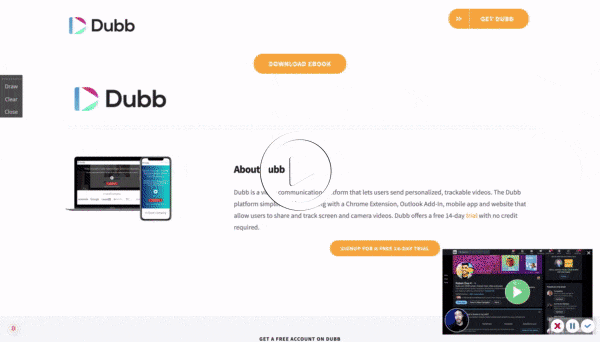 When viewers click on the thumbnail, they're taken to a video page where they can see a series of videos — instead of just a single video.
Automatic Closed Captions
Another powerful feature that puts Dubb ahead of other video communication platforms is Closed Captions.
You can now automatically generate closed captions on your Dubb videos to help your message stick better. This feature comes in handy especially when the viewer's environment isn't audio-friendly. 
Besides the automatically generated captions, you can also upload existing SRT files from other sources, edit the captions, or download the SRT file.

The downloaded text can then be repurposed to other assets like blog posts, white papers, and emails.
At the moment, this feature is only available to users on a paid subscription (either the PRO or PRO PLUS plans). And a ton of languages are supported — including US English, British English, Australian English, French, Canadian French, US Spanish, ES Spanish, Italian, Brazilian Portuguese, German, Korean, Hindi, Indian-accented English, and Modern Standard Arabic.
Marketing Automation
Bonjoro allows users to send automated emails with third party marketing automation tools or through the Bonjoro server — in which case the workflow will be pretty basic and is designed to notify users on Slack when there is an interaction with the sent video. 
Dubb's powerful marketing automation takes distribution to a whole new level.
Unlike Bonjoro, Dubb doesn't limit you to sending videos via emails only, you can also send out text messages via the dashboard. With Dubb's automation, it's easy to build out a simple or complex sequence for sending out both SMS and emails. You can include delays, if/then statements, and specific tags. 
Contacts can also be segmented based on their activity so that the right message is delivered to the right person.
This level of automation is currently not available on Bonjoro, so Dubb takes the lead in this category. Coupled with the personalization text, the CRM and automation tool show that Dubb leans more towards automation and scaling campaigns, while Bonjoro is optimized for creating and sharing one-off videos.
Tracking and Analytics
There's no point running a campaign without keeping track of performance. Bonjoro and Dubb offer a similar (but somewhat different) degree of tracking.
Bonjoro analytics tracks and shows open rates, clicks, replies and if the video was watched. It's worth mentioning that tracking and reporting with Bonjoro is limited to emails sent form Bonjoro's server — there won't be reporting for campaigns involving third-party apps.


On the flip side, Dubb users will be able to see key metrics like specific recipients who watched your video, the percentage viewed, and links users clicked on — even on campaigns and third-party tools. Insights like these can help you identify which areas to focus on improvement.
Pricing
At this point, we've compared the features and benefits both platforms offer. Even though there's a lot of similarity between Bonjoro and Dubb, there are major differences that put Dubb ahead in a side-by-side comparison.
Now let's see how both platforms compare in terms of pricing. 
Bonjoro Pricing
Bonjoro primarily has four tiers of pricing — the free and basic plans made for individuals,  while the pro and grrrowth plan is designed for businesses.

The basic plan for individuals starts out at $15/month or $150/year. Even though there are video creation tools and hosting included, this plan has a lot of limitations that would get in the way of running a successful campaign on a large scale. Key features like multiple email templates, automation, the ability to send bulk emails, and customize landing pages are things Bonjoro basic users will miss out on.
For business use, it's recommended you choose a plan that has all the important features. Your organization will most likely need things like a shared team folder, customizable video pages, and branding, as well as bulk sending.
That being said, Bonjoro offers two plans for businesses — the "Pro" plan that costs $39/user/month (billed annually at $396/year) which is made for individuals and teams running multiple campaigns. 
The second "Grrrowth" plan costs $79/month (billed annually at $792/year) and is more focused on users and teams using video at scale.
Dubb Pricing Plans
Dubb's equivalent of Bonjoro's pro plan has all these important features (except automation) including fully customizable landing pages and CTA buttons — and costs only $8/month.
The major differences between the two Bonjoro plans are the number of email templates and workflows that users are limited to and the ability to send bulk emails.
They do not have an in-built CRM and complex automation, which is crucial for delivering the right message at the right time based on the prospect's activity. This means users who need robust automation will have to pay for a third-party tool and integrate with Bonjoro. 
On the other hand, Dubb's "Pro" plan offers the same features and more for  $40/month or $384/year (roughly half the price of Bonjoro's grrrowth plan) — with advanced automation and CRM included. There's also more flexibility to customize CTAs and the landing pages.

Users who are already using a stand-alone marketing automation software can opt for the lower-priced Dubb plan of $8/month to save cost, as Dubb will easily integrate with the tools you're using.
Conclusion
Bonjoro competitor, Dubb, offers all the functionalities that Bonjoro offers and more. You'll get more flexibility to create, customize, and share your videos for better engagement. But it doesn't stop there.
Dubb's powerful automation will help you manage and segment your contacts. This way you automatically send the right message to the right audience to boost your conversion rates.
Then you get to use its advanced analytics tool to keep track of your performance and plug any leaking holes in your campaign.
So we've seen clearly that as a Bonjoro competitor, Dubb offers a lot more features and tools all in one place. And at a far lesser price too.
If you're sitting on the fence and need to test-run the platform and see if it's a good fit for you, no worries. Bonjoro and Dubb offer free plans so you don't have to pay full price to get access to both platforms. There's no commitment on your part at all as your credit card isn't required for the free trial.
Dubb is an absolutely fantastic tool. Not only does it allow you to create personalized videos to send to leads, but it also incorporates a CTA that allows your lead to take action right there from the video page. In addition, when pasting your video link into an email (or other platform), it's not just a link or a static image, rather it's a moving gif. It makes you email stand out from every other one that your leads get and draws their eyes immediately to the video and practically forces them to click on it and watch the video. To top it off, the analytics, notifications, and multiple ways to record videos (webcam, screen capture, etc) make it incredibly versatile.

Daniel S.
Founder/CEO
If you'd like to test out Dubb's powerful tools to boost engagement and conversion rates on your campaign, start a no-commitment free trial here.