We at Dubb have gathered several remote work communication tips that can be vital as we live through COVID-19. Read on to discover these remote work communication tips and how you can incorporate them into your professional life under quarantine.
Working With Others While Under Lockdown
It's safe to say that this era of mandatory lockdowns and quarantines is disconcerting. We're being forced to adapt to new ways of working from home. For those with children or other substantial familial responsibilities, the transition may have been interesting. For those who are single or without these major responsibilities, working under lockdown may present other challenges.
But whether we are living solo or are with our large family in quarantine, the simple fact is that work must still get done. The good news? Even though we aren't in the same room with our colleagues, there are plenty of tools out there (like Dubb For Remote) that can make the process much easier. We can collaborate with our colleagues and even increase our productivity—all while working from the comfort of our own homes. And yes, you can do all of this and minimize those lengthy Zoom calls that may leave you drained. 
To show you how, let's get into some of those helpful remote work communication tips. So long as you implement them and stick with them, I'm sure that you'll see some dramatic progress when working with your coworkers at home.
Leverage the Power of Pre-Recorded Videos
Living under lockdown, we have become all too familiar with Zoom, Skype, or Teams calls. Once or several times per day, we have to jump on a scheduled call with our colleagues. These meetings may be as brief as a few minutes or can be an hour (or even longer).
Don't get me wrong. These live video calls can be a good way to get on the same page and delegate tasks on specific projects or initiatives. But having said that, synchronous videos present their fair share of issues. As a starting point, it's hard to find one specific time when you can gather. While the problem may not be that acute if you have a small team, the problem becomes exponentially greater with larger teams. But along with the scheduling issues, synchronous calls can be exhausting. Zoom fatigue is a real thing. If we're going on many Zoom calls throughout the day, we are going to feel drained throughout our day.
Instead of hopping on all of these Zoom calls, I strongly recommend that you leverage the power of pre-recorded (or asynchronous) videos. 
Pre-recorded videos can be a much better way to communicate. For starters, you can avoid the scheduling difficulties that come with Zoom, Google Hangout, or Houseparty calls. Your team can view pre-recorded videos on their own schedule. It makes it much more convenient for everyone to get on the same page and understand their tasks and responsibilities throughout the day. If you need something repeated, it's no problem. You can simply go back and rewatch the portion of the video that you missed. You don't need to be scrambling in real-time conversations.
Asynchronous video also makes it much easier to respond to your colleagues. Instead of needing to type out a lengthy email, you can click record and speak directly to the camera. Your video doesn't need to be polished or well produced. It can even be a 15 or 30-second video where you respond to a colleague's question. Whatever it is, asynchronous videos can get the job done. They let you quickly and clearly share your thoughts on your day's work—all at your own convenience. 
While we may be biased, my colleagues and I believe that Dubb can be the perfect way to leverage the power of asynchronous video. Dubb For Remote is a great way to complete your video sales and marketing work—wherever you are. It lets you conduct all of your marketing, sales, and support efforts through a fully integrated asynchronous video platform. You can do everything from leverage multiple integrations (like YouTube, Asana, and LinkedIn integrations) to using Dubb's intuitive and feature-rich desktop and mobile apps. Ultimately, Dubb For Remote can serve you well if you want to incorporate asynchronous videos in your day-to-day work.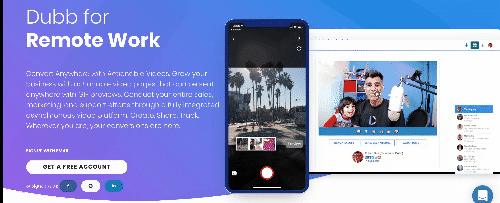 In the end, I recommend that you incorporate pre-recorded or asynchronous videos into your workflow. You will be less stressed, more productive, and happier. 
Create Content That Can Be Repurposed
Whether we're working in the office or working from home, we want to be as productive as possible. Digital tools like Dubb give us the power to supercharge our sales and marketing work. 
That said, many people trip up during the content creation process. They find it difficult to come up with content ideas and shoot that content in a way that is professional and valuable to the viewer. Moreover, it can be difficult to handle the logistics of creating new content while under quarantine. 
Because of these reasons, my colleagues and I encourage you to take advantage of repurposed content. Repurposed content is great because it is a gift that keeps on giving. You can take a video of essentially any size and splice it up into different videos.
As an example, let's say that you interviewed a key figure in your industry for your company's podcast. It was a pretty lengthy interview and you uploaded it to both Apple Podcasts and YouTube. While most creators would simply move on and try to schedule that next podcast interview, they are mistakenly leaving behind plenty of opportunities to create content. You, on the other hand, can be different. You can splice up the podcast interview into five minute, one minute, or even 30 or 15-second clips. From there, you can share these clips on your website and social media channels. It can be the gift that keeps on giving—especially if it is evergreen content. 
This repurposing feature makes it easier to create content while under lockdown. Instead of you and your colleagues scrambling to organize the logistics of creating brand new content, you can remix and recreate your content for your fans. It offers you substantially more opportunities to connect with your audience and generate more sales—all without creating new content. Don't hesitate to take advantage of this opportunity.
Embrace the Playlist
When virtually connecting with your prospects and current customers, you will once again want to use asynchronous video. It is a much more personal and human way of connecting during these trying times. That being said, you'll want to develop a solid communication and production process so that you aren't creating duplicate or unnecessary work.
One of the best ways to do this is to take advantage of playlist features. Playlist features, which can be found on the Dubb platform and other video marketing platforms, are essentially ways to present your best video content to your viewers. The best combination is making a quick, personalized video for a client or prospect and then tacking on several well-produced videos within your playlist. 
By doing this, you get the best of both worlds. You get to deliver a personalized message and show off some of the best features and benefits of your company. Along with this, you and your colleagues don't need to recreate the wheel by continuously explaining your company's value proposition. All of you can decide on the videos you want to add to all playlists, add those videos, and then work on creating quick, personalized videos for prospects and clients.   
Therefore, take advantage of video playlist features. It creates a better experience for your viewer and makes it easier for you and your team to create and distribute video content. 
Take Care of Yourself
While this may seem out of place, the simple fact is that taking care of yourself while in quarantine can make it much easier to communicate with your colleagues. 
Living under lockdown, the temptation is there to always "be on." I'm talking about responding to every email within five minutes or less or continuing to work into late hours of the night. After all, we don't need to commute. With a laptop and phone, we can theoretically work 24/7.
As you can guess, adopting this attitude can lead to some nasty consequences. Not only will you feel tired and stressed, but you will bring that fatigue into your communications with co-workers. Your stress may rub off on them, making the entire team feel less positive and more overwhelmed. 
You have the power to prevent this outcome. It all starts with finding the time to take care of yourself, whether that is stepping away from your devices at a blocked-off period of the day or developing a daily exercise routine. In these challenging and anxiety-ridden times, being deliberate about taking care of yourself may be one of the best decisions that you make.
Working Together to Implement These Remote Work Communication Tips
For any business to be successful, team members must work closely together toward a unified goal. It becomes a little trickier when we are away from our offices and under lockdown, but this doesn't mean that it can't be done. By incorporating these remote work communication tips into your team's workflow, you can avoid headaches and become more productive—no matter how long this global pandemic lasts.
While we may be biased, we believe that Dubb can be an excellent tool to help you accomplish your sales and marketing goals. If you would like to learn more about Dubb, click here. You can also click here to take advantage of a 14-day free trial of Dubb's paid plans.