Get this eBook to learn How to Optimize your E-commerce Funnel.
By some estimates, rates of online shopping cart abandonment hover around 70 percent. Many factors play into the rate, including what device a user is shopping on and what industry you're in. For most eCommerce businesses, 10 or 20 percent would still be higher than you want.
The fact remains. Online shoppers often don't convert into sales. As a result, you're asking yourself what you can do to turn more window-shopping into done deals.
It turns out there are plenty of actions you can take to change the story for your business. Perhaps the most important thing you can do is take a look at your eCommerce conversion funnel. If it's not already optimized to turn leads into sales, this guide will help you turn things around.
What You'll Learn in this eBook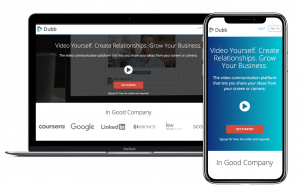 About Dubb
Dubb is a video communication platform that lets users send personalized, trackable videos. The Dubb platform simplifies video sharing with a Chrome Extension, Outlook Add-In, mobile app and website that allow users to share and track screen and camera videos. Dubb offers a free 14-day trial with no credit required.