Get this eBook to learn modern tactics on video sales letters.
Research shows that people remember only 20% of what they read. On the other hand, they remember 80% of what they see.
When you have a product or a service to pitch, you could spend hours writing a convincing, text-based sales letter to your prospective customers. You could post it on your website, share it across your social media feeds and print it for your direct mail recipients.
The reward for all your hard work? Two out of every 10 people who read your words will retain them.
The missing link keeping you from reaching the other eight? You need a visual component to your written proposal.
Enter the video sales letter.
This is an outreach method that centers on using video to sell your product or service to your target audience. When done correctly, it can help skyrocket your profits, heighten your brand buzz and build your bottom line.
Today, we're sharing 10 ways to make the most convincing video sales letters that convince and convert.
Ready to learn more? Let's get into it.
What You'll Learn in this eBook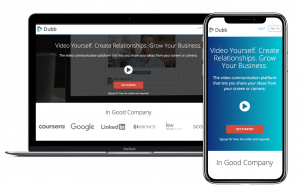 About Dubb
Dubb is a video communication platform that lets users send personalized, trackable videos. The Dubb platform simplifies video sharing with a Chrome Extension, Outlook Add-In, mobile app and website that allow users to share and track screen and camera videos. Dubb offers a free 14-day trial with no credit required.