Get this eBook to learn the Video Marketing Guide for Modern Business
Nearly 70 percent of marketers say that video marketing is one of the most effective ways to promote your business.
The potential of video marketing to reach out to a larger audience and enjoy an improved return on investment is huge.
However, are you wondering why you're not having any success with your video marketing efforts?
Read this eBook to learn how to make marketing video to maximize results. Well, what are you waiting for? Fill out the form on this page!
What You'll Learn in this eBook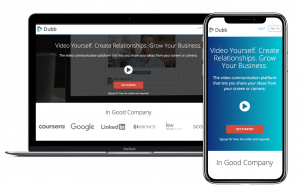 About Dubb
Dubb is a video communication platform that lets users send personalized, trackable videos. The Dubb platform simplifies video sharing with a Chrome Extension, Outlook Add-In, mobile app and website that allow users to share and track screen and camera videos. Dubb offers a free 14-day trial with no credit required.