Are you looking to acquire better prospects, nurture your leads and increase your sales conversion rates?
This webinar will teach you how to leverage video communication to drive more sales. Here are specific things you will learn in this free webinar:
How to record screen and camera videos in 30 seconds with total ease
How to convey information in video that builds trust, nurtures prospects and increases sales conversion rates
How to use data to track your efforts and make improvements
What You'll Learn in this Webinar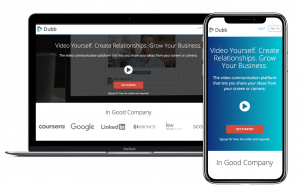 About Dubb
Dubb is a video communication platform that lets users send personalized, trackable videos. The Dubb platform simplifies video sharing with a Chrome Extension, Outlook Add-In, mobile app and website that allow users to share and track screen and camera videos. Dubb offers a free 14-day trial with no credit required.